Robert Louis Stevenson and the Missing Map of Treasure Island
The original map of Treasure Island was lost - if it still exists, it must surely be worth a fortune now...
23 July, 2010
Despite recent outbreaks off the Horn of Africa, piracy still conjures up other images than freebooting Somali fishermen.Your standard-issue pirate from Central Casting will have an eyepatch, an earring, a parrot on his shoulder or a wooden leg – or any combination of the above. He will almost inevitably have the accent of the English West Country (which explains all the Aarrrh-ing), and will surely be on a quest for treasure.
---
We owe this persistent stereotype to, and can blame its most recent incarnation in the increasingly awful Pirates of the Caribbean-franchise, on Robert Louis Stevenson's Treasure Island (1883), the classic adventure novel about pirates and buried treasure. Stevenson's book also spawned, in later derivations and imitations, the trope of the treasure map as an essential part of the story.
Which makes the question all the more interesting: was there a real-life model for the generically named Treasure Island – and if so, where was it? It seems to have been a chance invention by Lloyd Osbourne, RLS's stepson, while holidaying with the family in a Scottish Highland cottage. As Osbourne later recalled:
"… busy with a box of paints I happened to be tinting a map of an island I had drawn. Stevenson came in as I was finishing it, and with his affectionate interest in everything I was doing, leaned over my shoulder, and was soon elaborating the map and naming it. I shall never forget the thrill of Skeleton Island, Spyglass Hill, nor the heart-stirring climax of the three red crosses! And the greater climax still when he wrote down the words "Treasure Island" at the top right-hand corner! And he seemed to know so much about it too – the pirates, the buried treasure, the man who had been marooned on the island … . "Oh, for a story about it", I exclaimed, in a heaven of enchantment …"
And that is how Stevenson got started writing Treasure Island - as a back story to the map originally drawn by his stepson. Curiously, the map reprinted in all subsequent editions of the book is not that first map. That got lost when he sent it to his publisher. Stevenson had to redraw his map from scratch, and although he got the chance to match the map to the story, he never was as satisfied with the copy as with the original. Could that original map - worth a treasure by now - still languish in some postal limbo between Scotland and London?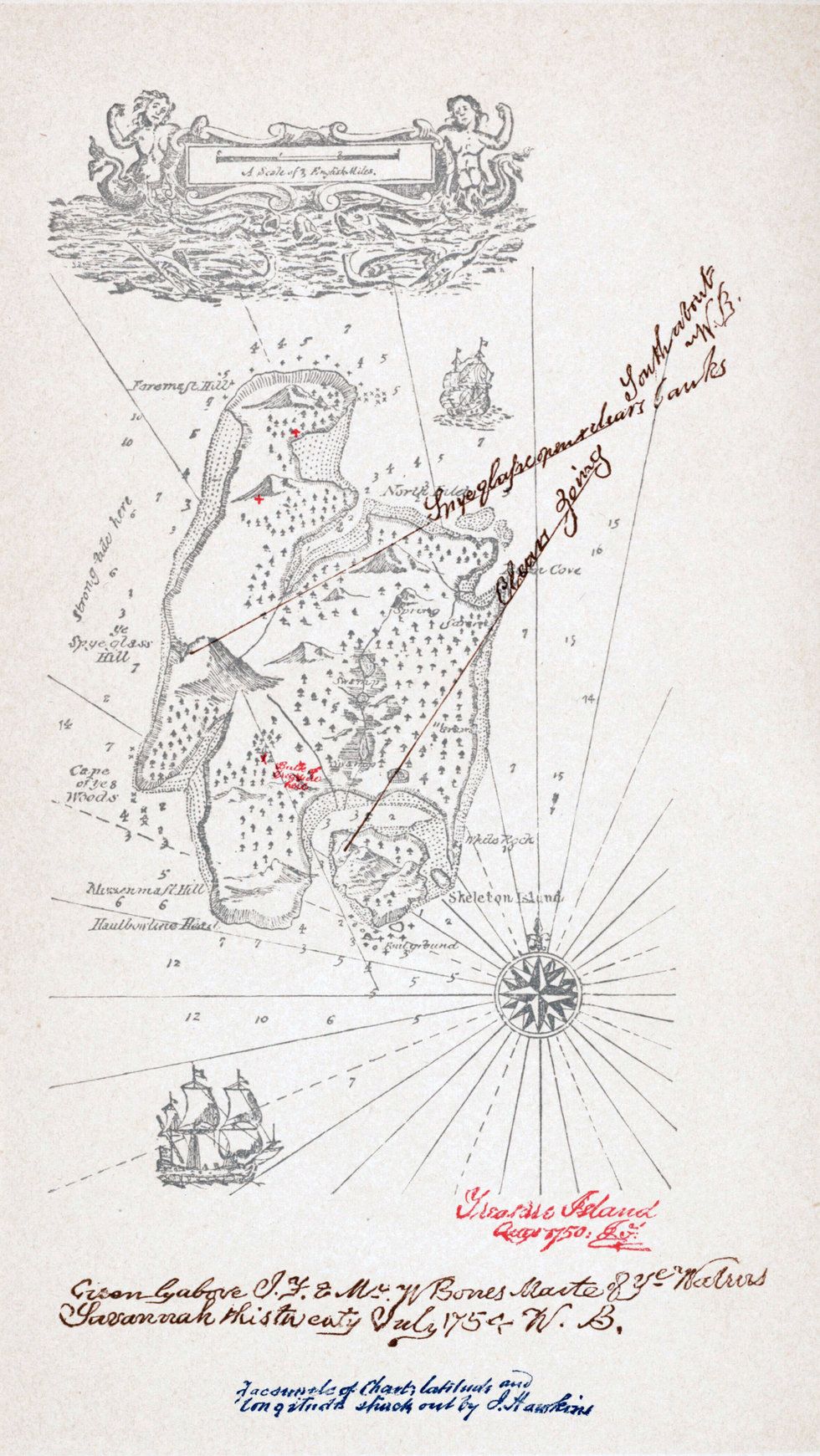 Stevenson didn't write his novel ex nihilo: he acknowledged the inspiration of works by Washington Irving and others, and of real-life characters and stories as inspirations for Treasure Island. But in how far does this also hold true for the Treasure Island depicted on the crucial map?
A number of speculations and suggestions have been made as to islands that might have inspired Treasure Island.
A seafaring uncle might have told Stevenson about Norman Island, a tiny uninhabited island in the British Virgin Islands. The island is the subject of many stories of hidden treasure, some of which might have some basis in reality.
Confusingly, a nearby island called Dead Man's Chest Island might be named directly after piratey rumours of treasure (Blackbeard's, no less) and thus have co-inspired Stevenson or be named indirectly, after… a song in Stevenson's Treasure Island.
The shape of Treasure Island looks a bit like Unst, one of the Shetland Islands. Stevenson visited the area as a child, when his father and uncle were building a lighthouse on Muckle Flugga (sic).
In The Silverado Squatters (1883), Stevenson describes the scenery in Napa Valley (California), which would prove an inspiration for Treasure Island.
Stevenson visited Osborn Island in New Jersey's Manasquan River and rechristened it Treasure Island. Unfortunately, he did so 5 years after writing the book. The island is now known as Nienstedt Island.
The map itself, then, is drawn to the scale of 3 English miles, and shows such landmarks as Foremast Hill, Spyglass Hill, Cape of the Woods, Mazenmast Hill and Hautbowline Head. Off the small Skeleton Island, south of the main island, is Foul Ground. Off the west coast is the warning: Strong tide here. On the island itself are mentioned mainly Swamps and Graves, and of course an X that marks the spot: Bulk of treasure buried here. Not all of the lettering is easily readable.
This map was taken here from Kellscraft Studio, a website dedicated to presenting hard to find, previously printed books now in t he public domain, such as Treasure Island.
Strange Maps #378
Got a strange map? Let me know at strangemaps@gmail.com.
Many believe that the internet has made it easier for us to participate in political activism. But is that really true?
Videos
Protesting in person is costly in terms of money and resources; some people have children to take care of, jobs that can't be away from, or may not have time to attend a planning event.
The internet was supposed to be a way to sidestep this barrier to political activism. But this doesn't consider the other barriers preventing poor and working-class folks from participating in digital activism.
In particular, these people lack ASETs: access to computers, the skills to use them, the empowerment necessary to feel that using Twitter or other social media is for them, and the time to make use of digital platforms in an effective way.
Some games are just for fun, others are for thought provoking statements on life, the universe, and everything.
(Photo from Flickr)
Culture & Religion
Video games are often dismissed as fun distractions, but some of them dive into deep issues.
Through their interactive play elements, these games approach big issues intelligently and leave you both entertained and enlightened.
These five games are certainly not the only games that cover these topics or do so well, but are a great starting point for somebody who wants to play something thought provoking.
The bid to buy Greenland is unlikely to become seriously considered.
Politics & Current Affairs
Greenland and Danish officials alike think the idea is ridiculous.
The island is an autonomous state, and it's unlikely the Danish would sell it because of yearly subsidies costs.
After hearing the Danish Prime Minister call the idea absurd, Trump cancelled their forthcoming meeting.