Big ideas.
Once a week.
Subscribe to our weekly newsletter.
Robert Louis Stevenson and the Missing Map of Treasure Island
The original map of Treasure Island was lost - if it still exists, it must surely be worth a fortune now...
23 July, 2010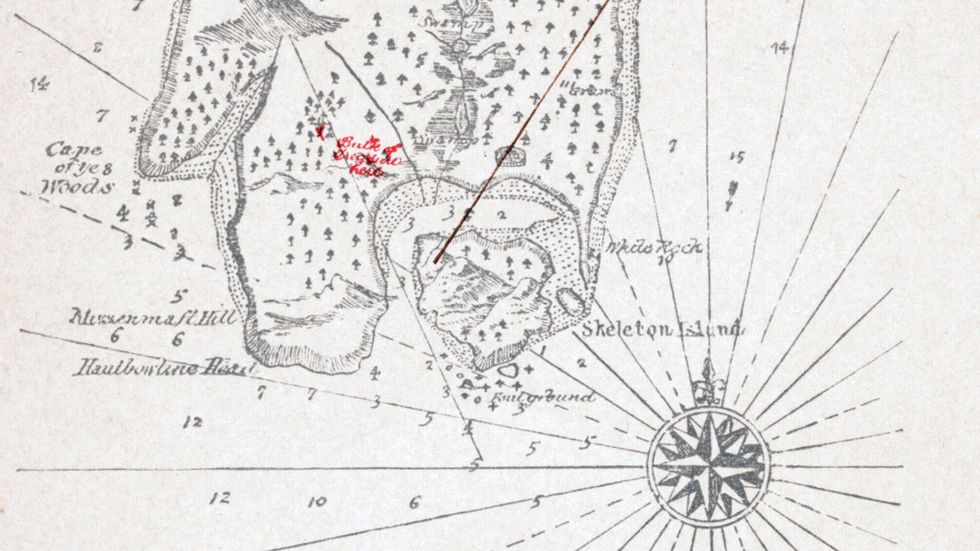 Despite recent outbreaks off the Horn of Africa, piracy still conjures up other images than freebooting Somali fishermen.Your standard-issue pirate from Central Casting will have an eyepatch, an earring, a parrot on his shoulder or a wooden leg – or any combination of the above. He will almost inevitably have the accent of the English West Country (which explains all the Aarrrh-ing), and will surely be on a quest for treasure.
---
We owe this persistent stereotype to, and can blame its most recent incarnation in the increasingly awful Pirates of the Caribbean-franchise, on Robert Louis Stevenson's Treasure Island (1883), the classic adventure novel about pirates and buried treasure. Stevenson's book also spawned, in later derivations and imitations, the trope of the treasure map as an essential part of the story.
Which makes the question all the more interesting: was there a real-life model for the generically named Treasure Island – and if so, where was it? It seems to have been a chance invention by Lloyd Osbourne, RLS's stepson, while holidaying with the family in a Scottish Highland cottage. As Osbourne later recalled:
"… busy with a box of paints I happened to be tinting a map of an island I had drawn. Stevenson came in as I was finishing it, and with his affectionate interest in everything I was doing, leaned over my shoulder, and was soon elaborating the map and naming it. I shall never forget the thrill of Skeleton Island, Spyglass Hill, nor the heart-stirring climax of the three red crosses! And the greater climax still when he wrote down the words "Treasure Island" at the top right-hand corner! And he seemed to know so much about it too – the pirates, the buried treasure, the man who had been marooned on the island … . "Oh, for a story about it", I exclaimed, in a heaven of enchantment …"

And that is how Stevenson got started writing Treasure Island - as a back story to the map originally drawn by his stepson. Curiously, the map reprinted in all subsequent editions of the book is not that first map. That got lost when he sent it to his publisher. Stevenson had to redraw his map from scratch, and although he got the chance to match the map to the story, he never was as satisfied with the copy as with the original. Could that original map - worth a treasure by now - still languish in some postal limbo between Scotland and London?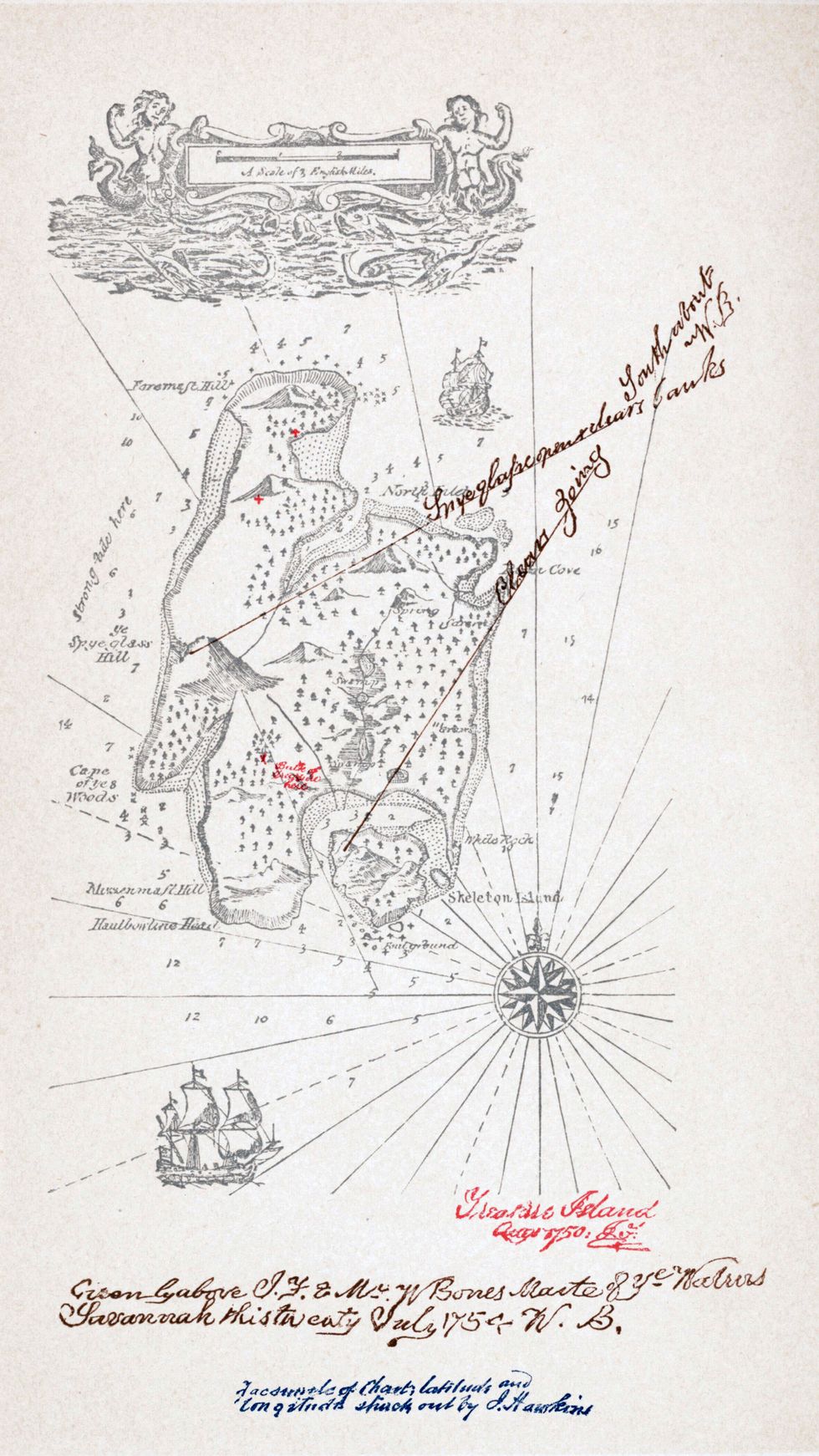 Stevenson didn't write his novel ex nihilo: he acknowledged the inspiration of works by Washington Irving and others, and of real-life characters and stories as inspirations for Treasure Island. But in how far does this also hold true for the Treasure Island depicted on the crucial map?
A number of speculations and suggestions have been made as to islands that might have inspired Treasure Island.
A seafaring uncle might have told Stevenson about Norman Island, a tiny uninhabited island in the British Virgin Islands. The island is the subject of many stories of hidden treasure, some of which might have some basis in reality.
Confusingly, a nearby island called Dead Man's Chest Island might be named directly after piratey rumours of treasure (Blackbeard's, no less) and thus have co-inspired Stevenson or be named indirectly, after… a song in Stevenson's Treasure Island.
The shape of Treasure Island looks a bit like Unst, one of the Shetland Islands. Stevenson visited the area as a child, when his father and uncle were building a lighthouse on Muckle Flugga (sic).
In The Silverado Squatters (1883), Stevenson describes the scenery in Napa Valley (California), which would prove an inspiration for Treasure Island.
Stevenson visited Osborn Island in New Jersey's Manasquan River and rechristened it Treasure Island. Unfortunately, he did so 5 years after writing the book. The island is now known as Nienstedt Island.
The map itself, then, is drawn to the scale of 3 English miles, and shows such landmarks as Foremast Hill, Spyglass Hill, Cape of the Woods, Mazenmast Hill and Hautbowline Head. Off the small Skeleton Island, south of the main island, is Foul Ground. Off the west coast is the warning: Strong tide here. On the island itself are mentioned mainly Swamps and Graves, and of course an X that marks the spot: Bulk of treasure buried here. Not all of the lettering is easily readable.
This map was taken here from Kellscraft Studio, a website dedicated to presenting hard to find, previously printed books now in the public domain, such as Treasure Island.
Strange Maps #378
Got a strange map? Let me know at strangemaps@gmail.com.
Update 26 August 2019:
Stevenson's original map may still be lost, but the second iteration of Treasure Island, the progenitor of all subsequent representations, can reliably be traced, says reader Darren Griswold:
"Here is a possible clue to the whereabouts of RLS's hand drawn map, as produced to replace that which was lost in the mail."
"On page 65 of the book 'This Book-Collecting Game', published 1928 by Little, Brown and Company, A. Edward Newton tells us that he is 'the proud owner of the original sketch from which the published map was reproduced.' "
Alfred Edward Newton (1864-1940) was an American author, publisher and book collector. His collection eventually numbered around 10,000 books, most of which were auctioned off after his death. Perhaps the Stevenson map figures in the catalogues of the three auctions, in April, May and October 1941, by Parke-Bernet Galleries in New York.
The finding is remarkably similar to the Dunning-Kruger effect, which describes how incompetent people tend to overestimate their own competency.
Sex & Relationships
Recent studies asked participants to rate the attractiveness of themselves and other participants, who were strangers.
The studies kept yielding the same finding: unattractive people overestimate their attractiveness, while attractive people underrate their looks.
Why this happens is unclear, but it doesn't seem to be due to a general inability to judge attractiveness.
There's no shortage of disparities between attractive and unattractive people. Studies show that the best-looking among us tend to have an easier time making money, receiving help, avoiding punishment, and being perceived as competent. (Sure, research also suggests beautiful people have shorter relationships, but they also have more sexual partners, and more options for romantic relationships. So call it a wash.)
Now, new research reveals another disparity: Unattractive people seem less able to accurately judge their own attractiveness, and they tend to overestimate their looks. In contrast, beautiful people tend to rate themselves more accurately. If anything, they underestimate their attractiveness.
The research, published in the Scandinavian Journal of Psychology, involved six studies that asked participants to rate the attractiveness of themselves and other participants, who were strangers. The studies also asked participants to predict how others might rate them.
In the first study, lead author Tobias Greitemeyer found that the participants who were most likely to overestimate their attractiveness were among the least attractive people in the study, based on average ratings.
Ratings of subjective attractiveness as a function of the participant's objective attractiveness (Study 1)
Greitemeyer
"Overall, unattractive participants judged themselves to be of about average attractiveness and they showed very little awareness that strangers do not share this view. In contrast, attractive participants had more insights into how attractive they actually are. [...] It thus appears that unattractive people maintain illusory self‐perceptions of their attractiveness, whereas attractive people's self‐views are more grounded in reality."
Why do unattractive people overestimate their attractiveness? Could it be because they want to maintain a positive self-image, so they delude themselves? After all, previous research has shown that people tend to discredit or "forget" negative social feedback, which seems to help protect a sense of self-worth.
NBC
To find out, Greitemeyer conducted a study that aimed to put participants in a positive, non-defensive mindset before rating attractiveness. He did that by asking participants questions that affirmed parts of their personality that had nothing to do with physical appearance, such as: "Have you ever been generous and selfless to another person?" Yet, this didn't change how participants rated themselves, suggesting that unattractive people aren't overestimating their looks out of defensiveness.
The studies kept yielding the same finding: unattractive people overestimate their attractiveness. Does that bias sound familiar? If so, you might be thinking of the Dunning-Kruger effect, which describes how incompetent people tend to overestimate their own competency. Why? Because they lack the metacognitive skills needed to discern their own shortcomings.
Greitemeyer found that unattractive people were worse at differentiating between attractive and unattractive people. But the finding that unattractive people may have different beauty ideals (or, more plainly, weaker ability to judge attractiveness) did "not have an impact on how they perceive themselves."
In short, it remains a mystery exactly why unattractive people overestimate their looks. Greitemeyer concluded that, while most people are decent at judging the attractiveness of others, "it appears that those who are unattractive do not know that they are unattractive."
Unattractive people aren't completely unaware
The results of one study suggested that unattractive people aren't completely in the dark about their looks. In the study, unattractive people were shown a set of photos of highly attractive and unattractive people, and they were asked to select photos of people with comparable attractiveness. Most unattractive people chose to compare themselves with similarly unattractive people.

"The finding that unattractive participants selected unattractive stimulus persons with whom they would compare their attractiveness to suggests that they may have an inkling that they are less attractive than they want it to be," Greitemeyer wrote.
Every star we can see, including our sun, was born in one of these violent clouds.
Credit
: NASA / ESA via Getty Images
Surprising Science
This article was originally published on our sister site, Freethink.
An international team of astronomers has conducted the biggest survey of stellar nurseries to date, charting more than 100,000 star-birthing regions across our corner of the universe.
Stellar nurseries: Outer space is filled with clouds of dust and gas called nebulae. In some of these nebulae, gravity will pull the dust and gas into clumps that eventually get so big, they collapse on themselves — and a star is born.
These star-birthing nebulae are known as stellar nurseries.
The challenge: Stars are a key part of the universe — they lead to the formation of planets and produce the elements needed to create life as we know it. A better understanding of stars, then, means a better understanding of the universe — but there's still a lot we don't know about star formation.
This is partly because it's hard to see what's going on in stellar nurseries — the clouds of dust obscure optical telescopes' view — and also because there are just so many of them that it's hard to know what the average nursery is like.
The survey: The astronomers conducted their survey of stellar nurseries using the massive ALMA telescope array in Chile. Because ALMA is a radio telescope, it captures the radio waves emanating from celestial objects, rather than the light.
"The new thing ... is that we can use ALMA to take pictures of many galaxies, and these pictures are as sharp and detailed as those taken by optical telescopes," Jiayi Sun, an Ohio State University (OSU) researcher, said in a press release.
"This just hasn't been possible before."
Over the course of the five-year survey, the group was able to chart more than 100,000 stellar nurseries across more than 90 nearby galaxies, expanding the amount of available data on the celestial objects tenfold, according to OSU researcher Adam Leroy.
New insights: The survey is already yielding new insights into stellar nurseries, including the fact that they appear to be more diverse than previously thought.
"For a long time, conventional wisdom among astronomers was that all stellar nurseries looked more or less the same," Sun said. "But with this survey we can see that this is really not the case."
"While there are some similarities, the nature and appearance of these nurseries change within and among galaxies," he continued, "just like cities or trees may vary in important ways as you go from place to place across the world."
Astronomers have also learned from the survey that stellar nurseries aren't particularly efficient at producing stars and tend to live for only 10 to 30 million years, which isn't very long on a universal scale.
Looking ahead: Data from the survey is now publicly available, so expect to see other researchers using it to make their own observations about stellar nurseries in the future.
"We have an incredible dataset here that will continue to be useful," Leroy said. "This is really a new view of galaxies and we expect to be learning from it for years to come."
Tiny specks of space debris can move faster than bullets and cause way more damage. Cleaning it up is imperative.
Videos
NASA estimates that more than 500,000 pieces of space trash larger than a marble are currently in orbit. Estimates exceed 128 million pieces when factoring in smaller pieces from collisions. At 17,500 MPH, even a paint chip can cause serious damage.
To prevent this untrackable space debris from taking out satellites and putting astronauts in danger, scientists have been working on ways to retrieve large objects before they collide and create more problems.
The team at Clearspace, in collaboration with the European Space Agency, is on a mission to capture one such object using an autonomous spacecraft with claw-like arms. It's an expensive and very tricky mission, but one that could have a major impact on the future of space exploration.
This is the first episode of Just Might Work, an original series by Freethink, focused on surprising solutions to our biggest problems.

Catch more Just Might Work episodes on their channel: https://www.freethink.com/shows/just-might-work
Personal Growth
Metal-like materials have been discovered in a very strange place.
Scroll down to load more…