Big ideas.
Once a week.
Subscribe to our weekly newsletter.
The Laugh-out-loud Place-names of the Shetland and Orkney Islands
Dull Flag, Tongue of Gangsta and dozens more strange toponyms dot these windswept Scottish archipelagoes
14 May, 2013
In The American Language, H.L. Mencken quotes Robert Louis Stevenson's paean to the American toponym: "There is no place in the world where nomenclature is so rich, poetical, humorous and picturesque as the United States […]".
---
Mencken goes on to list such curious examples as Chemquasabamticook, Jackass Flat, Big Chimney, Stumptown, Matrimony, Walla Walla and Cement. As the lexicographer of the American tongue, he may be forgiven for repeating Stevenson's claim. But the Scottish writer himself should have known better: surely, the greatest density of strange place names per square mile occurs in a small corner of his own country - two archipelagoes off Scotland's northern coast: the Orkney Islands and the Shetland Islands.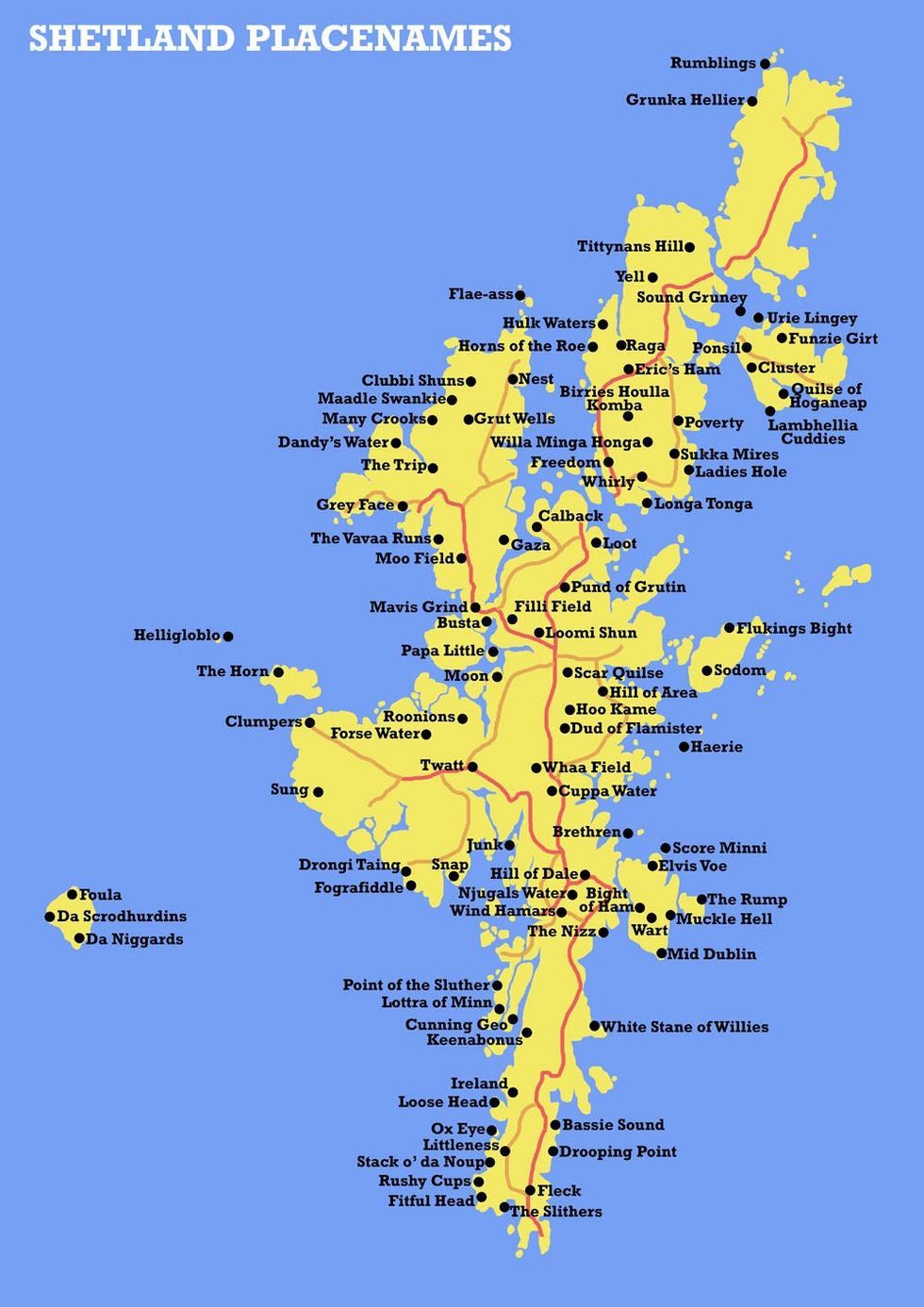 These two maps, both produced by Steve Goldman, show the place names in both groups of islands that he considers strange. "I've loved place names on Orkney and Shetland since I was a kid. They are by turns surreal, beautiful, nonsensical, rude, and bizarre… There seems to be no consistency to them at all", says Goldman. "I've done some online research to try to find their derivation, but there seems to be little out there".
Indeed, apart from Mr. Goldman's suggestion to recycle some toponyms as band names (Whirly would be a good indie band, Brethren could be a bearded folk quartet, and Twisting Nevi a dance act, etc), there seems to be little sense to be made from Orkney/Shetland place names, except to enjoy them as mellifluous bizarrery per se.
Naturally, when we stopped laughing, we couldn't resist testing Mr. Goldman's hypothesis, and tried herding these toponyms into a few vaguely circumscribed categories.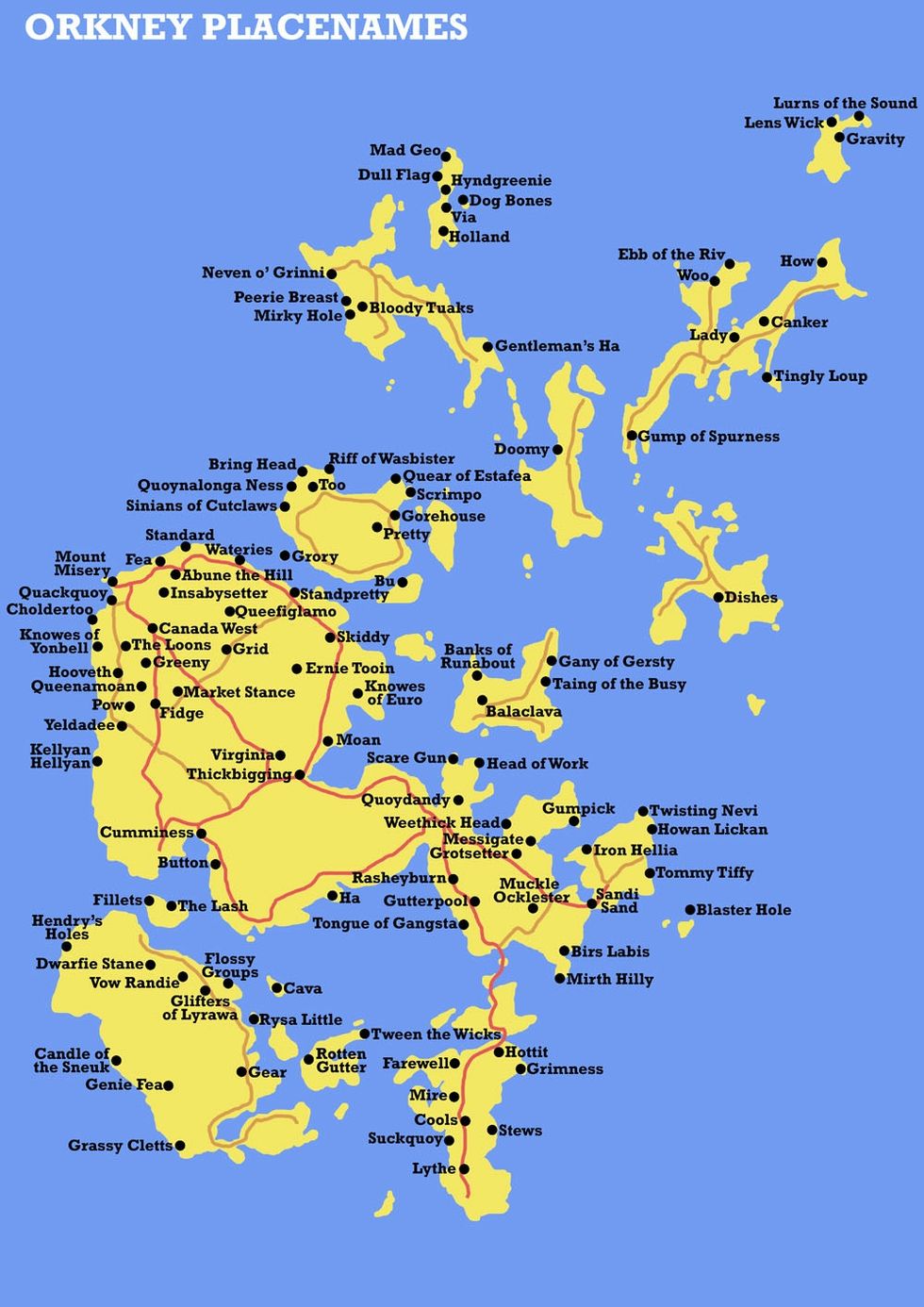 As one might expect on a collection of wind-blasted islands lost in the dark, chilly north, a lot of toponyms reflect a fair measure of doom and gloom. There's a Mount Misery, and Muckle Hell. There's Poverty and Grimness and Rumblings. There's a Gutterpool, a Rotten Gutter, a Grotsetter and a Gorehouse. And - of course - a Doomy.
Perhaps this is why the locals liked to imagine themselves elsewhere. In Ireland, Holland or Virginia. There's also a Canada West, and a Balaclava. Even more exotic, are two names of places that must seem rather hospitable from there: Gaza and Moon. One coastal place is called, quite specifically, Mid Dublin.
A remarkable number of places have monosyllabic names. It's as if we've stumbled on the Lascaux Cave of toponymy. We witness how people practised their name-giving skills, learning to vocalise before they could improvise. You can almost hear them scraping their throats as they point to specific locations, baptising them Woo, Too, Bu, Ha, How and Pow. A second set of monosyllabic place names is already more complex, self-aware. The key one is Yell, summarising what went before. A few seem bent on defining primary places, Ur-locations: Fleck, Nest, Junk, Loot, Grid, Gear, Wart. But what about Snap, or Sung? Maybe these are a third, even more evolved set of monosyllabics, one-word poems that transcend the places they denote.
Quite a few places continue with poetic, even grandiose names. There's Papa, and Lady. Pretty and Standpretty. Surreally, there's a (fixed) location called The Trip. How about one called Freedom? Sounds nice. But there's also Gravity, Littleness, Farewell, and a Fitful Head.
Poetry takes a surreal turn in a set of place names that sound like ritual incantations. Some even sound like the Indian place names that form such a substantial part of the melting pot that is Mencken's American topography: Queefiglamo, Quoynalonga Ness and the improbably-named trio Quackquoy, Suckquoy and Quoydandy. Some sound more like the many names of Aboriginal origin on the map of Australia: Willa Minga Honga, Birries Houlla Komba, Kellyan Hellyan, Yeldadee and Choldertoo. Others sound like nothing else but gibberish and gobbledygook - those terms would indeed not be out of place in this set: Hyndgreenie, Insabysetter, Keenabonus, Fografiddle, Helliglobo, Drongi Taing, Loomi Shun and Da Scrodurdins.
Somehow, that last location sounds like it provides a good segway to the significant number of locations with rude or lewd connotations. Were those early Orkneyans and Shetlanders a cheeky bunch? Quite probably, the original meaning has nothing to do with the present, suggestive reading: Moan, Queenamoan and Twatt; Hendry's Holes, Ladies Hole and Mirky Hole; The Rump, Howan Lickan and Longa Tonga; The Lash, Flae-Ass and Cumminess; Peerie Breast and Drooping Point. But then again: what else to do on those long winter nights?
Perhaps the best proof that those islanders are having us on, is a collection of 'X of Y' names. Where X and Y should be replaced by intelligible locator words, as in 'Bay of Bengal', or 'Mouth of the Nile'. Now, Scots toponyms can be a bit puzzling - anyone know what a Mull of Kintyre is? Or a Firth of Forth? (No, it's nothing to do with Colin Firth). But they're taking things to extremes on the Orkneys and Shetlands. What in God's name are Lurns of the Sound? The Ebb of the Riv? The Gump of Spurness? (The Scottish clan ancestors of Forrest Gump?)
Somehow, the Banks of Runabout sounds vaguely like a critique of the financial sector. And the White Stane of Willies might as well have been mentioned in the lewd paragraph. The Taing of the Busy? That's that faint ringing noise that gets inside your head when you've been up for 24 hours straight. Also known as the Head of Work. The Knowes of Euro? The Candle of Sneuk? The Riff of Wasbister? We sort of know what half the name means. But how frustrating to have not even the glimmer of a clue about the Neven o' Grinni, the Sinians of Cutclaws, the Glifters of Lyrawa, or the Quilse of Hoganeap.
If some place names sound like great band names, others could be fantastic stage monikers: Heeeere's Ernie Tooin! And there are Tommy Tiffy and Sandi Sand! Again, Mavis Grind could have made a first appearance three paragraphs up. But who could resist the child-friendly matinee filled out by such glittering names as Genie Fea, Elvis Voe, Funzie Girt, Grunka Hellier and Urie Lingey?
If your tastes in entertainment are more attuned to the joys of rap, then this outpost of Scotland has a few remarkable surprises for you. Notably Da Niggards, Busta Little and, improbably, Tongue of Gangsta.
We could go on. You'll find many more names on the maps. And if you, like us, are the kind of person that remains in their seat until the movie credits have rolled past, just to catch a few fantastic names among the hundreds scrolling by, you'll have lots of fun finding Dull Flag, the Hill of Area, Hulk Waters and Gentleman's Ha.
If the local tourist boards have any sense, they'll put up signs at all of these places, and brace for the throngs of tourists rushing north to get their picture taken next to the ones that say Many Crooks, Flossy Groups and Hoo Kame. And many more...
Many thanks to Steve Goldman for sending in these maps, which can be found here and here on his website Mapfodder, which contains some more interesting cartographic paraphernalia.
Strange Maps #608
Got a strange map? Let me know at strangemaps@gmail.com.
Geologists discover a rhythm to major geologic events.
Surprising Science
It appears that Earth has a geologic "pulse," with clusters of major events occurring every 27.5 million years.
Working with the most accurate dating methods available, the authors of the study constructed a new history of the last 260 million years.
Exactly why these cycles occur remains unknown, but there are some interesting theories.
Our hearts beat at a resting rate of 60 to 100 beats per minute. Lots of other things pulse, too. The colors we see and the pitches we hear, for example, are due to the different wave frequencies ("pulses") of light and sound waves.
Now, a study in the journal Geoscience Frontiers finds that Earth itself has a pulse, with one "beat" every 27.5 million years. That's the rate at which major geological events have been occurring as far back as geologists can tell.
A planetary calendar has 10 dates in red
Credit: Jagoush / Adobe Stock
According to lead author and geologist Michael Rampino of New York University's Department of Biology, "Many geologists believe that geological events are random over time. But our study provides statistical evidence for a common cycle, suggesting that these geologic events are correlated and not random."

The new study is not the first time that there's been a suggestion of a planetary geologic cycle, but it's only with recent refinements in radioisotopic dating techniques that there's evidence supporting the theory. The authors of the study collected the latest, best dating for 89 known geologic events over the last 260 million years:
29 sea level fluctuations
12 marine extinctions
9 land-based extinctions
10 periods of low ocean oxygenation
13 gigantic flood basalt volcanic eruptions
8 changes in the rate of seafloor spread
8 times there were global pulsations in interplate magmatism
The dates provided the scientists a new timetable of Earth's geologic history.
Tick, tick, boom
Credit: New York University
Putting all the events together, the scientists performed a series of statistical analyses that revealed that events tend to cluster around 10 different dates, with peak activity occurring every 27.5 million years. Between the ten busy periods, the number of events dropped sharply, approaching zero.

Perhaps the most fascinating question that remains unanswered for now is exactly why this is happening. The authors of the study suggest two possibilities:
"The correlations and cyclicity seen in the geologic episodes may be entirely a function of global internal Earth dynamics affecting global tectonics and climate, but similar cycles in the Earth's orbit in the Solar System and in the Galaxy might be pacing these events. Whatever the origins of these cyclical episodes, their occurrences support the case for a largely periodic, coordinated, and intermittently catastrophic geologic record, which is quite different from the views held by most geologists."
Assuming the researchers' calculations are at least roughly correct — the authors note that different statistical formulas may result in further refinement of their conclusions — there's no need to worry that we're about to be thumped by another planetary heartbeat. The last occurred some seven million years ago, meaning the next won't happen for about another 20 million years.
We are likely to see the first humans walk on Mars this decade.
NASA
Technology & Innovation
Space agencies have successfully sent three spacecraft to Mars this year.
The independent missions occurred at around the same time because Earth and Mars were particularly close to each other last summer, providing an opportune time to launch.
SpaceX says it hopes to send a crewed mission to Mars by 2026, while the U.S. and China aim to land humans on the planet in the 2030s.
Spacecraft from three of the world's space agencies reached Mars this year.
In February, the United Arab Emirates' Hope space probe entered the Martian orbit, where it is studying the planet's weather cycles. That same month, NASA's Perseverance rover touched down on Mars, where it will soon begin collecting rock samples that could contain signs of ancient life. And in May, China successfully landed its Zhurong rover on the Martian surface, becoming the second nation to ever do so.
All three missions launched in the summer of 2020. The timing was no coincidence: once every two years, Earth and Mars come especially close together because their orbits are "at opposition," which is when the Earth-Mars distance is smallest during the 780-day synodic period. It is an opportune window to send spacecraft to Mars.
The handful of spacecraft currently exploring the Martian surface and atmosphere are scheduled to conduct their experiments for periods ranging from months to years. Some even plan to collect materials to return to Earth. For example, NASA's Perseverance will store its rock samples in protective tubes and leave them behind for a smaller "fetch rover" to pick up on a future mission.
Photo of Martian surface taken by the Perseverance roverNASA/JPL-Caltech
If all goes well, an Airbus spacecraft dubbed the Earth Return Orbiter (ERO) will carry the samples back to Earth in 2031. It would be the first time a space mission has returned Martian matter to Earth. But before the decade's end, space agencies have some other missions that aim to study the Red Planet.

Europe & Russia
NASA is not the only space agency aiming to find evidence of life on the Red Planet. In 2023, Roscosmos and the European Space Agency plan to land their Rosalind Franklin rover on the Martian surface, where it will drill into rock and analyze soil composition for signs of past — or possibly present — alien life.
The joint mission is part of a long-term Mars project that began in 2016. This second phase was initially planned for 2020, but due in part to the COVID-19 pandemic, the space agencies decided to postpone the launch to 2022.
"We want to make ourselves 100% sure of a successful mission. We cannot allow ourselves any margin of error. More verification activities will ensure a safe trip and the best scientific results on Mars," said ESA Director General Jan Wörner.
Japan
In 2022, the Japanese Aerospace Exploration Agency (JAXA) plans to send to Mars its TEREX lander, which will "precisely measure the amount of water molecules and oxygen molecules, and search for water resources and the possibility of life on Mars," JAXA wrote.
TEREX-1National Institution of Information and Communications Technology
In 2024, JAXA also plans to launch a uniquely bold interplanetary mission that will involve sending a probe to orbit Mars, landing on the Martian moon Phobos, collecting surface samples, and then returning those samples to Earth in 2029. JAXA says the mission has two main objectives: (1) to investigate whether the Martian moons are captured asteroids or fragments that coalesced after a giant impact with Mars; and (2) to clarify the mechanisms controlling the surface evolution of the Martian moons and Mars.

China
Following the successful landing of its Zhurong rover this year, China released a roadmap of its plans for additional Mars voyages. The first is an uncrewed mission scheduled for 2030, with crewed missions planned for 2033, 2035, 2037, and 2041. As the International Space Station project is coming to a close, China is in the process of building its own space station; earlier this year it launched into orbit the first part of its station, which will take 10 more missions to assemble.
SpaceX
Elon Musk's California-based aerospace company has its sights on two Mars voyages: a cargo-only mission in 2022 and a human mission by 2026. The crewed mission would involve building a propellant depot and preparing a site for future crewed flights. Getting to Mars will first require an orbital test of SpaceX's Starship rocket, which the company hopes to conduct this year.
Regarding the long-term future of humans on the Red planet, Musk once told Ars Technica:
"I'll probably be long dead before Mars becomes self-sustaining. But I'd like to at least be around to see a bunch of ships land on Mars."
India
In 2014, the Indian Space Research Organization executed its first interplanetary trip with its Mars Orbiter Mission. It marked the first time an Asian nation reached Martian orbit and also the first time a nation successfully reached the Red planet on its maiden voyage. India has plans for a follow-up Mars Orbiter Mission 2, but it remains unclear when that will occur and what the mission will entail.
In February, the chief of the Indian Space Research Organisation said the nation would only launch a Mars mission after Chandrayaan-3, India's upcoming mission to the Moon, which is expected to launch in 2022.
A new episode of "Your Brain on Money" illuminates the strange world of consumer behavior and explores how brands can wreak havoc on our ability to make rational decisions.
popular
Effective branding can not only change how you feel about a company, it can actually change how your brain is wired.
Our new series "Your Brain on Money," created in partnership with Million Stories, recently explored the surprising ways brands can affect our behavior.
Brands aren't going away. But you can make smarter decisions by slowing down and asking yourself why you're making a particular purchase.
How Apple and Nike have branded your brain | Your Brain on Money | Big Think youtu.be
Brands can manipulate our brains in surprisingly profound ways. They can change how we conceptualize ourselves and how we broadcast our identities out to the social world. They can make us feel emotions that have nothing to do with the functions of their products. And they can even sort us into tribes.
To grasp the power of brands, look to Apple. In the 1990s, the company was struggling to compete with Microsoft over the personal computer market. Despite flirting with bankruptcy in the mid-1990s, Apple turned itself around to eventually become the most valuable company in the world.
That early-stage success wasn't due to superior products.
"People talk about technology, but Apple was a marketing company," John Sculley, a former Apple marketing executive, told The Guardian in 1997. "It was the marketing company of the decade."
So, how exactly does branding make people willing to wait hours in line to buy a $1,000 smartphone, or pay exorbitant prices for a pair of sneakers?
Branding and the brain

For more than a century, brands have capitalized on the fact that effective marketing is much more than simply touting the merits of a product. Some ads have nothing to do with the product at all. In 1871, for example, Pearl Tobacco started advertising their cigarettes through branded posters and trading cards that featured exposed women, a trend that continues to this day.
It's crude, sure. But research shows that it's also remarkably effective, even on monkeys. Why? The answer seems to center on how our brains pay special attention to information from the social world.
"In theory, ads that associate sex or status with specific brands or products activate the brain mechanisms that prioritize social information, and turning on this switch may bias us toward the product," wrote neuroscience professor Michael Platt for Scientific American.
Brands can burrow themselves deep into our subconscious. Through ad campaigns, brands can form a web of associations and memories in our brains. When these connections are robust and positive, it can change our behavior, nudging us to make "no-brainer" purchases when we encounter the brand at the store.
Nike storeThamKC
It's a marketing principle that's related to the work of Daniel Kahneman, a psychologist and economist who won the 2002 Nobel Memorial Prize in Economic Sciences. In his book "Thinking Fast and Slow", Kahneman separates thinking into two broad categories, or systems:

System 1 is fast and automatic, requiring little effort or voluntary control.
System 2 is slow and requires subjective deliberation and logic.
Brands that tap into "system 1" are likely to dominate the competition. After all, it's far easier for us as consumers to automatically reach for a familiar brand than it is to analyze all of the available information and make an informed choice. Still, the most successful brands can have an even deeper impact on our psychology, one that causes us to conceptualize them as something like a family member.
A peculiar relationship with brands
Apple has one of the most loyal customer bases in the world, with its brand loyalty hitting an all-time high earlier this year, according to a SellCell survey of more than 5,000 U.S.-based smartphone users.
Qualitatively, how does that loyalty compare to Samsung users? To find out, Platt and his team conducted a study in which functional magnetic resonance imaging scanned the brains of Samsung and Apple users as they viewed positive, negative, and neutral news about each company. The results revealed stark differences between the two groups, as Platt wrote in "The Leader's Brain":
"Apple users showed empathy for their own brand: The reward-related areas of the brain were activated by good news about Apple, and the pain and negative feeling parts of the brain were activated by bad news. They were neutral about any kind of Samsung news. This is exactly what we see when people empathize with other people—particularly their family and friends—but don't feel the joy and pain of people they don't know."
Meanwhile, Samsung users didn't show any significant pain- or pleasure-related brain activity when they saw good or bad news about the company.
"Interestingly, though, the pain areas were activated by good news about Apple, and the reward areas were activated by bad news about the rival company—some serious schadenfreude, or "reverse empathy," Platt wrote.
The results suggest a fundamental difference between the brands: Apple has formed strong emotional and social connections with consumers, Samsung has not.
Brands and the self
Does having a strong connection with a brand justify paying higher prices for their products? Maybe. You could have a strong connection with Apple or Nike and simultaneously think the quality of their products justifies the price.
But beyond product quality lies identity. People have long used objects and clothing to express themselves and signal their affiliation with groups. From prehistoric seashell jewelry to Air Jordans, the things people wear and associate with signal a lot of information about how they conceptualize themselves.
Since the 1950s, researchers have examined the relationship between self-image and brand preferences. This body of research has generally found that consumers tend to prefer brands whose products fit well with their self-image, a concept known as self-image congruity.
By choosing brands that don't disrupt their self-image, consumers are able not only to express themselves personally, but also broadcast a specific version of themselves into the social world. That might sound self-involved. But on the other hand, humans are social creatures who use information from the social world to make decisions, so it's virtually impossible for us not to make inferences about people based on how they present themselves.
Americus Reed II, a marketing professor at the University of Pennsylvania, told Big Think:
"When I make choices about different brands, I'm choosing to create an identity. When I put that shirt on, when I put that shirt on — those jeans, that hat — someone is going to form an impression about what I'm about. So, if I'm choosing Nike over Under Armour, I'm choosing a kind of different way to express affiliation with sport. The Nike thing is about performance. The Under Armour thing is about the underdog. I have to choose which of these different conceptual pathways is most consistent with where I am in my life."
Making smarter decisions
Brands may have some power over us when we're facing a purchasing decision. So, considering brands aren't going away, what can we do to make better choices? The best strategy might be to slow down and try to avoid making "automatic" purchasing decisions that are characteristic of Kahneman's fast "system 1" mode of thinking.
"I think it's important to always pause and think a little bit about, "Okay, why am I buying this product?" Platt said.
As for getting out of the brand game altogether? Good luck.
"I've heard lots of people push back and say, "I'm not into brands,"" Reed II said. "I take a very different view. In some senses, they're not doing anything different than what someone who affiliates with a brand is doing. They have a brand. It's just an anti-brand brand."
Sponsored by Singleton
Powerful branding can not only change how you feel about a company, it can actually change how your brain is wired.
Scroll down to load more…