Sequoyah, the Stillborn State for Native Americans
President Theodore Roosevelt vetoed the idea.
23 July, 2010
The U.S. state of Oklahoma almost entered the Union as two states – Oklahoma and Sequoyah. The latter is the name of a failed, early 20th-century attempt at state formation by Native Americans, who constituted a large part of the population in eastern Oklahoma at the time, as they still do.
---
Most of Oklahoma was part of the Louisiana Purchase, the vast territory acquired by the U.S. from France in 1803. The Oklahoma Panhandle came into U.S. possession only after the Mexican-American war of 1846-'48. The Indian Removal Act of 1830 set aside most of present-day Oklahoma (minus the panhandle) as Indian Territory – a resettlement zone for native Americans removed from their homes east of the Mississippi.
In 1866, the U.S. government forced new treaties on the tribes living there and the Indian Territory was roughly halved. The western and central parts of Indian Territory became government land. From the 1870s onward, prospective settlers began to push for opening these lands for Euro-American settlement under the 1862 Homestead Act. Even though the government resisted, in an attempt to honour the 1866 treaties, the settlers' pressure became too great to resist. In 1884, a court in Kansas ruled that settling on these lands wasn't a crime.
Congress followed by authorising settlement via the Dawes (General Allotment) Act of 1887. In 1889, President Benjamin Harrison opened up 8,000 sq. km of so-called Unassigned Lands (in central Oklahoma) for white settlement by means of a land run. This involved dividing up the land on a first-come basis. In total, there were five major land runs in Oklahoma, although most of the rushes after the one of 1889 involved a lottery to counter cheating (some of the settlers were called 'Sooners', because they had already literally staked their claim before the land was opened for settlement).
In 1890, the 1866 treaty lands plus (then known rather romantically as No Man's Land) were joined into the Oklahoma Territory. The eastern part of present-day Oklahoma remained Indian Territory. In a convention at Eufaula in 1902, representatives of the so-called Five Civilized Tribes started a drive towards statehood for the Indian Territory. The name for their proposed state was Sequoyah, after the prominent Cherokee leader who devised the Cherokee alphabet.
In 1903, the delegates met again to organise a constitutional convention. This convention met at Muskogee in 1905, presided over by General Pleasant Porter, Principal Chief of the Creek Nation. Vice-presidents were the high representatives of each of the five aforementioned tribes: William C. Rogers (Cherokee), William H. Murray (Chickasaw), Green McCurtain (Choctaw), John Brown (Seminole) and Charles N. Haskell (Creek).
If Sequoyah never achieved statehood, it wasn't for the efforts of the Convention: it drafted a constitution, established county boundaries for the new state, elected delegates to petition Congress for statehood and saw its proposals overwhelmingly endorsed by a referendum held in Indian Territory. However, Eastern politicians pressured then-president Theodore Roosevelt against admitting two Western states (Sequoyah and Oklahoma) into the Union, fearing this would disproportionally diminish Eastern states' political influence. Roosevelt then decided both territories could only enter the Union as a single state.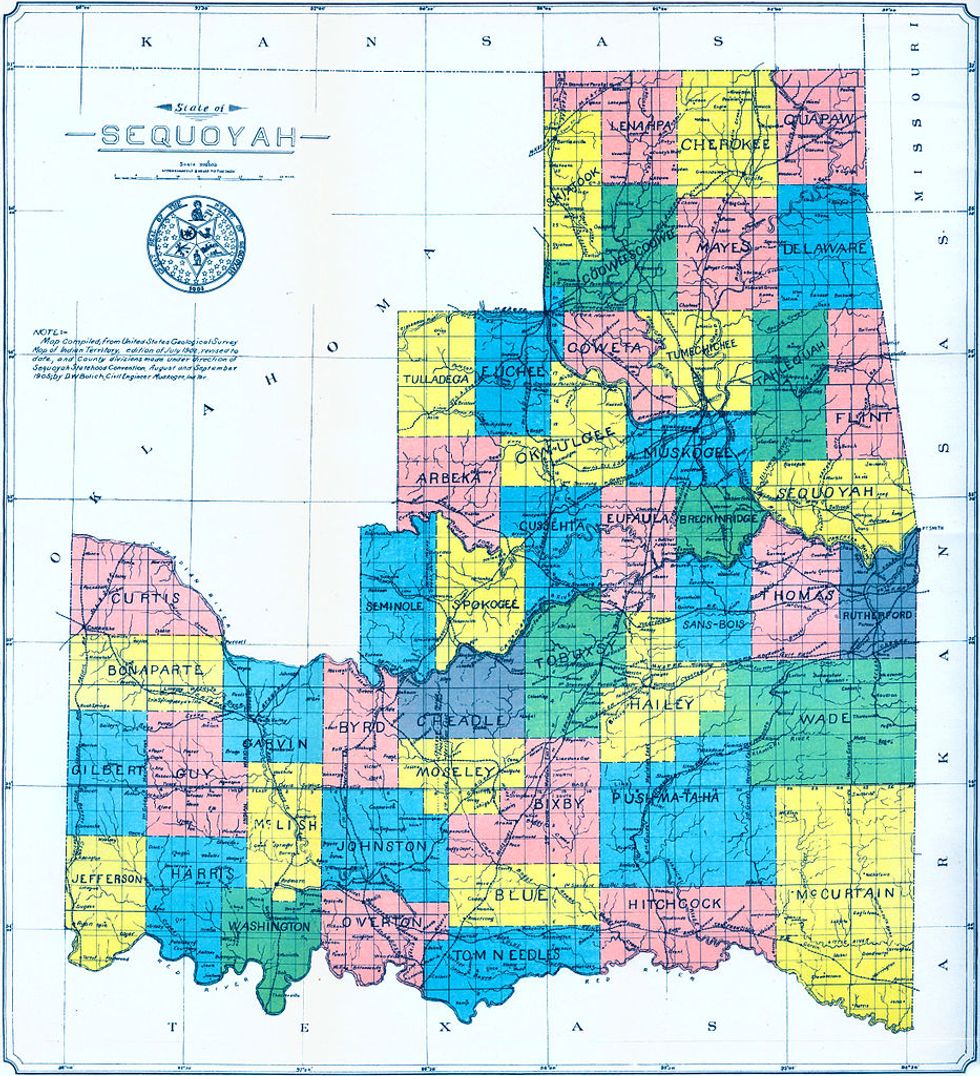 Having already laid the groundwork for their own state, Indian Territory representatives had a big influence in establishing Oklahoma. The constitution of Oklahoma, admitted as the 46th state in 1907, is based largely on that of Sequoyah.
The tantalising concept of an 'Indian' state of the Union was recycled by alternate history writer Harry Turtledove, in whose novel 'How Few Remain' the Indian Territory enters the Confederate States of America as the Confederate State of Sequoyah.
Nowadays, Oklahoma is the 20th-largest, 28th-most populous (3.45 million) state of the Union. Its name, chosen by Chief Allen Wright of the Choctaw Nation during the 1866 treaty negotiations means Red People in his native language. That name applied at first only to the aforementioned Unassigned Lands, in central Oklahoma.
Oklahoma today is a blend of Western and Native cultures. The state has the nation's second-largest Native American population, both percentage-wise (11,4% compared with Alaska's 19%) and in absolute terms (about 400,000, compared with California's 680,000). Additionally, a quarter of the state's white and black populations have some Native American ancestry.
Oklahoma is home to about 50 Native tribal headquarters, more than any other state. Ten of the Native languages spoken in Oklahoma have over 10,000 speakers. Tahlequah in eastern Oklahoma, where Native Americans  predominate, is the Capital of the Cherokee Nation.
This map of the 'State of Sequoyah' – complete with a proposed State Seal – was compiled from the USGS Map of Indian Territory (1902), revised to include the county divisions made under direction of Sequoyah Statehood Convention (1905), by D.W. Bolich, a civil engineer at Muskogee. It was found at here at Wikimedia Commons, where it can be seen in greater detail.
Strange Maps #147
Got a strange map? Let me know at strangemaps@gmail.com.
Universities claim to prepare students for the world. How many actually do it?
Sponsored by Charles Koch Foundation
Many university mission statements do not live up to their promise, writes Ben Nelson, founder of Minerva, a university designed to develop intellect over content memorization.
The core competencies that students need for success—critical thinking, communication, problem solving, and cross-cultural understanding, for example—should be intentionally taught, not left to chance.
These competencies can be summed up with one word: wisdom. True wisdom is the ability to apply one's knowledge appropriately when faced with novel situations.
This is what the world will look like, 250 million years from now
On Pangaea Proxima, Lagos will be north of New York, and Cape Town close to Mexico City
Surprising Science
To us humans, the shape and location of oceans and continents seems fixed. But that's only because our lives are so short.
A new study may help us better understand how children build social cognition through caregiver interaction.
Personal Growth
Scientists speculate imitation helps develop social cognition in babies.
A new study out of Lund University shows that six-month-olds look and smile more at imitating adults.
Researchers hope the data will spur future studies to discover what role caregiver imitation plays in social cognition development.
Researchers at UT Southwestern noted a 47 percent increase in blood flow to regions associated with memory.
Photo: Johannes Eisele/AFP via Getty Images
Surprising Science
Researchers at UT Southwestern observed a stark improvement in memory after cardiovascular exercise.
The year-long study included 30 seniors who all had some form of memory impairment.
The group of seniors that only stretched for a year did not fair as well in memory tests.
Videos
According to a man that knows more than 20 languages, the key is to start in the middle.
Scroll down to load more…