What Were Hitler's Religious Views?
Hitler is commonly thought to have been an atheist, a claim that's often used in debates about the perils of atheistic belief on a mass scale. But was he?
30 August, 2017
---
Nazism is popularly thought of as an ideology underpinned by atheism, but a closer look at Hitler's speeches and writings show a somewhat ambiguous outlook on religion. Although few historians claim that Hitler was a Christian, there's no unanimous consensus regarding his exact religious beliefs, or lack thereof. However, as historian Samuel Koehne writes in an article for the Australian Broadcasting Corporation, there are three main schools of thought:
Nazis adhered to a form of neopaganism
Nazism itself was a "political religion"
Nazism was informed by and promoted some form of Christianity
Paganism was strangely intertwined with the völkisch populist movement that swept across late 19th- and early 20th-century Germany. The groups that arose out of this movement differed in their emphasis on race and nationalism, but many expressed a desire to revive arcane pagan traditions and customs among the volk — the "people " — as Koehne notes:
In fact, when the Nazis first celebrated Christmas in Munich (in 1920), they did so as a solstice celebration, and the report of the event in their own newspaper noted that the dire situation in which Germany found itself had been "prophesied in the Edda and in the teachings of the Armanen in ancient times." They were referring here to passages on the apocalyptic Ragnarok or "twilight of the gods" in the poetic Edda.
In a 1920 speech, Hitler, who was raised in the Catholic Church, said that Aryans had built "cults of light" wherever they settled throughout history. While Hitler might have identified with the fervor of the völkisch movement, it's unlikely he believed in the metaphysical validity of its paganistic aspects. He seemed more concerned with the utility of religious belief, as Koehne writes:
It is well established that Hitler quickly drew away from the esoteric world of the volkisch movement, because he did not want the kind of secret society of initiates that characterised that tradition. He wanted to build a mass movement. As a result, in Mein Kampf he wrote strongly in support of the Catholic Church and its traditions of authority and dogma. This was not out of any love for the content of church doctrine, but because he believed that the Nazis could use such forms to create their own "political confession," moving from "volkisch feeling" to an absolute faith in the rectitude of Nazi racial nationalism.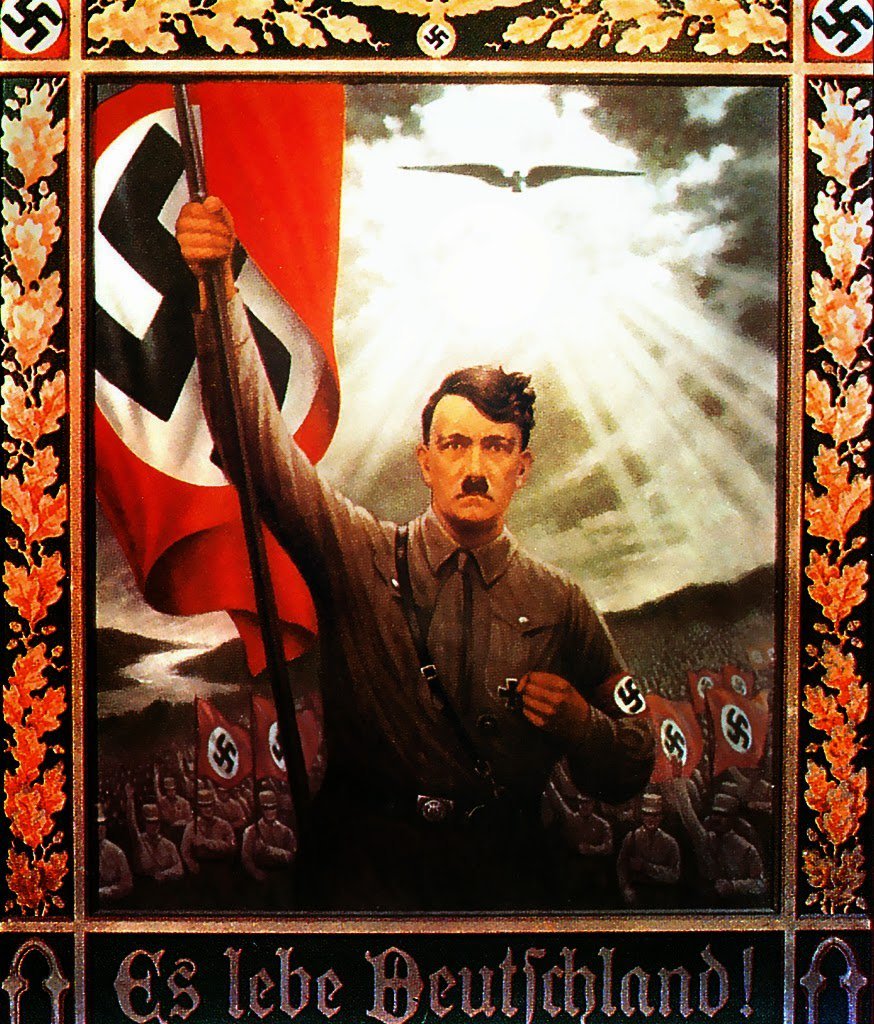 Hitler's views on the utility of religion are clear in a remark he'd often make in private, according to Albert Speer's "Inside the Third Reich":
You see, it's been our misfortune to have the wrong religion. Why didn't we have the religion of the Japanese, who regard sacrifice for the Fatherland as the highest good? The Mohammedan religion too would have been more compatible to us than Christianity. Why did it have to be Christianity with its meekness and flabbiness?
...and also in his Mein Kampf:
This human world of ours would be inconceivable without the practical existence of a religious belief. (p. 152)
However, Mein Kampf also shows a bizarrely racialized interpretation of Christianity:
And the founder of Christianity made no secret indeed of his estimation of the Jewish people. When He found it necessary, He drove those enemies of the human race out of the Temple of God. (p. 174)
Hence today I believe that I am acting in accordance with the will of the Almighty Creator: by defending myself against the Jew, I am fighting for the work of the Lord. (p. 65)
Hitler's interpretation of the gospels resulted in something dubbed "positive Christianity," which made its way into Article 24 of the 1920 Nazi Party Platform:
We demand the freedom of all religious confessions in the state, insofar as they do not jeopardize the state's existence or conflict with the manners and moral sentiments of the Germanic race. The Party as such upholds the point of view of a positive Christianity without tying itself confessionally to any one confession. It combats the Jewish-materialistic spirit at home and abroad and is convinced that a permanent recovery of our people can only be achieved from within on the basis of the common good before individual good.
Hitler frequently mentioned "natural laws" when he spoke of religion, depicting the world as one governed by social Darwinism, as seen in this excerpt from "Hitler's Table Talk":
By virtue of an inherent law, these riches belong to him who conquers them. The great migrations set out from the East. With us begins the ebb, from West to East. That's in accordance with the laws of nature. By means of struggle, the élites are continually renewed. The law of selection justifies this incessant struggle, by allowing the survival of the fittest.
In the same monologue, Hitler firmly denounces the ethos of Christianity.
Christianity is a rebellion against natural law, a protest against nature. Taken to its logical extreme, Christianity would mean the systematic cultivation of the human failure.
For these reasons, some have concluded that Hitler was a deist, as Koehne writes:
He famously argued in a major speech of 1938 that Nazism was "a 
volkisch
-political doctrine that grew out of exclusively racist insights" and was based on the "sharpest scientific knowledge." Yet in this same speech he stated the Nazi "cult" was solely one which respected nature, and so that which was "divinely ordained."
It's ultimately impossible to know exactly what Hitler's religious beliefs were. But what seems certain is that Hitler had absolute faith in two things: hyper-nationalism and himself. 
Pfizer's partnerships strengthen their ability to deliver vaccines in developing countries.
Susan Silbermann, Global President of Pfizer Vaccines, looks on as a health care worker administers a vaccine in Rwanda. Photo: Courtesy of Pfizer.
Community healthcare workers face many challenges in their work, including often traveling far distances to see their clients
Pfizer is helping to drive the UN's sustainable development goals through partnerships.
Pfizer partnered with AMP and the World Health Organization to develop a training program for healthcare workers.
Sponsored
Entrepreneur and author Andrew Horn shares his rules for becoming an assured conversationalist.
content.jwplatform.com
Videos
To avoid basing action on external validation, you need to find your "authentic voice" and use it.
Finding your voice requires asking the right questions of yourself.
There are 3-5 questions that you would generally want to ask people you are talking to.
Sarco assisted suicide pods come in three different styles, and allow you to die quickly and painlessly. They're even quite beautiful to look at.
The Sarco assisted suicide pod
Technology & Innovation
Death: it happens to everyone (except, apparently, Keanu Reeves). But while the impoverished and lower-class people of the world die in the same ol' ways—cancer, heart disease, and so forth—the upper classes can choose hip and cool new ways to die. Now, there's an assisted-suicide pod so chic and so stylin' that peeps (young people still say peeps, right?) are calling it the "Tesla" of death... it's called... the Sarco! 
Swiss researchers identify new dangers of modern cocaine.
Getty Images
Mind & Brain
Cocaine cut with anti-worming adulterant levamisole may cause brain damage.
Levamisole can thin out the prefrontal cortex and affect cognitive skills.
Government health programs should encourage testing of cocaine for purity.
Big think's weekly newsletter.
Get smarter faster from the comfort of your inbox.
See our newsletter privacy policy
here
Most Popular
Most Recent
Big think's weekly newsletter.
Get smarter faster from the comfort of your inbox.
See our newsletter privacy policy
here
© Copyright 2007-2018 & BIG THINK, BIG THINK EDGE,
SMARTER FASTER trademarks owned by The Big Think, Inc. All rights reserved.