The incredible sci-fi stories of Octavia E. Butler, honored today on Google Doodle
Google's homepage doodle for today, June 22, honors the memory of renowned science fiction author Octavia E. Butler. It would have been her 71st birthday.
22 June, 2018
---
Google's homepage doodle for today, June 22, honors the memory of renowned science fiction author Octavia E. Butler. It would have been her 71st birthday.
Butler, an African-American woman whose shy disposition and dyslexia drew her into the world of words at a young age, forever changed the sci-fi genre not only by crafting award-winning stories but also by becoming one of the first authors to write about diverse protagonists.
"In a genre historically populated by only white male protagonists, Butler created characters that she, and millions of others, could identify with," Google Doodle representatives wrote. "She considered herself to have three central audiences—black readers, feminists, and fans of science fiction—and challenged herself to create a body of work that was accessible to all of them. While Butler faced institutional racism and segregation throughout her life, these experiences influenced her writing and thus shone a light on critical social issues."
Born in Pasadena, California in 1947, Butler—better known as "Junie" to friends and family—grew up the daughter of a shoeshine man and a maid.
One who usually preferred writing and reading about people rather than interacting with them, Butler once wrote about herself: "I'm comfortably asocial -- a hermit in the middle of a large city, a pessimist if I'm not careful, a feminist, a Black, a former Baptist, an oil-and-water combination of ambition, laziness, insecurity, certainty and drive."
As a 10-year-old, Butler began writing stories on a typewriter given to her by her mother. But not all of her family encouraged her to write.
"Honey, negroes can't be writers," she recalled an aunt once saying.
But she never stopped, and eventually went on to win multiple Nebula and Hugo awards, and in 1995 became the first sci-fi writer to earn a MacArthur Fellowship, whose foundation said Butler's "imaginative stories are transcendent fables, which have as much to do with the future as with the present and the past."
Butler's work attracted a diehard audience over her 36-year career.
"There was an intensity to the way people read her that is very unusual," Dan Simon, who was Butler's editor, told the L.A. Times. "You always feel when reading her that you're looking in a mirror that gives you an even truer reflection than any mirror ever could."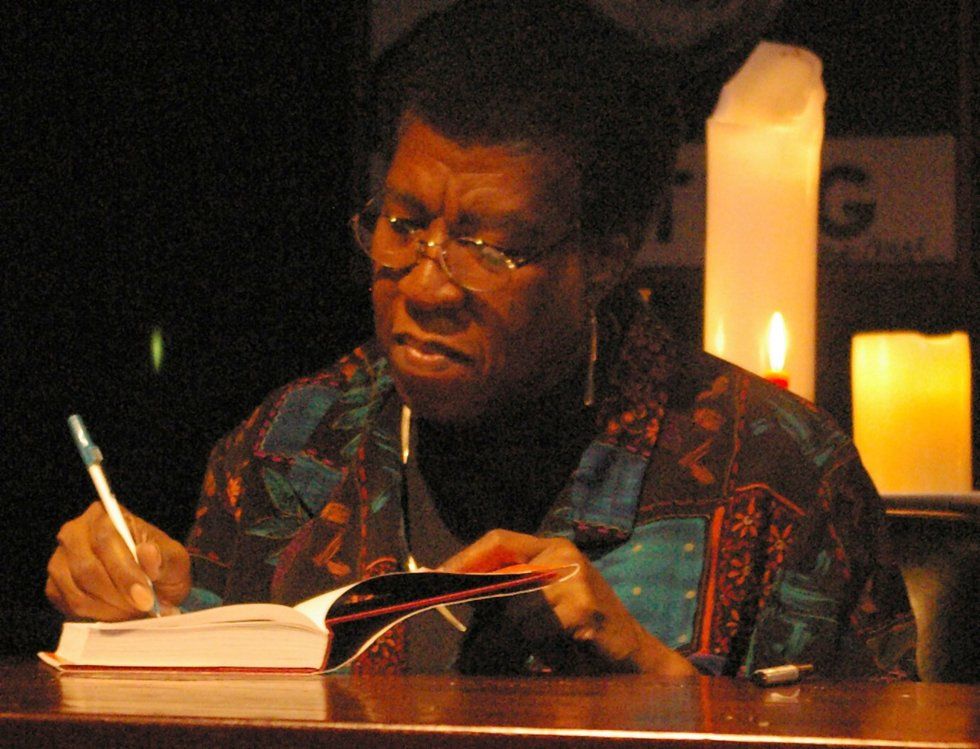 (Photo: Nikolas Coukouma via creative commons)
Here's a quick look at three of Butler's most renowned novels.
Parable of the Sower
This novel, set in the 2020s when society is collapsing due to wealth inequality and climate change, follows a girl in Southern California named Lauren. She has something called hyperempathy syndrome, which causes her to take on the pains and pleasures of other people near her. After resource scarcity drives the city to a tipping point, chaos erupts and her family is murdered, and Lauren begins to lead a group of survivors north of the city to establish a new colony, and a new religion. The ultimate goal? Leave Earth and settle on other planets.
Wild Seed
As the earliest entry in her Patternist series, chronologically speaking, Wild Seed spans both the ancient past and distant future as it follows Doro and Anyanwu, two African immortals with supernatural abilities. Divided into three sections, the novel draws on the darker chapters in human history in its detailing of Doro's struggle to create a race of superhumans through selective breeding, all while serving as a commentary on power struggles between masculine and feminine, and individuals and culture.
Kindred
Kindred is the story of Dana, a black woman living in Los Angeles in the 1970s who finds herself being inexplicably pulled back in time to 1815, the era of antebellum slavery. Described by Butler as a "kind of grim fantasy," the novel is a disturbing exploration of racism, master-slave dynamics, and psychological trauma. It's also, like many of her works, a book featuring a strong black female protagonist, one who has to learn to survive slavery and brutal racism while refusing to surrender. Seattle Post-Intelligencer writer John Marshall once wrote that Kindred is "the perfect introduction to Butler's work and perspectives for those not usually enamored of science fiction."
What can 3D printing do for medicine? The "sky is the limit," says Northwell Health researcher Dr. Todd Goldstein.
Northwell Health
Sponsored by Northwell Health
Medical professionals are currently using 3D printers to create prosthetics and patient-specific organ models that doctors can use to prepare for surgery.
Eventually, scientists hope to print patient-specific organs that can be transplanted safely into the human body.
Northwell Health, New York State's largest health care provider, is pioneering 3D printing in medicine in three key ways.
Neuroscience is working to conquer some of the human body's cruelest conditions: Paralysis, brain disease, and schizophrenia.
Videos
Neuroscience and engineering are uniting in mind-blowing ways that will drastically improve the quality of life for people with conditions like epilepsy, paralysis or schizophrenia.
Researchers have developed a brain-computer interface the size of a baby aspirin that can restore mobility to people with paralysis or amputated limbs. It rewires neural messages from the brain's motor cortex to a robotic arm, or reroutes it to the person's own muscles.
Deep brain stimulation is another wonder of neuroscience that can effectively manage brain conditions like epilepsy, Parkinson's, and may one day mitigate schizophrenia so people can live normal, independent lives.
As Game of Thrones ends, a revealing resolution to its perplexing geography.
Strange Maps
The fantasy world of Game of Thrones was inspired by real places and events.
But the map of Westeros is a good example of the perplexing relation between fantasy and reality.
Like Britain, it has a Wall in the North, but the map only really clicks into place if you add Ireland.
A recent study gives new meaning to the saying "fake it 'til you make it."
Pixabay
Surprising Science
The study involves four experiments that measured individuals' socioeconomic status, overconfidence and actual performance.
Results consistently showed that high-class people tend to overestimate their abilities.
However, this overconfidence was misinterpreted as genuine competence in one study, suggesting overestimating your abilities can have social advantages.
Big think's weekly newsletter.
Get smarter faster from the comfort of your inbox.
See our newsletter privacy policy
here
Most Popular
Most Recent
Big think's weekly newsletter.
Get smarter faster from the comfort of your inbox.
See our newsletter privacy policy
here
© Copyright 2007-2019 & BIG THINK, BIG THINK EDGE,
SMARTER FASTER trademarks owned by The Big Think, Inc. All rights reserved.
//This will actually fire event. Should be called after consent was verifed