The incredible sci-fi stories of Octavia E. Butler, honored today on Google Doodle
Google's homepage doodle for today, June 22, honors the memory of renowned science fiction author Octavia E. Butler. It would have been her 71st birthday.
22 June, 2018
---
Google's homepage doodle for today, June 22, honors the memory of renowned science fiction author Octavia E. Butler. It would have been her 71st birthday.
Butler, an African-American woman whose shy disposition and dyslexia drew her into the world of words at a young age, forever changed the sci-fi genre not only by crafting award-winning stories but also by becoming one of the first authors to write about diverse protagonists.
"In a genre historically populated by only white male protagonists, Butler created characters that she, and millions of others, could identify with," Google Doodle representatives wrote. "She considered herself to have three central audiences—black readers, feminists, and fans of science fiction—and challenged herself to create a body of work that was accessible to all of them. While Butler faced institutional racism and segregation throughout her life, these experiences influenced her writing and thus shone a light on critical social issues."
Born in Pasadena, California in 1947, Butler—better known as "Junie" to friends and family—grew up the daughter of a shoeshine man and a maid.
One who usually preferred writing and reading about people rather than interacting with them, Butler once wrote about herself: "I'm comfortably asocial -- a hermit in the middle of a large city, a pessimist if I'm not careful, a feminist, a Black, a former Baptist, an oil-and-water combination of ambition, laziness, insecurity, certainty and drive."
As a 10-year-old, Butler began writing stories on a typewriter given to her by her mother. But not all of her family encouraged her to write.
"Honey, negroes can't be writers," she recalled an aunt once saying.
But she never stopped, and eventually went on to win multiple Nebula and Hugo awards, and in 1995 became the first sci-fi writer to earn a MacArthur Fellowship, whose foundation said Butler's "imaginative stories are transcendent fables, which have as much to do with the future as with the present and the past."
Butler's work attracted a diehard audience over her 36-year career.
"There was an intensity to the way people read her that is very unusual," Dan Simon, who was Butler's editor, told the L.A. Times. "You always feel when reading her that you're looking in a mirror that gives you an even truer reflection than any mirror ever could."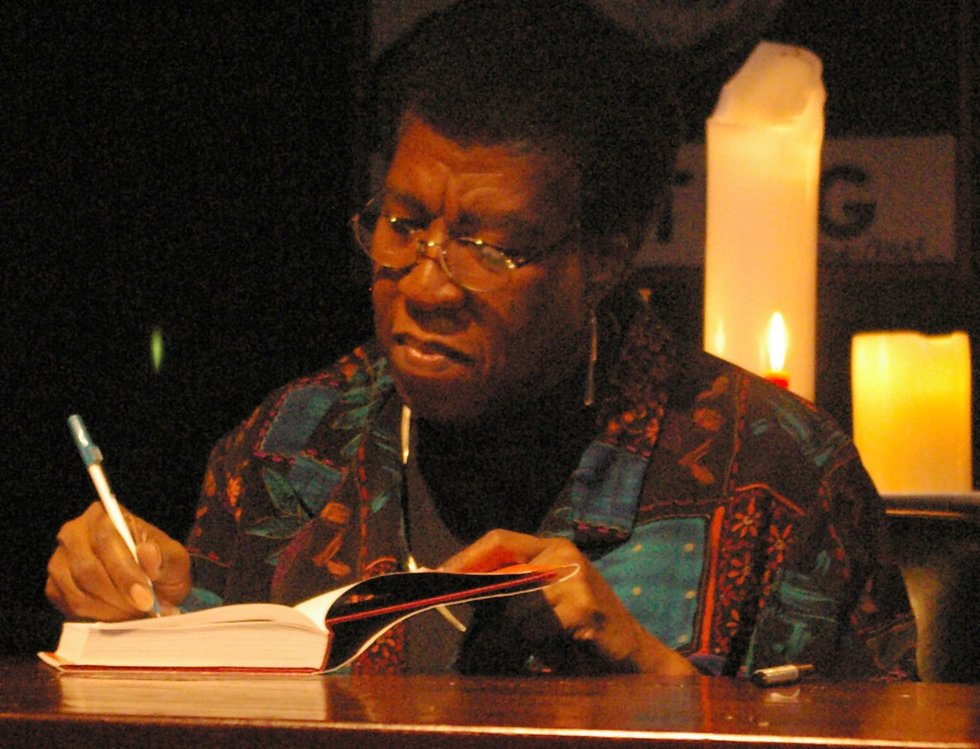 (Photo: Nikolas Coukouma via creative commons)
Here's a quick look at three of Butler's most renowned novels.
Parable of the Sower
This novel, set in the 2020s when society is collapsing due to wealth inequality and climate change, follows a girl in Southern California named Lauren. She has something called hyperempathy syndrome, which causes her to take on the pains and pleasures of other people near her. After resource scarcity drives the city to a tipping point, chaos erupts and her family is murdered, and Lauren begins to lead a group of survivors north of the city to establish a new colony, and a new religion. The ultimate goal? Leave Earth and settle on other planets.
Wild Seed
As the earliest entry in her Patternist series, chronologically speaking, Wild Seed spans both the ancient past and distant future as it follows Doro and Anyanwu, two African immortals with supernatural abilities. Divided into three sections, the novel draws on the darker chapters in human history in its detailing of Doro's struggle to create a race of superhumans through selective breeding, all while serving as a commentary on power struggles between masculine and feminine, and individuals and culture.
Kindred
Kindred is the story of Dana, a black woman living in Los Angeles in the 1970s who finds herself being inexplicably pulled back in time to 1815, the era of antebellum slavery. Described by Butler as a "kind of grim fantasy," the novel is a disturbing exploration of racism, master-slave dynamics, and psychological trauma. It's also, like many of her works, a book featuring a strong black female protagonist, one who has to learn to survive slavery and brutal racism while refusing to surrender. Seattle Post-Intelligencer writer John Marshall once wrote that Kindred is "the perfect introduction to Butler's work and perspectives for those not usually enamored of science fiction."
Lumina Foundation is partnering with Big Think to unearth the next large-scale, rapid innovation in post-high school education. Enter the competition here!
"I should be as happy as I'm ever going to be right now, but I'm not. Is this it?"
Personal Growth
The life choices that had led me to be sitting in a booth underneath a banner that read "Ask a Philosopher" – at the entrance to the New York City subway at 57th and 8th – were perhaps random but inevitable.

Researchers believe that the practice of sleeping through the whole night didn't really take hold until just a few hundred years ago.
The Bed by Henri de Toulouse-Lautrec.
Surprising Science
She was wide awake and it was nearly two in the morning. When asked if everything was alright, she said, "Yes." Asked why she couldn't get to sleep she said, "I don't know." Neuroscientist Russell Foster of Oxford might suggest she was exhibiting "a throwback to the bi-modal sleep pattern." Research suggests we used to sleep in two segments with a period of wakefulness in-between.
The assumption "that without memory, there can be no self" is wrong, say researchers.
Photo credit: Darren Hauck / Getty Images
Mind & Brain
In the past when scholars have reflected on the psychological impact of dementia they have frequently referred to the loss of the "self" in dramatic and devastating terms, using language such as the "unbecoming of the self" or the "disintegration" of the self. In a new review released as a preprint at PsyArXiv, an international team of psychologists led by Muireann Irish at the University of Sydney challenge this bleak picture which they attribute to the common, but mistaken, assumption "that without memory, there can be no self" (as encapsulated by the line from Hume: "Memory alone… 'tis to be considered… as the source of personal identity").
Big think's weekly newsletter.
Get smarter faster from the comfort of your inbox.
See our newsletter privacy policy
here
Most Popular
Most Recent
Big think's weekly newsletter.
Get smarter faster from the comfort of your inbox.
See our newsletter privacy policy
here
© Copyright 2007-2018 & BIG THINK, BIG THINK EDGE,
SMARTER FASTER trademarks owned by The Big Think, Inc. All rights reserved.