Scientists discover new DNA structure that's not a double helix
Scientists have identified an alternative DNA structure described as a "twisted knot" inside living human cells. They're calling it the i-motif.
23 April, 2018
Artist rendering of the i-motif. (Credit: Chris Hammang)
---
In 1953, American biologist James Watson and English physicist Francis Crick published a scientific paper that revealed a groundbreaking discovery: the shape of DNA.
"This structure has novel features which are of considerable biological interest," they wrote.
That turned out to be an understatement. The discovery of the double helix would go on to revolutionize the scientific world, leading to major developments in disease screening and treatment, food production, and forensic science.
Now, scientists have identified another structure of DNA.
In a paper published in Nature Chemistry, researchers from Australia describe the first-ever sighting of a DNA component—called the intercalated motif (i-motif)—within living human cells. The shape of the structure has been likened to a "twisted knot."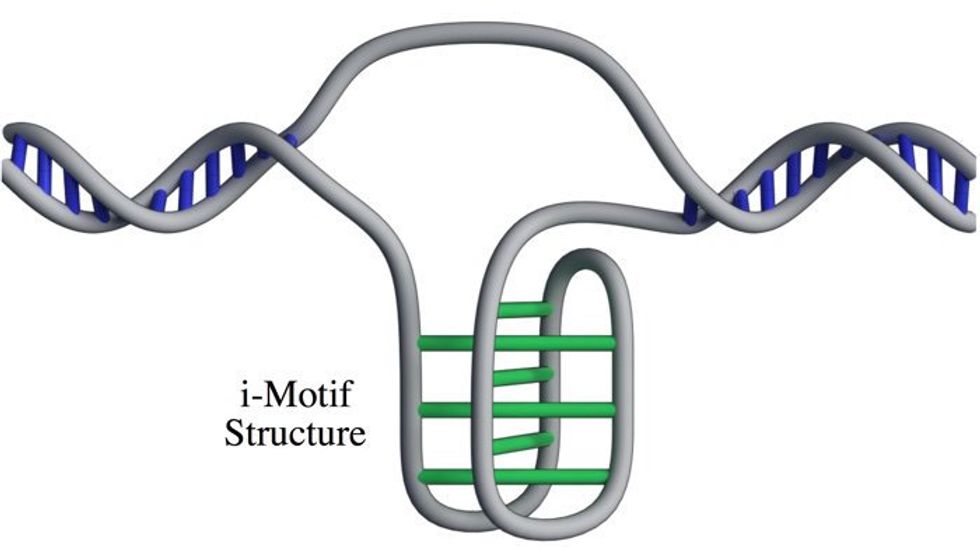 "The i-motif is a four-stranded 'knot' of DNA," said genomicist Marcel Dinger, who co-led the research. "In the knot structure, C [cytosine] letters on the same strand of DNA bind to each other—so this is very different from a double helix, where 'letters' on opposite strands recognize each other, and where Cs bind to Gs [guanines]."
To identify the i-motif, which had been previously identified in vitro but never in living cells, the researchers developed antibody fragments dubbed "iMabs" that could recognize and bind to i-motifs in cells. The researchers added fluorescent dyes to the iMabs to make them easy to spot.
"What excited us most is that we could see the green spots—the i-motifs—appearing and disappearing over time, so we know that they are forming, dissolving and forming again," said Dr. Mahdi Zeraati, the first author of the new paper.
The transient nature of i-motifs, along with the fact that they're observed near areas of cells that control whether genes get activated, provides clues about their functions.
"We think the coming and going of the i-motifs is a clue to what they do," said Zeraati. "It seems likely that they are there to help switch genes on or off, and to affect whether a gene is actively read or not."
Dinger expressed a similar idea to the Australian Financial Review. "It may function as a volume dial in the genome that regulates activity of genes and can impact on the amount of a gene that is expressed in a cell."
Zeraati said it is important for future research to uncover more about the functions of the i-motif and other DNA structures.
"These alternative DNA conformations might be important for proteins in the cell to recognize their cognate DNA sequence and exert their regulatory functions," he told Science Alert. "Therefore, the formation of these structures might be of utmost importance for the cell to function normally. And, any aberration in these structures might have pathological consequences."
Universities claim to prepare students for the world. How many actually do it?
Sponsored by Charles Koch Foundation
Many university mission statements do not live up to their promise, writes Ben Nelson, founder of Minerva, a university designed to develop intellect over content memorization.
The core competencies that students need for success—critical thinking, communication, problem solving, and cross-cultural understanding, for example—should be intentionally taught, not left to chance.
These competencies can be summed up with one word: wisdom. True wisdom is the ability to apply one's knowledge appropriately when faced with novel situations.
This is what the world will look like, 250 million years from now
On Pangaea Proxima, Lagos will be north of New York, and Cape Town close to Mexico City
Surprising Science
To us humans, the shape and location of oceans and continents seems fixed. But that's only because our lives are so short.
A new study may help us better understand how children build social cognition through caregiver interaction.
Personal Growth
Scientists speculate imitation helps develop social cognition in babies.
A new study out of Lund University shows that six-month-olds look and smile more at imitating adults.
Researchers hope the data will spur future studies to discover what role caregiver imitation plays in social cognition development.
According to a man that knows more than 20 languages, the key is to start in the middle.
Videos
Canadian polyglot Steve Kaufmann says there is indeed a fast track to learning a new language. It involves doubling down on your listening and reading.
By taking the focus off grammar rules that are difficult to understand and even more difficult to remember, you can instead develop habits by greater exposure to the language. Kaufmann likens the learning process to a hockey stick.
In the beginning you make major progress as you climb the steep hill of the hockey stick, whereas the long shaft of the stick is the difficult part. Because you're not seeing day-to-day changes, you might lose motivation. So, stay the course by consuming content that interests you.
Scroll down to load more…