Why do women gossip? Study reveals dark, strategic reasons.
A new paper explores why women gossip about each other, and identifies some key factors that influence how women choose gossiping targets.
17 April, 2018
---
What purpose does gossip serve among women?
According to a new paper in the Journal of Experimental Social Psychology, gossip can serve as a weapon that women use against each other in strategic competition over men. The broad finding in the paper was that women are more likely to gossip–as in share reputation-damaging information or withhold positive information–about women whom they perceive to be a threat, directly or indirectly, to their own romantic success. 
That might explain in part why middle schools are often incredibly cruel social environment for young girls, as a couple of personal excerpts from the paper suggest:
"When I was in junior high, there was this new girl that a bunch of guys liked. Two girls in the grade went around with a petition they made all the boys sign that said 'I will never go out with the Megawhore.'" – Hope
seth-stephens-davidowitz-googles-search-data-reveals-the-truth-about-female-and-male-sexuality
"Brianna and Mackenzie gave [Jenny] a code name and started calling her Harriet the Hairy Whore. They told everyone Jenny was hooking up with the boys in the woods behind the soccer field…Brianna and Mackenzie started a club called Hate Harriet the Whore Incorporated. They got every girl to join except two who didn't care."
The researchers conducted five studies to examine the factors that influence whether a woman chooses to harm another woman's reputation.
The first four studies asked female participants to complete an online survey. In the first study, participants were presented with a photo of an attractive woman and were asked to imagine that she had just joined their social group.
Half of the participants were asked to take the hypothetical situation a step further by imagining that the attractive woman had been flirting with their boyfriends.
Participants were then given positive and negative personal information about the attractive woman, like "she sleeps around a lot" or "she donates to charity." Then, the participants were asked to rate how likely they were to share each piece of information.
The results showed women were more likely to share negative information and withhold positive information in the hypothetical scenarios where the attractive woman had been flirting with their boyfriend. 
The results of the other surveys showed similar findings: participants were more likely to gossip about a woman when she was attractive or wore revealing clothing. In other words, the women, particularly those who measured as being highly competitive, gossiped when they perceived another woman to be a romantic threat. Interestingly, whether a participant happened to like explicitly like a woman seemed not to affect the probability that she would gossip about her.   
Unlike the first four studies, the fifth used face-to-face interactions instead of online surveys. The researchers wanted to test whether the level of sexual openness–demonstrated by wearing either sexy or conservative clothing–affected participants' willingness to gossip about an attractive woman they interacted with in person.
They recruited 104 women for a laboratory study described as one about "how people work together in groups." Each participant was joined by two other female "participants." However, both of these women were actually "confederates" of the study.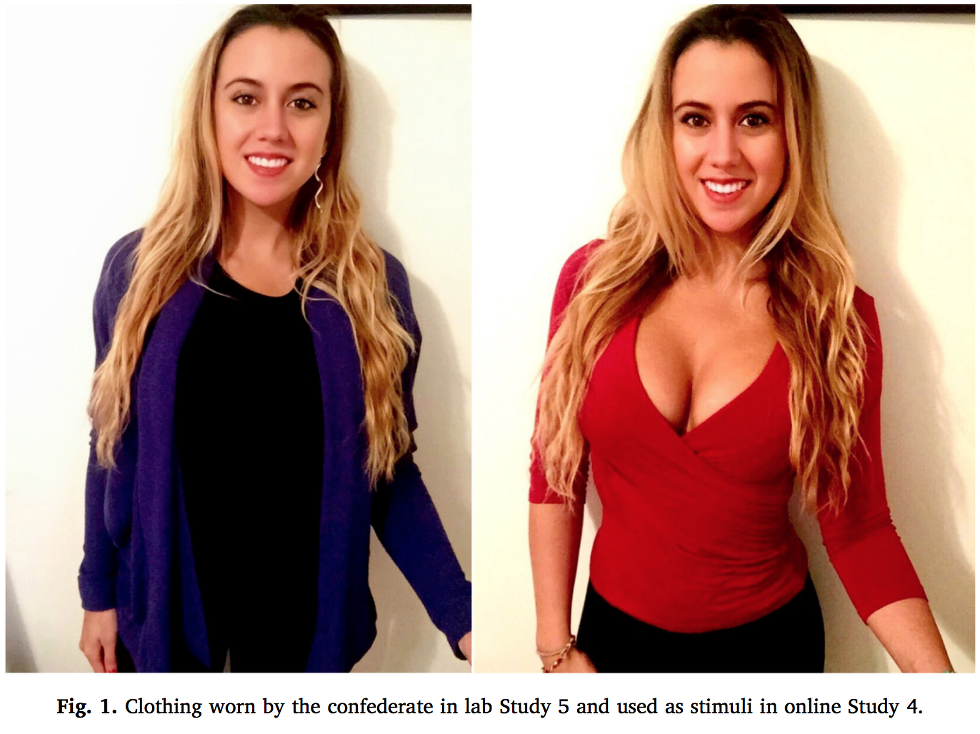 One confederate was named Francesca. Each participant was instructed to work with Francesca on a puzzle while the third woman worked in another room. While working on the puzzle, Francesca would confess to each participant that she was hungover and had had sex with two men the previous night.
After a few minutes, the instructor would tell Francesca she was free to leave, and then tell the other confederate to enter the room and begin working with the participant on the puzzle. The confederate would eventually ask, "so how was working with the other girl?"
Consistent with the findings from the other studies, the researchers found that participants were more likely to share reputation-damaging information about Francesca when she wore a revealing outfit rather than a conservative one. In other words, women gossiped about Francesca when they perceived her to be an indirect romantic threat, considering that men to tend to be attracted to sexual openness as displayed through provocative clothing.
However, some women framed their gossip about Francesca in altruistic terms, saying things like "I'm worried about her." It's not clear whether these instances represented true concerns or attempts to make themselves appear not quite as gossipy.
The researchers suggested that in order to mitigate the suffering of girls like Hope and Jenny, we first need to understand the motivations behind gossiping.
"The theory and data presented here suggest that Hope and Jenny's bullies likely viewed their targets as threatening romantic rivals," the paper concludes. "The pattern of these behaviors was not random, but straightforwardly followed a romantic competition framework. To the extent that reputation manipulation reflects a viable means for women to compete for romantic and social partners, then strategic reputation denigration should be pervasive. Shining a spotlight on this form of aggression is the first step towards reducing it."
That's a sharp increase from the 1960s when it took the same share of scientists an average of 35 years to drop out of academia.
Pixabay
Surprising Science
The study tracked the careers of more than 100,000 scientists over 50 years.
The results showed career lifespans are shrinking, and fewer scientists are getting credited as the lead author on scientific papers.
Scientists are still pursuing careers in the private sector, however there are key differences between research conducted in academia and industry.
We have to practice doing nothing more often.
Photo: Shutterstock
Personal Growth
Constantly being busy is neurologically taxing and emotionally draining.
In his new book, Jon Kabat-Zinn writes that you're doing a disservice to others by always being busy.
Busyness is often an excuse for the discomfort of being alone with your own thoughts.
The bold technique involves surgically implanting a so-called microneedle patch directly onto the heart.
Red human heart against a yellow background (Getty Images)
Surprising Science
Heart attacks leave scar tissue on the heart, which can reduce the organ's ability to pump blood throughout the body.
The microneedle patch aims to deliver therapeutic cells directly to the damaged tissue.
It hasn't been tested on humans yet, but the method has shown promising signs in research on animals.
Big think's weekly newsletter.
Get smarter faster from the comfort of your inbox.
See our newsletter privacy policy
here
Most Popular
Most Recent
Big think's weekly newsletter.
Get smarter faster from the comfort of your inbox.
See our newsletter privacy policy
here
© Copyright 2007-2018 & BIG THINK, BIG THINK EDGE,
SMARTER FASTER trademarks owned by The Big Think, Inc. All rights reserved.