Study: Allowing smartphones in class lowers grades — even for students who don't use them
The study also showed that students who didn't use electronic devices but attended lectures where their use was allowed also performed worse on tests.
30 July, 2018
---
Students who use smartphones during lectures are less able to retain course material over the long term, new research suggests.
The study, published in the journal Educational Psychology, also showed that students performed worse on exams even when they didn't use smartphones or laptops during class but attended lectures in which they were allowed.
"Many dedicated students think they can divide their attention in the classroom without harming their academic success – but we found an insidious effect on exam performance and final grades," lead researcher Arnold Glass, a professor of psychology at Rutgers–New Brunswick's School of Arts and Sciences, told Rutgers Today.
For the study, researchers tracked the performance of two groups of Rutgers–New Brunswick cognitive psychology students, 118 in total, as they took the same course over one term. The course was identical for both groups of students, but only one group was allowed to use electronic devices during the lectures; the other wasn't.
The majority of students used electronic devices when allowed, while only six students never used them at all. It seemed to make a crucial difference on final grades.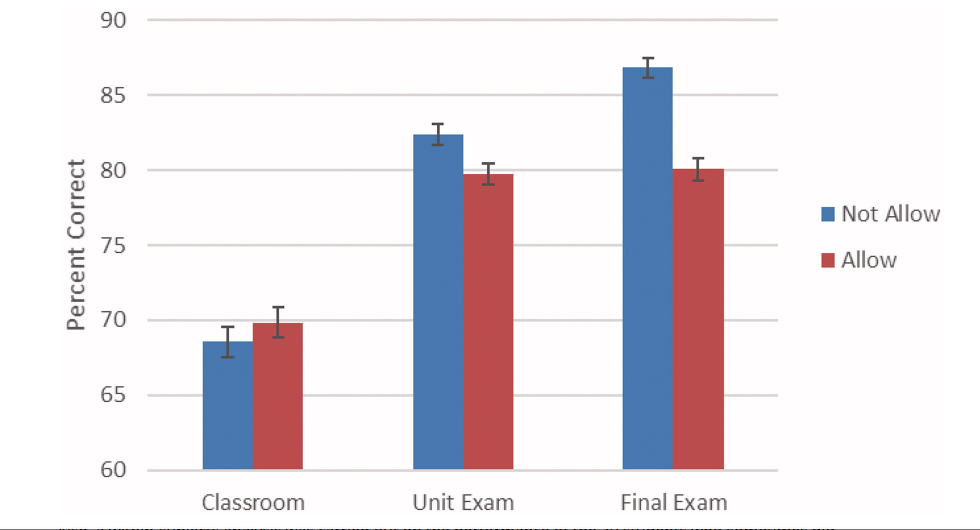 Interestingly, the results showed that using electronic devices had no effect on students' ability to answer questions about course material taught that same day. However, it did seem to make students perform worse–by about 5 percent–on unit and final exams, suggesting that students' ability to retain information over the long term suffers if they divide their attention when material is being taught.
The researchers wrote that dividing your attention can hurt your long-term retention abilities because you ultimately spend less mental resources on mnemonic activities, such as answering quiz questions in class that will later show up on a final exam.
"This finding demonstrates for the first time that the main effect of divided attention in the classroom is not an immediate effect of selection or switching on comprehension but a long-term effect of divided attention on retention," the researchers wrote.
Glass suggested that teachers warn students of the counterproductive effects electronics can bring to the classroom.
"To help manage the use of devices in the classroom, teachers should explain to students the damaging effect of distractions on retention – not only on themselves, but for the whole class," he said.
As religious diversity increases in the United States, we must learn to channel religious identity into interfaith cooperation.
Sponsored by Charles Koch Foundation
Religious diversity is the norm in American life, and that diversity is only increasing, says Eboo Patel.
Using the most painful moment of his life as a lesson, Eboo Patel explains why it's crucial to be positive and proactive about engaging religious identity towards interfaith cooperation.
The opinions expressed in this video do not necessarily reflect the views of the Charles Koch Foundation, which encourages the expression of diverse viewpoints within a culture of civil discourse and mutual respect.
Two Apollo 11 astronauts question NASA's planetary safety procedures.
Credit: Bettmann, Getty Images.
Surprising Science
Buzz Aldrin and Michael Collins revealed that there were deficiencies in NASA's safety procedures following the Apollo 11 mission.
Moon landing astronauts were quarantined for 21 days.
Earth could be contaminated with lunar bacteria.
Here's why you might eat greenhouse gases in the future.
Technology & Innovation
The company's protein powder, "Solein," is similar in form and taste to wheat flour.
Based on a concept developed by NASA, the product has wide potential as a carbon-neutral source of protein.
The man-made "meat" industry just got even more interesting.
When it comes to sniffing out whether a source is credible or not, even journalists can sometimes take the wrong approach.
Sponsored by Charles Koch Foundation
We all think that we're competent consumers of news media, but the research shows that even journalists struggle with identifying fact from fiction.
When judging whether a piece of media is true or not, most of us focus too much on the source itself. Knowledge has a context, and it's important to look at that context when trying to validate a source.
The opinions expressed in this video do not necessarily reflect the views of the Charles Koch Foundation, which encourages the expression of diverse viewpoints within a culture of civil discourse and mutual respect.