The number of billionaires on the planet hit a record high this year
A new report from data company Wealth-X shows that the world's billionaires enjoyed a sharp increase both in number and wealth over the past year.
16 May, 2018
---
At a count of 2,754, there are now more billionaires on the planet than in any other time in history, according to a new report from wealth data company Wealth-X.
The world's billionaire class now controls about $9.2 trillion in wealth, a 24 percent increase from 2016. The U.S. has the world's highest billionaire count with 680—accounting for 25 percent of the world's total—and was followed by China, which has 338. Asia saw the greatest uptick in billionaires and total wealth by region, though the report attributes most of that growth to Hong Kong and China.
In total, the world's richest 1 percent owns about half of the world's wealth.

Across the globe, the number of female billionaires rose more quickly than men over the past year, though male billionaires still outnumber females by a factor of eight. Male and female billionaires also acquired their wealth differently, in the women were much more likely than men to become billionaires through inheritance.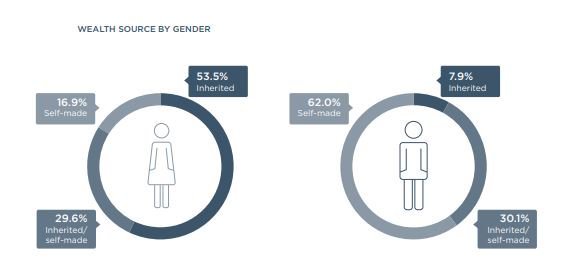 Wealth-X attributes the increase of ultra-wealthy individuals to a powerful global technology sector, economic growth in Asian countries, and, in general, a "synchronized upturn in the world economy and climbing equity markets."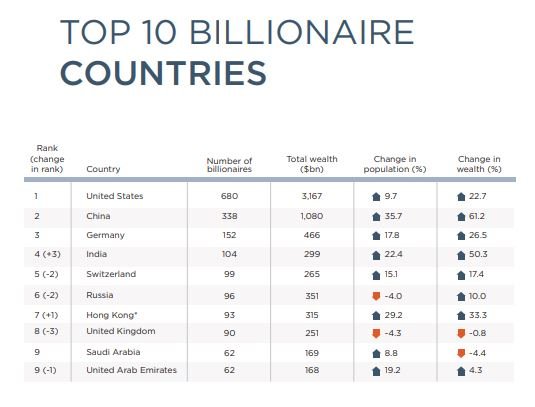 The 2018 Billionaire Census reported several trends among the global billionaire class:
Billionaire wealth grew at a much faster pace than population size across all regions.
While the U.S. remained the dominant force for this increase, six of the top ten countries recorded faster growth than the US in their respective billionaire populations.
A growing trend for billionaires to give more, with significant portions of the population focusing at least part of their philanthropic activity on education, health and social causes, as well as art and cultural organizations.
So, who's the richest of the rich? In 2017, Amazon founder Jeff Bezos surpassed Bill Gates to become the world's richest person, with an estimated net worth of $112 billion. Bezos is followed by Bill Gates, Warren Buffett, and fashion designer Bernard Arnault.
As billionaires around the world get richer, the median wealth of all U.S. households—$97,300 in 2016—hasn't completely recovered from the Great Recession, before which the median was $139,700.
Here's the science of black holes, from supermassive monsters to ones the size of ping-pong balls.
Videos
There's more than one way to make a black hole, says NASA's Michelle Thaller. They're not always formed from dead stars. For example, there are teeny tiny black holes all around us, the result of high-energy cosmic rays slamming into our atmosphere with enough force to cram matter together so densely that no light can escape.
CERN is trying to create artificial black holes right now, but don't worry, it's not dangerous. Scientists there are attempting to smash two particles together with such intensity that it creates a black hole that would live for just a millionth of a second.
Thaller uses a brilliant analogy involving a rubber sheet, a marble, and an elephant to explain why different black holes have varying densities. Watch and learn!
Bonus fact: If the Earth became a black hole, it would be crushed to the size of a ping-pong ball.
Protected animals are feared to be headed for the black market.
(VL.ru)
Politics & Current Affairs
Russian news network discovers 101 black-market whales.
Orcas and belugas are seen crammed into tiny pens.
Marine parks continue to create a high-price demand for illegal captures.
In a breakthrough for nuclear fusion research, scientists at China's Experimental Advanced Superconducting Tokamak (EAST) reactor have produced temperatures necessary for nuclear fusion on Earth.
Credit: EAST Team
Surprising Science
The EAST reactor was able to heat hydrogen to temperatures exceeding 100 million degrees Celsius.
Nuclear fusion could someday provide the planet with a virtually limitless supply of clean energy.
Still, scientists have many other obstacles to pass before fusion technology becomes a viable energy source.
Big think's weekly newsletter.
Get smarter faster from the comfort of your inbox.
See our newsletter privacy policy
here
Most Popular
Most Recent
Big think's weekly newsletter.
Get smarter faster from the comfort of your inbox.
See our newsletter privacy policy
here
© Copyright 2007-2018 & BIG THINK, BIG THINK EDGE,
SMARTER FASTER trademarks owned by The Big Think, Inc. All rights reserved.