98 companies AT&T-Time Warner will own after the $85 billion merger
A federal judge ruled Tuesday that AT&T may purchase Time Warner, without any conditions, arguing that the $85 billion deal doesn't violate antitrust law.
13 June, 2018
(Credit: KENA BETANCUR/AFP/Getty Images)
---
A federal judge ruled Tuesday that AT&T may purchase Time Warner, without any conditions, arguing that the $85 billion deal doesn't violate antitrust law.
The six-week trial was a monumental win for corporate interests, likely clearing the way for other potential mergers like Disney and Fox, or T-Mobile and Sprint.
"A whole bunch of companies are all of a sudden going to get active," Hal Vogel, CEO of Vogel Capital Management, told Fast Company. "The bankers have been romping around trying to figure out what they should do, if and when. Now that the decision is here, they're going to move pretty quickly."
AT&T argued that it needed Time Warner's brands to survive in an increasingly competitive and consolidated media landscape.
"We look forward to closing the merger on or before June 20 so we can begin to give consumers video entertainment that is more affordable, mobile, and innovative," AT&T General Counsel David McAtee said in a statement.
In November 2017, the Justice Department filed a lawsuit to stop the merger, saying it would bring less competition and higher prices.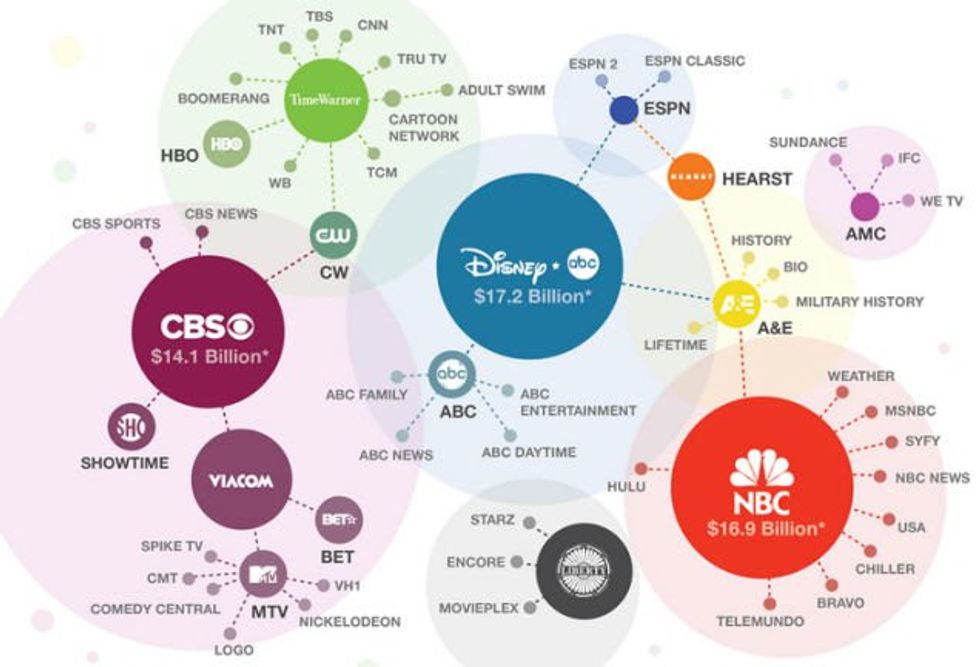 Source: Gizmodo
Judge Richard Leon disagreed on all counts.
"The Government has failed to meet its burden of proof to show that the merger is likely to result in a substantial lessening of competition," he wrote in his ruling. "If there ever were an antitrust case where the parties had a dramatically different assessment of the current state of the relevant market and a fundamentally different vision of its future development, this is the one."
The Justice Department's top antitrust official, Makan Delrahim, said the government was considering "next steps."
"We continue to believe that the pay-TV market will be less competitive and less innovative as a result of the proposed merger between AT&T and Time Warner," he said in a statement.
The ruling is significant because it ostensibly sets a precedent on vertical mergers, defined as the combination of two companies that produce the same product but at different stages of the production process.
"It's open season for vertical mergers," Chris Sagers, an antitrust law professor at the Cleveland-Marshall College of Law, told CNN Money. "The fact is that they've gotten a little easier, and we'll see a big flurry of deals."
One way the deal could hurt consumers is if AT&T decided that only subscribers to its services can access Time Warner content, like HBO shows and DC films. That might help AT&T-Time Warner keep customers from cutting ties with cable and flocking to Netflix, which has been preparing for this moment for years by producing a cache of in-house content, but some argue it will give the conglomerate more power to raise prices on content without providing better service, and render smaller streaming services less competitive.
While the ruling has spurred media executives and analysts to look into other high-profile mergers, Judge Leon cautioned against considering it a decisive precedent.
"...the temptation by some to view this decision as being something more than a resolution of this specific case should be resisted by one and all!"
Here are the companies AT&T acquired in the merger:
HBO and Cinemax, as part of Home Box Office Inc.
TBS, truTV, TNT, Studio T, and TCM, as part of Turner Entertainment Networks
Adult Swim and Cartoon Network, as part of the TBS, Inc. Animation, Young Adults & Kids Media (AYAKM) division
CNN and HLN, as part of CNN News Group
The websites Super Deluxe, Beme Inc., and CallToons
DC Entertainment
DC Films, including all of the "Batman" movies
Turner Broadcasting International
Turner Sports, including the website Bleacher Report and the rights to March Madness and NBA playoffs
The CW (50%)
Warner Bros. Animation
Hanna-Barbera Cartoons
Fandango Media (30%)
Warner Bros. Consumer Products
Warner Bros. Digital Networks
Warner Bros. Theatre Ventures
Warner Bros. Pictures International
Warner Bros. Museum
Warner Bros. Studios, Burbank
Warner Bros. Studios, Leavesden
Warner Bros. Studio Tours
Warner Bros. Pictures
Warner Animation Group
Warner Bros. Family Entertainment
NonStop Television
New Line Cinema
Turner Entertainment Co.
WaterTower Music
Castle Rock Entertainment
The Wolper Organization
HOOQ
Blue Ribbon Content
Warner Bros. Television
Warner Horizon Television
Warner Bros. Television Distribution
Warner Bros. International Television Production
Telepictures
Alloy Entertainment
eleveneleven
Warner Bros. Home Entertainment
Warner Bros. Interactive Entertainment
AT&T had already controlled:
Ameritech
Ameritech Cellular
Ameritech Interactive Media Services
Ameritech Publishing
AT&T Communications (2017)
AT&T International
AT&T Originals
AT&T Alascom
AT&T Business Internet
AT&T CallVantage
AT&T Computer Systems
AT&T FSM Library
AT&T GoPhone
AT&T Information Systems
AT&T Intellectual Property
AT&T Intellectual Property I
AT&T Labs
AT&T Mexico
AT&T Mobility
AT&T Technologies
AT&T Wireless Services
BellSouth
BellSouth Advertising & Publishing
BellSouth Long Distance
BellSouth Mobility DCS
BellSouth Telecommunications
Centennial Communications
CenturyTel of the Midwest-Kendall
Cricket Wireless
Crunchyroll
DirecTV
Fullscreen (company)
Illinois Bell
Indiana Bell
International Bell Telephone Company
Michigan Bell
Nevada Bell
Ohio Bell
Otter Media
Pacific Bell
Pacific Bell Directory
Pacific Bell Wireless
QLT Consumer Lease Services
Rooster Teeth
SBC Long Distance
SBC Telecom
Southwestern Bell
Southwestern Bell Internet Services
Southwestern Bell Mobile Systems
Southwestern Bell Yellow Pages
Unefón
Univel
Unix System Laboratories
AT&T U-verse
Wisconsin Bell
Yellowpages.com
YP Holdings
Videos
Learn how to negotiate like a shark. Here are Shark Tank investor Daymond John's tips for powerful communication.
Scroll down to load more…