Facebook's ad-targeting tools help landlords discriminate, says HUD
The Department of Housing and Urban Development has accused Facebook of violating the Fair Housing Act, an accusation that was also made by the National Fair Housing Alliance in March.
20 August, 2018
The Department of Housing and Urban Development has accused Facebook of violating the Fair Housing Act, which prohibits discrimination in housing on the basis of race, color, religion, sex, national origin, familial status, and disability.
---
On August 13, the agency filed a complaint against Facebook alleging the company enables housing providers to restrict the types of people who receive advertisements for housing services.
The complaint lists six examples of how Facebook's ad-targeting tools enable discrimination, including the ability to restrict advertising audiences based on zip code and interest in accessibility-related terms like 'mobility scooter':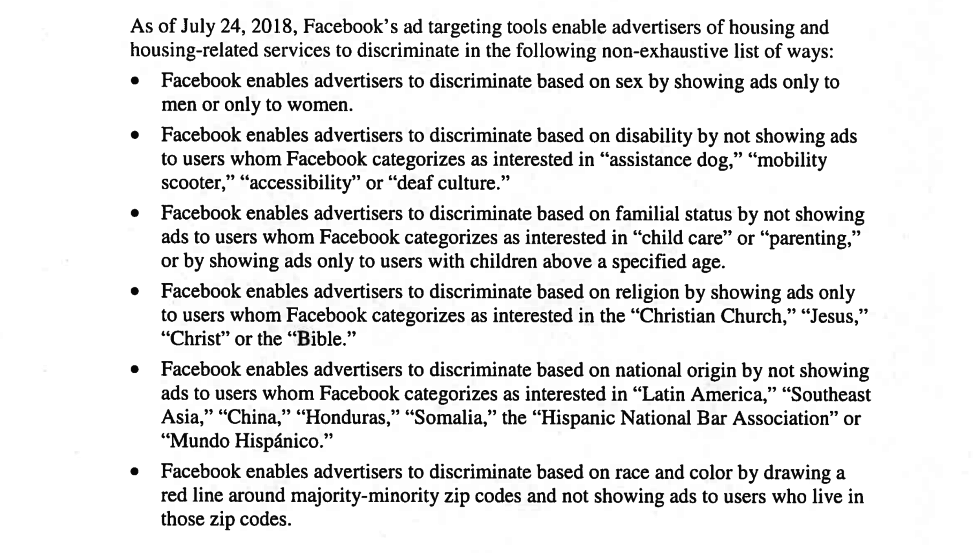 "The Fair Housing Act prohibits housing discrimination including those who might limit or deny housing options with a click of a mouse," Anna María Farías, HUD's assistant secretary for fair housing and equal opportunity said in a statement.
"When Facebook uses the vast amount of personal data it collects to help advertisers to discriminate, it's the same as slamming the door in someone's face."
The Justice Department issued a statement of interest last week expressing support for the HUD complaint and a similar lawsuit filed in March by the National Fair Housing Alliance, which alleged that Facebook has long been violating the Fair Housing Act.  
"Facebook has known for years that its advertising platform violates civil rights laws, but it has refused to change its ways on a voluntary basis," Diane L. Houk, one of the attorneys representing the alliance, said in a statement. "Facebook is not above the law and must answer these civil rights claims in court."
Facebook had tried unsuccessfully to have that lawsuit dismissed, arguing it was "without merit, and we will defend ourselves vigorously." The company said it had been working to prevent housing providers from misusing its micro-targeting tools.
A Facebook spokesperson said in a statement:
"There is no place for discrimination on Facebook; it's strictly prohibited in our policies. Over the past year we've strengthened our systems to further protect against misuse. We're aware of the statement of interest filed and will respond in court; and we'll continue working directly with HUD to address their concerns."
The accusations come during a particularly rocky year for Facebook.
In March, The New York Times and the U.K.'s Guardian and Observer revealed that the data firm Cambridge Analytica had been able to harvest the data of millions of Facebook users, sparking outcry from the public and lawmakers in multiple countries.
In July, Facebook lost about $120 billion in market value in the hours after reporting second-quarter earnings that fell short of analysts' predictions.
Related Articles
Ready your Schrödinger's Cat Jokes.
Quantum entanglement. Conceptual artwork of a pair of entangled quantum particles or events (left and right) interacting at a distance. Quantum entanglement is one of the consequences of quantum theory. Two particles will appear to be linked across space and time, with changes to one of the particles (such as an observation or measurement) affecting the other one. This instantaneous effect appears to be independent of both space and time, meaning that, in the quantum realm, effect may precede cause.
Technology & Innovation
For a time, quantum computing was more theory than fact.
That's starting to change.
New quantum computer designs look like they might be scalable.
Quantum computing has existed in theory since the 1980's. It's slowly making its way into fact, the latest of which can be seen in a paper published in Nature called, "Deterministic teleportation of a quantum gate between two logical qubits."

To ensure that we're all familiar with a few basic terms: in electronics, a 'logic gate' is something that takes in one or more than one binary inputs and produces a single binary output. To put it in reductive terms: if you produce information that goes into a chip in your computer as a '0,' the logic gate is what sends it out the other side as a '1.'

A quantum gate means that the '1' in question here can — roughly speaking — go back through the gate and become a '0' once again. But that's not quite the whole of it.
A qubit is a single unit of quantum information. To continue with our simple analogy: you don't have to think about computers producing a string of information that is either a zero or a one. A quantum computer can do both, simultaneously. But that can only happen if you build a functional quantum gate.

That's why the results of the study from the folks at The Yale Quantum Institute saying that they were able to create a quantum gate with a "process fidelity" of 79% is so striking. It could very well spell the beginning of the pathway towards realistic quantum computing.
The team went about doing this through using a superconducting microwave cavity to create a data qubit — that is, they used a device that operates a bit like a organ pipe or a music box but for microwave frequencies. They paired that data qubit with a transmon — that is, a superconducting qubit that isn't as sensitive to quantum noise as it otherwise could be, which is a good thing, because noise can destroy information stored in a quantum state. The two are then connected through a process called a 'quantum bus.'
That process translates into a quantum property being able to be sent from one location to the other without any interaction between the two through something called a teleported CNOT gate, which is the 'official' name for a quantum gate. Single qubits made the leap from one side of the gate to the other with a high degree of accuracy.
Above: encoded qubits and 'CNOT Truth table,' i.e., the read-out.
The team then entangled these bits of information as a way of further proving that they were literally transporting the qubit from one place to somewhere else. They then analyzed the space between the quantum points to determine that something that doesn't follow the classical definition of physics occurred.

They conclude by noting that "... the teleported gate … uses relatively modest elements, all of which are part of the standard toolbox for quantum computation in general. Therefore ... progress to improve any of the elements will directly increase gate performance."
In other words: they did something simple and did it well. And that the only forward here is up. And down. At the same time.
These modern-day hermits can sometimes spend decades without ever leaving their apartments.
700,000 Japanese people are thought to be hikikomori, modern-day hermits who never leave their apartments (BEHROUZ MEHRI/AFP/Getty Images).
Mind & Brain
A hikikomori is a type of person in Japan who locks themselves away in their bedrooms, sometimes for years.
This is a relatively new phenomenon in Japan, likely due to rigid social customs and high expectations for academic and business success.
Many believe hikikomori to be a result of how Japan interprets and handles mental health issues.
How a cataclysm worse than what killed the dinosaurs destroyed 90 percent of all life on Earth.
Credit: Ron Miller
Surprising Science
While the demise of the dinosaurs gets more attention as far as mass extinctions go, an even more disastrous event called "the Great Dying" or the "End-Permian Extinction" happened on Earth prior to that. Now scientists discovered how this cataclysm, which took place about 250 million years ago, managed to kill off more than 90 percent of all life on the planet.
Big think's weekly newsletter.
Get smarter faster from the comfort of your inbox.
See our newsletter privacy policy
here
Most Popular
Most Recent
Big think's weekly newsletter.
Get smarter faster from the comfort of your inbox.
See our newsletter privacy policy
here
© Copyright 2007-2018 & BIG THINK, BIG THINK EDGE,
SMARTER FASTER trademarks owned by The Big Think, Inc. All rights reserved.