Big ideas.
Once a week.
Subscribe to our weekly newsletter.
Why Albert Einstein was a socialist
We often like to consider the ideas of great thinkers when looking at an issue. To that end, Albert Einstein once wrote an essay explaining why he was a socialist. We break it down here.
23 February, 2018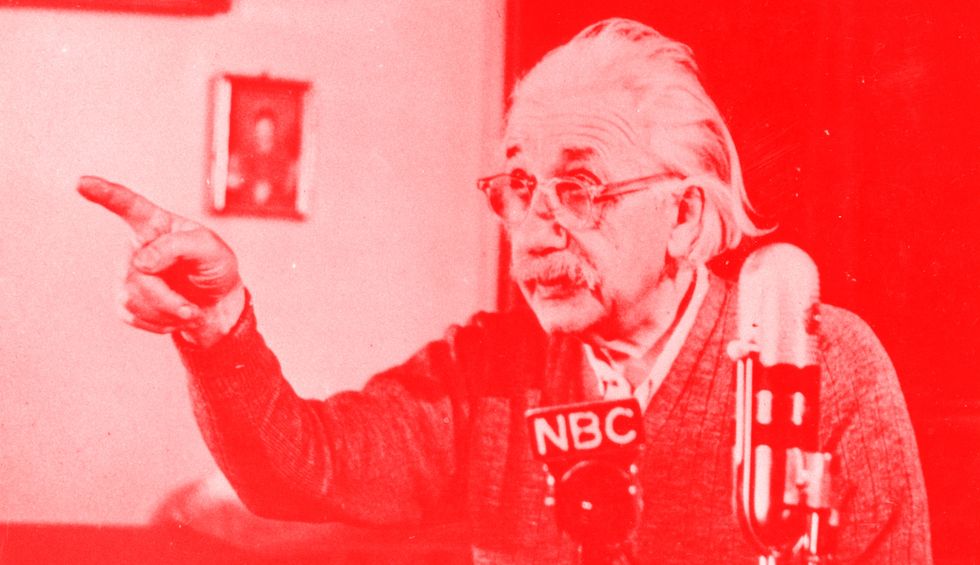 Comrade Einstein? (Getty Images)
We've discussed before what Einstein thought about god. As he was a brilliant man who thought deeply about many subjects, it can be of great use to learn his perspective on things. While he was a scientist first, his ideas on subjects outside his area of study can still be valuable. Especially if, as in this case, he recognizes his limitations and focuses on general ideas and avoids technical issues.
---
Einstein's views on socialism
In 1949, Einstein wrote an article for the magazine Monthly Review explaining his thoughts on socialism. In it, he explains his political positions and why he feels the need to weigh in on a subject that is outside his area of expertise.

In the first section of the essay, he acknowledges that he is a man of science and not an expert on economics. He still feels that he is able to offer a few comments on the subject as "socialism is directed towards a social-ethical end. Science, however, cannot create ends and, even less, instill them in human beings; science, at most, can supply the means by which to attain certain ends." As he doesn't wish to speak scientifically or be overly technical, he argues that a non-expert can make a few points on the subject and begins to do so.
Three fundamental objections to capitalism
Einstein had three bones to pick with capitalism. The first is that "Man is, at one and the same time, a solitary being and a social being." He explains his stance that a person is at once an individual and at the same time rather dependent on society for a great many things. However, despite the necessity of a high functioning society for our wellbeing, he sees capitalism as encouraging a mad drive for personal success at the expense of society and leading us to educate our children in a way that reinforces this behavior.
This damages the individual, he argues. It drives us to educate ourselves only to find a job and not to fully develop beyond that. Furthermore, it can leave the individual in a constant state of fear over the risk of losing their livelihood, which leads to Einstein's second objection.
"The economic anarchy of capitalist society"
His second objection is one of waste and inefficiency. While capitalism strives for efficiency, it cannot always make good use of the total body of labor society has to offer. Einstein sees this as a poor way to organize an economy. He posits that:
"There is no provision that all those able and willing to work will always be in a position to find employment; an "army of unemployed" almost always exists. The worker is constantly in fear of losing his job. Since unemployed and poorly paid workers do not provide a profitable market, the production of consumers' goods is restricted, and great hardship is the consequence. Technological progress frequently results in more unemployment rather than in an easing of the burden of work for all."
While it would be most profitable for society at large if total employment was assured, Einstein suggests that capitalism cannot do this on the grounds that it is more profitable for the owners of the means of production, who are often few in number, to not do so.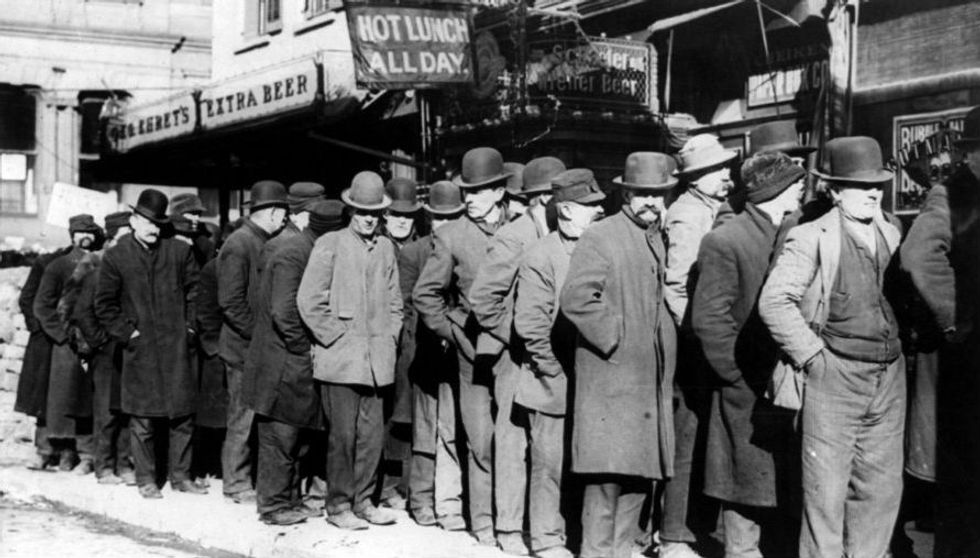 Lastly, he sees the profit motive as a cause of great suffering. Going so far as to say that, "The economic anarchy of capitalist society as it exists today is, in my opinion, the real source of the evil." He explains further that:
"The profit motive, in conjunction with competition among capitalists, is responsible for an instability in the accumulation and utilization of capital which leads to increasingly severe depressions. Unlimited competition leads to a huge waste of labor, and to that crippling of the social consciousness of individuals which I mentioned before."
What does Einstein propose as a solution?
His support of socialism comes from the belief that it will solve the problems he finds in capitalism on the grounds that a socialist economy would not be based on the profit motive and would be more oriented towards filling social needs rather than a capitalist economy.
"I am convinced there is only one way to eliminate these grave evils, namely through the establishment of a socialist economy, accompanied by an educational system which would be oriented toward social goals. In such an economy, the means of production are owned by society itself and are utilized in a planned fashion. A planned economy, which adjusts production to the needs of the community, would distribute the work to be done among all those able to work and would guarantee a livelihood to every man, woman, and child."
He is careful to note that central planning alone will not be enough. He warns of the risks of a Soviet-style dictatorship and insists that any type of socialism worthy of the name must be democratic and have protections for the personal freedoms we enjoy. The socialism he had in mind was one more akin to that of the western European nations than that of the communist countries.
After his experience fleeing the Nazis, it is perhaps self-evident that he understood the vital need to assure freedom. He was also opposed to McCarthyism and offered to serve as a character witness when W.E.B Du Bois was accused of being a communist spy. He also worked for civil rights in the United States, was associated with the Princeton chapter of the NAACP, and housed the singer Marian Anderson in his home when she was denied a hotel room in Princeton.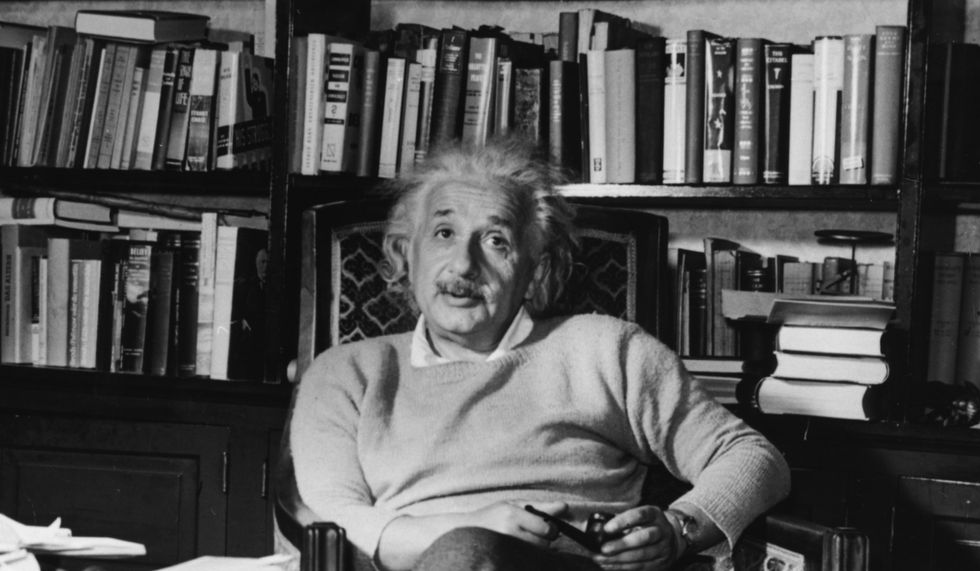 Albert Einstien at his home in 1934. (Getty Images)
So, Einstein is now a masterful economist as well as a physicist? 
His objections are philosophic ones rather than economic ones. His argument that the profit motive leads to depressions and that central planning can solve the boom and bust cycle is an argument which would have made much more sense in 1949 when the problem of market failures was more evident than the problem of planning failures. In any case, his arguments do make valid points which must be considered in any debate. 
While Einstein was not an economist, he was still a genius who had insights on how the world around him could function better. His endorsement of democratic socialism is well reasoned and done without reservation. Anyone considering why a person might be motivated to support socialism must consider Einstein's arguments as to why a rich, intelligent, and highly successful person would endorse the ideology.
If you would like to read the essay for yourself, it can be found here.
Scientists discover what our human ancestors were making inside the Wonderwerk Cave in South Africa 1.8 million years ago.
Credit: Michael Chazan / Hebrew University of Jerusalem
Surprising Science
Researchers find evidence of early tool-making and fire use inside the Wonderwerk Cave in Africa.
The scientists date the human activity in the cave to 1.8 million years ago.
The evidence is the earliest found yet and advances our understanding of human evolution.
One of the oldest activities carried out by humans has been identified in a cave in South Africa. A team of geologists and archaeologists found evidence that our ancestors were making fire and tools in the Wonderwerk Cave in the country's Kalahari Desert some 1.8 million years ago.
A new study published in the journal Quaternary Science Reviews from researchers at the Hebrew University of Jerusalem and the University of Toronto proposes that Wonderwerk — which means "miracle" in Afrikaans — contains the oldest evidence of human activity discovered.
"We can now say with confidence that our human ancestors were making simple Oldowan stone tools inside the Wonderwerk Cave 1.8 million years ago," shared the study's lead author Professor Ron Shaar from Hebrew University.
Oldowan stone tools are the earliest type of tools that date as far back as 2.6 million years ago. An Oldowan tool, which was useful for chopping, was made by chipping flakes off of one stone by hitting it with another stone.
An Oldowan stone toolCredit: Wikimedia / Public domain
Professor Shaar explained that Wonderwerk is different from other ancient sites where tool shards have been found because it is a cave and not in the open air, where sample origins are harder to pinpoint and contamination is possible.
Studying the cave, the researchers were able to pinpoint the time over one million years ago when a shift from Oldowan tools to the earliest handaxes could be observed. Investigating deeper in the cave, the scientists also established that a purposeful use of fire could be dated to one million years back.
This is significant because examples of early fire use usually come from sites in the open air, where there is the possibility that they resulted from wildfires. The remnants of ancient fires in a cave — including burned bones, ash, and tools — contain clear clues as to their purpose.
To precisely date their discovery, the researchers relied on paleomagnetism and burial dating to measure magnetic signals from the remains hidden within a sedimentary rock layer that was 2.5 meters thick. Prehistoric clay particles that settled on the cave floor exhibit magnetization and can show the direction of the ancient earth's magnetic field. Knowing the dates of magnetic field reversals allowed the scientists to narrow down the date range of the cave layers.
The Kalahari desert Wonderwerk CaveCredit: Michael Chazan / Hebrew University of Jerusalem
Professor Ari Matmon of Hebrew University used another dating method to solidify their conclusions, focusing on isotopes within quartz particles in the sand that "have a built-in geological clock that starts ticking when they enter a cave." He elaborated that in their lab, the scientists were "able to measure the concentrations of specific isotopes in those particles and deduce how much time had passed since those grains of sand entered the cave."
Finding the exact dates of human activity in the Wonderwerk Cave could lead to a better understanding of human evolution in Africa as well as the way of life of our early ancestors.
Meconium contains a wealth of information.
Surprising Science
A new study finds that the contents of an infants' first stool, known as meconium, can predict if they'll develop allergies with a high degree of accuracy.
A metabolically diverse meconium, which indicates the initial food source for the gut microbiota, is associated with fewer allergies.
The research hints at possible early interventions to prevent or treat allergies just after birth.
The prevalence of allergies arising in childhood has increased over the last 50 years, with 30 percent of the human population now having some kind of atopic disease such as eczema, food allergies, or asthma. The cause of this increase is still subject to debate, though it has been associated with a number of factors, including changes to the gut microbiomes of infants.
A new study by Canadian researchers published in Cell Reports Medicine may shed further light on how these allergies develop in children by examining the contents of their first diaper.
The things you do for science
The research team examined the first stool of 100 infants from the CHILD Cohort Study. The first stool of an infant is a thick, green, horrid-looking substance called meconium. It consists of various things that the infant ingests during the second half of gestation. Additionally, it provides not only a snapshot of what the infant was exposed to during that time, but it also reveals what the food sources will be for the initial gut bacteria that colonize the baby's digestive tract.
The content of the meconium was examined and found to contain such varied elements as amino acids, lipids, carbohydrates, and myriad other substances.
A graph of the comparative, summed abundance of different elements in a metabolic pathway after scaling to median abundance of each metabolite. The blue figures are those children without atopy, the yellow ones show the data for those with an atopic condition. Petersen et al.
The authors fed this information into an algorithm that used this data, along with the identities of the bacteria present as well as the baby's overall health, to predict which infants would go on to develop allergies within one year. The algorithm got it right 76 percent of the time.

A way to prevent childhood allergies?
Infants whose meconium had a less diverse metabolic niche the initial microbes to settle in the gut were at the highest risk of developing allergies a year later. Many of these elements were associated with the presence or absence of different bacterial groups in the digestive system of the child, which play an increasingly appreciated role in our overall health and development. The findings were summarized by senior co-author Dr. Brett Finlay:

"Our analysis revealed that newborns who developed allergic sensitization by one year of age had significantly less 'rich' meconium at birth, compared to those who didn't develop allergic sensitization."
The findings could be used to help understand how allergies form and even how to prevent them. Co-author Dr. Stuart Turvey commented on this possibility:
"We know that children with allergies are at the highest risk of also developing asthma. Now we have an opportunity to identify at-risk infants who could benefit from early interventions before they even begin to show signs and symptoms of allergies or asthma later in life."
A model for early childhood allergies
Petersen et al.
As shown above, the authors constructed a model of how they believe metabolites and bacterial diversity help prevent allergies. Increased diversity of metabolic products in the meconium encourage the development of "healthy" families of bacteria, like Peptostreptococcaceae, which in turn promote the development of a healthy and diverse gut microbiome. Ultimately, such diversity decreases the likelihood that a child will develop allergies.
If you ask your maps app to find "restaurants that aren't McDonald's," you won't like the result.
Mind & Brain
The Chinese Room thought experiment is designed to show how understanding something cannot be reduced to an "input-process-output" model.
Artificial intelligence today is becoming increasingly sophisticated thanks to learning algorithms but still fails to demonstrate true understanding.
All humans demonstrate computational habits when we first learn a new skill, until this somehow becomes understanding.
It's your first day at work, and a new colleague, Kendall, catches you over coffee.
"You watch the game last night?" she says. You're desperate to make friends, but you hate football.
"Sure, I can't believe that result," you say, vaguely, and it works. She nods happily and talks at you for a while. Every day after that, you live a lie. You listen to a football podcast on the weekend and then regurgitate whatever it is you hear. You have no idea what you're saying, but it seems to impress Kendall. You somehow manage to come across as an expert, and soon she won't stop talking football with you.
The question is: do you actually know about football, or are you imitating knowledge? And what's the difference? Welcome to philosopher John Searle's "Chinese Room."
The Chinese Room
Credit: http://america.pink/ via Wikipedia and licensed under CC0 1.0
Searle's argument was designed as a critique of what's called a "functionalist" view of mind. This is the philosophy that argues that our mind can be explained fully by what role it plays, or in other words, what it does or what "function" it has.

One form of functionalism sees the human mind as following an "input-process-output" model. We have the input of our senses, the process of our brains, and a behavioral output. Searle thought this was at best an oversimplification, and his Chinese Room thought experiment goes to show how human minds are not simply biological computers. It goes like this:
Imagine a room, and inside is John, who can't speak a word of Chinese. Outside the room, a Chinese person sends a message into the room in Chinese. Luckily, John has an "if-then" book for Chinese characters. For instance, if he gets <你好吗>, the proper reply is <我还好>. All John has to do is follow his instruction book.
The Chinese speaker outside of the room thinks they're talking to someone inside who knows Chinese. But in reality, it's just John with his fancy book.
What is understanding?
Does John understand Chinese? The Chinese Room is, by all accounts, a computational view of the mind, yet it seems that something is missing. Truly understanding something is not an "if-then" automated response. John is missing that sinking in feeling, the absorption, the bit of understanding that's so hard to express. Understanding a language doesn't work like this. Humans are not Google Translate.
And yet, this is how AIs are programmed. A computer system is programmed to provide a certain output based on a finite list of certain inputs. If I double click the mouse, I open a file. If you type a letter, your monitor displays tiny black squiggles. If we press the right buttons in order, we win at Mario Kart. Input — Process — Output.
Can imitation become so fluid or competent that it is understanding.
But AIs don't know what they're doing, and Google Translate doesn't really understand what it's saying, does it? They're just following a programmer's orders. If I say, "Will it rain tomorrow?" Siri can look up the weather. But if I ask, "Will water fall from the clouds tomorrow?" it'll be stumped. A human would not (although they might look at you oddly).
A fun way to test just how little an AI understands us is to ask your maps app to find "restaurants that aren't McDonald's." Unsurprisingly, you won't get what you want.
The Future of AI
To be fair, the field of artificial intelligence is just getting started. Yes, it's easy right now to trick our voice assistant apps, and search engines can be frustratingly unhelpful at times. But that doesn't mean AI will always be like that. It might be that the problem is only one of complexity and sophistication, rather than anything else. It might be that the "if-then" rule book just needs work. Things like "the McDonald's test" or AI's inability to respond to original questions reveal only a limitation in programming. Given that language and the list of possible questions is finite, it's quite possible that AI will be able to (at the very least) perfectly mimic a human response in the not too distant future.
Credit: Oli Scarff via Getty Images
What's more, AIs today have increasingly advanced learning capabilities. Algorithms are no longer simply input-process-output but rather allow systems to search for information and adapt anew to what they receive.

A notorious example of this occurred when a Microsoft chat bot started spouting bigotry and racism after "learning" from what it read on Twitter. (Although, this might just say more about Twitter than AI.) Or, more sinister perhaps, two Facebook chat bots were shut down after it was discovered that they were not only talking to each other but were doing so in an invented language. Did they understand what they were doing? Who's to say that, with enough learning and enough practice, an AI "Chinese Room" might not reach understanding?
Can imitation become understanding?
We've all been a "Chinese Room" at times — be it talking about sports at work, cramming for an exam, using a word we didn't entirely know the meaning of, or calculating math problems. We can all mimic understanding, but it also begs the question: can imitation become so fluid or competent that it is understanding.
The old adage "fake it, 'till you make it" has been proven true over and over. If you repeat an action enough times, it becomes easy and habitual. For instance, when you practice a language, musical instrument, or a math calculation, then after a while, it becomes second nature. Our brain changes with repetition.
So, it might just be that we all start off as Chinese Rooms when we learn something new, but this still leaves us with a pertinent question: when, how, and at what point does John actually understand Chinese? More importantly, will Siri or Alexa ever understand you?
Jonny Thomson teaches philosophy in Oxford. He runs a popular Instagram account called Mini Philosophy (@philosophyminis). His first book is Mini Philosophy: A Small Book of Big Ideas.
13-8
With the rise of Big Data, methods used to study the movement of stars or atoms can now reveal the movement of people. This could have important implications for cities.
Scroll down to load more…