Where Is the Plastic in the Ocean Coming From? Try Asia.
It turns out most of the ocean's plastic is coming from a single corner of the world.
17 June, 2017
NOAA
---
The Ocean Conservancy estimates that are roughly 150 million metric tons of discarded plastic floating around the world's oceans, with an additional 8 million metric tons being added every year. PRI calls this climate change's "apocalyptic twin."
That's like dumping one New York City garbage truck full of plastic into the ocean every minute of every day for an entire year! - Ocean Conservancy

60% of all seabirds and 100% of sea turtles who've been examined contain plastic. They eat it, thinking it's food. Obviously, they derive no nutrition from the plastic, and it can be damaging to their health, or fatal.
There are five massive "gyres," or vortices, of mostly plastic garbage in the oceans, the most famous being the Great Pacific Garbage patch. (#1 in the illustration below.)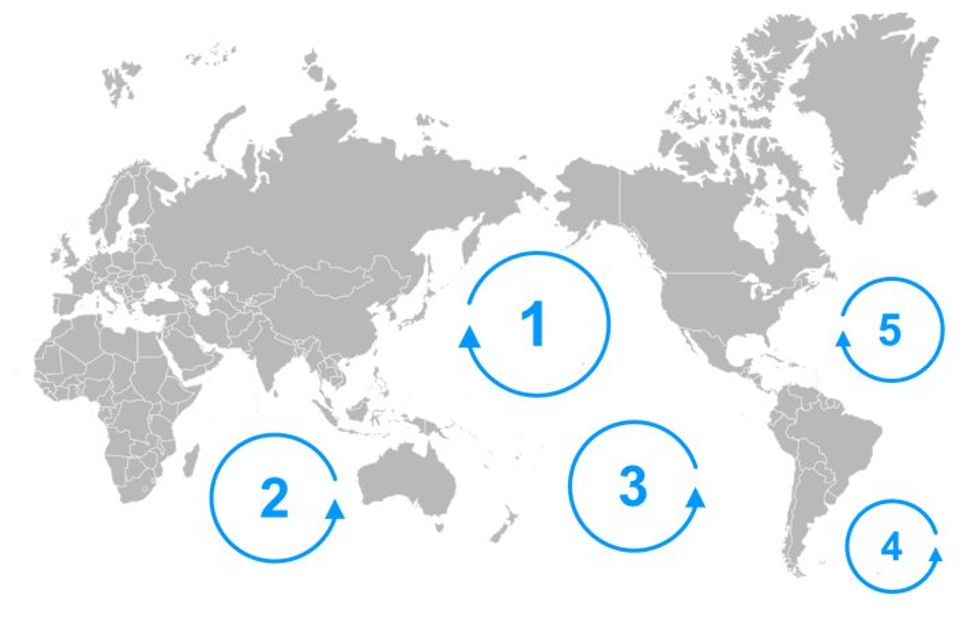 The five trash gyres in the world's oceans (DMTHOTH/THE OCEAN CLEANUP)
Capt. Charles Moore told National Geographic what it looked like in 2003:
"Yet as I gazed from the deck at the surface of what ought to have been a pristine ocean, I was confronted, as far as the eye could see, with the sight of plastic. It seemed unbelievable, but I never found a clear spot. In the week it took to cross the subtropical high, no matter what time of day I looked, plastic debris was floating everywhere: bottles, bottle caps, wrappers, fragments."

And things have gotten much worse since then. Various technologies have been proposed for cleaning up the mess, and people have even made artwork from the flotsam found on beaches, as a means of raising awareness of the problem in a way that's less terrifying than it certainly could be.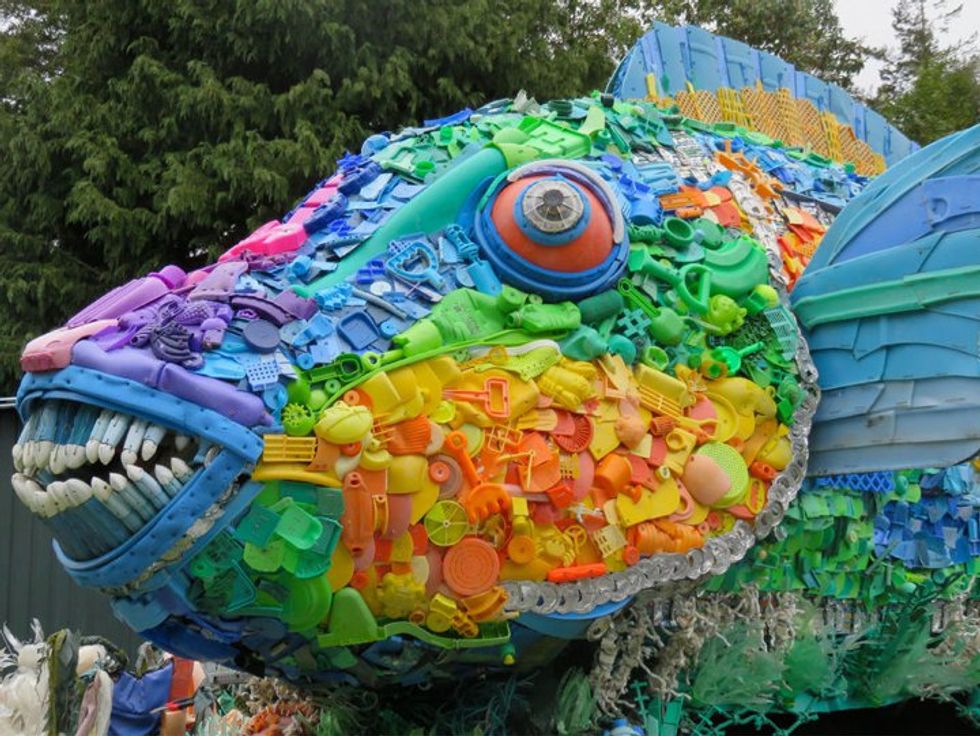 Some of the ocean trash is cargo that's fallen off off boats, but most of it is just stray plastic trash. So where is all this stuff coming from?
A study by Dutch firm The Ocean Cleanup and published in Nature on June 7, 2017, found that a full 86% of all the plastics in the ocean come from the rivers of a single, albeit large, continent: Asia.
Three of the four top sources of plastic are Asian countries: China, Indonesia, and Myanmar. (Nigeria's #4.)
Of the world's top 20 plastic-carrying rivers, seven are in China, sending about two thirds of all the river plastic into the sea, according to Quartz. The worst river is the Yangtze, which goes through Shanghai — it contributes some 22,046 metric tons of plastic to the ocean every year. It's nasty stuff, too: Two ships unloaded 110 metric tons of waste including needles and plastic tubes into the Yangtze just last December. India's Ganges is Number 2, followed by China's Xi River.
Per person, Asians generate much less waste than we Western consumers do. The main issue is manufacturing, and China, in particular is a powerhouse in that regard. Quartz cites a report by Plastics Europe which asserts that in 2015, China manufactured 74.7 metric tons of plastics.
Still, before casting a stink-eye at China too quickly, it's worth recognizing just who it is that finances their plastic production. Who buys all the plastic products the country manufactures?That would be us.
And part of the problem is economic, since residents of wealthier nations have their trash picked up and removed to landfills that at least keep the trash out of the ocean. In poorer communities, such as those along the long Asian coastline, there is no such option. Trash ends up on the ground or in the sea.
Aena, 12, in her village (Muara Angke) by Jakarta. Shoreline is smothered by plastic filth. This is what your backyard can look like if you're one of the 3.5 billion humans who don't receive trash pick-up services. #Indonesia
A post shared by @bkkapologist on Oct 3, 2016 at 12:33am PDT
Ocean Conservancy estimates it would take about $4.5 billion yearly to overhaul the insufficient disposal infrastructure of China alone. There's no clear source of the kind of money, and that's just China in any event.
The only real solution — and you can judge for yourself how really real it is —says oceanographer Curtis Ebbesmeyer, "If you produce plastic, it's assured that it will eventually end up in the sea. So we have to stop producing plastic."
To create wiser adults, add empathy to the school curriculum.
Sponsored by Charles Koch Foundation
Stories are at the heart of learning, writes Cleary Vaughan-Lee, Executive Director for the Global Oneness Project. They have always challenged us to think beyond ourselves, expanding our experience and revealing deep truths.
Vaughan-Lee explains 6 ways that storytelling can foster empathy and deliver powerful learning experiences.
Global Oneness Project is a free library of stories—containing short documentaries, photo essays, and essays—that each contain a companion lesson plan and learning activities for students so they can expand their experience of the world.
Philosophers like to present their works as if everything before it was wrong. Sometimes, they even say they have ended the need for more philosophy. So, what happens when somebody realizes they were mistaken?
Numerous U.S. Presidents invoked the Insurrection Act to to quell race and labor riots.
Photo by Michael Ochs Archives/Getty Images
Politics & Current Affairs
U.S. Presidents have invoked the Insurrection Act on numerous occasions.
The controversial law gives the President some power to bring in troops to police the American people.
The Act has been used mainly to restore order following race and labor riots.
It looks like a busy hurricane season ahead. Probably.
Surprising Science
Before the hurricane season even started in 2020, Arthur and Bertha had already blown through, and Cristobal may be brewing right now.
Weather forecasters see signs of a rough season ahead, with just a couple of reasons why maybe not.
Where's an El Niño when you need one?
Welcome to Hurricane Season 2020. 2020, of course, scoffs at this calendric event much as it has everything else that's normal — meteorologists have already used up the year's A and B storm names before we even got here. And while early storms don't necessarily mean a bruising season ahead, forecasters expect an active season this year. Maybe storms will blow away the murder hornets and 13-year locusts we had planned.
NOAA expects a busy season
According to NOAA's Climate Prediction Center, an agency of the National Weather Service, there's a 60 percent chance that we're embarking upon a season with more storms than normal. There does, however, remain a 30 percent it'll be normal. Better than usual? Unlikely: Just a 10 percent chance.
Where a normal hurricane season has an average of 12 named storms, 6 of which become hurricanes and 3 of which are major hurricanes, the Climate Prediction Center reckons we're on track for 13 to 29 storms, 6 to 10 of which will become hurricanes, and 3 to 6 of these will be category 3, 4, or 5, packing winds of 111 mph or higher.
What has forecasters concerned are two factors in particular.
This year's El Niño ("Little Boy") looks to be more of a La Niña ("Little Girl"). The two conditions are part of what's called the El Niño-Southern Oscillation (ENSO) cycle, which describes temperature fluctuations between the ocean and atmosphere in the east-central Equatorial Pacific. With an El Niño, waters in the Pacific are unusually warm, whereas a La Niña means unusually cool waters. NOAA says that an El Niño can suppress hurricane formation in the Atlantic, and this year that mitigating effect is unlikely to be present.
Second, current conditions in the Atlantic and Caribbean suggest a fertile hurricane environment:
The ocean there is warmer than usual.
There's reduced vertical wind shear.
Atlantic tropical trade winds are weak.
There have been strong West African monsoons this year.
Here's NOAA's video laying out their forecast:
But wait.
ArsTechnica spoke to hurricane scientist Phil Klotzbach, who agrees generally with NOAA, saying, "All in all, signs are certainly pointing towards an active season." Still, he notes a couple of signals that contradict that worrying outlook.
First off, Klotzbach notes that the surest sign of a rough hurricane season is when its earliest storms form in the deep tropics south of 25°N and east of the Lesser Antilles. "When you get storm formations here prior to June 1, it's typically a harbinger of an extremely active season." Fortunately, this year's hurricanes Arthur and Bertha, as well as the maybe-imminent Cristobal, formed outside this region. So there's that.
Second, Klotzbach notes that the correlation between early storm activity and a season's number of storms and intensities, is actually slightly negative. So while statistical connections aren't strongly predictive, there's at least some reason to think these early storms may augur an easy season ahead.
Image source: NOAA
Batten down the hatches early
If 2020's taught us anything, it's how to juggle multiple crises at once, and layering an active hurricane season on top of SARS-CoV-2 — not to mention everything else — poses a special challenge. Warns Treasury Secretary Wilbur Ross, "As Americans focus their attention on a safe and healthy reopening of our country, it remains critically important that we also remember to make the necessary preparations for the upcoming hurricane season." If, as many medical experts expect, we're forced back into quarantine by additional coronavirus waves, the oceanic waves slamming against our shores will best be met by storm preparations put in place in a less last-minute fashion than usual.
Ross adds, "Just as in years past, NOAA experts will stay ahead of developing hurricanes and tropical storms and provide the forecasts and warnings we depend on to stay safe."
Let's hope this, at least, can be counted on in this crazy year.
Technology & Innovation
Got any embarrassing old posts collecting dust on your profile? Facebook wants to help you delete them.
Scroll down to load more…