How your name impacts your love life and your career
Research suggests that your name affects the level of success you'll achieve in your career and love life, and even where you choose to live.
24 April, 2018
What's in a name? There are lots of reason to choose one name or another when naming a child — family tradition, or as a tribute to a beloved relative or friend — but does a name really matter? Research suggests, yes, maybe it does, when it comes to the level of success you'll achieve in your career and love life, and even where you choose to live. The reasons for this remain in the realm of conjecture, but research has revealed some surprising — and some not so surprising — correlations.
---
The difference from A to Z
You may not think this matters, but the alphabetical position of the first letter of your name may have two effects:
A 2007 study found that people whose names start with a letter early in the alphabet are more likely to be admitted to schools, even when those late in the alphabet have higher scores. Obviously, this foot in the door can ripple through adult life since it may affect a person's career choice. Are admissions staff tired and cranky by the time they get to poor Xander?
A 2013 study suggests that if you have a name that comes later in the alphabet, you're more likely to be an impulse shopper. The study's authors theorize that this is a product of a lifetime of waiting for your name to be called, leading to impatience.
Familiarity helps in work and love
Marquette University found that people with common names are more likely to be hired for a job than others.
This is even truer if your name is super-easy to pronounce, as an NYU study found, probably because we tend to like what's easy.
According to one 2008 study, you're even actually statistically more likely to have a career at a company whose initials mirror your own. Benicio del Toro is welcome any time at Big Think.
Familiarity even seems to affect where we live. We tend to gravitate to places named like us. Did you know St. Louis has an unusually higher percentage of residents named Louis? How about Philadelphia, packed with Philips? Or Jacksonville's Jacks or Virginia Beach's Virginias?
Unless you're dating online and have one of these names
According to The Grade, these are the "hottest" names of the moment:
Women's names
Brianna
Erika
Lexi
Brooke
Vanessa
April
Natalie
Jenna
Molly
Katie
Men's names
Brett
Tyler
Corey
Andy
Noah
Shane
Jeffrey
Rob
Frank
Jeff (Hey, that's double-dipping!)
The image your name conjures up
Unusual names can be viewed as a sign of juvenile delinquency, and make one less likely to be asked in for a job interview, according to a 2009 study.
Sad but true, if your name sounds "white," you're more likely to get hired thanks to subliminal or overt racial bias. A study by the American Economic Association documented this pernicious type of labor market discrimination.
The European Journal of Social Psychology found that use of a middle initial makes you seem smarter and more competent. More initial? More better.
Names in the management class
If your name sounds worthy, you're more likely to rise to the top of the company. A study of German names found that people whose last names were "Kaiser" ("emperor") or "König" ("king") were more likely to be bosses than those named "Koch" ("cook") or "Bauer" ("farmer").
For some reason, says LinkedIn, men in upper management are more likely to have short names. Maybe it has something with powerful people wanting less intimidating monikers?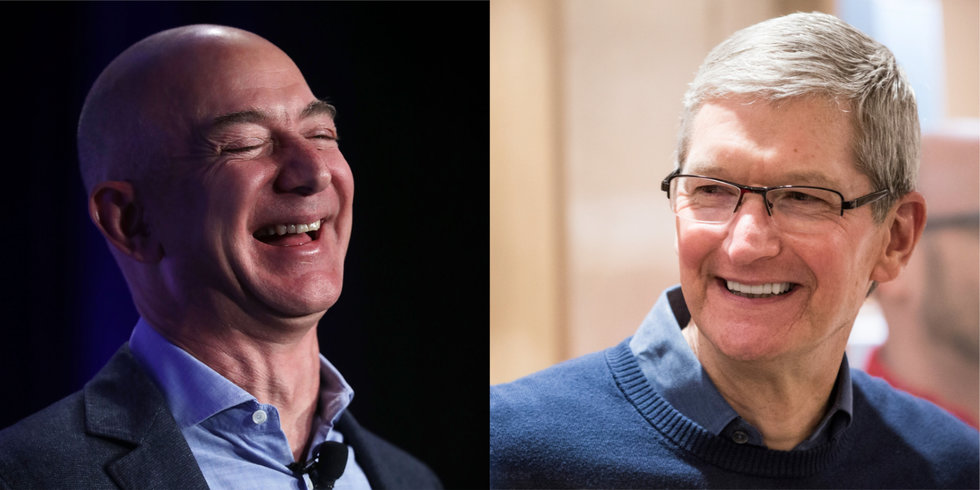 On the other hand, LinkedIn notes, powerful women are more likely to use their full names, likely to present a business-like impression.
According to The Atlantic, women with gender-neutral-sounding names are more likely to be promoted in some industries.
That's what's in a name. Maybe.
Some of these studies are more convincing than others, and few get into the reasons behind these sometimes-odd correlations. If you've got an apparently problematic name according to it all, don't worry. People do change them. (Joseph's "Stalin," which means "steel," is clearly more imposing than his original "Dzhugashvili.") And since correlation doesn't equal causality, we'd better keep studying this.
The ability to speak clearly, succinctly, and powerfully is easier than you think
Former U.S. President Barack Obama speaks during a Democratic Congressional Campaign Committee rally at the Anaheim Convention Center on September 8, 2018 in Anaheim, California. (Photo by Barbara Davidson/Getty Images)
Personal Growth
The ability to communicate effectively can make or break a person's assessment of your intelligence, competence, and authenticity.
Antimicrobial resistance is growing worldwide, rendering many "work horse" medicines ineffective. Without intervention, drug-resistant pathogens could lead to millions of deaths by 2050. Thankfully, companies like Pfizer are taking action.
Image courtesy of Pfizer.
Sponsored
Antimicrobial-resistant pathogens are one of the largest threats to global health today.
As we get older, our immune systems age, increasing our risk of life threatening infections. Without reliable antibiotics, life expectancy could decline for the first time in modern history.
If antibiotics become ineffective, common infections could result in hospitalization or even death. Life-saving interventions like cancer treatments and organ transplantation would become more difficult, more often resulting in death. Routine procedures would become hard to perform.
Without intervention, resistant pathogens could result in 10 million annual deaths by 2050.
By taking a multi-faceted approach—inclusive of adherence to good stewardship, surveillance and responsible manufacturing practices, as well as an emphasis on prevention and treatment—companies like Pfizer are fighting to help curb the spread.
The climate change we're witnessing is more dramatic than we might think.
Surprising Science
A lazy buzz phrase – 'Is this the new normal?' – has been doing the rounds as extreme climate events have been piling up over the past year. To which the riposte should be: it's worse than that – we're on the road to even more frequent, more extreme events than we saw this year.
Big think's weekly newsletter.
Get smarter faster from the comfort of your inbox.
See our newsletter privacy policy
here
Most Popular
Most Recent
Big think's weekly newsletter.
Get smarter faster from the comfort of your inbox.
See our newsletter privacy policy
here
© Copyright 2007-2018 & BIG THINK, BIG THINK EDGE,
SMARTER FASTER trademarks owned by The Big Think, Inc. All rights reserved.