The Arctic "Doomsday Vault" Just Got 50,000 New Members
The Svalbard Global Seed Vault holds the world's largest collection of seeds, for safekeeping.
24 February, 2017
---
This is Svalbard, Norway.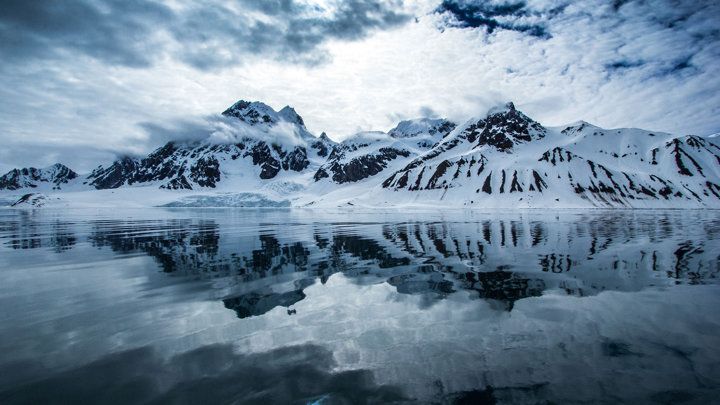 It's about midway between mainland Norway and the North Pole. It's frigid up there, and polar night lasts from October 26th to February 14th. Deep down underground, within the permafrost, it's about -18° C (-0.4° F). That's where the "Doomsday Vault" is. It's the world's backup supply of seeds in the event of catastrophe. There are currently 930,821 samples stored down there, with 50,000 seeds from around the world having just been deposited in mid-February 2017.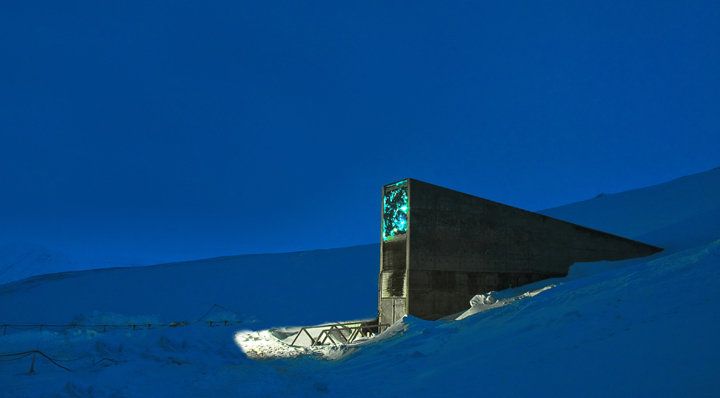 Entrance at night (GLAMOX)
The storage facility is officially the Svalbard Global Seed Vault (SGSV), and it can hold up to 4.5 million varieties of crops — each of which contains an average of 500 seeds — for a maximum of 2.5 billion seeds. And there are actually three vaults, only one of which is in use so far. That vault holds the world's largest collection of crops.
Svalbard is a global cooperative effort to provide a fail-safe for the earth's food supply, and protector of the world's agricultural genetic diversity. It's operated by the Global Crop Diversity Trust — the samples in the vault are from nearly every country. The SGSV's goal is to allow us to grow the foods we depend on whatever happens, including climate change or a malfunction at, or destruction of, any of the world's 1,700-plus local genebanks.
Among the 50,000 seeds added in February are replacement seeds from Syria, the first country to make a withdrawal from Svalbard. They made it in 2015 as the approaching battle in Aleppo threatened the International Center for Agricultural Research in the Dry Areas (ICARDA) there. ICARDIA decided for safety's sake to continue its breeding program in Morocco and Lebanon, far from the conflict, and so they withdrew their seeds. The deposit this week restores them, along with seeds from the UK, Benin, India, Pakistan, Mexico, the Netherlands, the US, Bosnia and Herzegovina, and Belarus.
SGSV opened in February 2008, and it's designed to withstand basically everything its planners could think of: earthquakes, bombs, even global warming.
It's ideally situated for a few reasons. It's sited in the side of a geologically stable mountain, well above sea level so even if the arctic ice melts, its contents should be fine. It's also dry and naturally cold enough that if the power goes out and the refrigeration system ever fails, the permafrost can take care of the seeds. And finally, Svalbard is the northernmost location that a person can reach on a scheduled flight, making it internationally accessible. 
Upon arrival, the seeds are transported down through three corridors, each one colder than the last, to the vault area, 120 meters (393.7 feet) below the surface.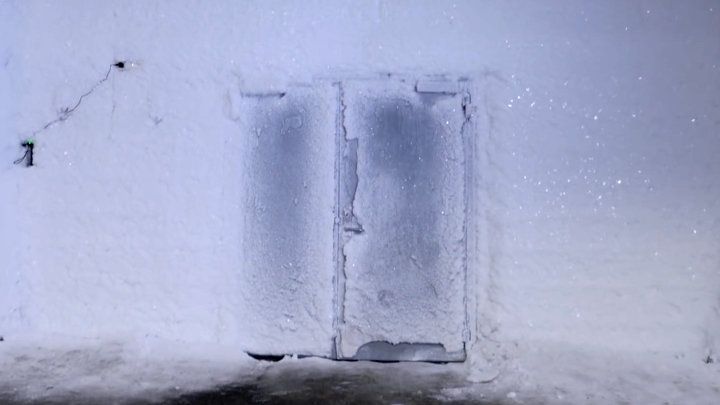 The iced doors to the active vault. (VERITASIUM)
The vault uses a "black box system." All seeds are deposited in sealed packages and their depositors retain ownership and control access to them — the technicians and engineers at Svalbard never open them. Each packet is numbered and part of a database that identifies its contents. Only seeds shared under the Multilateral System, or seeds that originated in the depositor's country are accepted. And no GMO seeds.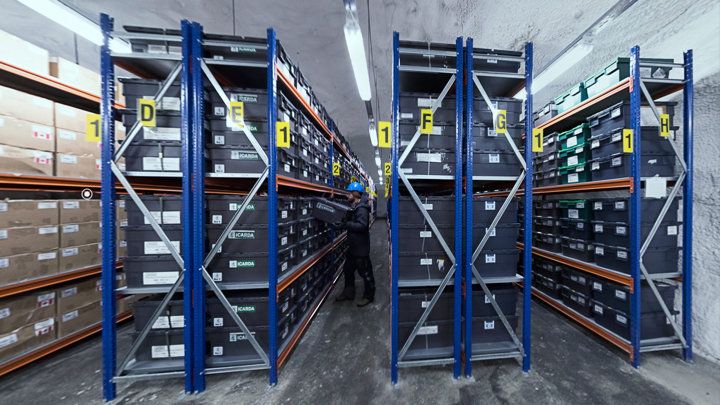 Simple, cold, and dry. (SGSV)
Having a backup like Svalbard isn't an inexpensive operation — Norway paid the original $9 million construction bill – but it may be well worth it, a hedge against a tragic loss of crop diversity and against destructive forces doled out by humankind and nature.
Big Think
Sponsored by Lumina Foundation
Upvote/downvote each of the videos below!

As you vote, keep in mind that we are looking for a winner with the most engaging social venture pitch - an idea you would want to invest in.
Here are 7 often-overlooked World Heritage Sites, each with its own history.
Culture & Religion
UNESCO World Heritage Sites are locations of high value to humanity, either for their cultural, historical, or natural significance.
Some are even designated as World Heritage Sites because humans don't go there at all, while others have felt the effects of too much human influence.
These 7 UNESCO World Heritage Sites each represent an overlooked or at-risk facet of humanity's collective cultural heritage.
An innovation may lead to lifelike evolving machines.
Shogo Hamada/Cornell University
Surprising Science
Scientists at Cornell University devise a material with 3 key traits of life.
The goal for the researchers is not to create life but lifelike machines.
The researchers were able to program metabolism into the material's DNA.
A new method promises to capture an elusive dark world particle.
Surprising Science
Scientists working on the Large Hadron Collider (LHC) devised a method for trapping dark matter particles.
Dark matter is estimated to take up 26.8% of all matter in the Universe.
The researchers will be able to try their approach in 2021, when the LHC goes back online.
Big think's weekly newsletter.
Get smarter faster from the comfort of your inbox.
See our newsletter privacy policy
here
Most Popular
Most Recent
Big think's weekly newsletter.
Get smarter faster from the comfort of your inbox.
See our newsletter privacy policy
here
© Copyright 2007-2019 & BIG THINK, BIG THINK EDGE,
SMARTER FASTER trademarks owned by The Big Think, Inc. All rights reserved.