Does Alcohol Reveal the Real You?
Alcohol is only a truth serum for a brain that's not working well, not your everyday brain.
03 August, 2016
"Here's to alcohol: the cause of, and solution to, all of life's problems." So sayeth noted philosopher Homer Simpson. It's the ubiquitous social lubricant that makes it easier to socialize, and some would say, freely speak our minds and reveal our true feelings to others.
---
But is alcohol really a truth serum? The short answer is yes, but only for the kind of truth that leaks out of a brain that's not working too well. Which is to say, no, not really.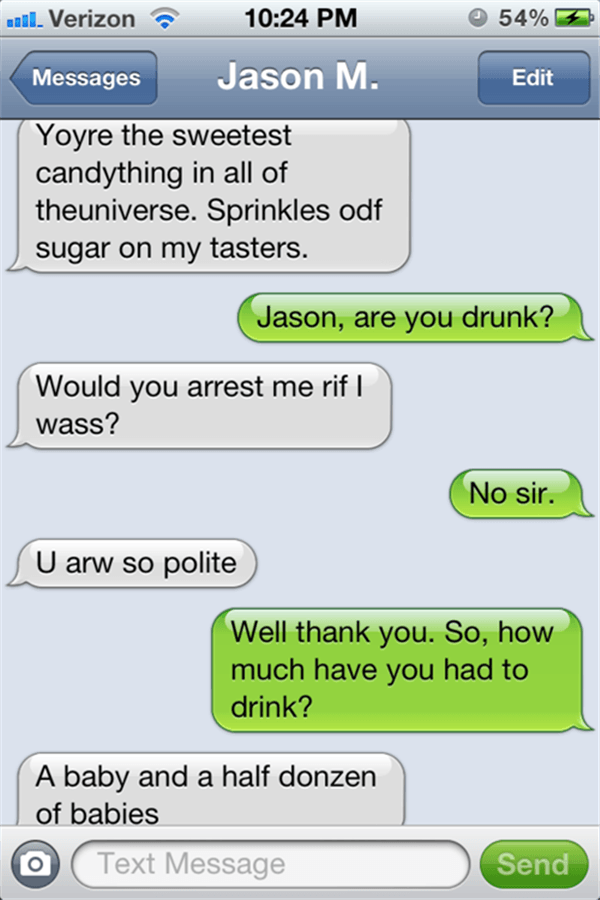 So what is going on when we tell someone we barely know how wonderful, no, I mean really great, they are when we're smashed?
Alcohol, the Depressive Stimulant. Of Course You're Confused.
As a depressant, alcohol reduces some neurotransmitters and increases others. 
Alcohol reduces production of excitory neurotransmitters like glutamate that support clear thinking and produce energy.
Alcohol increases production of inhibitory neurotransmitters such as

gamma-Aminobutyric acid

, or "GABA," which slows. Everything. Down.
Alcohol's effect on your cerebral cortex is what makes your brain so, er, different when you're drinking. This is where booze knocks clear thought off the rails, making you less careful about what you say and making Drunk You a stupid, brakes-off version of Real You.

Alcohol also makes you process sensory information less efficiently, cutting down your reaction time. 
A cerebellum on alcohol is out of whack, making the inebriated stumble, lose balance, and fall down, or maybe all of the above at once.
While it's busy gumming up the works on one hand, alcohol also increases the amount of pleasure-inducing dopamine your brain releases. This is why alcohol makes you feel happy, even as it's making your brain work less well.
*picks up beer*
SIDE EFFECTS MAY INCLUDE STUPIDITY, EMBARRASSMENT, UNPLANNED URINATION, BLEEDING, AND EARLY DEATH
*drinks beer*
Excellent
— Bucky Isotope (@BuckyIsotope) July 23, 2015
What can 3D printing do for medicine? The "sky is the limit," says Northwell Health researcher Dr. Todd Goldstein.
Northwell Health
Sponsored by Northwell Health
Medical professionals are currently using 3D printers to create prosthetics and patient-specific organ models that doctors can use to prepare for surgery.
Eventually, scientists hope to print patient-specific organs that can be transplanted safely into the human body.
Northwell Health, New York State's largest health care provider, is pioneering 3D printing in medicine in three key ways.
Big Think Edge
Push Past Negative Self-Talk: Give Yourself the Proper Fuel to Attack the World, with David Goggins, Former NAVY SealIf you've ever spent 5 minutes trying to meditate, you know something most people don't realize: that our minds are filled, much of the time, with negative nonsense. Messaging from TV, from the news, from advertising, and from difficult daily interactions pulls us mentally in every direction, insisting that we focus on or worry about this or that. To start from a place of strength and stability, you need to quiet your mind and gain control. For former NAVY Seal David Goggins, this begins with recognizing all the negative self-messaging and committing to quieting the mind. It continues with replacing the negative thoughts with positive ones.
If you don't want to know anything about your death, consider this your spoiler warning.
Culture & Religion
For centuries cultures have personified death to give this terrifying mystery a familiar face.
Modern science has demystified death by divulging its biological processes, yet many questions remain.
Studying death is not meant to be a morbid reminder of a cruel fate, but a way to improve the lives of the living.
Big Think Edge
Master Execution: How to Get from Point A to Point B in 7 Steps, with Rob Roy, Retired Navy SEALUsing the principles of SEAL training to forge better bosses, former Navy SEAL and founder of the Leadership Under Fire series Rob Roy, a self-described "Hammer", makes people's lives miserable in the hopes of teaching them how to be a tougher—and better—manager. "We offer something that you are not going to get from reading a book," says Roy. "Real leaders inspire, guide and give hope."Anybody can make a decision when everything is in their favor, but what happens in turbulent times? Roy teaches leaders, through intense experiences, that they can walk into any situation and come out ahead. In this lesson, he outlines seven SEAL-tested steps for executing any plan—even under extreme conditions or crisis situations.
Big think's weekly newsletter.
Get smarter faster from the comfort of your inbox.
See our newsletter privacy policy
here
Most Popular
Most Recent
Big think's weekly newsletter.
Get smarter faster from the comfort of your inbox.
See our newsletter privacy policy
here
© Copyright 2007-2019 & BIG THINK, BIG THINK EDGE,
SMARTER FASTER trademarks owned by The Big Think, Inc. All rights reserved.