Does Alcohol Reveal the Real You?
Alcohol is only a truth serum for a brain that's not working well, not your everyday brain.
03 August, 2016
"Here's to alcohol: the cause of, and solution to, all of life's problems." So sayeth noted philosopher Homer Simpson. It's the ubiquitous social lubricant that makes it easier to socialize, and some would say, freely speak our minds and reveal our true feelings to others.
---
But is alcohol really a truth serum? The short answer is yes, but only for the kind of truth that leaks out of a brain that's not working too well. Which is to say, no, not really.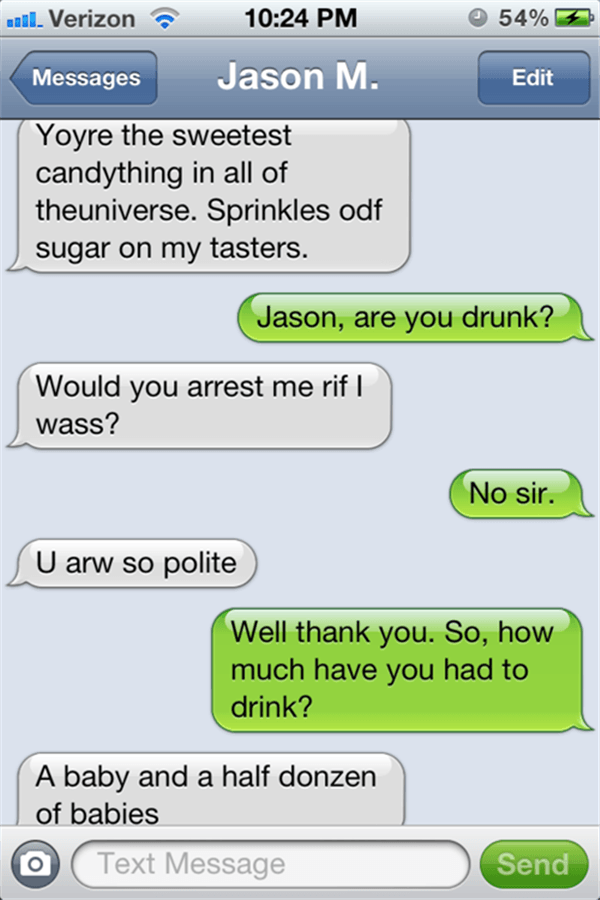 So what is going on when we tell someone we barely know how wonderful, no, I mean really great, they are when we're smashed?
Alcohol, the Depressive Stimulant. Of Course You're Confused.
As a depressant, alcohol reduces some neurotransmitters and increases others. 
Alcohol reduces production of excitory neurotransmitters like glutamate that support clear thinking and produce energy.
Alcohol increases production of inhibitory neurotransmitters such as

gamma-Aminobutyric acid

, or "GABA," which slows. Everything. Down.
Alcohol's effect on your cerebral cortex is what makes your brain so, er, different when you're drinking. This is where booze knocks clear thought off the rails, making you less careful about what you say and making Drunk You a stupid, brakes-off version of Real You.

Alcohol also makes you process sensory information less efficiently, cutting down your reaction time. 
A cerebellum on alcohol is out of whack, making the inebriated stumble, lose balance, and fall down, or maybe all of the above at once.
While it's busy gumming up the works on one hand, alcohol also increases the amount of pleasure-inducing dopamine your brain releases. This is why alcohol makes you feel happy, even as it's making your brain work less well.
*picks up beer*
SIDE EFFECTS MAY INCLUDE STUPIDITY, EMBARRASSMENT, UNPLANNED URINATION, BLEEDING, AND EARLY DEATH
*drinks beer*
Excellent
— Bucky Isotope (@BuckyIsotope) July 23, 2015
Lumina Foundation is partnering with Big Think to unearth the next large-scale, rapid innovation in post-high school education. Enter the competition here!
The world's next superpower might just resurrect the Middle Ages.
We explore the history of blood types and how they are classified to find out what makes the Rh-null type important to science and dangerous for those who live with it.
Abid Katib/Getty Images
Surprising Science
Fewer than 50 people worldwide have 'golden blood' — or Rh-null.
Blood is considered Rh-null if it lacks all of the 61 possible antigens in the Rh system.
It's also very dangerous to live with this blood type, as so few people have it.
The keto diet can help with weight loss, but at what cost?
Pixabay
Surprising Science
In addition to weight loss, there are a few well-known side effects of the keto diet, some of which can be unpleasant.
Some side effects of the keto diet are bound to occur, though others only happen when the diet is implemented poorly.
The keto diet doesn't have to lead to a host of negative side effects, but anyone considering undertaking the diet over the long term should be especially careful.
Big think's weekly newsletter.
Get smarter faster from the comfort of your inbox.
See our newsletter privacy policy
here
Most Popular
Most Recent
Big think's weekly newsletter.
Get smarter faster from the comfort of your inbox.
See our newsletter privacy policy
here
© Copyright 2007-2018 & BIG THINK, BIG THINK EDGE,
SMARTER FASTER trademarks owned by The Big Think, Inc. All rights reserved.