85% of the world's 1 billion guns are in civilian hands
A trio of new reports by the Small Arms Survey finds that 85% of the world's one billion guns are in the hands of its citizens who far outgun the militaries and police responsible for their protection.
22 June, 2018
There are roughly a billion guns in the world, according to the latest data compiled by weaponry watchdogs the Small Arms Survey. Of these, a stunning 857 million are owned by private citizens, with only 133 million in the hands of authorized military forces and just 23 million used by law enforcement. This lop-sided ratio is getting more extreme, too—led by increases in U.S. purchases—with individuals possessing 650 million of the world's firearms just ten years ago. These numbers include all firearms, of any type.
---
About the survey
The Small Arms Survey's tally is as detailed as possible, but given the uneven way in which the raw data is published throughout the world, their conclusions inevitably involve some estimating. In addition, only about 12% of these weapons are registered—that's about 100 million out of the billion—so definitive figures are tricky to come by. In the interest of accuracy, the organization analyzed a wide range of documentation, including governmental data, manufacturing information, surveys, and so on. This is all explained in the actual reports, of which there are three:
All visualizations in this article are from Small Arms Survey.
Where are all these guns?
The four countries with the most civilian guns are the U.S., India, China, and Pakistan.

The report includes an interactive map that allows you to zoom in and drill down into the local statistics. Click or touch the image below to learn more about each region's citizen, military, and law enforcement ownership. Click or touch the desired country for an informational popup.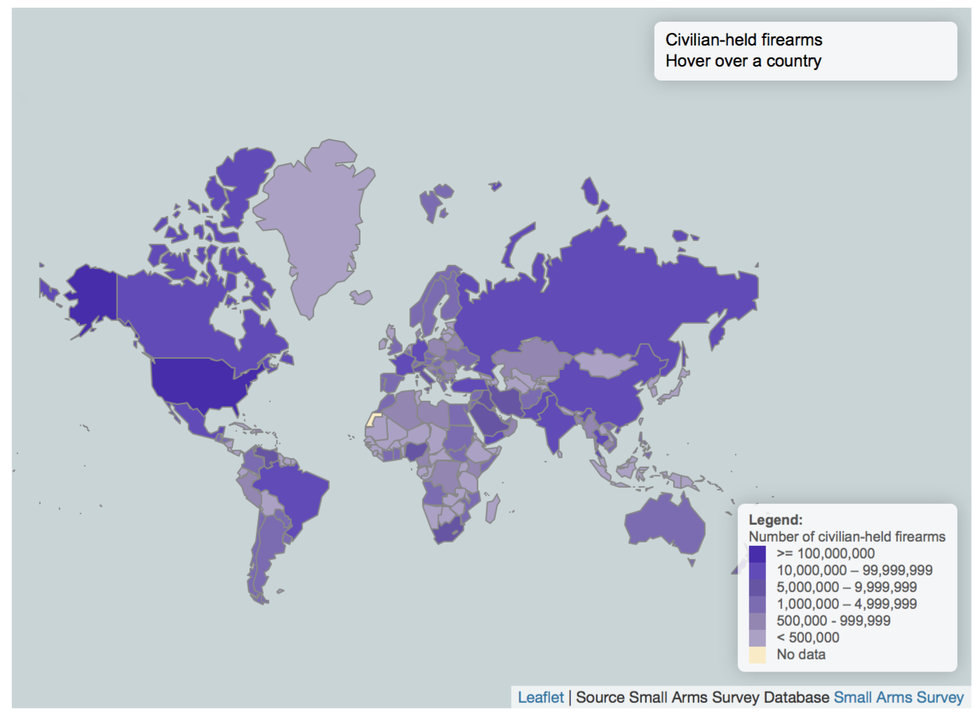 Gun ownership by Americans
America is one of the countries with a more comprehensive array of data. If you examined the U.S. in the interactive map above, you've probably already noticed that almost all of its estimated 393 million guns are unregistered, a surprisingly high figure.
Also surprising is the number of guns per 100 people: 120.48. Yes, that's right: there are more guns in the U.S. than people. Here's what these figures look like worldwide.

What guns are Americans buying?
The report says that gun ownership in the U.S. is growing at a rate of 4.16% a year. Of these, the mix of guns is shifting toward more pistols and to rifles since the Federal Assault Weapons Ban lapsed in 2004. Cited is a survey done by the National Shooting Sports Foundation (NSSF), a gun-manufacturers group. Its data say 13% of all new gun purchases in the U.S. are semi-automatic rifles as of 2012, the date of the latest relevant statistics.
The NSSF says that 42.3% of active gun owners in America own at least one AR-15/M-16-type semi-automatic assault weapon, the rifle of choice in many mass shootings. Another NSSF survey from 2016 found that about 14 million people reported they use these guns for hunting and recreational shooting.
Overall, gun purchases in the U.S. are nearly flat except when it comes to pistols and rifles—they're skyrocketing.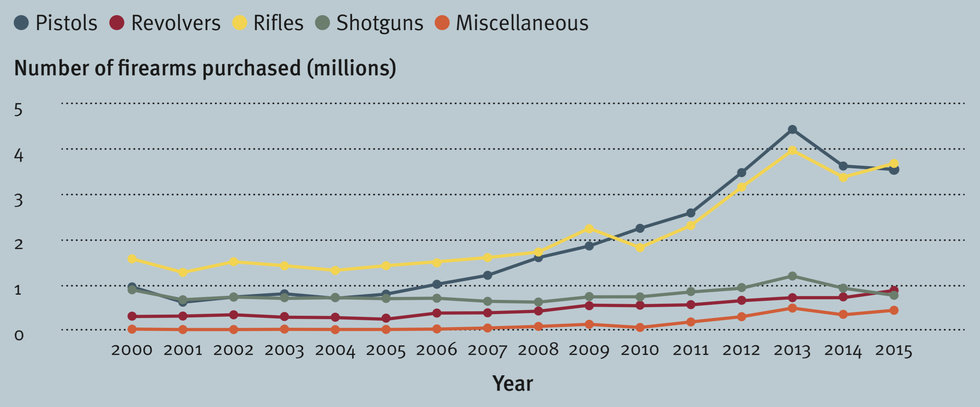 The Small Arms Survey's reports don't get into the "whys" behind the growth in citizen ownership of firearms. It's more concerned with presenting an as-accurate-as-possible picture of the situation.
Military guns
Most of the world's military guns belong to Russian fighters, followed closely by China.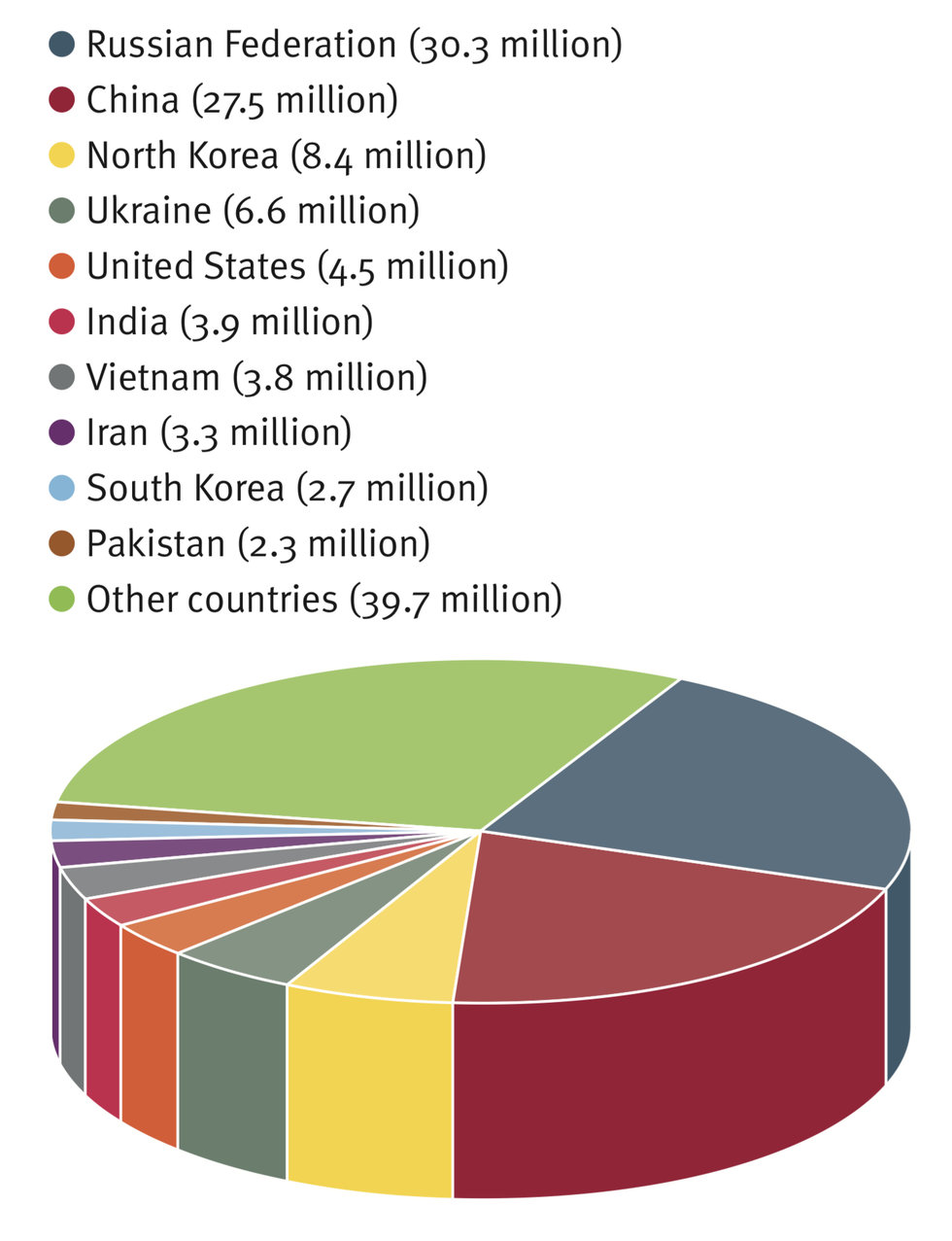 The U.S. military has 4.4 million weapons, compared to the American public possessing 393 million. Many American gun owners believe the Second Amendment of the Constitution entitles them to guns in order to "maintain a well-regulated militia," but the fact that citizens now so outgun the actual military suggests a strange balance of relative power that was not likely to have been the intention of the amendment's framers.
Law enforcement guns
U.S. police officers are even more overwhelmed by the American public's arsenal, with about a million guns allocated to their mission of protecting the peace. There's more to power than the simple possession of a firearm, of course, and so these numbers don't tell the whole story of contemporary law enforcement in the U.S. Still, the police, like the military, exist to protect their populations. How odd that those populations have so much more firepower at their disposal.
Once again, the countries with the most law-enforcement weaponry are Russia and China.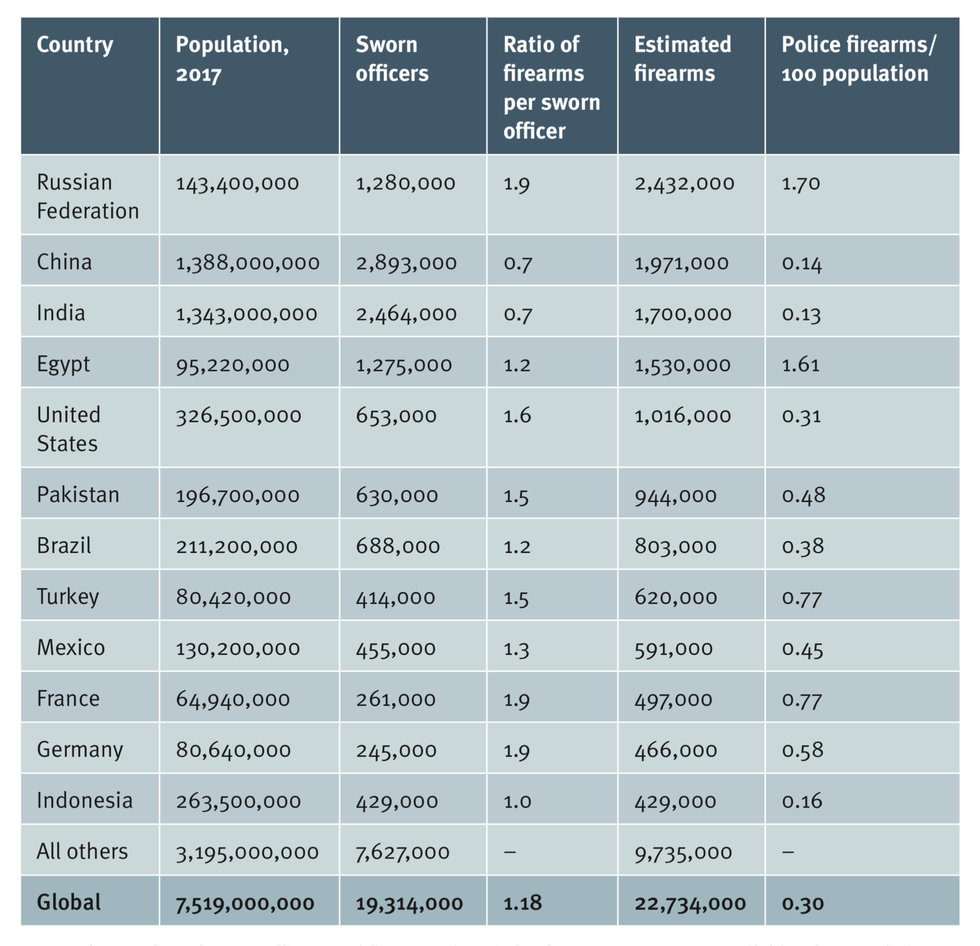 Where does this leave us?
The Small Arms Survey presents a striking picture of an increasingly armed world population with far more guns at their disposal than their own military and law enforcement. We're a global armed camp, more so in some places than others. The rise in personal gun ownership seems like a loaded weapon of its own, armed and ready for firing with provocation—we can only hope people find the restraint to keep their fingers off the trigger.
Swipe right to make the connections that could change your career.
Getty Images
Sponsored
Swipe right. Match. Meet over coffee or set up a call.
No, we aren't talking about Tinder. Introducing Shapr, a free app that helps people with synergistic professional goals and skill sets easily meet and collaborate.
In his final years, Martin Luther King, Jr. become increasingly focused on the problem of poverty in America.
(Photo by J. Wilds/Keystone/Getty Images)
Politics & Current Affairs
Despite being widely known for his leadership role in the American civil rights movement, Martin Luther King, Jr. also played a central role in organizing the Poor People's Campaign of 1968.
The campaign was one of the first to demand a guaranteed income for all poor families in America.
Today, the idea of a universal basic income is increasingly popular, and King's arguments in support of the policy still make a good case some 50 years later.
10 of the most sandbagging, red-herring, and effective logical fallacies.
Personal Growth
Many an otherwise-worthwhile argument has been derailed by logical fallacies.
Sometimes these fallacies are deliberate tricks, and sometimes just bad reasoning.
Avoiding these traps makes disgreeing so much better.
For Damien Echols, tattoos are part of his existential armor.
Videos
In prison Damien Echols was known by his number SK931, not his name, and had his hair sheared off. Stripped of his identity, the only thing he had left was his skin.
This is why he began tattooing things that are meaningful to him — to carry a "suit of armor" made up the images of the people and objects that have significance to him, from his friends to talismans.
Echols believes that all places are imbued with divinity: "If you interact with New York City as if there's an intelligence behind... then it will behave towards you the same way."
Big think's weekly newsletter.
Get smarter faster from the comfort of your inbox.
See our newsletter privacy policy
here
Most Popular
Most Recent
Big think's weekly newsletter.
Get smarter faster from the comfort of your inbox.
See our newsletter privacy policy
here
© Copyright 2007-2018 & BIG THINK, BIG THINK EDGE,
SMARTER FASTER trademarks owned by The Big Think, Inc. All rights reserved.