Big ideas.
Once a week.
Subscribe to our weekly newsletter.
Yale Experiment Brings Quantum Computing One Step Closer
Yale researchers create a groundbreaking device that utilizes two key concepts in quantum physics.
05 June, 2016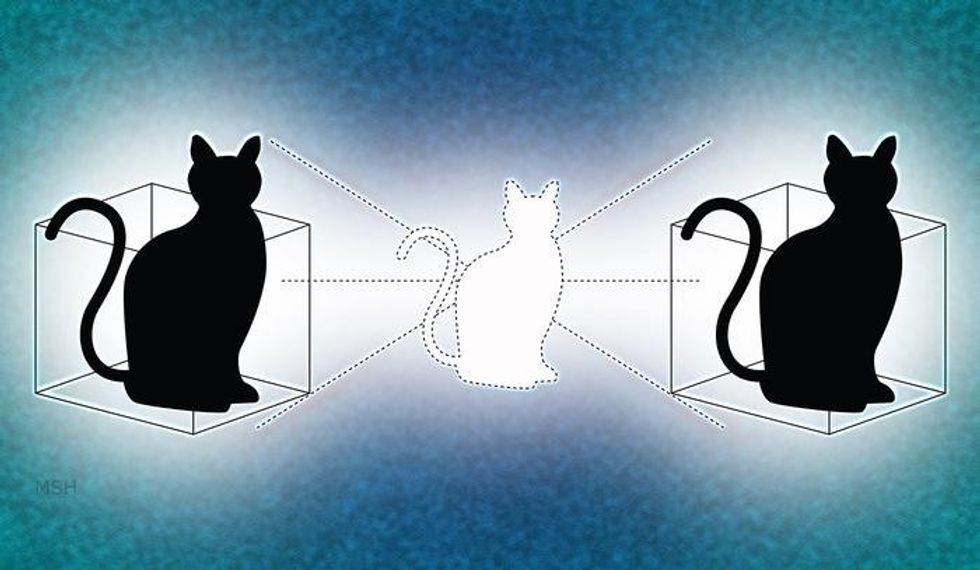 A famous mind experiment by the Austrian physicist Erwin Schrödinger describes the existential mystery of a cat that is both alive and dead depending on whether you open the box where it sits with some things that can kill it. This strange thought has been used as a way to explain the paradox of quantum superposition, a key concept in quantum physics, which states that a particle can exist in many possible states at the same time and only measurement and observation will lock it into a particular state (like opening the box to see if the cat is alive or dead). And now this popular topic of mind-bending conversations has found a real-world application. Yale researchers made a device that shows that a particle can actually be in two states at once.
---
No, the device doesn't involve putting a cat in a box with poison and radioactive materials. Taking their cue from Schrödinger, the scientists are talking about a "cat state". They created a device where the "cat" lives or dies in two boxes at once, which combines the superposition paradox with another quantum concept  - "entanglement". The idea of "entanglement", which Einstein rather poetically called "spooky action at a distance", allows local observation of a state to instantaneously influence a distant object.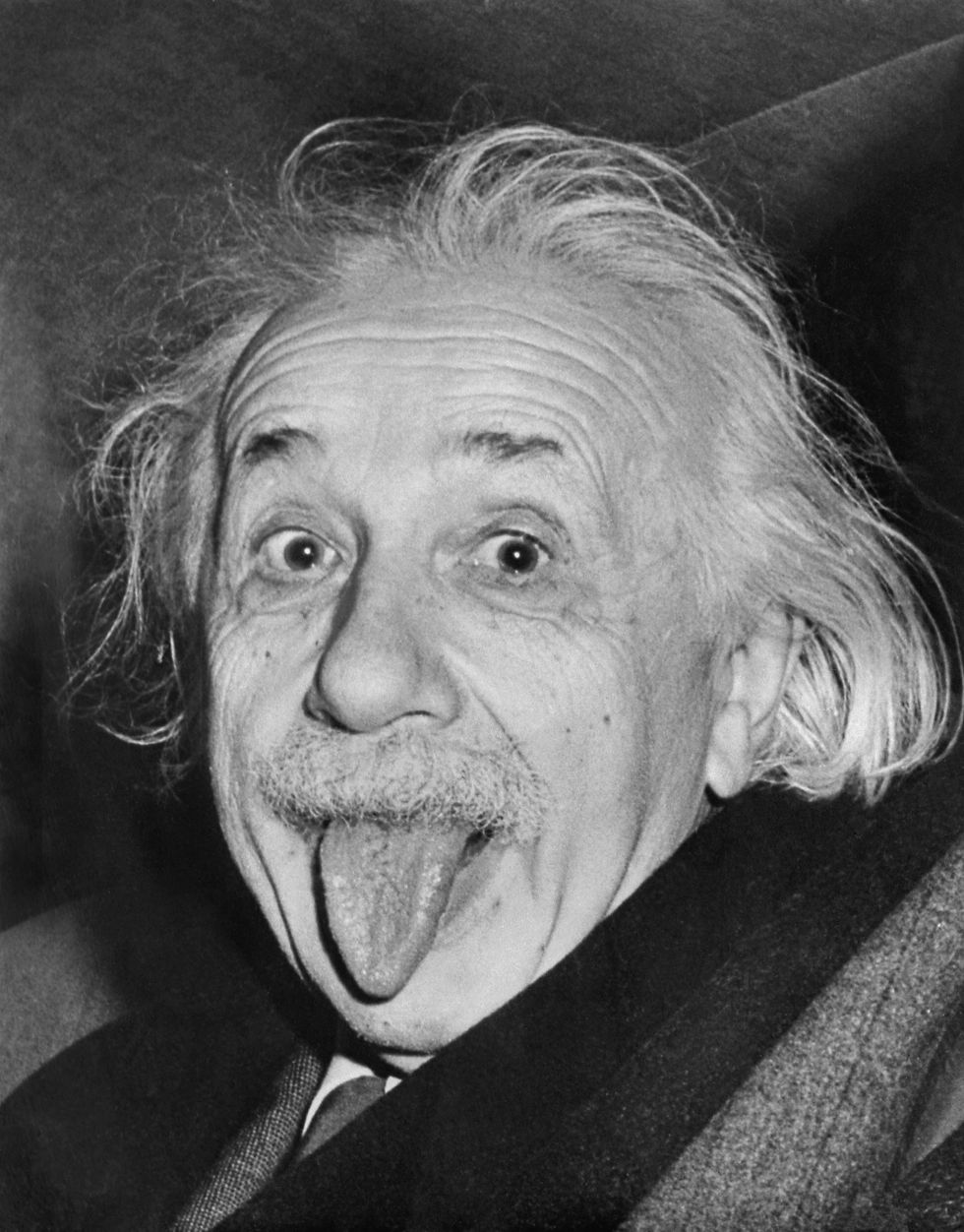 The Yale device is made of two 3D microwave cavities and a monitoring port, with everything connected by a superconducting, artificial atom. And the designated "cat" is actually a confined microwave light in both of the cavities.
One of the authors of the study, Yale postdoctoral associate Chen Wang, explained:
"This cat is big and smart. It doesn't stay in one box because the quantum state is shared between the two cavities and cannot be described separately. One can also take an alternative view, where we have two small and simple Schrodinger's cats, one in each box, that are entangled."
The researchers see the application of their findings to be in quantum computing, which promises much faster processing using quantum methods.
The "cat" states can help in increasing reliability and error correction.
Robert Schoelkopf, Sterling Professor of Applied Physics and Physics, and director of the Yale Quantum Institute, proposed that -
"It turns out 'cat' states are a very effective approach to storing quantum information redundantly, for implementation of quantum error correction. Generating a cat in two boxes is the first step towards logical operation between two quantum bits in an error-correctible manner."
Shoelkopf is one of the pioneers in the field of circuit quantum electrodynamics (cQED). His team added a number of new features to cQED architecture, including cylindrical 3D cavities that can store quantum information of more than 1 millisecond   in superconducting circuits, a field record. They also designed a measurement system that can monitor aspects of a quantum state in a precise, non-destructive way.
Inventions with revolutionary potential made by a mysterious aerospace engineer for the U.S. Navy come to light.
Credit: Getty Images
Surprising Science
U.S. Navy holds patents for enigmatic inventions by aerospace engineer Dr. Salvatore Pais.
Pais came up with technology that can "engineer" reality, devising an ultrafast craft, a fusion reactor, and more.
While mostly theoretical at this point, the inventions could transform energy, space, and military sectors.
The U.S. Navy controls patents for some futuristic and outlandish technologies, some of which, dubbed "the UFO patents," came to life recently. Of particular note are inventions by the somewhat mysterious Dr. Salvatore Cezar Pais, whose tech claims to be able to "engineer reality." His slate of highly-ambitious, borderline sci-fi designs meant for use by the U.S. government range from gravitational wave generators and compact fusion reactors to next-gen hybrid aerospace-underwater crafts with revolutionary propulsion systems, and beyond.
Of course, the existence of patents does not mean these technologies have actually been created, but there is evidence that some demonstrations of operability have been successfully carried out. As investigated and reported by The War Zone, a possible reason why some of the patents may have been taken on by the Navy is that the Chinese military may also be developing similar advanced gadgets.
Among Dr. Pais's patents are designs, approved in 2018, for an aerospace-underwater craft of incredible speed and maneuverability. This cone-shaped vehicle can potentially fly just as well anywhere it may be, whether air, water or space, without leaving any heat signatures. It can achieve this by creating a quantum vacuum around itself with a very dense polarized energy field. This vacuum would allow it to repel any molecule the craft comes in contact with, no matter the medium. Manipulating "quantum field fluctuations in the local vacuum energy state," would help reduce the craft's inertia. The polarized vacuum would dramatically decrease any elemental resistance and lead to "extreme speeds," claims the paper.
Not only that, if the vacuum-creating technology can be engineered, we'd also be able to "engineer the fabric of our reality at the most fundamental level," states the patent. This would lead to major advancements in aerospace propulsion and generating power. Not to mention other reality-changing outcomes that come to mind.
Among Pais's other patents are inventions that stem from similar thinking, outlining pieces of technology necessary to make his creations come to fruition. His paper presented in 2019, titled "Room Temperature Superconducting System for Use on a Hybrid Aerospace Undersea Craft," proposes a system that can achieve superconductivity at room temperatures. This would become "a highly disruptive technology, capable of a total paradigm change in Science and Technology," conveys Pais.
High frequency gravitational wave generator.
Credit: Dr. Salvatore Pais
Another invention devised by Pais is an electromagnetic field generator that could generate "an impenetrable defensive shield to sea and land as well as space-based military and civilian assets." This shield could protect from threats like anti-ship ballistic missiles, cruise missiles that evade radar, coronal mass ejections, military satellites, and even asteroids.
Dr. Pais's ideas center around the phenomenon he dubbed "The Pais Effect". He referred to it in his writings as the "controlled motion of electrically charged matter (from solid to plasma) via accelerated spin and/or accelerated vibration under rapid (yet smooth) acceleration-deceleration-acceleration transients." In less jargon-heavy terms, Pais claims to have figured out how to spin electromagnetic fields in order to contain a fusion reaction – an accomplishment that would lead to a tremendous change in power consumption and an abundance of energy.
According to his bio in a recently published paper on a new Plasma Compression Fusion Device, which could transform energy production, Dr. Pais is a mechanical and aerospace engineer working at the Naval Air Warfare Center Aircraft Division (NAWCAD), which is headquartered in Patuxent River, Maryland. Holding a Ph.D. from Case Western Reserve University in Cleveland, Ohio, Pais was a NASA Research Fellow and worked with Northrop Grumman Aerospace Systems. His current Department of Defense work involves his "advanced knowledge of theory, analysis, and modern experimental and computational methods in aerodynamics, along with an understanding of air-vehicle and missile design, especially in the domain of hypersonic power plant and vehicle design." He also has expert knowledge of electrooptics, emerging quantum technologies (laser power generation in particular), high-energy electromagnetic field generation, and the "breakthrough field of room temperature superconductivity, as related to advanced field propulsion."
Suffice it to say, with such a list of research credentials that would make Nikola Tesla proud, Dr. Pais seems well-positioned to carry out groundbreaking work.
A craft using an inertial mass reduction device.
Credit: Salvatore Pais
The patents won't necessarily lead to these technologies ever seeing the light of day. The research has its share of detractors and nonbelievers among other scientists, who think the amount of energy required for the fields described by Pais and his ideas on electromagnetic propulsions are well beyond the scope of current tech and are nearly impossible. Yet investigators at The War Zone found comments from Navy officials that indicate the inventions are being looked at seriously enough, and some tests are taking place.
If you'd like to read through Pais's patents yourself, check them out here.
Laser Augmented Turbojet Propulsion System
Credit: Dr. Salvatore Pais
As the material that makes all living things what/who we are, DNA is the key to understanding and changing the world. British geneticist Bryan Sykes and Francis Collins (director of the Human Genome Project) explain how, through gene editing, scientists can better treat illnesses, eradicate diseases, and revolutionize personalized medicine.
But existing and developing gene editing technologies are not without controversies. A major point of debate deals with the idea that gene editing is overstepping natural and ethical boundaries. Just because they can, does that mean that scientists should be edit DNA?
Harvard professor Glenn Cohen introduces another subcategory of gene experiments: mixing human and animal DNA. "The question is which are okay, which are not okay, why can we generate some principles," Cohen says of human-animal chimeras and arguments concerning improving human life versus morality.
New studies stretch the boundaries of physics, achieving quantum entanglement in larger systems.
Credit: Aalto University.
Surprising Science
New experiments with vibrating drums push the boundaries of quantum mechanics.
Two teams of physicists create quantum entanglement in larger systems.
Critics question whether the study gets around the famous Heisenberg uncertainty principle.
Recently published research pushes the boundaries of key concepts in quantum mechanics. Studies from two different teams used tiny drums to show that quantum entanglement, an effect generally linked to subatomic particles, can also be applied to much larger macroscopic systems. One of the teams also claims to have found a way to evade the Heisenberg uncertainty principle.
One question that the scientists were hoping to answer pertained to whether larger systems can exhibit quantum entanglement in the same way as microscopic ones. Quantum mechanics proposes that two objects can become "entangled," whereby the properties of one object, such as position or velocity, can become connected to those of the other.
An experiment performed at the U.S. National Institute of Standards and Technology in Boulder, Colorado, led by physicist Shlomi Kotler and his colleagues, showed that a pair of vibrating aluminum membranes, each about 10 micrometers long, can be made to vibrate in sync, in such a way that they can be described to be quantum entangled. Kotler's team amplified the signal from their devices to "see" the entanglement much more clearly. Measuring their position and velocities returned the same numbers, indicating that they were indeed entangled.
Tiny aluminium membranes used by Kotler's team.Credit: Florent Lecoq and Shlomi Kotler/NIST
Evading the Heisenberg uncertainty principle?

Another experiment with quantum drums — each one-fifth the width of a human hair — by a team led by Prof. Mika Sillanpää at Aalto University in Finland, attempted to find what happens in the area between quantum and non-quantum behavior. Like the other researchers, they also achieved quantum entanglement for larger objects, but they also made a fascinating inquiry into getting around the Heisenberg uncertainty principle.
The team's theoretical model was developed by Dr. Matt Woolley of the University of New South Wales. Photons in the microwave frequency were employed to create a synchronized vibrating pattern as well as to gauge the positions of the drums. The scientists managed to make the drums vibrate in opposite phases to each other, achieving "collective quantum motion."
The study's lead author, Dr. Laure Mercier de Lepinay, said: "In this situation, the quantum uncertainty of the drums' motion is canceled if the two drums are treated as one quantum-mechanical entity."
This effect allowed the team to measure both the positions and the momentum of the virtual drumheads at the same time. "One of the drums responds to all the forces of the other drum in the opposing way, kind of with a negative mass," Sillanpää explained.
Theoretically, this should not be possible under the Heisenberg uncertainty principle, one of the most well-known tenets of quantum mechanics. Proposed in the 1920s by Werner Heisenberg, the principle generally says that when dealing with the quantum world, where particles also act like waves, there's an inherent uncertainty in measuring both the position and the momentum of a particle at the same time. The more precisely you measure one variable, the more uncertainty in the measurement of the other. In other words, it is not possible to simultaneously pinpoint the exact values of the particle's position and momentum.
Heisenberg's Uncertainty Principle Explained. Credit: Veritasium / Youtube.com
Quantum skepticism
Big Think contributor astrophysicist Adam Frank, known for the 13.8 podcast, called this "a really fascinating paper as it shows that it's possible to make larger entangled systems which behave like a single quantum object. But because we're looking at a single quantum object, the measurement doesn't really seem to me to be 'getting around' the uncertainty principle, as we know that in entangled systems an observation of one part constrains the behavior of other parts."
Ethan Siegel, also an astrophysicist, commented, "The main achievement of this latest work is that they have created a macroscopic system where two components are successfully quantum mechanically entangled across large length scales and with large masses. But there is no fundamental evasion of the Heisenberg uncertainty principle here; each individual component is exactly as uncertain as the rules of quantum physics predicts. While it's important to explore the relationship between quantum entanglement and the different components of the systems, including what happens when you treat both components together as a single system, nothing that's been demonstrated in this research negates Heisenberg's most important contribution to physics."
The papers, published in the journal
Science
, could help create new generations of ultra-sensitive measuring devices and quantum computers.
Scroll down to load more…