Why LSD Trips Last So Long and Make Everything Seem So Meaningful
Two recent studies reveal the effects of LSD on the brain.
05 February, 2017
While LSD has been around since 1938, when it was synthesized by the Swiss scientist Albert Hoffman, how exactly it works has continued to be a mystery. As LSD research has picked up, two new studies provide insight on what happens to the brain on LSD, the common name for Lysergic acid diethylamide. One group of scientists figured out the structural changes LSD makes in the brain while the other looks at how LSD makes people create meaning.
---
Research published in Cell zeroed in at what LSD looks like when attached to a brain receptor.  
The team led by Bryan L. Roth, MD, PhD from the UNC School of Medicine used x-ray crystallography to "freeze" and capture images of LSD attached to a serotonin receptor (a protein that senses serotonin, a chemical messenger). The researchers found that the LSD molecule is essentially locked on to that part of the brain as the receptor folds over it like a lid. This explains why the effects of an LSD trip last so long, lingering for 12 hours or more even if LSD molecules are known to clear from the blood in a few hours.
"We think this lid is likely why the effects of LSD can last so long," said Roth, "LSD takes a long time to get onto the receptor, and then once it's on, it doesn't come off. And the reason is this lid."
The answers his team was able to get clears up the question Roth held from his youth.
"When I was younger, and The Grateful Dead was still around, I would occasionally go to Grateful Dead concerts. A lot of people took LSD and similar drugs during concerts, and it would be interesting to be in the parking lot hearing people wondering when their LSD experience was going to end," said Roth. "A lot of people who take the drug are not aware of just how long it lasts."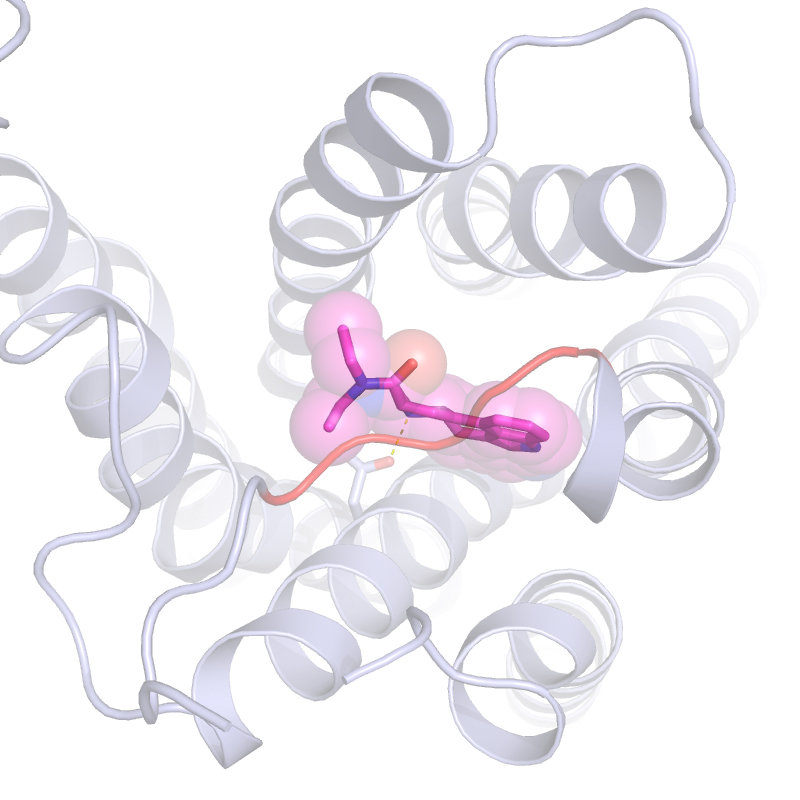 A molecule of LSD bound to a larger serotonin receptor. The 'lid' that keeps LSD bound so long is the orange bar running through the center. Credit: Lab of Bryan Roth, UNC School of Medicine
The trip ends when LSD molecules get off their receptors, while brain cells eventually pull the receptors into the cell, where they (along with the LSD) get degraded or recycled.
The scientists think their research will help in the development of new treatments, especially considering the recent popularity of LSD microdosing to combat depression or increase creativity.
Another study, this one published in Current Biology, looked at how LSD affects perception. They found specific neurochemicals and receptors in the brain responsible for "loosening" the boundaries of the self and creating a sense of meaning while on an LSD trip. What they were after is to understand why people on LSD paid so much attention to details or objects which normally would not elicit such a focus. 
"Our results increase our understanding of how personal relevance attribution is enabled in the brain," said Katrin Preller of the Zürich University Hospital for Psychiatry. "[We now know] which receptors, neurotransmitters, and brain regions are involved when we perceive our environment as meaningful and relevant."
In particular, the researchers studied a group of people on LSD versus a group on placebos, having them rank the meaning of specific songs or musical compositions. It turned out that songs which previously didn't mean much became very significant to the subjects on LSD. Doing this, while scanning the brains of the participants, allowed the scientists to identify the specific receptors involved in creating that meaningfulness.
"By combining functional brain imaging and detailed behavioral assessments using a specific experimental paradigm to investigate personal relevance or meaning of music pieces, we were able to elucidate the neurobiological correlates of personal relevance processing in the brain," explained Preller. "We found that personal meaning attribution and its modulation by LSD is mediated by the 5-HT2A receptors and cortical midline structures that are also crucially involved in enabling the experience of a sense of self."
Further studies of the identified 5-HT2A receptors may lead to understanding how "excessive stimulation" of these receptors can be responsible for the peculiar feelings and sensations of people on a psychedelic trip. The goal is to develop new treatments for psychiatric illnesses. 
Cover photo: Artistic representation of the chemical structure of LSD -- highlighted in yellow -- interlocking into a red-orange ribbon diagram of the serotonin receptor. Credit: Annie Spikes 
The way that you think about stress can actually transform the effect that it has on you – and others.
Big Think Edge
Stress is contagious, and the higher up in an organization you are the more your stress will be noticed and felt by others.
Kelly McGonigal teaches "Reset your mindset to reduce stress" for Big Think Edge.

Subscribe to Big Think Edge before we launch on March 30 to get 20% off monthly and annual memberships.
These quick bursts of inspiration will brighten your day in 10 minutes or less.

Explore a legendary philosopher's take on how society fails to prepare us for education and progress.
Alan Watts.
Personal Growth
Alan Watts was an instrumental figure in the 1960s counterculture revolution.
He believed that we put too much of a focus on intangible goals for our educational and professional careers.
Watts believed that the whole educational enterprise is a farce compared to how we should be truly living our lives.
How can we use the resources that are already on the Moon to make human exploration of the satellite as economical as possible?
The All-Terrain Hex-Limbed Extra-Terrestrial Explorer (ATHLETE), a prototype heavy-lift utility vehicle to support future human exploration of extraterrestrial surfaces, at right, is parked beside the Habitat Demonstration Unit - Pressurized Excursion Module (HDU-PEM), at left, a concept off-Earth living and work quarters for astronauts stationed on asteroids, the moon or Mars, 15 September 2010. Photo by: ROBYN BECK/AFP/Getty Images
Technology & Innovation
If you were transported to the Moon this very instant, you would surely and rapidly die. That's because there's no atmosphere, the surface temperature varies from a roasting 130 degrees Celsius (266 F) to a bone-chilling minus 170 C (minus 274 F). If the lack of air or horrific heat or cold don't kill you then micrometeorite bombardment or solar radiation will. By all accounts, the Moon is not a hospitable place to be.

Big think's weekly newsletter.
Get smarter faster from the comfort of your inbox.
See our newsletter privacy policy
here
Most Popular
Most Recent
Big think's weekly newsletter.
Get smarter faster from the comfort of your inbox.
See our newsletter privacy policy
here
© Copyright 2007-2018 & BIG THINK, BIG THINK EDGE,
SMARTER FASTER trademarks owned by The Big Think, Inc. All rights reserved.