Why LSD Trips Last So Long and Make Everything Seem So Meaningful
Two recent studies reveal the effects of LSD on the brain.
05 February, 2017
While LSD has been around since 1938, when it was synthesized by the Swiss scientist Albert Hoffman, how exactly it works has continued to be a mystery. As LSD research has picked up, two new studies provide insight on what happens to the brain on LSD, the common name for Lysergic acid diethylamide. One group of scientists figured out the structural changes LSD makes in the brain while the other looks at how LSD makes people create meaning.
---
Research published in Cell zeroed in at what LSD looks like when attached to a brain receptor.  
The team led by Bryan L. Roth, MD, PhD from the UNC School of Medicine used x-ray crystallography to "freeze" and capture images of LSD attached to a serotonin receptor (a protein that senses serotonin, a chemical messenger). The researchers found that the LSD molecule is essentially locked on to that part of the brain as the receptor folds over it like a lid. This explains why the effects of an LSD trip last so long, lingering for 12 hours or more even if LSD molecules are known to clear from the blood in a few hours.
"We think this lid is likely why the effects of LSD can last so long," said Roth, "LSD takes a long time to get onto the receptor, and then once it's on, it doesn't come off. And the reason is this lid."
The answers his team was able to get clears up the question Roth held from his youth.
"When I was younger, and The Grateful Dead was still around, I would occasionally go to Grateful Dead concerts. A lot of people took LSD and similar drugs during concerts, and it would be interesting to be in the parking lot hearing people wondering when their LSD experience was going to end," said Roth. "A lot of people who take the drug are not aware of just how long it lasts."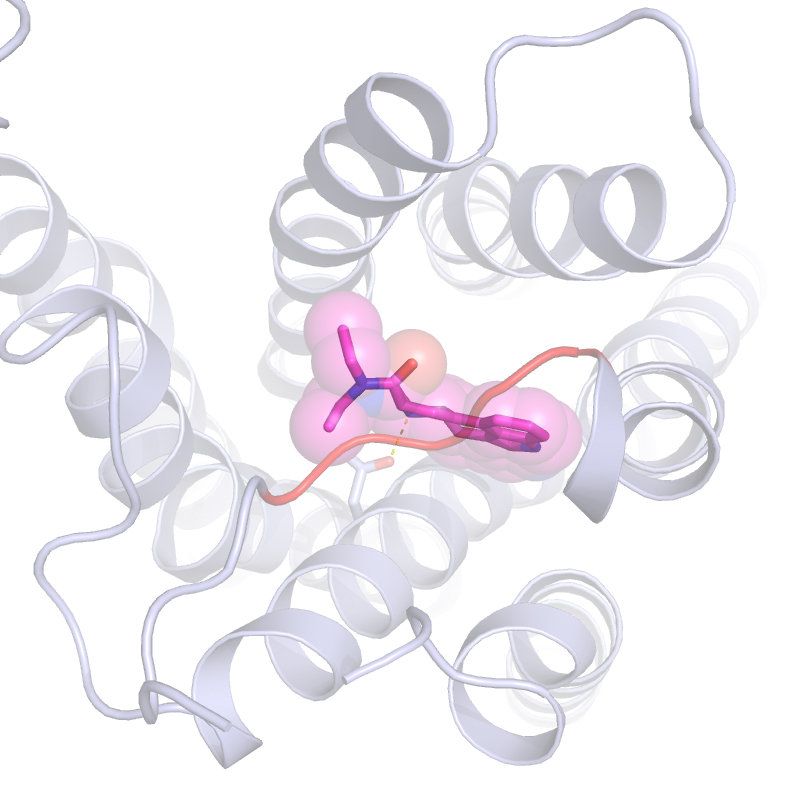 A molecule of LSD bound to a larger serotonin receptor. The 'lid' that keeps LSD bound so long is the orange bar running through the center. Credit: Lab of Bryan Roth, UNC School of Medicine
The trip ends when LSD molecules get off their receptors, while brain cells eventually pull the receptors into the cell, where they (along with the LSD) get degraded or recycled.
The scientists think their research will help in the development of new treatments, especially considering the recent popularity of LSD microdosing to combat depression or increase creativity.
Another study, this one published in Current Biology, looked at how LSD affects perception. They found specific neurochemicals and receptors in the brain responsible for "loosening" the boundaries of the self and creating a sense of meaning while on an LSD trip. What they were after is to understand why people on LSD paid so much attention to details or objects which normally would not elicit such a focus. 
"Our results increase our understanding of how personal relevance attribution is enabled in the brain," said Katrin Preller of the Zürich University Hospital for Psychiatry. "[We now know] which receptors, neurotransmitters, and brain regions are involved when we perceive our environment as meaningful and relevant."
In particular, the researchers studied a group of people on LSD versus a group on placebos, having them rank the meaning of specific songs or musical compositions. It turned out that songs which previously didn't mean much became very significant to the subjects on LSD. Doing this, while scanning the brains of the participants, allowed the scientists to identify the specific receptors involved in creating that meaningfulness.
"By combining functional brain imaging and detailed behavioral assessments using a specific experimental paradigm to investigate personal relevance or meaning of music pieces, we were able to elucidate the neurobiological correlates of personal relevance processing in the brain," explained Preller. "We found that personal meaning attribution and its modulation by LSD is mediated by the 5-HT2A receptors and cortical midline structures that are also crucially involved in enabling the experience of a sense of self."
Further studies of the identified 5-HT2A receptors may lead to understanding how "excessive stimulation" of these receptors can be responsible for the peculiar feelings and sensations of people on a psychedelic trip. The goal is to develop new treatments for psychiatric illnesses. 
Cover photo: Artistic representation of the chemical structure of LSD -- highlighted in yellow -- interlocking into a red-orange ribbon diagram of the serotonin receptor. Credit: Annie Spikes 
Step inside the unlikely friendship of a former ACLU president and an ultra-conservative Supreme Court Justice.

Sponsored by Charles Koch Foundation
Former president of the ACLU Nadine Strossen and Supreme Court Justice Antonin Scalia were unlikely friends. They debated each other at events all over the world, and because of that developed a deep and rewarding friendship – despite their immense differences.
Scalia, a famous conservative, was invited to circles that were not his "home territory", such as the ACLU, to debate his views. Here, Strossen expresses her gratitude and respect for his commitment to the exchange of ideas.
"It's really sad that people seem to think that if you disagree with somebody on some issues you can't be mutually respectful, you can't enjoy each other's company, you can't learn from each other and grow in yourself," says Strossen.
The opinions expressed in this video do not necessarily reflect the views of the Charles Koch Foundation, which encourages the expression of diverse viewpoints within a culture of civil discourse and mutual respect.
Learn how to redesign your job for maximum reward.
Videos
Broaching the question "What is my purpose?" is daunting – it's a grandiose idea, but research can make it a little more approachable if work is where you find your meaning. It turns out you can redesign your job to have maximum purpose.
There are 3 ways people find meaning at work, what Aaron Hurst calls the three elevations of impact. About a third of the population finds meaning at an individual level, from seeing the direct impact of their work on other people. Another third of people find their purpose at an organizational level. And the last third of people find meaning at a social level.
"What's interesting about these three elevations of impact is they enable us to find meaning in any job if we approach it the right way. And it shows how accessible purpose can be when we take responsibility for it in our work," says Hurst.
Erik Verlinde has been compared to Einstein for completely rethinking the nature of gravity.
Photo by Willeke Duijvekam
Surprising Science
The Dutch physicist Erik Verlinde's hypothesis describes gravity as an "emergent" force not fundamental.
The scientist thinks his ideas describe the universe better than existing models, without resorting to "dark matter".
While some question his previous papers, Verlinde is reworking his ideas as a full-fledged theory.
TuSimple, an autonomous trucking company, has also engaged in test programs with the United States Postal Service and Amazon.
Technology & Innovation
This week, UPS announced that it's working with autonomous trucking startup TuSimple on a pilot project to deliver cargo in Arizona using self-driving trucks.
UPS has also acquired a minority stake in TuSimple.
TuSimple hopes its trucks will be fully autonomous — without a human driver — by late 2020, though regulatory questions remain.