Study Shows How LSD Mimics Infant's Mind as Ego Dissolves
Groundbreaking brain scans by a crowdfunded study at Imperial College London show how LSD affects the brain and consciousness.
12 April, 2016
A groundbreaking series of experiments show how LSD (Lysergic acid diethylamide) alters the operation of the brain.  Scientists gave LSD to 20 healthy volunteers in a specialist research center and used cutting-edge brain scanning techniques to understand what happens once the LSD is ingested.
---
One significant finding of the experiments was that when volunteers took LSD, many parts of their brain contributed to visual processing, not just the visual cortex.  They could essentially see things that weren't there, experiencing dreamlike hallucinations.
Dr Robin Carhart-Harris, from the Department of Medicine at Imperial College London, who led the research, elaborated on this discovery:
"We observed brain changes under LSD that suggested our volunteers were 'seeing with their eyes shut' -- albeit they were seeing things from their imagination rather than from the outside world. We saw that many more areas of the brain than normal were contributing to visual processing under LSD -- even though the volunteers' eyes were closed. Furthermore, the size of this effect correlated with volunteers' ratings of complex, dreamlike visions. "
Dr. Carthart-Harris explained further that under LSD, people's brain networks behave in a "unified" way, with specialized functions like vision, movement and hearing working without separation.  
He said: "Our results suggest that this effect underlies the profound altered state of consciousness that people often describe during an LSD experience. It is also related to what people sometimes call 'ego-dissolution', which means the normal sense of self is broken down and replaced by a sense of reconnection with themselves, others and the natural world. This experience is sometimes framed in a religious or spiritual way -- and seems to be associated with improvements in well-being after the drug's effects have subsided."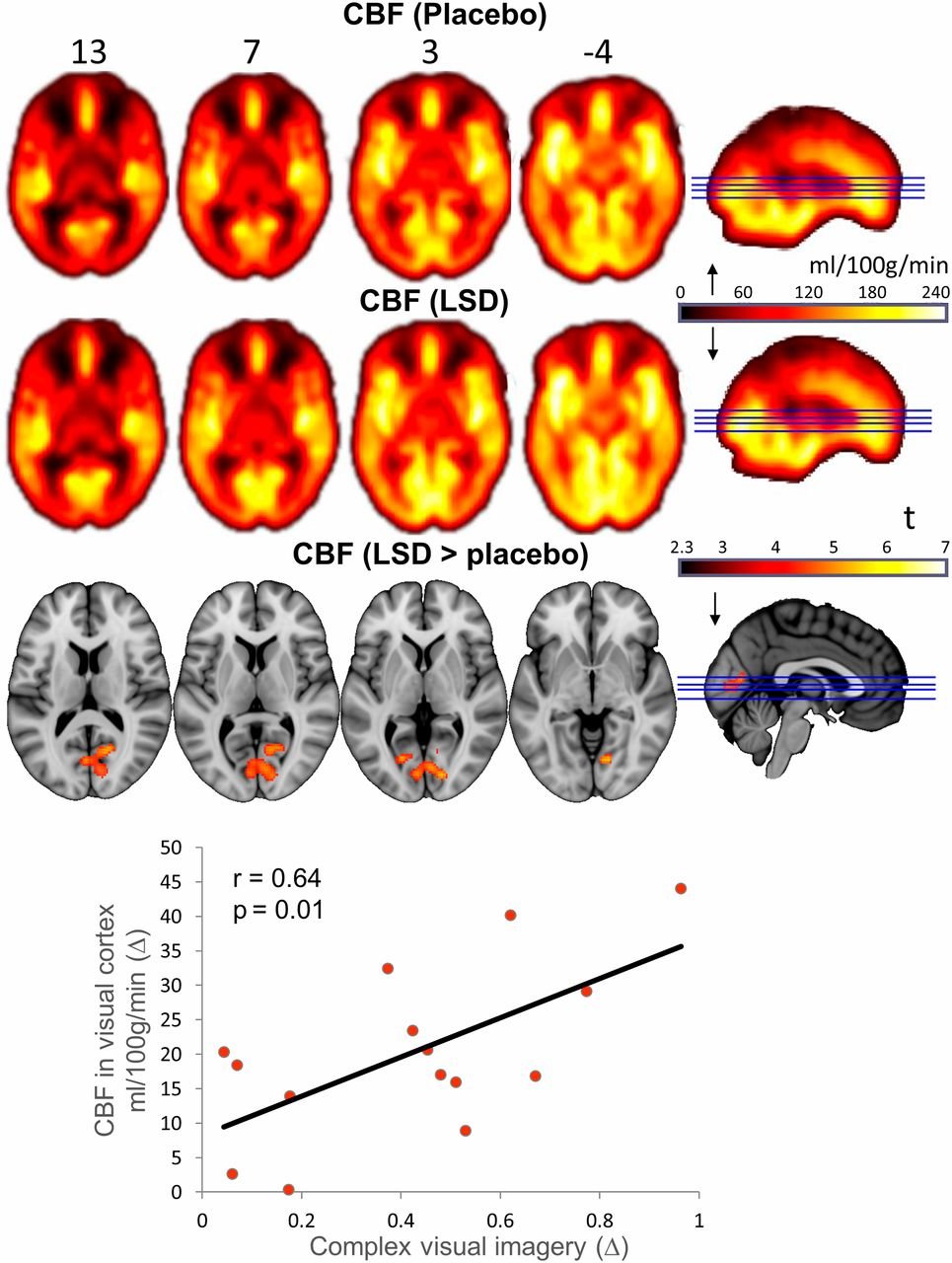 FIG. 1: Whole-brain cerebral blood flow maps for the placebo and LSD conditions, plus the difference map (cluster-corrected, P < 0.05; n = 15).
Interestingly, Dr. Carthart-Harris also said that the brain in the LSD state resembles the free and unconstrained brain of infancy, with its inherent hyper-emotionality and imaginative nature.  He added that "our brains become more constrained and compartmentalized as we develop from infancy into adulthood, and we may become more focused and rigid in our thinking as we mature."
It's noteworthy that the study was crowdfunded, raising almost $80,000 from individual donations. You can see their crowdfunding pitch which explains some of their approaches here:  
Additional research from the same team showed for the first time that listening to music while on LSD trigged more information to be received from the parahippocampus, which is involved in mental imagery and personal memory.  The combination of music and LSD triggered complex visions in the subjects, such as evoking scenes from their lives.
The researchers hope that their findings will eventually lead to new therapies involving LSD, in particular directed at conditions with entrenched negative thought patterns such as depression or addiction.  The intention is to disrupt negative patterns by employing psychedelics.
"Scientists have waited 50 years for this moment -- the revealing of how LSD alters our brain biology. For the first time we can really see what's happening in the brain during the psychedelic state, and can better understand why LSD had such a profound impact on self-awareness in users and on music and art. This could have great implications for psychiatry, and helping patients overcome conditions such as depression," said Professor David Nutt, the senior researcher on the study and Edmond J Safra Chair in Neuropsychopharmacology at Imperial College London.
The findings were published in Proceedings of the National Academy of Sciences (PNAS).
It's unlikely that there's anything on the planet that is worth the cost of shipping it back
popular
In the second season of National Geographic Channel's MARS (premiering tonight, 11/12/18,) privatized miners on the red planet clash with a colony of international scientists
Privatized mining on both Mars and the Moon is likely to occur in the next century
The cost of returning mined materials from Space to the Earth will probably be too high to create a self-sustaining industry, but the resources may have other uses at their origin points
Want to go to Mars? It will cost you. In 2016, SpaceX founder Elon Musk estimated that manned missions to the planet may cost approximately $10 billion per person. As with any expensive endeavor, it is inevitable that sufficient returns on investment will be needed in order to sustain human presence on Mars. So, what's underneath all that red dust?
Mining Technology reported in 2017 that "there are areas [on Mars], especially large igneous provinces, volcanoes and impact craters that hold significant potential for nickel, copper, iron, titanium, platinum group elements and more."
Were a SpaceX-like company to establish a commercial mining presence on the planet, digging up these materials will be sure to provoke a fraught debate over environmental preservation in space, Martian land rights, and the slew of microbial unknowns which Martian soil may bring.
In National Geographic Channel's genre-bending narrative-docuseries, MARS, (the second season premieres tonight, November 12th, 9 pm ET / 8 pm CT) this dynamic is explored as astronauts from an international scientific coalition go head-to-head with industrial miners looking to exploit the planet's resources.
Given the rate of consumption of minerals on Earth, there is plenty of reason to believe that there will be demand for such an operation.
"Almost all of the easily mined gold, silver, copper, tin, zinc, antimony, and phosphorus we can mine on Earth may be gone within one hundred years" writes Stephen Petranek, author of How We'll Live on Mars, which Nat Geo's MARS is based on. That grim scenario will require either a massive rethinking of how we consume metals on earth, or supplementation from another source.
Elon Musk, founder of SpaceX, told Petranek that it's unlikely that even if all of Earth's metals were exhausted, it is unlikely that Martian materials could become an economically feasible supplement due to the high cost of fuel required to return the materials to Earth. "Anything transported with atoms would have to be incredibly valuable on a weight basis."
Actually, we've already done some of this kind of resource extraction. During NASA's Apollo missions to the Moon, astronauts used simple steel tools to collect about 842 pounds of moon rocks over six missions. Due to the high cost of those missions, the Moon rocks are now highly valuable on Earth.
Moon rock on display at US Space and Rocket Center, Huntsville, AL (Big Think/Matt Carlstrom)
In 1973, NASA valuated moon rocks at $50,800 per gram –– or over $300,000 today when adjusted for inflation. That figure doesn't reflect the value of the natural resources within the rock, but rather the cost of their extraction.
Assuming that Martian mining would be done with the purpose of bringing materials back to Earth, the cost of any materials mined from Mars would need to include both the cost of the extraction and the value of the materials themselves. Factoring in the price of fuel and the difficulties of returning a Martian lander to Earth, this figure may be entirely cost prohibitive.
What seems more likely, says Musk, is for the Martian resources to stay on the Red Planet to be used for construction and manufacturing within manned colonies, or to be used to support further mining missions of the mineral-rich asteroid belt between Mars and Jupiter.
At the very least, mining on Mars has already produced great entertainment value on Earth: tune into Season 2 of MARS on National Geographic Channel.
Humans evolved to live in the cold through a number of environmental and genetic factors.
Image source: Wikimedia Commons
Surprising Science
According to some relatively new research, many of our early human cousins preceded Homo sapien migrations north by hundreds of thousands or even millions of years.
Cross-breeding with other ancient hominids gave some subsets of human population the genes to contend and thrive in colder and harsher climates.
Behavioral and dietary changes also helped humans adapt to cold climates.
A study started out trying to see the effect of sexist attacks on women authors, but it found something deeper.
Maxpixel
Surprising Science
It's well known that abusive comments online happen to women more than men
Such comments caused a "significant effect for the abusive comment on author credibility and intention to seek news from the author and outlet in the future"
Some news organizations already heavily moderate or even ban comments entirely; this should underscore that effort
Big think's weekly newsletter.
Get smarter faster from the comfort of your inbox.
See our newsletter privacy policy
here
Most Popular
Most Recent
Big think's weekly newsletter.
Get smarter faster from the comfort of your inbox.
See our newsletter privacy policy
here
© Copyright 2007-2018 & BIG THINK, BIG THINK EDGE,
SMARTER FASTER trademarks owned by The Big Think, Inc. All rights reserved.