Scientific Studies Using Mice May Be Hard to Replicate Due to Gut Microbes
Scientists are concerned that the results of studies using mice may be affected by gut bacteria.
18 August, 2016
Mice and other rodents are a staple of laboratory research. In fact, mice are the most commonly used vertebrate species. They are popular because you can get them easily and cheaply, they are small, reproduce quickly, share 99% of their genes with humans, and can be utilized to study genetic human diseases. But studies that rely on mice may potentially be difficult to replicate due to the differing gut contents of the rodents.
---
Laura McCabe, a physiologist from Michigan State University (MSU), found that the laboratory mice they were using had different microbes in their guts. This skewed the results of their experiments on how a particular drug affects bone density since the drug's effects varied based on what was inside each mouse. Some mice lost bone density while some gained it.
A "microbiome" is a term used to refer to gut bacteria but also to other inhabitants of the gut, like viruses, fungi, and protozoa. The impact of the microbiome on varying experimental data has been coming under increased scrutiny in the scientific community.
"We didn't know to look for it before," said MSU's veterinarian Clair Hankenson to Science Magazine.
To try to standardize what's inside the mice, it has been relatively standard procedure for scientists to be careful in controlling where the mice come from - looking to get animals from the same vendor, keeping them in sterile environments, trying to account for any other factors.
Yet, this approach may not be achieving the desired effect. The gut bacteria in mice can change for reasons like a change in their diet, a new stress, or where and how they were kept by the vendors. For instance, in one instance, mice from one vendor were found lacking segmented filamentous bacteria (SFB), which were shown to help mice make crucial antibodies and immune cells. The presence or absense of this bacteria could affect studies of inflammatory response.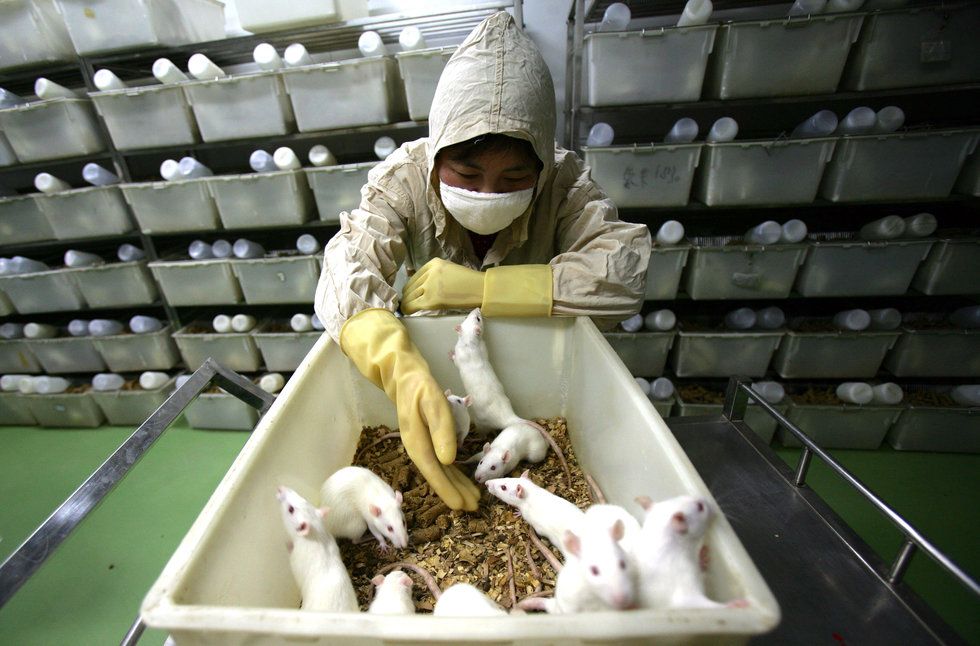 A worker observes white rats at an animal laboratory of a medical school in Chongqing Municipality, China. (Photo by China Photos/Getty Images)
One line of thinking also looks at whether it may not be a good idea to keep lab environments super-sterile. By cleaning, labs might be wiping out some of the microbial variety that make mice good subjects for studying human diseases in the first place. A 2016 study, led by immunologist David Masopust from the University of Minnesota, Twin Cities, found that mice bought from a pet store ended up exhibiting diseases like hepatitis and phenumonia, which have generally been eradicated from lab mice. Exposure to the diseases killed off a chunk of the lab mice but allowed others to build up immunity, thus becoming more realistic stand-ins for the human immune system, according to the scientists.
Another lab doing immunology studies has tried this approach with success. "My lab is incredibly excited about this," said Stephen McSorley, an immunologist from the University of California, Davis, School of Veterinary Medicine. Their lab bought a "dirty" colony of mice that normally serve as zoo animals. This approach, however, has some detractors as well, as it goes against the usual cleanliness-obsessed culture at most labs.
As scientists zero in on the importance of factors that might be influencing the microbiomes of lab mice, they are looking for more ways to account for them in the research. Among proposed ways to counteract the gut's influences is controlling for the diets of the mice and any potential exposure to antibiotics, including fecal microbiome analysis with the data, testing multiple types of microbiomes, and designing studies that separate the effects of microbial genes from the genes of their animal hosts.
What can 3D printing do for medicine? The "sky is the limit," says Northwell Health researcher Dr. Todd Goldstein.
Northwell Health
Sponsored by Northwell Health
Medical professionals are currently using 3D printers to create prosthetics and patient-specific organ models that doctors can use to prepare for surgery.
Eventually, scientists hope to print patient-specific organs that can be transplanted safely into the human body.
Northwell Health, New York State's largest health care provider, is pioneering 3D printing in medicine in three key ways.
The periodic table was a lot simpler at the beginning of the universe.
Great ideas in philosophy often come in dense packages. Then there is where the work of Marcus Aurelius.
(Getty Images)
Personal Growth
Meditations is a collection of the philosophical ideas of the Roman Emperor Marcus Aurelius.
Written as a series of notes to himself, the book is much more readable than the dry philosophy most people are used to.
The advice he gave to himself 2,000 years ago is increasingly applicable in our hectic, stressed-out lives.
Can dirt help us fight off stress? Groundbreaking new research shows how.
University of Colorado Boulder
Surprising Science
New research identifies a bacterium that helps block anxiety.
Scientists say this can lead to drugs for first responders and soldiers, preventing PTSD and other mental issues.
The finding builds on the hygiene hypothesis, first proposed in 1989.
Are modern societies trying too hard to be clean, at the detriment to public health? Scientists discovered that a microorganism living in dirt can actually be good for us, potentially helping the body to fight off stress. Harnessing its powers can lead to a "stress vaccine".
Researchers at the University of Colorado Boulder found that the fatty 10(Z)-hexadecenoic acid from the soil-residing bacterium Mycobacterium vaccae aids immune cells in blocking pathways that increase inflammation and the ability to combat stress.
The study's senior author and Integrative Physiology Professor Christopher Lowry described this fat as "one of the main ingredients" in the "special sauce" that causes the beneficial effects of the bacterium.
The finding goes hand in hand with the "hygiene hypothesis," initially proposed in 1989 by the British scientist David Strachan. He maintained that our generally sterile modern world prevents children from being exposed to certain microorganisms, resulting in compromised immune systems and greater incidences of asthma and allergies.
Contemporary research fine-tuned the hypothesis, finding that not interacting with so-called "old friends" or helpful microbes in the soil and the environment, rather than the ones that cause illnesses, is what's detrimental. In particular, our mental health could be at stake.
"The idea is that as humans have moved away from farms and an agricultural or hunter-gatherer existence into cities, we have lost contact with organisms that served to regulate our immune system and suppress inappropriate inflammation," explained Lowry. "That has put us at higher risk for inflammatory disease and stress-related psychiatric disorders."
University of Colorado Boulder
Christopher Lowry
This is not the first study on the subject from Lowry, who published previous work showing the connection between being exposed to healthy bacteria and mental health. He found that being raised with animals and dust in a rural environment helps children develop more stress-proof immune systems. Such kids were also likely to be less at risk for mental illnesses than people living in the city without pets.
Lowry's other work also pointed out that the soil-based bacterium Mycobacterium vaccae acts like an antidepressant when injected into rodents. It alters their behavior and has lasting anti-inflammatory effects on the brain, according to the press release from the University of Colorado Boulder. Prolonged inflammation can lead to such stress-related disorders as PTSD.
The new study from Lowry and his team identified why that worked by pinpointing the specific fatty acid responsible. They showed that when the 10(Z)-hexadecenoic acid gets into cells, it works like a lock, attaching itself to the peroxisome proliferator-activated receptor (PPAR). This allows it to block a number of key pathways responsible for inflammation. Pre-treating the cells with the acid (or lipid) made them withstand inflammation better.
Lowry thinks this understanding can lead to creating a "stress vaccine" that can be given to people in high-stress jobs, like first responders or soldiers. The vaccine can prevent the psychological effects of stress.
What's more, this friendly bacterium is not the only potentially helpful organism we can find in soil.
"This is just one strain of one species of one type of bacterium that is found in the soil but there are millions of other strains in soils," said Lowry. "We are just beginning to see the tip of the iceberg in terms of identifying the mechanisms through which they have evolved to keep us healthy. It should inspire awe in all of us."
Check out the study published in the journal Psychopharmacology.
Big think's weekly newsletter.
Get smarter faster from the comfort of your inbox.
See our newsletter privacy policy
here
Most Popular
Most Recent
Big think's weekly newsletter.
Get smarter faster from the comfort of your inbox.
See our newsletter privacy policy
here
© Copyright 2007-2019 & BIG THINK, BIG THINK EDGE,
SMARTER FASTER trademarks owned by The Big Think, Inc. All rights reserved.