Scientific Studies Using Mice May Be Hard to Replicate Due to Gut Microbes
Scientists are concerned that the results of studies using mice may be affected by gut bacteria.
18 August, 2016
Mice and other rodents are a staple of laboratory research. In fact, mice are the most commonly used vertebrate species. They are popular because you can get them easily and cheaply, they are small, reproduce quickly, share 99% of their genes with humans, and can be utilized to study genetic human diseases. But studies that rely on mice may potentially be difficult to replicate due to the differing gut contents of the rodents.
---
Laura McCabe, a physiologist from Michigan State University (MSU), found that the laboratory mice they were using had different microbes in their guts. This skewed the results of their experiments on how a particular drug affects bone density since the drug's effects varied based on what was inside each mouse. Some mice lost bone density while some gained it.
A "microbiome" is a term used to refer to gut bacteria but also to other inhabitants of the gut, like viruses, fungi, and protozoa. The impact of the microbiome on varying experimental data has been coming under increased scrutiny in the scientific community.
"We didn't know to look for it before," said MSU's veterinarian Clair Hankenson to Science Magazine.
To try to standardize what's inside the mice, it has been relatively standard procedure for scientists to be careful in controlling where the mice come from - looking to get animals from the same vendor, keeping them in sterile environments, trying to account for any other factors.
Yet, this approach may not be achieving the desired effect. The gut bacteria in mice can change for reasons like a change in their diet, a new stress, or where and how they were kept by the vendors. For instance, in one instance, mice from one vendor were found lacking segmented filamentous bacteria (SFB), which were shown to help mice make crucial antibodies and immune cells. The presence or absense of this bacteria could affect studies of inflammatory response.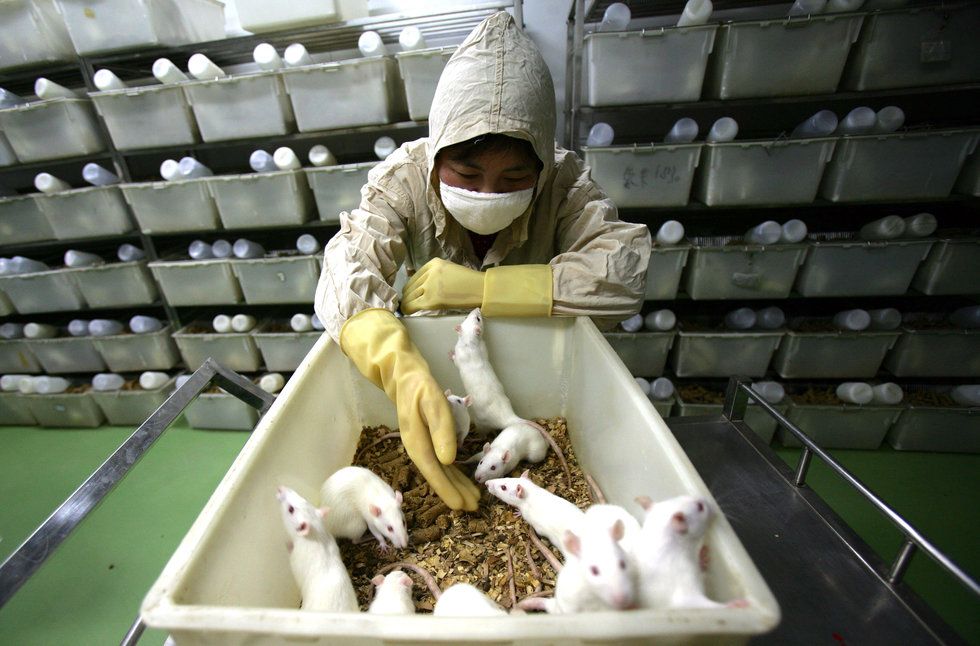 A worker observes white rats at an animal laboratory of a medical school in Chongqing Municipality, China. (Photo by China Photos/Getty Images)
One line of thinking also looks at whether it may not be a good idea to keep lab environments super-sterile. By cleaning, labs might be wiping out some of the microbial variety that make mice good subjects for studying human diseases in the first place. A 2016 study, led by immunologist David Masopust from the University of Minnesota, Twin Cities, found that mice bought from a pet store ended up exhibiting diseases like hepatitis and phenumonia, which have generally been eradicated from lab mice. Exposure to the diseases killed off a chunk of the lab mice but allowed others to build up immunity, thus becoming more realistic stand-ins for the human immune system, according to the scientists.
Another lab doing immunology studies has tried this approach with success. "My lab is incredibly excited about this," said Stephen McSorley, an immunologist from the University of California, Davis, School of Veterinary Medicine. Their lab bought a "dirty" colony of mice that normally serve as zoo animals. This approach, however, has some detractors as well, as it goes against the usual cleanliness-obsessed culture at most labs.
As scientists zero in on the importance of factors that might be influencing the microbiomes of lab mice, they are looking for more ways to account for them in the research. Among proposed ways to counteract the gut's influences is controlling for the diets of the mice and any potential exposure to antibiotics, including fecal microbiome analysis with the data, testing multiple types of microbiomes, and designing studies that separate the effects of microbial genes from the genes of their animal hosts.
The Russian-built FEDOR was launched on a mission to help ISS astronauts.
Most people think human extinction would be bad. These people aren't philosophers.
Shutterstock
Politics & Current Affairs
A new opinion piece in The New York Times argues that humanity is so horrible to other forms of life that our extinction wouldn't be all that bad, morally speaking.
The author, Dr. Todd May, is a philosopher who is known for advising the writers of The Good Place.
The idea of human extinction is a big one, with lots of disagreement on its moral value.
Picking up where we left off a year ago, a conversation about the homeostatic imperative as it plays out in everything from bacteria to pharmaceutical companies—and how the marvelous apparatus of the human mind also gets us into all kinds of trouble.
Think Again Podcasts
"Prior to nervous systems: no mind, no consciousness, no intention in the full sense of the term. After nervous systems, gradually we ascend to this possibility of having to this possibility of having minds, having consciousness, and having reasoning that allows us to arrive at some of these very interesting decisions."

"We are fragile culturally and socially…but life is fragile to begin with. All that it takes is a little bit of bad luck in the management of those supports, and you're cooked…you can actually be cooked—with global warming!"