Scientists fix the gene that causes intellectual disability in men
Researchers use a cutting-edge technique to restore activity to the fragile X syndrome gene.
05 March, 2018
---
The fragile X syndrome is the most common form of intellectual impairment in men, affecting 1 out of 3,600 boys. Now, scientists at the Whitehead Institute used the CRISPR/Cas 9 gene editing method to restore activity to the fragile X syndrome gene in affected neurons. Their work, performed on human brain cells in a dish, paves the way for trying the technique on the brain, with the hope that it may treat a host of genetic conditions.
The syndrome can cause mild to severe intellectual disability, with symptoms like delays in talking, hyperactive behavior and anxiety. It may also result in physical features like large ears, a long face with prominent jaw and forehead, as well as flat feet. The disorder has also been linked to autism.
The Whitehead Institute for Biomedical Research, while independent of MIT, has 17 members from the MIT department of biology. The current research was led by the Institute's founding member (and MIT professor) Rudolf Jaenisch. The team produced the first evidence that removing methylation, which are molecular tags that keep a mutant gene shut off, can reactivate the gene and restore the fragile X syndrome neurons.
A normal version of the FMR1 gene sequence, where the fragile X syndrome can develop, contains 5-55 nucleotide (CGG) repeats. Nucleotides are the basic structural units and building blocks for DNA. The scientists concluded that versions of the FMR1 sequence with over 200 nucleotide repeats can result in the syndrome's production.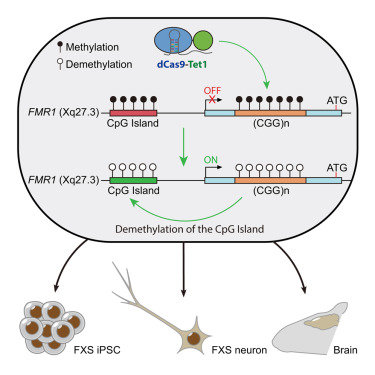 The researchers hypothesized that methylation can blanket the nucleotide repeats and shut down the gene's expression. To test this, postdoctoral researchers Shawn Liu and Hao Wu from Jaenisch's lab developed a CRISPR/Cas9-based technique which can add or delete methylation tags from a specific stretch of the DNA. Removing the tags proved to renew the FMR1 gene expression, turning it back into a normal gene.
"These results are quite surprising—this work produced almost a full restoration of wild type expression levels of the FMR1 gene," explained Jaenisch. "Often when scientists test therapeutic interventions, they only achieve partial restoration, so these results are substantial."
Jaenisch's team was able to reverse the abnormal electrical activity associated with the fragile X syndrome. Neurons rescued by this procedure were grafted into the brains of mice, with the FMR1 gene remaining active for at least three months. This promises that correcting methylation can lead to a sustained remedy for the disease.
"This work validates the approach of targeting the methylation on genes, and it will be a paradigm for scientists to follow this approach for other diseases," said Jaenisch.
You can read the study here. 
Related Articles
We're more dependent on them than we realize.
(Photo Lily on Unsplash)
Surprising Science
Scientists says our survival depends on biodiversity.
A natural climate strategy we often forget.
Seeing our place among the Earth's living creatures.
There's a high social cost that comes with lighting up.
(Porch)
Sex & Relationships
The home improvement company Porch recently polled 1,009 people on their feelings about smoking.
The company recently published the results as infographics.
In terms of dating, 80 percent of nonsmokers find the habit a turnoff
While short-term results are positive, there is mounting evidence against staying in ketosis for too long.
Surprising Science
Recent studies showed volunteers lost equal or more weight on high-carb, calorie-restricted diets than low-carb, calorie restricted diets.
There might be positive benefits to short-term usage of a ketogenic diet.
One dietician warns that the ketogenic diet could put diabetics at risk for diabetic ketoacidosis.
Big think's weekly newsletter.
Get smarter faster from the comfort of your inbox.
See our newsletter privacy policy
here
Most Popular
Most Recent
Big think's weekly newsletter.
Get smarter faster from the comfort of your inbox.
See our newsletter privacy policy
here
© Copyright 2007-2018 & BIG THINK, BIG THINK EDGE,
SMARTER FASTER trademarks owned by The Big Think, Inc. All rights reserved.