Researchers Figure Out What's Causing Mystery Earthquakes in Texas and It's Not Nature
Researchers discover the cause of mystery earthquakes in Texas.
28 November, 2017
Scientists have discovered another piece of the puzzle in the mystery of the earthquakes that have been happening in such states as Texas, Oklahoma and Kansas since 2008. The researchers are certain the quakes are a result of fracking practices of the oil and gas industry.
---
In the past decade, Oklahoma, which used to have just one or two earthquakes per year, saw their number rise to more than 800. Texas saw an earthquake increase of 600 percent. Most of the quakes are small but there is potential for something bigger as, for example, Oklahoma had several stronger shakes larger than magnitude 5. 
Why are these quakes happening? Scientists have supposed for a while it was a by-product of fracking, a controversial industrial practice that involves pumping a high-pressure water mixture into deep underground wells to break up rocks and release the hidden oil or gas. Now the new seismological study concludes that fracking is the only possible explanation for the swarm of quakes that have hit the Dallas-Fort Worth area.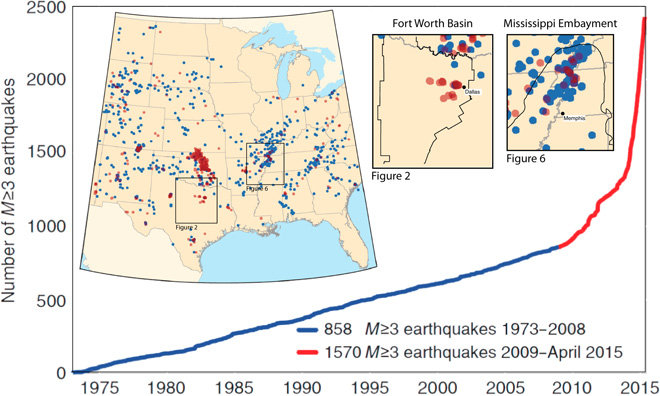 This graphic shows that while both Texas and Mississippi have experienced earthquakes since 2008, the quakes in Texas are on faults that have been silent for millions of years, indicating human activity of recent years has loosened them. Credit: Magnani and others. Sci. Adv. 2017. Vol 3., No. 11, e1701593
By studying a 450-million-year-old fault, the researchers found that there hasn't been seismic activity there for the last 300 million of those years. That's until humans showed up.
The paper's lead author Beatrice Magnani, a seismologist at Southern Methodist University in Dallas, explained their findings:
"There hasn't been activity along these faults for 300 million years," said Magnani. "Geologically, we usually define these faults as dead."
Magnani and her colleagues believe that the faults are disturbed by the injection of wastewater, which disturb weak underground faults. Despite mounting evidence, the Texas government is not rushing to accept any nay-saying on fracking, used by its most lucrative industry.
Here's how fracking works:
For their study, the researchers used seismic reflection data, with images created by sound-wave-generating equipment, which sends sounds down into the ground and keeps track of the speeds it takes them to bounce off faults or other rock layers. Earthquake-producing faults exhibit vertical cracks, which serves as a way to tell whether the fault has been active. By comparing images from north Texas to other parts of what's called the New Madrid Seismic Zone along the Mississippi River, the scientists were able to conclude that the Texas fault has not been producing earthquakes in the past 300 years, unlike evidence to the contrary shown by its counterparts in the zone. 
The scientists calculated that the likelihood of there being a natural earthquake sequence in Texas in the past 10 years to be one in 6,000 and one in 60 million for two sequences. Considering that there were five earthquake sequences in Texas during this past ten-year span, the researchers write that it's "exceedingly unlikely" that they were not caused by human activity. 
You can read the study here, published in Science Advances.
The ability to speak clearly, succinctly, and powerfully is easier than you think
Former U.S. President Barack Obama speaks during a Democratic Congressional Campaign Committee rally at the Anaheim Convention Center on September 8, 2018 in Anaheim, California. (Photo by Barbara Davidson/Getty Images)
Personal Growth
The ability to communicate effectively can make or break a person's assessment of your intelligence, competence, and authenticity.
The results come from a 15-year study that used ultrasound scans to track blood vessels in middle-aged adults starting in 2002.
Mind & Brain
The study measured the stiffness of blood vessels in middle-aged patients over time.
Stiff blood vessels can lead to the destruction of delicate blood vessels in the brain, which can contribute to cognitive decline.
The scans could someday become a widely used tool to identify people at high risk of developing dementia and Alzheimer's.
Facing mounting pressure from the public and government agencies, the e-cigarette maker announced major changes to its business model on Tuesday.
(Photo by Scott Olson/Getty Images)
Politics & Current Affairs
Juul makes flavored e-cigarettes and currently dominates the vaping industry, with 70% of the market share.
The FDA is planning to ban the sale of flavored e-cigarettes in gas stations and convenient stores this week.
Some have called teenage vaping an epidemic. Data from 2018 show that about 20% of high school students had used an e-cigarette in the past 30 days.
Big think's weekly newsletter.
Get smarter faster from the comfort of your inbox.
See our newsletter privacy policy
here
Most Popular
Most Recent
Big think's weekly newsletter.
Get smarter faster from the comfort of your inbox.
See our newsletter privacy policy
here
© Copyright 2007-2018 & BIG THINK, BIG THINK EDGE,
SMARTER FASTER trademarks owned by The Big Think, Inc. All rights reserved.