Researchers Figure Out What's Causing Mystery Earthquakes in Texas and It's Not Nature
Researchers discover the cause of mystery earthquakes in Texas.
28 November, 2017
Scientists have discovered another piece of the puzzle in the mystery of the earthquakes that have been happening in such states as Texas, Oklahoma and Kansas since 2008. The researchers are certain the quakes are a result of fracking practices of the oil and gas industry.
---
In the past decade, Oklahoma, which used to have just one or two earthquakes per year, saw their number rise to more than 800. Texas saw an earthquake increase of 600 percent. Most of the quakes are small but there is potential for something bigger as, for example, Oklahoma had several stronger shakes larger than magnitude 5. 
Why are these quakes happening? Scientists have supposed for a while it was a by-product of fracking, a controversial industrial practice that involves pumping a high-pressure water mixture into deep underground wells to break up rocks and release the hidden oil or gas. Now the new seismological study concludes that fracking is the only possible explanation for the swarm of quakes that have hit the Dallas-Fort Worth area.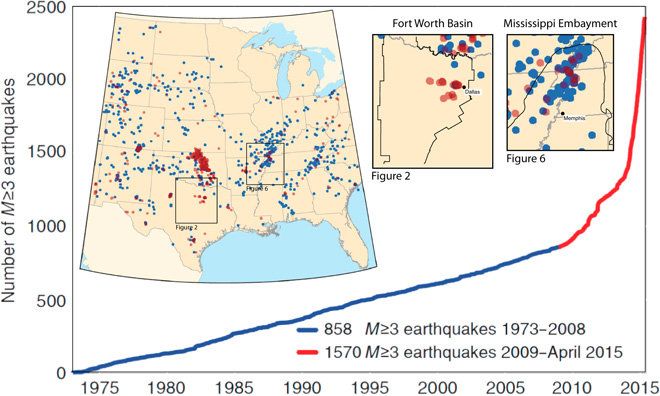 This graphic shows that while both Texas and Mississippi have experienced earthquakes since 2008, the quakes in Texas are on faults that have been silent for millions of years, indicating human activity of recent years has loosened them. Credit: Magnani and others. Sci. Adv. 2017. Vol 3., No. 11, e1701593
By studying a 450-million-year-old fault, the researchers found that there hasn't been seismic activity there for the last 300 million of those years. That's until humans showed up.
The paper's lead author Beatrice Magnani, a seismologist at Southern Methodist University in Dallas, explained their findings:
"There hasn't been activity along these faults for 300 million years," said Magnani. "Geologically, we usually define these faults as dead."
Magnani and her colleagues believe that the faults are disturbed by the injection of wastewater, which disturb weak underground faults. Despite mounting evidence, the Texas government is not rushing to accept any nay-saying on fracking, used by its most lucrative industry.
Here's how fracking works:
For their study, the researchers used seismic reflection data, with images created by sound-wave-generating equipment, which sends sounds down into the ground and keeps track of the speeds it takes them to bounce off faults or other rock layers. Earthquake-producing faults exhibit vertical cracks, which serves as a way to tell whether the fault has been active. By comparing images from north Texas to other parts of what's called the New Madrid Seismic Zone along the Mississippi River, the scientists were able to conclude that the Texas fault has not been producing earthquakes in the past 300 years, unlike evidence to the contrary shown by its counterparts in the zone. 
The scientists calculated that the likelihood of there being a natural earthquake sequence in Texas in the past 10 years to be one in 6,000 and one in 60 million for two sequences. Considering that there were five earthquake sequences in Texas during this past ten-year span, the researchers write that it's "exceedingly unlikely" that they were not caused by human activity. 
You can read the study here, published in Science Advances.
Research in plant neurobiology shows that plants have senses, intelligence and emotions.
Getty Images
Surprising Science
The field of plant neurobiology studies the complex behavior of plants.
Plants were found to have 15-20 senses, including many like humans.
Some argue that plants may have awareness and intelligence, while detractors persist.
E-cigarettes may be safer than traditional cigarettes, but they come with their own risks.
Surprising Science
A new study used an MRI machine to examine how vaping e-cigarettes affects users' cardiovascular systems immediately after inhalation.
The results showed that vaping causes impaired circulation, stiffer arteries and less oxygen in their blood.
The new study adds to a growing body of research showing that e-cigarettes – while likely safer than traditional cigarettes – are far from harmless.
Since the idea of locality is dead, space itself may not be an aloof vacuum: Something welds things together, even at great distances.

Videos
Realists believe that there is an exactly understandable way the world is — one that describes processes independent of our intervention. Anti-realists, however, believe realism is too ambitious — too hard. They believe we pragmatically describe our interactions with nature — not truths that are independent of us.
In nature, properties of Particle B may be depend on what we choose to measure or manipulate with Particle A, even at great distances.
In quantum mechanics, there is no explanation for this. "It just comes out that way," says Smolin. Realists struggle with this because it would imply certain things can travel faster than light, which still seems improbable.