Intolerant white people more willing to ditch democracy and accept authoritarianism
A study finds a link between intolerant attitudes among some Americans and support for anti-democratic measures and army rule.
17 June, 2018
---
Democracy is a bedrock American principle. Or is it? A new study shows that people are willing to accept much less democracy and more authoritarianism if that helps them protect their kind from what they perceive are potential threats. The implications of this are not hard to see already in everyday American life as the country finds itself in a debate over the forced separation of immigrant families at its border. The inhumanity of this practice could have been inconceivable under previous administrations like that of the Republican President Reagan. But in the United States of 2018, led by Donald Trump, treating refugees like criminals, including a traumatic splitting of small kids from their parents, has become reasonably acceptable to a certain segment of the population.
In a working paper released by political scientists Steven V. Miller and Nicholas T. Davis of Texas A&M, the two argue that there is a connection between the intolerance of some white Americans and support for authoritarian rule. The study, titled "White Outgroup Intolerance and Declining Support for American Democracy," found that when intolerant white people are afraid that democracy can be of benefit to marginalized people, they are willing to abandon democratic norms. It goes even further, as "white Americans who exhibit social intolerance are more likely to dismiss the value of separation of powers and to support army rule," write the researchers.
Miller and David relied on information from the World Values Survey  gathered from 1995 to 2011. This survey is a research project ran by a worldwide network of scientists that has them polling individuals across various countries about their beliefs and values. Data from the U.S. showed that white people who did not want immigrants or people of different races living next to them were also more supportive of authoritarianism.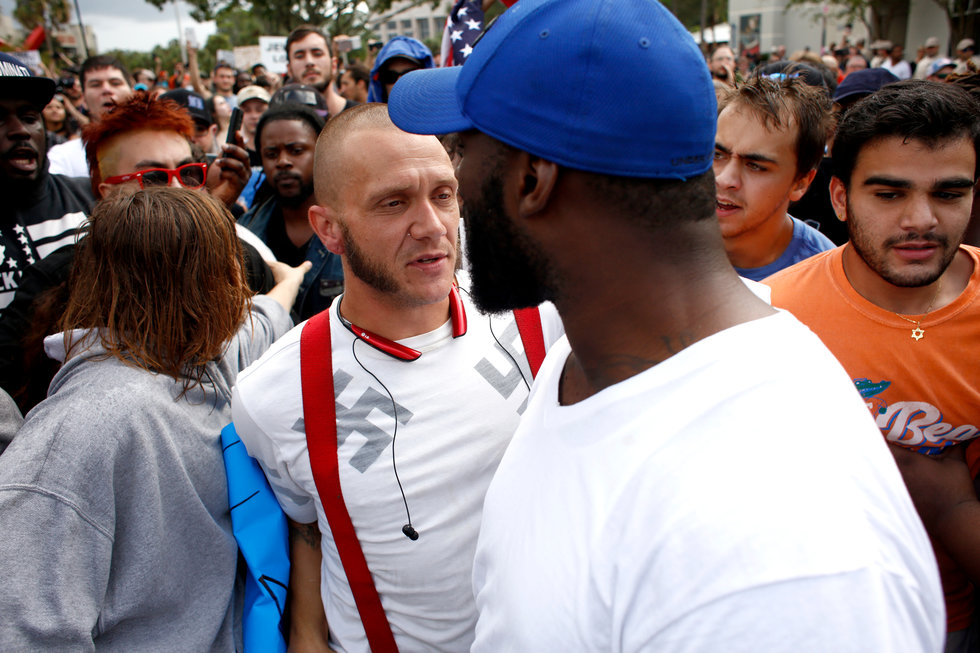 A man wearing a shirt with swastikas is forced away from the scene by the crowd moments before being punched by an unidentified member of the crowd near the site of a planned speech by white nationalist Richard Spencer, who popularized the term 'alt-right', at the University of Florida campus on October 19, 2017 in Gainesville, Florida. (Photo by Brian Blanco/Getty Images)
In one example, people who didn't want to have neighbors who were immigrants or belonged to a different race were also more supportive of potential military rule or having a strongman leader. It was ok with them to have a leader going against the legislature and the results of elections. The researchers believe this shows that bigotry and authoritarianism are very much interlinked.
In an exchange with Noah Berlatsky who writes for NBC News, Steven Miller pointed to the fact that demographic data is not favoring white people in America. As they continue to decrease a portion of the U.S. population, the GOP has increasingly come to represent the "aggrieved" interests of this group.
"Since Richard Nixon's 'Southern Strategy,' the GOP has pigeon-holed itself as, in large part, an aggrieved white people's party," Miller said. "The GOP has dug itself into such a hole on this that the most practical effort to stave off these impending losses is to disenfranchise the votes of the same ethnic/racial outgroups against whom GOP messaging has been stoking animosity."
In a country that is currently under the control of the GOP, especially in the absence of strong leadership in the Democratic party, the challenge to America's democratic norms is well underway. The issue becomes even more troubling if you consider, as do the scientists, that they used data from before Trump's era. That means the anti-democratic trends among some Americans have been "hiding in plain sight" this whole time. The scientists dub this "democracy's gangrene" in a chilling epithet. Whether their view is incontrovertible reality or an indication of a slippery moral slope on which we find ourselves remains to be seen as we continue to separate kids and parents like it was the 1930s.
Pfizer's partnerships strengthen their ability to deliver vaccines in developing countries.
Susan Silbermann, Global President of Pfizer Vaccines, looks on as a health care worker administers a vaccine in Rwanda. Photo: Courtesy of Pfizer.
Sponsored
Community healthcare workers face many challenges in their work, including often traveling far distances to see their clients
Pfizer is helping to drive the UN's sustainable development goals through partnerships.
Pfizer partnered with AMP and the World Health Organization to develop a training program for healthcare workers.
It's the first time the association hasn't hired a comedian in 16 years.
(Photo by Anna Webber/Getty Images for Vulture Festival)
Culture & Religion
The 2018 WHCA ended in controversy after comedian Michelle Wolf made jokes some considered to be offensive.
The WHCA apologized for Wolf's jokes, though some journalists and many comedians backed the comedian and decried arguments in favor of limiting the types of speech permitted at the event.
Ron Chernow, who penned a bestselling biography of Alexander Hamilton, will speak at next year's dinner.
A glass of juice has as much sugar, ounce for ounce, as a full-calorie soda. And those vitamins do almost nothing.
popular
Quick: think back to childhood (if you've reached the scary clown you've gone too far). What did your parents or guardians give you to keep you quiet? If you're anything like most parents, it was juice. But here's the thing: juice is bad for you. 
A study on flies may hold the key to future addiction treatments.
Scott Barbour/Getty Images
Mind & Brain
A new study suggests that drinking alcohol can affect how memories are stored away as good or bad.
This may have drastic implications for how addiction is caused and how people recall intoxication.
The findings may one day lead to a new form of treatment for those suffering from addiction.
Big think's weekly newsletter.
Get smarter faster from the comfort of your inbox.
See our newsletter privacy policy
here
Most Popular
Most Recent
Big think's weekly newsletter.
Get smarter faster from the comfort of your inbox.
See our newsletter privacy policy
here
© Copyright 2007-2018 & BIG THINK, BIG THINK EDGE,
SMARTER FASTER trademarks owned by The Big Think, Inc. All rights reserved.