Big ideas.
Once a week.
Subscribe to our weekly newsletter.
How to disagree well: 7 of the best and worst ways to argue
A classic essay defines different ways to disagree, from the worst to the best, with lessons that ring true in our divisive times.
16 March, 2018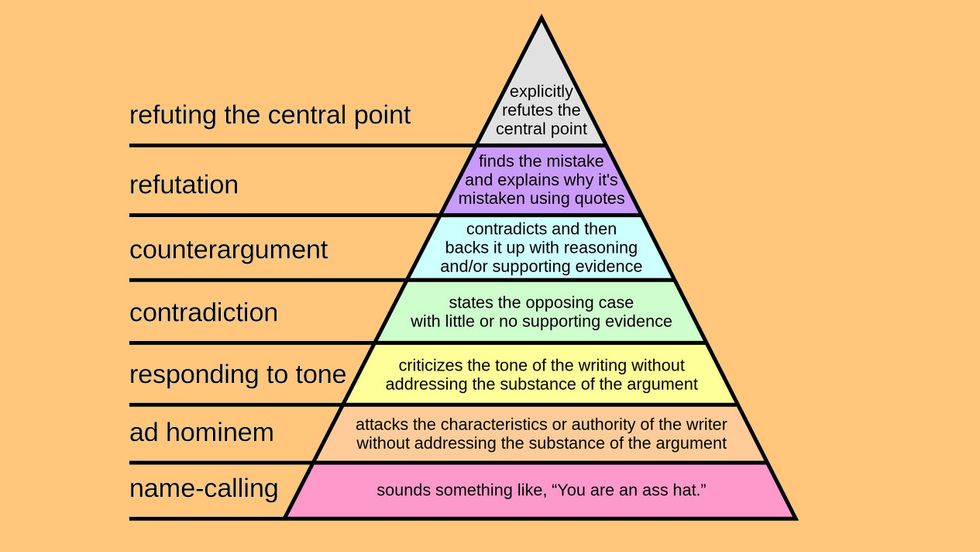 The hierarchy of disagreement, by Paul Graham.
Many find themselves arguing with someone on the Internet, especially in these days fraught with political tensions. A great tool, the web also seems to drive dispute. It is also a reflection of the larger reality, where divisiveness has spread throughout our society. A classic essay from one of the Internet's pioneers suggests that there is a way to harness such negative energy of the online world and disagree with people without invoking anger—a lesson that extends far beyond the web.
---
Paul Graham is an English-born computer programmer with a Ph.D. from Harvard, an accomplished entrepreneur, a VC capitalist as well as a writer. He created the first online store application which he sold to Yahoo and was one of the founders of the famous Y Combinator—a startup incubator that funded over 1,500 startups like Dropbox, Airbnb, Reddit, and Coinbase. Being a true Renaissance man, Graham also studied painting at the Academia di Belle Arti in Florence and the Rhode Island Institute of Design as well as philosophy at Cornell University. 
Dubbed "the hacker philosopher" by the tech journalist Steven Levy, Graham has written on a number of subjects on his popular blog at paulgraham.com, which got 34 million pages views in 2015. One of his most lasting contributions has been the now-classic essay 'How to disagree' where he proposed the hierarchy of disagreement which is as relevant today as it was in 2008 when it was first published.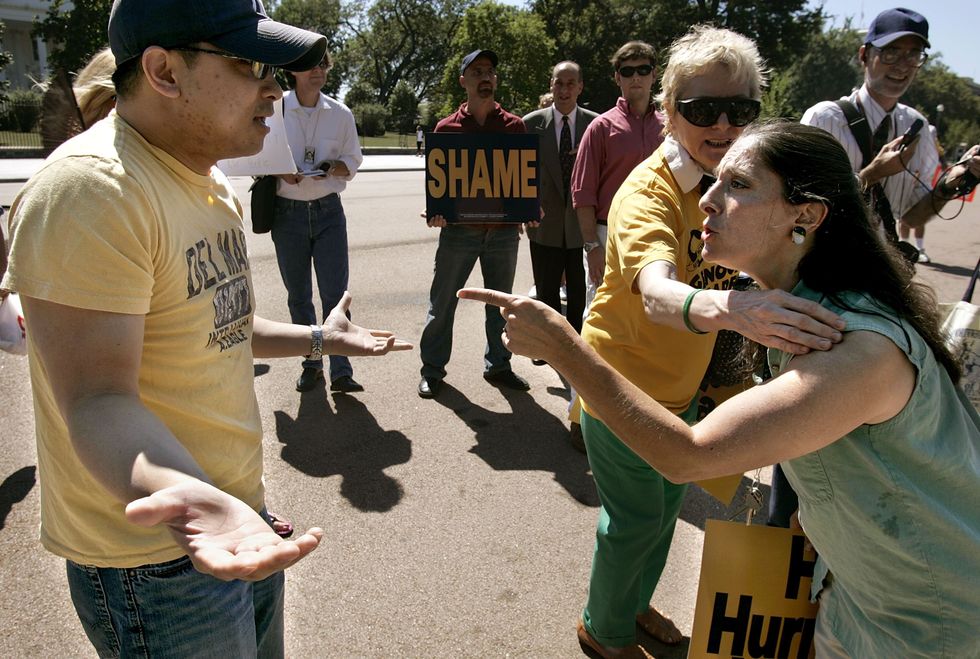 Mark Bui (L) and Donna Saady (R) argue in front of the White House while MoveOn PAC members and supporters marched in protest of the Bush Administration's handling of the Hurricane Katrina disaster relief September 8, 2005, in Washington, DC. (Photo by Chip Somodevilla/Getty Images)
In his essay, Graham proposed that the "web is turning writing into a conversation," recognizing that the internet has become an unprecedented medium of communication. In particular, it allows people to respond to others in comment threads, on forums and the like. And when we respond on the web, we tend to disagree, concluded Graham. 
He says this tendency towards disagreement is structurally built into the online experience because in disagreeing, people tend to have much more to say than if they just expressed that they agreed. Interestingly, Graham points out that, even though it might feel like it if you spend much time in comment sections, the world is not necessarily getting angrier. But it could if we don't observe a certain restraint in how we disagree. To disagree better, which will lead to better conversations and happier outcomes, Graham came up with these seven levels of a disagreement hierarchy (DH): 
DH0. Name-calling
To Graham, this is the lowest level of argument. This is when you call people names. That can be done crudely by saying repulsive things like "u r a fag!!!!!!!!!!" or even more pretentiously (but still to the same effect) like, "The author is a self-important dilettante," wrote the computer scientist.
DH1. Ad hominem
An argument of this kind attacks the person rather than the point they are making—the literal Latin translation of this phrase is: 'to the person.' It involves somehow devaluing a person's opinion by devaluing the one who is expressing it, without directly addressing what they are saying. "The question is whether the author is correct or not," pointed out Graham.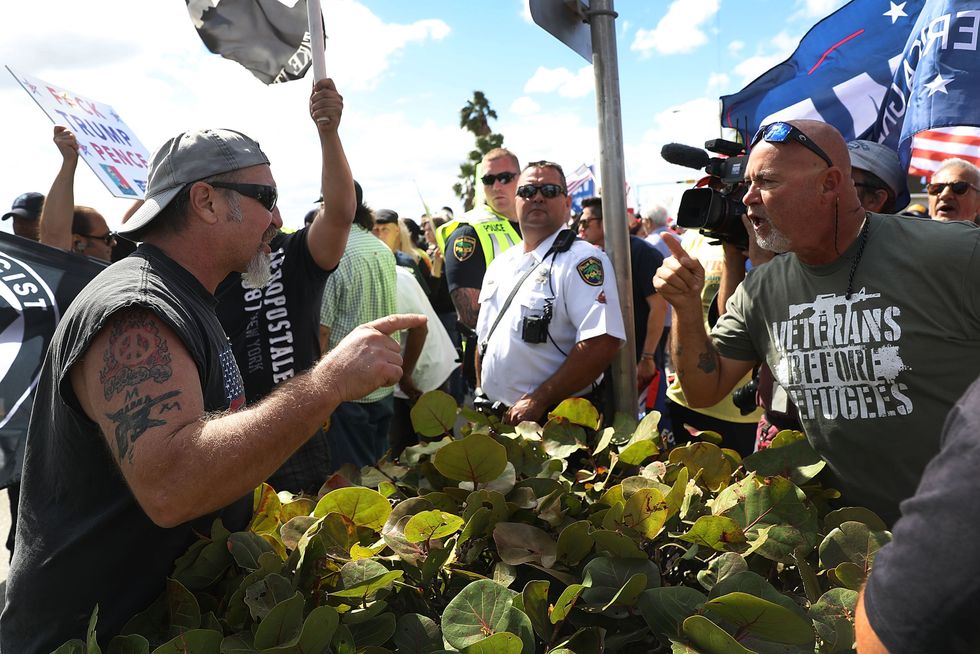 John Pope (L) expresses his disagreement with supporters of President Donald Trump near the Mar-a-Lago resort home of President Trump on March 4, 2017, in West Palm Beach, Florida. President Trump spent part of the weekend at the house. (Photo by Joe Raedle/Getty Images)
DH2. Responding to tone.
This is a slightly more evolved form of disagreement when the debate moves away from personal attacks to addressing the content of the argument. The lowest form of responding to writing is disagreeing with the author's tone, according to Graham. For example, one could point out the "cavalier" or "flippant" attitude with which a writer formulated their opinion. But why does that really matter, especially when judging tone can be quite subjective? Stick to the material, Graham advises: "It matters much more whether the author is wrong or right than what [their] tone is."
DH3. Contradiction
This is a higher form of addressing the actual meat of the argument. In this form of disagreement, you offer an opposing case but very little evidence. You simply state what you think is true, in contrast to the position of the person you are arguing with. Graham gives this example:
"I can't believe the author dismisses intelligent design in such a cavalier fashion. Intelligent design is a legitimate scientific theory."
DH4. Counterargument
This next level sets us up on the path to having more productive disputes. A counterargument is a contradiction with evidence and reasoning. When it's "aimed squarely at the original argument, it can be convincing," wrote Graham. But, alas, more often than not, passionate arguments end up having both participants actually arguing about different things. They just don't see it.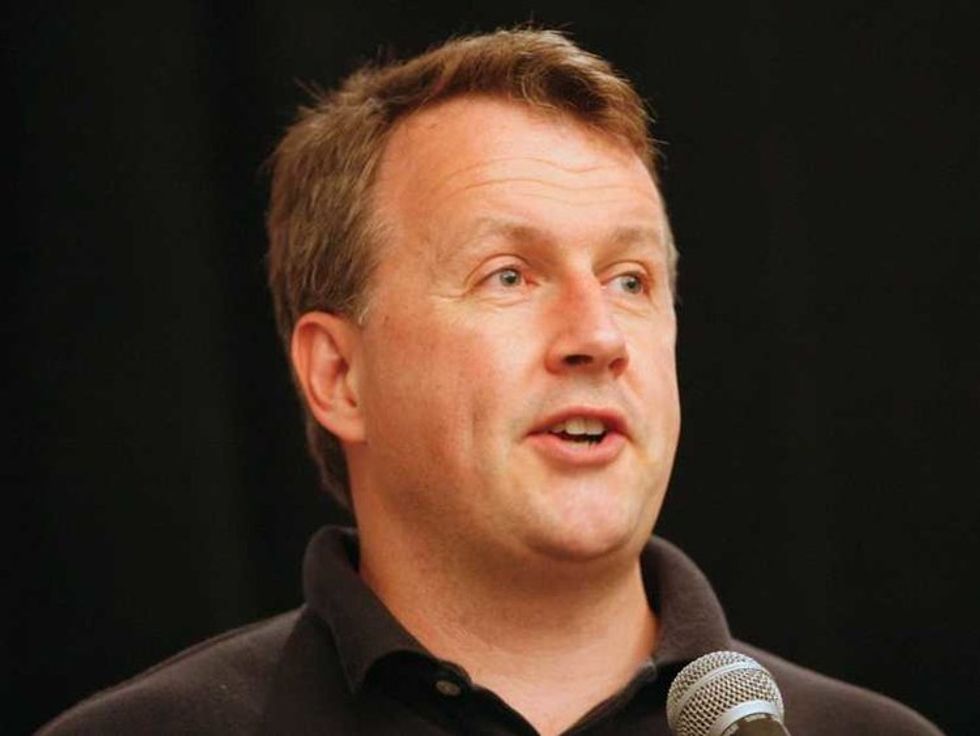 Paul Graham. Credit: Flickr/pragdave
DH5. Refutation 
This is the most convincing form of disagreement, argues Graham. But it requires work so people don't do this as often as they should. In general, the higher you go on the pyramid of disagreement, "the fewer instances you find." 
A good way to refute someone is to quote them back to themselves and pick a hole in that quote to expose a flaw. It's important to find an actual quote to disagree with—"the smoking gun"—and address that.
DH6. Refuting the central point
This tactic is the "most powerful form of disagreement," contended Graham. It depends on what you are talking about but largely entails refuting someone's central point. This is in contrast to refuting only minor points of an argument—a form of "deliberate dishonesty" in a debate. An example of that would be correcting someone's grammar (which slides you back to DH1 level) or pointing out factual errors in names or numbers. Unless those are crucial details, attacking them only serves to discredit the opponent, not their main idea. 
The best way to refute someone is to figure out their central point, or one of them if there are several issues involved.  
This is how Graham described "a truly effective refutation": 
The author's main point seems to be x. As he says:

<quotation>

But this is wrong for the following reasons... 
Having these tools in evaluating how we argue with each other can go a long way towards regaining some civility in our discourse by avoiding the unproductive lower forms of disagreement. Whether its trolls of other nations or our own home-grown trolls and confused spirits, the conversation over the Internet leaves a lot to be desired for many Americans. It's hard not to see it as a social malady.
Graham also viewed his hierarchy as a way to weed out dishonest arguments or "fake news" in modern parlance. Forceful words are just a "defining quality of a demagogue," he pointed out. By understanding the different forms of their disagreement, "we give critical readers a pin for popping such balloons," wrote Graham.
Read the full essay here: How to Disagree.
A cave in France contains man's earliest-known structures that had to be built by Neanderthals who were believed to be incapable of such things.
Image source:
yannvdb
/Wikimedia Commons
Surprising Science
In a French cave deep underground, scientists have discovered what appear to be 176,000-year-old man-made structures. That's 150,000 years earlier than any that have been discovered anywhere before. And they could only have been built by Neanderthals, people who were never before considered capable of such a thing.
This is going to force a major shift in the way we see these early hominids. Researchers had thought that Neanderthals were profoundly primitive, and just barely human. This cave in France's Aveyron Valley changes all that: It's suddenly obvious that Neanderthals were not quite so unlike us.
According to The Atlantic, Bruniquel Cave was first explored in 1990 by Bruno Kowalsczewski, who was 15 at the time. He'd spent three years digging away at rubble covering a space through which his father felt air moving.
Some members of a local caving club managed to squeeze through the narrow, 30-meter long tunnel Kowalsczewski had dug to arrive in a passageway. They followed it past pools of water and old animal bones for over 330 meters before coming into a large chamber and a scene they had no reason to expect: Stalagmites that someone had broken into hundreds of small pieces, most of which were arranged into two rings—one roughly 6 meters across, and one 2 meters wide—with the remaining pieces stacked into one of four piles or leaning against the rings. There were also indications of fires and burnt bones.
Image source: Etienne FABRE - SSAC
What the?

A professional archeologist, Francois Rouzaud, determined with carbon dating that a burnt bear bone found in the chamber was 47,600 years old, which made the stalagmite structures older than any known cave painting. It also put the cave squarely within the age of the Neanderthals since they were the only humans in France that early. No one had suspected them of being capable of constructing complex forms or doing anything that far underground.
After Rouzard suddenly died in 1999, exploration at the cave stopped until life-long caver Sophie Verheyden, vacationing in the area, heard about it and decided to try and uranium-date the stalagmites inside.
The team she assembled eventually determined that the stalagmites had been broken up by people 176,000 years ago, way farther back even than Rouzard had supposed.
There weren't any signs that Neanderthals lived in the cave, so it's a mystery what they were up to down there. Verheyden thinks it's unlikely that a solitary artist created the tableaux, and so an organized group of skilled workers must've been involved. And "When you see such a structure so far into the cave, you think of something cultural or religious, but that's not proven," Verheyden told The Atlantic.
Whatever they built, the Bruniquel Cave reveals some big surprises about Neanderthals: They had fire, they built things, and likely used tools. Add this to recent discoveries that suggest they buried their dead, made art, and maybe even had language, and these mysterious proto-humans start looking a lot more familiar. A lot more like homo sapiens, and a lot more like distant cousins lost to history.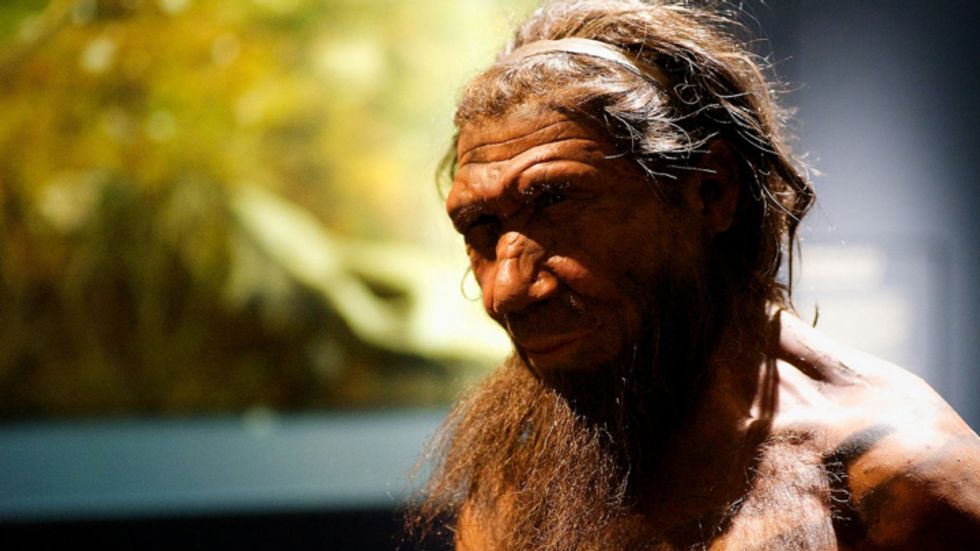 Paul Hudson/Flickr
The research suggests that roughly 1 percent of galaxy clusters look atypical and can be easily misidentified.
NASA/ESA/Hubble Heritage Team
Surprising Science
MIT astronomers have discovered new and unusual galactic neighborhoods that previous studies overlooked.
Their results, published in March, suggest that roughly 1 percent of galaxy clusters look atypical and can be easily misidentified as a single bright galaxy. As researchers launch new cluster-hunting telescopes, they must heed these findings or risk having an incomplete picture of the universe.
Galaxy clusters contain hundreds to thousands of galaxies bound together by gravity. They move through a hot soup of gas called the intracluster medium, which contains more mass than all the stars in all the galaxies within it. This hot gas fuels star formation as it cools and emits X-ray radiation that we can observe with space-based telescopes.
This bright gas cloud creates a fuzzy halo of X-rays around galaxy clusters, making them stand out from more discrete point sources of X-rays produced by, for example, a star or quasar. However, some galactic neighborhoods break this mold, as MIT Associate Professor Michael McDonald learned nine years ago.
In 2012, McDonald discovered a cluster unlike any other, which shone bright like a point source in the X-ray. Its central galaxy hosts a ravenous black hole that consumes matter and spews X-rays so bright as to drown out the diffuse radiation of the intracluster medium. In its core, the cluster forms stars at a rate roughly 500 times higher than most other clusters, giving it the blue glow of a young star population instead of the typical red hue of aging stars.
"We'd been looking for a system like this for decades," McDonald says of the Phoenix cluster. And yet, it had been observed and passed over years prior, assumed to be a single galaxy instead of a cluster. "It'd been in the archive for decades and no one saw it. They were looking past it because it didn't look right."
And so, McDonald wondered, what other unusual clusters might be lurking in the archive, waiting to be found? Thus, the Clusters Hiding in Plain Sight (CHiPS) survey was born.
Taweewat Somboonpanyakul, a graduate student in McDonald's lab, devoted his entire PhD to the CHiPS survey. He began by selecting potential cluster candidates from decades of X-ray observations. He used existing data from ground-based telescopes in Hawaii and New Mexico, and visited the Magellan telescopes in Chile to take new images of the remaining sources, hunting for neighboring galaxies that would reveal a cluster. In the most promising cases, he zoomed in with higher-resolution telescopes such as the space-based Chandra X-Ray Observatory and Hubble Space Telescope.
After six years, the CHiPS survey has now come to a close. Today in The Astrophysical Journal, Somboonpanyakul published the survey's cumulative results, which include the discovery of three new galaxy clusters. One of these clusters, CHIPS1911+4455, is similar to the rapidly-star-forming Phoenix cluster and was described in a paper in January in The Astrophysical Journal Letters. It's an exciting finding since astronomers know of just a few other Phoenix-like clusters. This cluster invites further study, however, as it has a twisted shape with two extended arms, whereas all other rapidly-cooling clusters are circular. The researchers believe it may have collided with a smaller galaxy cluster. "It's super unique compared to all the galaxy clusters that we now know," says Somboonpanyakul.
In all, the CHiPS survey revealed that older X-ray surveys missed roughly 1 percent of galactic neighborhoods because they look different than the typical cluster. This can have significant implications, since astronomers study galaxy clusters to learn about how the universe expands and evolves. "We need to find all the clusters to get those things right," McDonald explains. "Ninety-nine percent completion isn't enough if you want to push the frontier."
As scientists discover and study more of these unusual galaxy clusters, they may better understand how they fit into the broader cosmic picture. At this point, they don't know whether a small number of clusters are always in this strange, Phoenix-like state, or if this is perhaps a typical phase that all clusters undergo for a short period of time — roughly 20 million years, a fleeting moment by spacetime standards. It's difficult for astronomers to tell the difference, as they only get a single snapshot of each cluster nearly frozen in time. But with more data, they can make better models of the physics governing these galactic neighborhoods.
The conclusion of the CHiPS survey coincides with the launch of a new X-ray telescope, eROSITA, which aims to grow our catalogue of clusters from a few hundred to tens of thousands. But unless they change the way they look for those clusters, they will miss hundreds that deviate from the norm. "The people that are building out the cluster searches for this new X-ray telescope need to be aware of this work," says McDonald. "If you miss 1 percent of the clusters, there's a fundamental limit to how well you can understand the universe."
This research was supported, in part, by the Kavli Research Investment Fund at MIT, and by NASA through the Guest Observer programs for the Chandra X-ray Observatory and Hubble Space Telescope.
Reprinted with permission of MIT News. Read the original article.
A recent study used fMRI to compare the brains of psychopathic criminals with a group of 100 well-functioning individuals, finding striking similarities.
Mind & Brain
The study used psychological inventories to assess a group of violent criminals and healthy volunteers for psychopathy, and then examined how their brains responded to watching violent movie scenes.
The fMRI results showed that the brains of healthy subjects who scored high in psychopathic traits reacted similarly as the psychopathic criminal group. Both of these groups also showed atrophy in brain regions involved in regulating emotion.
The study adds complexity to common conceptions of what differentiates a psychopath from a "healthy" individual.
When considering what precisely makes someone a psychopath, the lines can be blurry.
Psychological research has shown that many people in society have some degree of malevolent personality traits, such as those described by the "dark triad": narcissism (entitled self-importance), Machiavellianism (strategic exploitation and deceit), and psychopathy (callousness and cynicism). But while people who score high in these traits are more likely to end up in prison, most of them are well functioning and don't engage in extreme antisocial behaviors.
Now, a new study published in Cerebral Cortex found that the brains of psychopathic criminals are structurally and functionally similar to many well-functioning, non-criminal individuals with psychopathic traits. The results suggest that psychopathy isn't a binary classification, but rather a "constellation" of personality traits that "vary in the non-incarcerated population with normal range of social functioning."
Assessing your inner psychopath
The researchers used functional magnetic resonance imaging (fMRI) to compare the brains of violent psychopathic criminals to those of healthy volunteers. All participants were assessed for psychopathy through commonly used inventories: the Hare Psychopathy Checklist-Revised and the Levenson Self-Report Psychopathy Scale.
Experimental design and sample stimuli. The subjects viewed a compilation of 137 movie clips with variable violent and nonviolent content.Nummenmaa et al.
Both groups watched a 26-minute-long medley of movie scenes that were selected to portray a "large variability of social and emotional content." Some scenes depicted intense violence. As participants watched the medley, fMRI recorded how various regions of their brains responded to the content.

The goal was to see whether the brains of psychopathic criminals looked and reacted similarly to the brains of healthy subjects who scored high in psychopathic traits. The results showed similar reactions: When both groups viewed violent scenes, the fMRI revealed strong reactions in the orbitofrontal cortex and anterior insula, brain regions associated with regulating emotion.
These similarities manifested as a positive association: The more psychopathic traits a healthy subject displayed, the more their brains responded like the criminal group. What's more, the fMRI revealed a similar association between psychopathic traits and brain structure, with those scoring high in psychopathy showing lower gray matter density in the orbitofrontal cortex and anterior insula.
There were some key differences between the groups, however. The researchers noted that the structural abnormalities in the healthy sample were mainly associated with primary psychopathic traits, which are: inclination to lie, lack of remorse, and callousness. Meanwhile, the functional responses of the healthy subjects were associated with secondary psychopathic traits: impulsivity, short temper, and low tolerance for frustration.
Overall, the study further illuminates some of the biological drivers of psychopathy, and it adds nuance to common conceptions of the differences between psychopathy and being "healthy."
Why do some psychopaths become criminals?
The million-dollar question remains unanswered: Why do some psychopaths end up in prison, while others (or, people who score high in psychopathic traits) lead well-functioning lives? The researchers couldn't give a definitive answer, but they did note that psychopathic criminals had lower connectivity within "key nodes of the social and emotional brain networks, including amygdala, insula, thalamus, and frontal pole."
"Thus, even though there are parallels in the regional responsiveness of the brain's affective circuit in the convicted psychopaths and well-functioning subjects with psychopathic traits, it is likely that the disrupted functional connectivity of this network is specific to criminal psychopathy."
Coronavirus
Counterintuitively, directly combating misinformation online can spread it further. A different approach is needed.
Scroll down to load more…