Big ideas.
Once a week.
Subscribe to our weekly newsletter.
Study: Memories of music cannot be lost to Alzheimer's and dementia
The part of your brain responsible for ASMR catalogs music, and appears to be a stronghold against Alzheimer's and dementia.
29 April, 2018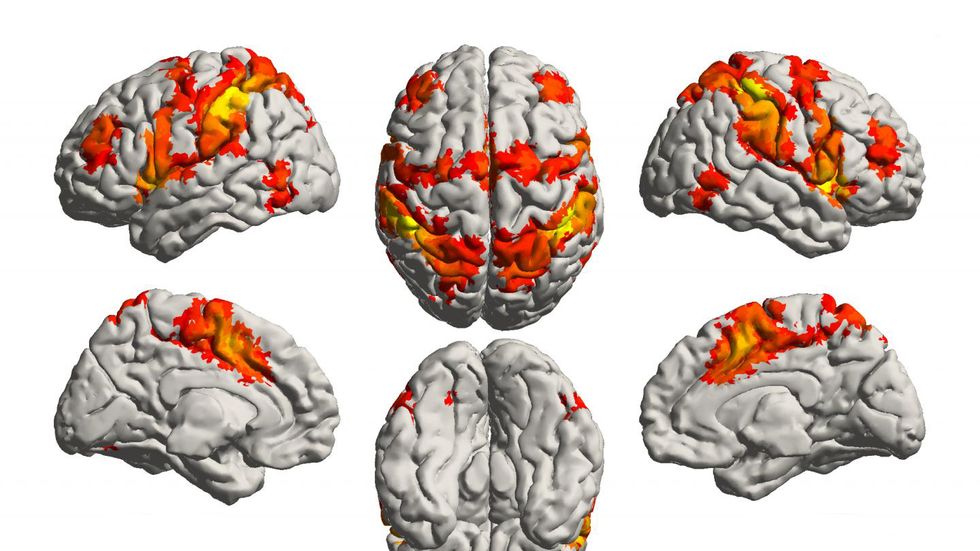 The parts of the brain highlighted in red and yellow are thought to control your sense of attention and memory. (image c/o Brain Network Lab)
Some music inspires you to move your feet, some inspires you to get out there and change the world. In any case, and to move hurriedly on to the point of this article, it's fair to say that music moves people in special ways. 
---
If you're especially into a piece of music, your brain does something called Autonomous Sensory Meridian Response (ASMR), which feels to you like a tingling in your brain or scalp. It's nature's own little "buzz", a natural reward, that is described by some as a "head orgasm". Some even think that it explains why people go to church, for example, "feeling the Lord move through you", but that's another article for another time. 
Turns out that ASMR is pretty special. According to a recently published study in The Journal of Prevention of Alzheimer's Disease (catchy name!), the part of your brain responsible for ASMR doesn't get lost to Alzheimer's. Alzheimer's tends to put people into layers of confusion, and the study confirms that music can sometimes actually lift people out of the Alzheimer's haze and bring them back to (at least a semblance of) normality... if only for a short while. ASMR is powerful stuff! 
This phenomenon has been observed several times but rarely studied properly. One of the most famous examples of this is the story of Henry, who comes out of dementia while listening to songs from his youth:  
Jeff Anderson, M.D., Ph.D., associate professor in Radiology at the Univerity of Utah Health and contributing author on the study, says  "In our society, the diagnoses of dementia are snowballing and are taxing resources to the max. No one says playing music will be a cure for Alzheimer's disease, but it might make the symptoms more manageable, decrease the cost of care and improve a patient's quality of life."
Some mysteries take generations to unfold.
Credit: Hикита Чертков / Adobe Stock
Surprising Science
In 1959, a group of nine Russian hikers was killed in an overnight incident in the Ural Mountains.
Conspiracies about their deaths have flourished ever since, including alien invasion, an irate Yeti, and angry tribesmen.
Researchers have finally confirmed that their deaths were due to a slab avalanche caused by intense winds.
In February 1959, a group of nine hikers crossed through Russia's Ural Mountains as part of a skiing expedition. The experienced trekkers, all employed at the Ural Polytechnical Institute, were led by Igor Dyatlov. On the evening of February 1, all nine appear to have fled their tents into the Arctic temperatures, for which they were unprepared. None survived.
Six of the members died of hypothermia; three suffered from physical trauma. Some members were missing body parts—a tongue here, a few eyes there, a pair of eyebrows for good measure. According to reports, no hiker appears to have struggled or panicked. They were likely too quickly overtaken by the hostile environment in Western Russia.
All the members were young, mostly in their early twenties; one member, Semyon Zolotaryov, was 38. Good health didn't matter. Given the uncertain circumstances—what made them flee into the bitter cold?—the incident known as Dyatlov Pass has long been the type of Area 51-conspiracy theory that some people love to speculate about. A vicious animal attack? Infrasound-induced panic? Was the Soviet military involved? Maybe it was the katabatic winds that did them in. Local tribesmen might not have liked the intrusion.
Or perhaps it was aliens. Or a Yeti. Have we talked about Yeti aliens yet?
These theories and more have been floated for decades.
a: Last picture of the Dyatlov group taken before sunset, while making a cut in the slope to install the tent. b: Broken tent covered with snow as it was found during the search 26 days after the event.
Photographs courtesy of the Dyatlov Memorial Foundation.
Finally, a new study, published in the Nature journal Communications Earth & Environment, has put the case to rest: it was a slab avalanche.
This theory isn't exactly new either. Researchers have long been skeptical about the avalanche notion, however, due to the grade of the hill. Slab avalanches don't need a steep slope to get started. Crown or flank fractures can quickly release as little as a few centimeters of earth (or snow) sliding down a hill (or mountain).
As researchers Johan Gaume (Switzerland's WSL Institute for Snow and Avalanche Research SLF) and Alexander Puzrin (Switzerland's Institute for Geotechnical Engineering) write, it was "a combination of irregular topography, a cut made in the slope to install the tent and the subsequent deposition of snow induced by strong katabatic winds contributed after a suitable time to the slab release, which caused severe non-fatal injuries, in agreement with the autopsy results."
Conspiracy theories abound when evidence is lacking. Twenty-six days after the incident, a team showed up to investigate. They didn't find any obvious sounds of an avalanche; the slope angle was below 30 degrees, ruling out (to them) the possibility of a landslide. Plus, the head injuries suffered were not typical of avalanche victims. Inject doubt and crazy theories will flourish.
Configuration of the Dyatlov tent installed on a flat surface after making a cut in the slope below a small shoulder. Snow deposition above the tent is due to wind transport of snow (with deposition flux Q).
Photo courtesy of Communications Earth & Environment.
Add to this Russian leadership's longstanding battle with (or against) the truth. In 2015 the Investigative Committee of the Russian Federation decided to reopen this case. Four years later the agency concluded it was indeed a snow avalanche—an assertion immediately challenged within the Russian Federation. The oppositional agency eventually agreed as well. The problem was neither really provided conclusive scientific evidence.
Gaume and Puzrin went to work. They provided four critical factors that confirmed the avalanche:
The location of the tent under a shoulder in a locally steeper slope to protect them from the wind
A buried weak snow layer parallel to the locally steeper terrain, which resulted in an upward-thinning snow slab
The cut in the snow slab made by the group to install the tent
Strong katabatic winds that led to progressive snow accumulation due to the local topography (shoulder above the tent) causing a delayed failure
Case closed? It appears so, though don't expect conspiracy theories to abate. Good research takes time—sometimes generations. We're constantly learning about our environment and then applying those lessons to the past. While we can't expect every skeptic to accept the findings, from the looks of this study, a 62-year-old case is now closed.
--
Stay in touch with Derek on Twitter and Facebook. His most recent book is "Hero's Dose: The Case For Psychedelics in Ritual and Therapy."
Credit
: William Thomas Cain via Getty Images
Personal Growth
Benjamin Franklin wrote essays on a whole range of subjects, but one of his finest was on how to be a nice, likable person.
Franklin lists a whole series of common errors people make while in the company of others, like over-talking or storytelling.
His simple recipe for being good company is to be genuinely interested in others and to accept them for who they are.
Think of the nicest person you know. The person who would fit into any group configuration, who no one can dislike, or who makes a room warmer and happier just by being there.
What makes them this way? Why are they so amiable, likeable, or good-natured? What is it, you think, that makes a person good company?
There are really only two things that make someone likable.
This is the kind of advice that comes from one of history's most famously good-natured thinkers: Benjamin Franklin. His essay "On Conversation" is full of practical, surprisingly modern tips about how to be a nice person.
Franklin begins by arguing that there are really only two things that make someone likable. First, they have to be genuinely interested in what others say. Second, they have to be willing "to overlook or excuse Foibles." In other words, being good company means listening to people and ignoring their faults. Being witty, well-read, intelligent, or incredibly handsome can all make a good impression, but they're nothing without these two simple rules.
The sort of person nobody likes
From here, Franklin goes on to give a list of the common errors people tend to make while in company. These are the things people do that makes us dislike them. We might even find, with a sinking feeling in our stomach, that we do some of these ourselves.
1) Talking too much and becoming a "chaos of noise and nonsense." These people invariably talk about themselves, but even if "they speak beautifully," it's still ultimately more a soliloquy than a real conversation. Franklin mentions how funny it can be to see these kinds of people come together. They "neither hear nor care what the other says; but both talk on at any rate, and never fail to part highly disgusted with each other."
2) Asking too many questions. Interrogators are those people who have an "impertinent Inquisitiveness… of ten thousand questions," and it can feel like you're caught between a psychoanalyst and a lawyer. In itself, this might not be a bad thing, but Franklin notes it's usually just from a sense of nosiness and gossip. The questions are only designed to "discover secrets…and expose the mistakes of others."
3) Storytelling. You know those people who always have a scripted story they tell at every single gathering? Utterly painful. They'll either be entirely oblivious to how little others care for their story, or they'll be aware and carry on regardless. Franklin notes, "Old Folks are most subject to this Error," which we might think is perhaps harsh, or comically honest, depending on our age.
4) Debating. Some people are always itching for a fight or debate. The "Wrangling and Disputing" types inevitably make everyone else feel like they need to watch what they say. If you give even the lightest or most modest opinion on something, "you throw them into Rage and Passion." For them, the conversation is a boxing fight, and words are punches to be thrown.
5) Misjudging. Ribbing or mocking someone should be a careful business. We must never mock "Misfortunes, Defects, or Deformities of any kind", and should always be 100% sure we won't upset anyone. If there's any doubt about how a "joke" will be taken, don't say it. Offense is easily taken and hard to forget.
Not following Benjamin Franklin's advice.Credit: Ronald Martinez via Getty Images
On practical philosophy
Franklin's essay is a trove of great advice, and this article only touches on the major themes. It really is worth your time to read it in its entirety. As you do, it's hard not to smile along or to think, "Yes! I've been in that situation." Though the world has changed dramatically in the 300 years since Franklin's essay, much is exactly the same. Basic etiquette doesn't change.
If there's only one thing to take away from Franklin's essay, it comes at the end, where he revises his simple recipe for being nice:
"Be ever ready to hear what others say… and do not censure others, nor expose their Failings, but kindly excuse or hide them"
So, all it takes to be good company is to listen and accept someone for who they are.
Philosophy doesn't always have to be about huge questions of truth, beauty, morality, art, or meaning. Sometimes it can teach us simply how to not be a jerk.
A recent study analyzed the skulls of early Homo species to learn more about the evolution of primate brains.
Credit: M. Ponce de León and Ch.Zollikofer, UZH
Surprising Science
Using computed tomography, a team of researchers generated images of what the brains of early Homo species likely looked like.
The team then compared these images to the brains of great apes and modern humans.
The results suggest that Homo species developed humanlike brains about 1.7 million years ago and that this cognitive evolution occurred at the same time early Homo culture and technology were becoming more complex.
For nearly two centuries, scientists have known that humans descended from the great apes. But it's proven difficult to precisely map out the branches of that evolutionary tree, especially in terms of determining when and where early Homo species first developed brains similar to modern humans.
There are clear differences between ape and human brains. Compared to apes, the Homo sapiens brain is larger, and its frontal lobe is organized such that we can engage in toolmaking, planning, and language. Other Homo species also enjoyed some of these cognitive innovations, from the Neanderthals to Homo floresiensis, the hobbit-like people who once inhabited Indonesia.
One reason it's been difficult to discern the details of this cognitive evolution from apes to Homo species is that brains don't fossilize, so scientists can't directly study early primate brains. But primate skulls offer clues.
Brains of yore
In a new study published in Science, an international team of researchers analyzed impressions left on the skulls of Homo species to better understand the evolution of primate brains. Using computer tomography on fossil skulls, the team generated images of what the brain structures of early Homo species probably looked like, and then compared those structures to the brains of great apes and modern humans.
The results suggest that Homo species first developed humanlike brains approximately 1.7 to 1.5 million years ago in Africa. This cognitive evolution occurred at roughly the same time Homo species' technology and culture were becoming more complex, with these species developing more sophisticated stone tools and animal food resources.
Credit: Ponce de León et al.
The team hypothesized that "this pattern reflects interdependent processes of brain-culture coevolution, where cultural innovation triggered changes in cortical interconnectivity and ultimately in external frontal lobe topography."

The team also found that these structural changes occurred after Homo species migrated out of Africa for regions like modern-day Georgia and Southeast Asia, which is where the fossils in the study were discovered. In other words, Homo species still had ape-like brains when some groups first left Africa.
While the study sheds new light on the evolution of primate brains, the team said there's still much to learn about the history of early Homo species, particularly in terms of explaining the morphological diversity of Homo fossils discovered in Africa.
"Deciphering evolutionary process in early Homo remains a challenge that will be met only through the recovery of expanded fossil samples from well-controlled chronological contexts," the researchers wrote.
Scroll down to load more…