Big ideas.
Once a week.
Subscribe to our weekly newsletter.
Scientists Use Artificial Intelligence To Spot Alzheimer's Before Onset of Symptoms
Scientists have developed an algorithm that reliably detects the signs of Alzheimer's dementia before its onset.
31 August, 2017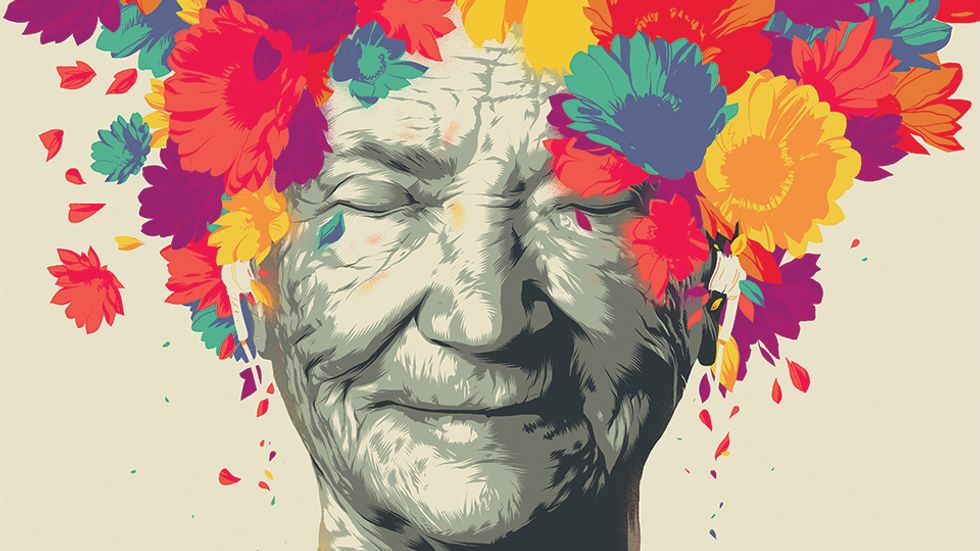 ---
Scientists from the Douglas Mental Health University Institute's Translational Neuroimaging Laboratory at McGill have developed an algorithm that reliably detects signs of dementia before its onset. The technology could be used to help families prepare for treatment options, and to help researchers select better candidates for clinical trials that test drug effectiveness.
The findings were detailed in a study published in the journal Neurobiology of Aging.
"If you can tell from a group of of individuals who is the one that will develop the disease, one can better test new medications that could be capable of preventing the disease," said co-lead study author Dr. Pedro Rosa-Neto, an associate professor of neurology, neurosurgery and psychiatry at McGill University, to Live Science.
The algorithm works by searching brain scans for the buildup of amyloid, a protein that accumulates in the brains of people who develop mild cognitive impairment and, later, dementia. Amyloid starts accumulating in the brain years, or sometimes decades, before the onset of dementia, and it does so at differents rates and locations in the brain. What's more, not everyone with amyloid buildup necessarily develops cognitive impairment. This has made spotting the development of dementia difficult for scientists.
Machine learning could make it much easier.
Using hundreds of PET scans available through the Alzheimer's Disease Neuroimaging Initiative (ADNI), scientists trained an algorithm to spot signs of dementia by having it first analyze the amyloid buildup in the scans of patients who had mild cognitive impairment. They then showed it brain scans taken before patients had developed the disease.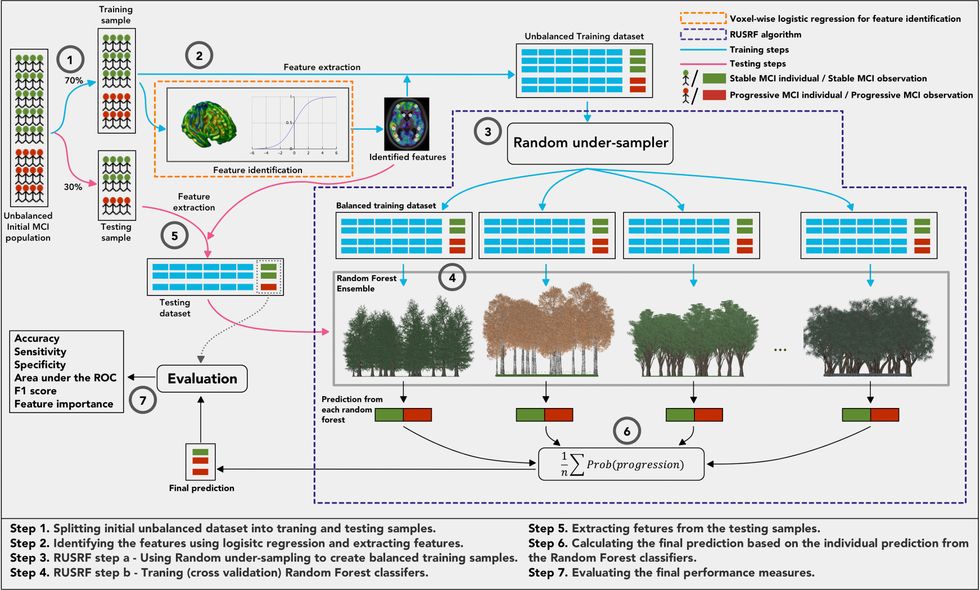 (Summary of the steps followed to train the algorithm to predict the progression of dementia.) 
Scientists then presented the algorithm with a new set of brain scans, some of which were from patients who currently had mild cognitive impairment. All of the scans, however, were taken before any of the patients had developed the disease. The algorithm was able to predict which patients would end up impaired with an accuracy of 84 percent.
"This is an example how big data and open science brings tangible benefits to patient care," said  Rosa-Neto to McGill News.
The biggest benefit to patient care could be improved clinical trials studying the effectiveness of drugs for Alzheimer's, the most common form of dementia.
"By using this tool, clinical trials could focus only on individuals with a higher likelihood of progressing to dementia within the time frame of the study," said Dr. Serge Gauthier, the study's co-lead author, to McGill News. "This will greatly reduce the cost and the time necessary to conduct these studies."
Research was funded by the Canadian Consortium on Neurodegeneration in Aging (CCNA) and the Canadian Institutes of Health Research.
Scientists use new methods to discover what's inside drug containers used by ancient Mayan people.
Credit: WSU
Surprising Science
Archaeologists used new methods to identify contents of Mayan drug containers.
They were able to discover a non-tobacco plant that was mixed in by the smoking Mayans.
The approach promises to open up new frontiers in the knowledge of substances ancient people consumed.
Ancient Mayans have been a continuing source of inspiration for their monuments, knowledge, and mysterious demise. Now a new study discovers some of the drugs they used. For the first time, scientists found remnants of a non-tobacco plant in Mayan drug containers. They believe their analysis methods can allow them exciting new ways of investigating the different types of psychoactive and non-psychoactive plants used by the Maya and other pre-Colombian societies.
The research was carried out by a team from Washington State University, led by anthropology postdoc Mario Zimmermann. They spotted residue of the Mexican marigold (Tagetes lucida) in 14 tiny ceramic vessels that were buried over a 1,000 years ago on Mexico's Yucatan peninsula. The containers also exhibited chemical traces of two types of tobacco: Nicotiana tabacum and N. rustica. Scientists think the marigold was mixed in with the tobacco to make the experience more pleasant.
"While it has been established that tobacco was commonly used throughout the Americas before and after contact, evidence of other plants used for medicinal or religious purposes has remained largely unexplored," said Zimmermann. "The analysis methods developed in collaboration between the Department of Anthropology and the Institute of Biological Chemistry give us the ability to investigate drug use in the ancient world like never before."
The scientists used a new method based on metabolomics that is able to pinpoint thousands of plant compounds, or metabolites, in residue of archaeological artifacts like containers and pipes. This allows the researchers to figure out which specific plants were utilized. The way plant residue was identified before employed looking for specific biomarkers from nicotine, caffeine, and other such substances. That approach would not be able to spot what else was consumed outside of what biomarker was found. The new way gives much more information, showing the researchers a fuller picture of what the ancient people ingested.
PARME staff archaeologists excavating a burial site at the Tamanache site, Mérida, Yucatan.
Credit: WSU
The containers in the study were found by Zimmerman and a team of archaeologists in 2012.
"When you find something really interesting like an intact container it gives you a sense of joy," shared Zimmermann. "Normally, you are lucky if you find a jade bead. There are literally tons of pottery sherds but complete vessels are scarce and offer a lot of interesting research potential."
The researchers are negotiating with various Mexican institutions to be able to study more ancient containers for plant residues. They also aim to look at organic materials possibly preserved in the dental plaque of ancient remains.
Check out the study published in Scientific Reports.
For some reason, the bodies of deceased monks stay "fresh" for a long time.
Surprising Science
The bodies of some Tibetan monks remain "fresh" after what appears to be their death.
Their fellow monks say they're not dead yet but in a deep, final meditative state called "thukdam."
Science has not found any evidence of lingering EEG activity after death in thukdam monks.
It's definitely happening, and it's definitely weird. After the apparent death of some monks, their bodies remain in a meditating position without decaying for an extraordinary length of time, often as long as two or three weeks.
Tibetan Buddhists, who view death as a process rather than an event, might assert that the spirit has not yet finished with the physical body. For them, thukdam begins with a "clear light" meditation that allows the mind to gradually unspool, eventually dissipating into a state of universal consciousness no longer attached to the body. Only at that time is the body free to die.
Whether you believe this or not, it is a fascinating phenomenon: the fact remains that their bodies don't decompose like other bodies. (There have been a handful of other unexplained instances of delayed decomposition elsewhere in the world.)
The scientific inquiry into just what is going on with thukdam has attracted the attention and support of the Dalai Lama, the highest monk in Tibetan Buddhism. He has reportedly been looking for scientists to solve the riddle for about 20 years. He is a supporter of science, writing, "Buddhism and science are not conflicting perspectives on the world, but rather differing approaches to the same end: seeking the truth."
The most serious study of the phenomenon so far is being undertaken by The Thukdam Project of the University of Wisconsin-Madison's Center for Healthy Minds. Neuroscientist Richard Davidson is one of the founders of the center and has published hundreds of articles about mindfulness.
Davidson first encountered thukdam after his Tibetan monk friend Geshe Lhundub Sopa died, officially on August 28, 2014. Davidson last saw him five days later: "There was absolutely no change. It was really quite remarkable."
The science so far
Credit: GrafiStart / Adobe Stock
The Thukdam Project published its first annual report this winter. It discussed a recent study in which electroencephalograms failed to detect any brain activity in 13 monks who had practiced thukdam and had been dead for at least 26 hours. Davidson was senior author of the study.

While some might be inclined to say, well, that's that, Davidson sees the research as just a first step on a longer road. Philosopher Evan Thompson, who is not involved in The Thukdam Project, tells Tricycle, "If the thinking was that thukdam is something we can measure in the brain, this study suggests that's not the right place to look."
In any event, the question remains: why are these apparently deceased monks so slow to begin decomposition? While environmental factors can slow or speed up the process a bit, usually decomposition begins about four minutes after death and becomes quite obvious over the course of the next day or so.
As the Dalai Lama said:
"What science finds to be nonexistent we should all accept as nonexistent, but what science merely does not find is a completely different matter. An example is consciousness itself. Although sentient beings, including humans, have experienced consciousness for centuries, we still do not know what consciousness actually is: its complete nature and how it functions."
Consciousness
As thukdam researchers continue to seek a signal of post-mortem consciousness of some sort, it's fair to ask what — and where — consciousness is in the first place. It is a question with which Big Think readers are familiar. We write about new theories all the time: consciousness happens on a quantum level; consciousness is everywhere.
So far, though, says Tibetan medical doctor Tawni Tidwell, also a Thukdam Project member, searches beyond the brain for signs of consciousness have gone nowhere. She is encouraged, however, that a number of Tibetan monks have come to the U.S. for medical knowledge that they can take home. When they arrive back in Tibet, she says, "It's not the Westerners who are doing the measuring and poking and prodding. It's the monastics who trained at Emory."
When Olympic athletes perform dazzling feats of athletic prowess, they are using the same principles of physics that gave birth to stars and planets.
Credit: sportpoint via Adobe Stock
13-8
Much of the beauty of gymnastics comes from the physics principle called the conservation of angular momentum.
Conservation of angular momentum tells us that when a spinning object changes how its matter is distributed, it changes its rate of spin.
Conservation of angular momentum links the formation of planets in star-forming clouds to the beauty of a gymnast's spinning dismount from the uneven bars.
It is that time again when we watch in awe as Olympic athletes perform dazzling feats of athletic prowess. But as we stare in rapt attention at the speed, grace, and strength they exhibit, it is also a good time to pay attention to how they embody, literally, fundamental principles that shape the entire universe. Yes, I'm talking about physics. On our screens, these athletes are giving us lessons in the principles that giants like Isaac Newton struggled mightily to articulate.
Naturally, there are many Olympic events from which we could learn some basic principles of physics. Swimming shows us hydrodynamic drag. Boxing teaches us about force and impulse. (Ouch!) But today, we will focus on gymnastics and the cosmic importance of the conservation of angular momentum.
The conservation of angular momentum
Much of the beauty of gymnastics comes from the spins and flips athletes perform as they launch themselves into the air from the vault or uneven bars. These are all examples of rotations — and so much of the structure and history of the universe, from planets to galaxies, comes down to the physics of rotating objects. And so much of the physics of rotating objects comes down to the conservation of angular momentum.
Let's start with the conservation of regular or "linear" momentum. Momentum is the product of mass and velocity. Way back in the age of Galileo and Newton, physicists came to understand that in the interactions between bodies, the sum of their momentums had to be conserved (which really means "does not change"). This is a familiar idea to anyone who has played billiards: when a moving pool ball strikes a stationary one, the first ball stops while the second scoots away. The total momentum of the system (the mass times velocity of both balls taken together) is conserved, leaving the originally moving ball unmoving and the originally stationary ball carrying all the system's momentum.
Credit: Sergey Nivens and Victoria VIAR PRO via Adobe Stock
Rotating objects also obey a conservation law, but now it is not just the mass of an object that matters. The distribution of mass — that is, where the mass is located relative to the center of the rotation — is also a factor. Conservation of angular momentum tells us that if a spinning object is not subject to any forces, then any changes in how its matter is distributed must lead to a change in its rate of spin. Comparing the conservation of angular momentum to the conservation of linear momentum, the "distribution of mass" is analogous to mass, and the "rate of spin" is analogous to velocity.

There are many places in cosmic physics where this conservation of angular momentum is key. My favorite example is the formation of stars. Every star begins its life as a giant cloud of slowly spinning interstellar gas. The clouds are usually supported against their own gravitational weight by gas pressure, but sometimes a small nudge from, say, a passing supernova blast wave will force the cloud to begin gravitational collapse. As the cloud begins to shrink, the conservation of angular momentum forces the spin rate of material in the cloud to speed up. As material is falling inward, it also rotates around the cloud's center at ever higher rates. Eventually, some of that gas is going so fast that a balance between the gravity of the newly forming star and what is called centrifugal force is achieved. That stuff then stops moving inward and goes into orbit around the young star, forming a disk, some material of which eventually becomes planets. So, the conservation of angular momentum is, literally, why we have planets in the universe!
Gymnastics, a cosmic sport
How does this appear in gymnastics? When athletes hurl themselves into the air to perform a flip, the only force acting on them is gravity. But since gravity only affects their "center of mass," it cannot apply forces in a way that changes the athlete's spin. But the gymnasts can do that for themselves by using the conservation of angular momentum.
By changing how their mass is arranged, gymnasts can change how fast they spin. You can see this in the dismount phase of the uneven bar competitions. When a gymnast comes off the bars and performs a flip by tucking their legs inward, they can quickly increase their rotation rate in midair. The sudden dramatic increase in the speed of their flip is what makes us gasp in astonishment. It is both scary and a beautiful testament to the athletes' ability to intuitively control the physics of their bodies. And it is also the exact same physics that controls the birth of planets.
"As above so below," goes the old saying. You should keep that in mind as you watch the glory that is the Olympics. That is because it is not just athletes that have this intuitive understanding of physics. We all have it, and we use it every day, from walking down the stairs to swinging a hammer. So, it is no exaggeration to claim that the first place we came to understand the deepest principles of physics was not in contemplating the heavens but moving through the world in our own earthbound flesh.
Culture & Religion
How the British obsession with tea triggered wars, led to bizarre espionage, and changed the world — many times.
Scroll down to load more…