Scientists Use Artificial Intelligence To Spot Alzheimer's Before Onset of Symptoms
Scientists have developed an algorithm that reliably detects the signs of Alzheimer's dementia before its onset.
31 August, 2017
---
Scientists from the Douglas Mental Health University Institute's Translational Neuroimaging Laboratory at McGill have developed an algorithm that reliably detects signs of dementia before its onset. The technology could be used to help families prepare for treatment options, and to help researchers select better candidates for clinical trials that test drug effectiveness.
The findings were detailed in a study published in the journal Neurobiology of Aging.
"If you can tell from a group of of individuals who is the one that will develop the disease, one can better test new medications that could be capable of preventing the disease," said co-lead study author Dr. Pedro Rosa-Neto, an associate professor of neurology, neurosurgery and psychiatry at McGill University, to Live Science.
The algorithm works by searching brain scans for the buildup of amyloid, a protein that accumulates in the brains of people who develop mild cognitive impairment and, later, dementia. Amyloid starts accumulating in the brain years, or sometimes decades, before the onset of dementia, and it does so at differents rates and locations in the brain. What's more, not everyone with amyloid buildup necessarily develops cognitive impairment. This has made spotting the development of dementia difficult for scientists.
Machine learning could make it much easier.
Using hundreds of PET scans available through the Alzheimer's Disease Neuroimaging Initiative (ADNI), scientists trained an algorithm to spot signs of dementia by having it first analyze the amyloid buildup in the scans of patients who had mild cognitive impairment. They then showed it brain scans taken before patients had developed the disease.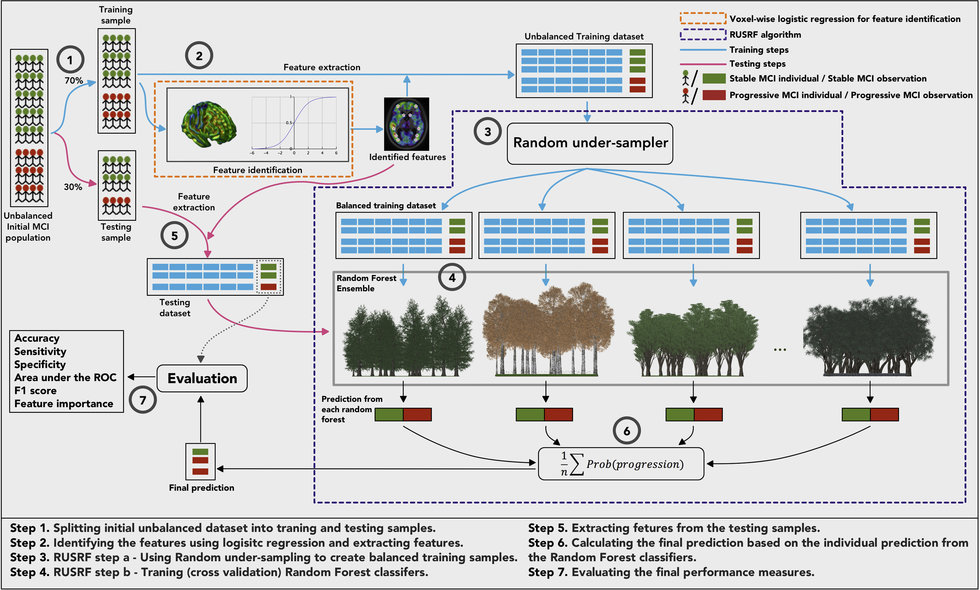 (Summary of the steps followed to train the algorithm to predict the progression of dementia.) 
Scientists then presented the algorithm with a new set of brain scans, some of which were from patients who currently had mild cognitive impairment. All of the scans, however, were taken before any of the patients had developed the disease. The algorithm was able to predict which patients would end up impaired with an accuracy of 84 percent.
"This is an example how big data and open science brings tangible benefits to patient care," said  Rosa-Neto to McGill News.
The biggest benefit to patient care could be improved clinical trials studying the effectiveness of drugs for Alzheimer's, the most common form of dementia.
"By using this tool, clinical trials could focus only on individuals with a higher likelihood of progressing to dementia within the time frame of the study," said Dr. Serge Gauthier, the study's co-lead author, to McGill News. "This will greatly reduce the cost and the time necessary to conduct these studies."
Research was funded by the Canadian Consortium on Neurodegeneration in Aging (CCNA) and the Canadian Institutes of Health Research.
Giving our solar system a "slap in the face"
Surprising Science
A stream of galactic debris is hurtling at us, pulling dark matter along with it
It's traveling so quickly it's been described as a hurricane of dark matter
Scientists are excited to set their particle detectors at the onslffaught
Bernardo Kastrup proposes a new ontology he calls "idealism" built on panpsychism, the idea that everything in the universe contains consciousness. He solves problems with this philosophy by adding a new suggestion: The universal mind has dissociative identity disorder.
We're all one mind in "idealism." (Credit: Alex Grey)
Mind & Brain
There's a reason they call it the "hard problem." Consciousness: Where is it? What is it? No one single perspective seems to be able to answer all the questions we have about consciousness. Now Bernardo Kastrup thinks he's found one. He calls his ontology idealism, and according to idealism, all of us and all we perceive are manifestations of something very much like a cosmic-scale dissociative identity disorder (DID). He suggests there's an all-encompassing universe-wide consciousness, it has multiple personalities, and we're them.
Once again, our circadian rhythm points the way.
Photo: Victor Freitas / Unsplash
Surprising Science
Seven individuals were locked inside a windowless, internetless room for 37 days.
While at rest, they burned 130 more calories at 5 p.m. than at 5 a.m.
Morning time again shown not to be the best time to eat.
Big think's weekly newsletter.
Get smarter faster from the comfort of your inbox.
See our newsletter privacy policy
here
Most Popular
Most Recent
Big think's weekly newsletter.
Get smarter faster from the comfort of your inbox.
See our newsletter privacy policy
here
© Copyright 2007-2018 & BIG THINK, BIG THINK EDGE,
SMARTER FASTER trademarks owned by The Big Think, Inc. All rights reserved.