Who Teaches The Teachers?
Most teaching textbooks aren't evidence-based according to a new report, so where should teachers go to keep their skills up to date?
Simon Oxenham
Simon Oxenham covers the best and the worst from the world of psychology and neuroscience. Formerly writing with the pseudonym "Neurobonkers", Simon has a history of debunking dodgy scientific research and tearing apart questionable science journalism in an irreverent style. Simon has written and blogged for publishers including: The Psychologist, Nature, Scientific American and The Guardian. His work has been praised in the New York Times and The Guardian and described in Pearson's Textbook of Psychology as "excoriating reviews of bad science/studies".
Follow Simon on Twitter
Like Simon on Facebook
Follow Simon on Google+
Subscribe via Email
Subscribe via RSS
Contact Simon directly by Email
07 March, 2016
That's a question now being raised after a major report from the National Council on Teacher Quality found most teacher training textbooks and courses aren't based in evidence and contain large amounts of myths and misinformation. One researcher is now posing the question – if not textbooks – where do teachers, can teachers, and should teachers get reliable information?
---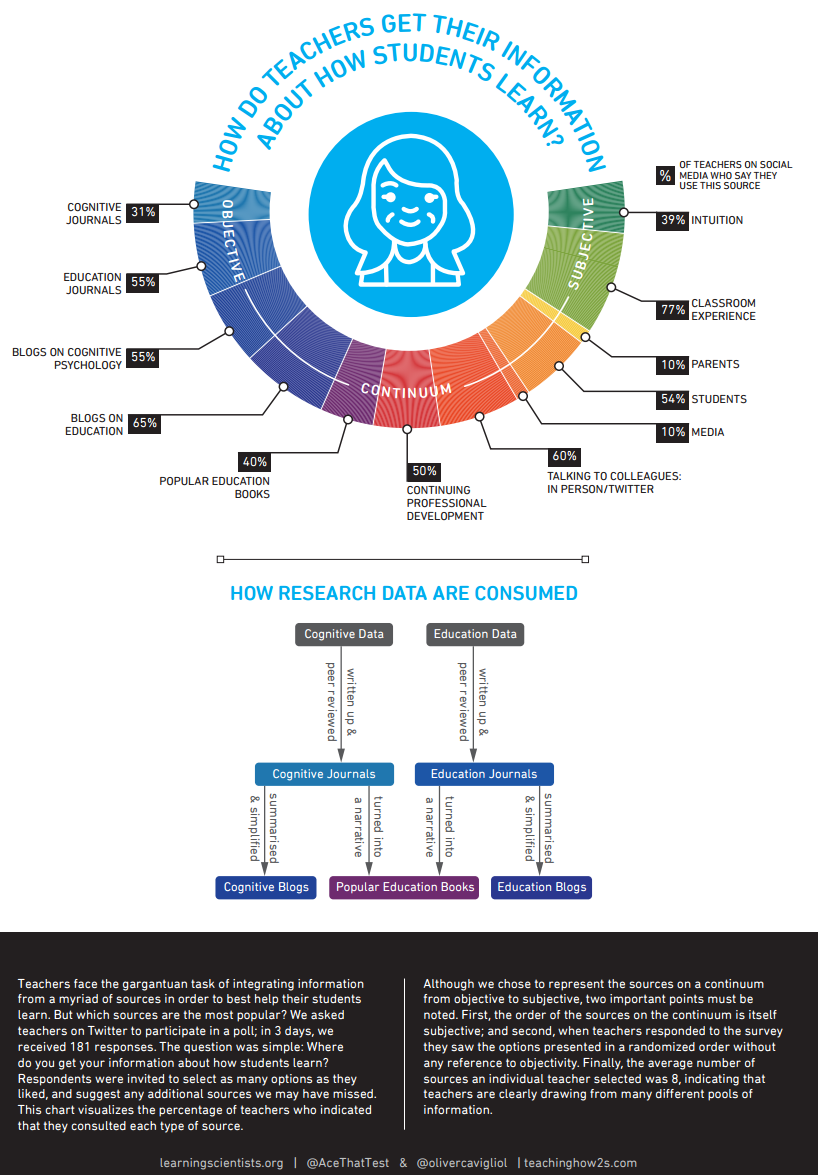 The numbers above are clearly heavily skewed at the tech savvy end of the spectrum due to being based on a small opportunity sample obtained from Twitter – obviously this isn't a scientific study. But it's not the numbers that I find interesting, it's the question itself. The idea that cognitive journals are the most objective form of research is clearly highly debatable, and likely influenced by the fact that the infographic was created by a cognitive researcher. Education researchers will probably disagree. Personally I'd have put meta-analyses at the top of the list above all else, but that discussion is academic.
Traditionally textbooks are widely treated as the pinnacle of evidence and lowly blogs, well... less so. The NCTQ study suggests at least half of that statement is incorrect, and it's not the part about the blogs. Unfortunately the undisputed king of sources – academic journals - are typically dense and time consuming to keep track of and read, and time is not something most teachers have much of a surplus of between marking, teaching, actively planning their lessons and all their other obligations. Blogs may therefore be one of the best places for teachers to keep up to date on the latest research findings.
Obviously all blogs were not created equal and there are certainly unreliable blogs out there. I do my best to keep up to date on evidence and evaluate research with integrity, objectivity and the help of expert analysis, but I'm certainly no expert in teaching.
There are however a great deal of excellent blogs out there by expert educators, so after consulting with Dr. Yana Weinstein of the excellent Learning Scientists project the following are a few recommendations of some reliably excellent education blogs where you can keep up to date on the latest in education and cognitive research:
+ Learning Spy – The blog of David Didau, a teacher with fifteen years teaching experience who discusses the latest findings in education research and cognitive psychology.
+ Informed Education – The blog of David Weston, head of the Teacher Development Trust and Chair of the British Government Department for Education's Teacher's Professional Development Expert Group.
+ Evidence into Practice – The blog of Nick Rose, a skeptical teacher interested in applying psychological research to teaching.
+ Hunting English – The blog of Alex Quigley an English teacher and director of learning and research at an English school.
+ Greg Ashman's Blog – An Australian teacher with a love for education research, blogging his way through a  PhD.
+ Class Teaching – A blog managed by Shaun Allison, Deputy Head of an English high school. The blog hosts a half-termly bulletin from Andy Tharby that breaks down current findings from educational research.
The list above is only a small fraction of what's out there, but it's certainly a great starting point!
Follow Simon Oxenham @Neurobonkers on Twitter, Facebook, RSS or join the mailing list, for weekly analysis of science and psychology news. 
A federal judge ruled that the Trump administration likely violated the reporter's Fifth Amendment rights when it stripped his press credentials earlier this month.
WASHINGTON, DC - NOVEMBER 16: CNN chief White House correspondent Jim Acosta (R) returns to the White House with CNN Washington bureau chief Sam Feist after Federal judge Timothy J. Kelly ordered the White House to reinstate his press pass November 16, 2018 in Washington, DC. CNN has filed a lawsuit against the White House after Acosta's press pass was revoked after a dispute involving a news conference last week. (Photo by Alex Wong/Getty Images)
Politics & Current Affairs
Acosta will be allowed to return to the White House on Friday.
The judge described the ruling as narrow, and didn't rule one way or the other on violations of the First Amendment.
The case is still open, and the administration may choose to appeal the ruling.
Progressive America would be half as big, but twice as populated as its conservative twin.
Image: Dicken Schrader
Strange Maps
America's two political tribes have consolidated into 'red' and 'blue' nations, with seemingly irreconcilable differences.
Perhaps the best way to stop the infighting is to go for a divorce and give the two nations a country each
Based on the UN's partition plan for Israel/Palestine, this proposal provides territorial contiguity and sea access to both 'red' and 'blue' America
The definition of a kilogram will now be fixed to Planck's constant, a fundamental part of quantum physics.
Surprising Science
The new definition of a kilogram is based on a physical constant in quantum physics.
Unlike the current definition of a kilogram, this measurement will never change.
Scientists also voted to update the definitions of several other measurements in physics.
Big think's weekly newsletter.
Get smarter faster from the comfort of your inbox.
See our newsletter privacy policy
here
Most Popular
Most Recent
Big think's weekly newsletter.
Get smarter faster from the comfort of your inbox.
See our newsletter privacy policy
here
© Copyright 2007-2018 & BIG THINK, BIG THINK EDGE,
SMARTER FASTER trademarks owned by The Big Think, Inc. All rights reserved.