We Need to Rewrite the Textbook on How to Teach Teachers
A report from the National Council on Teacher Quality has found teacher-training textbooks aren't based in evidence.
01 February, 2016
We need to completely rewrite the textbooks on how to teach teachers. That's according to a new report just published by the National Council on Teacher Quality. The report describes a vast and severe failure of teacher-training courses and the textbooks that accompany them to convey evidence-based practices; while delivering unsupported anecdotal evidence and well-debunked myths in spades. The report is accompanied by a letter of support signed by an assortment of professors of psychology and learning sciences from universities around the world. 
---
The report finds that out of 48 texts used in teacher-training programs none accurately described fundamental evidence-based teaching strategies comprehensively. Only 15 percent had more than a single page devoted to evidence-based practices; the remainder contained either zero or only a few sentences on methods that have been backed up by the decades of scientific findings that exist in the field of educational psychology.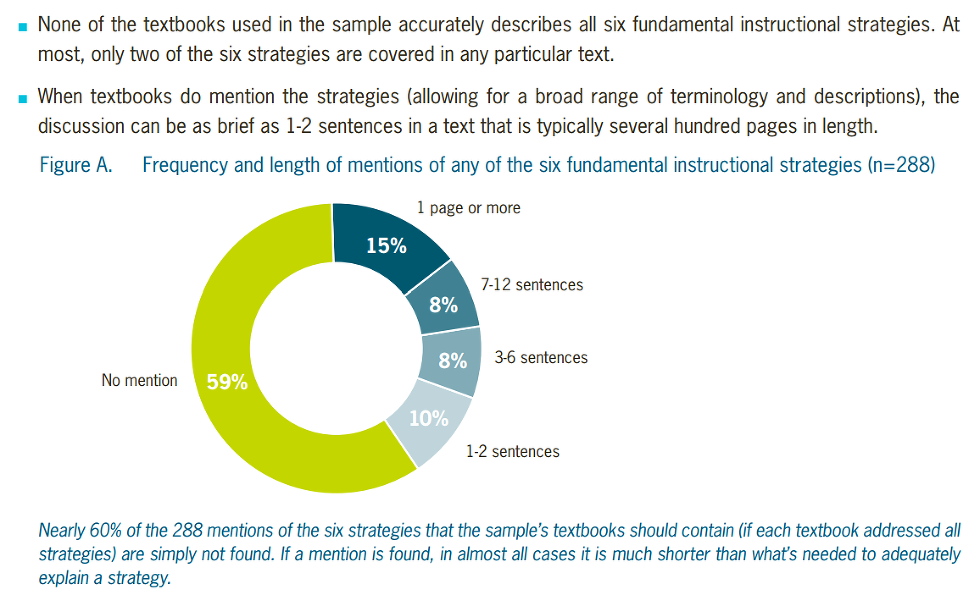 Missing from these textbooks were detailed explanations of six core strategies that have been found to be backed by evidence, which every teacher should know and use. The strategies aren't new; they were identified by the Institute of Education Sciences, the research arm of the U.S. Department of Education, as being the most effective techniques in all classrooms regardless of age or subject in guidance released in 2007.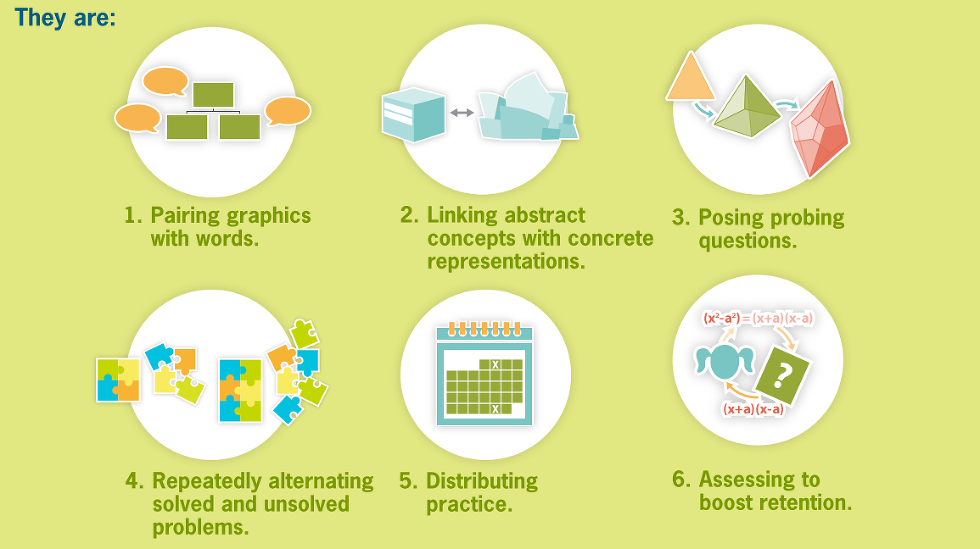 The report didn't just closely examine textbooks, but also delved into evaluations of entire courses, finding that "aspiring teachers are not being taught — in textbooks or in their coursework and training — the foundational knowledge about cognitive strategies that can help ensure children will learn." 
When the six core evidence-based methods were addressed in the 219 courses the researchers assessed, the explanations were severely inadequate, failing to communicate important facts such as the evidence on how spacing learning across time has an incredibly powerful impact on information retention.
None of the textbooks explained that rather than showing how to complete a problem and then letting students get on with it, teaching is far more effective when a teacher repeatedly alternates between allowing the class to solve a problem themselves and then working together through a solution.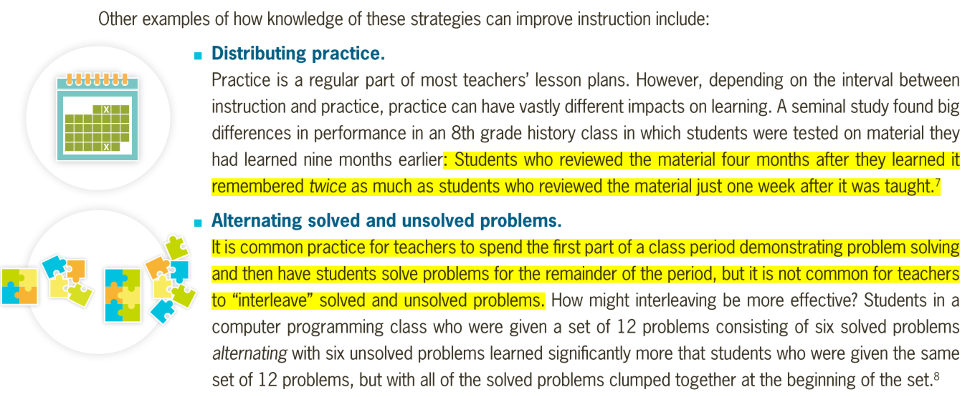 The researchers did not mince their words in their summation of the failure of publishers and educators in the discipline of teacher training:
"A textbook purporting to cover instructional design to maximize learning and retention that fails to cover these six strategies is no less remiss than a botany textbook that fails to address photosynthesis or an American government text devoid of a discussion of the three branches of government."
The report also slammed textbooks and courses for discussing at great length unsupported theories such as "learning styles," the debunked idea that each child is a visual, kinetic or auditory learner; and that teaching a child in their preferred learning style is more effective. In reality, all children require varied styles of teaching chosen based on the information being taught at the time rather than the child's personal preference.
The six winning strategies that are neglected among the textbooks: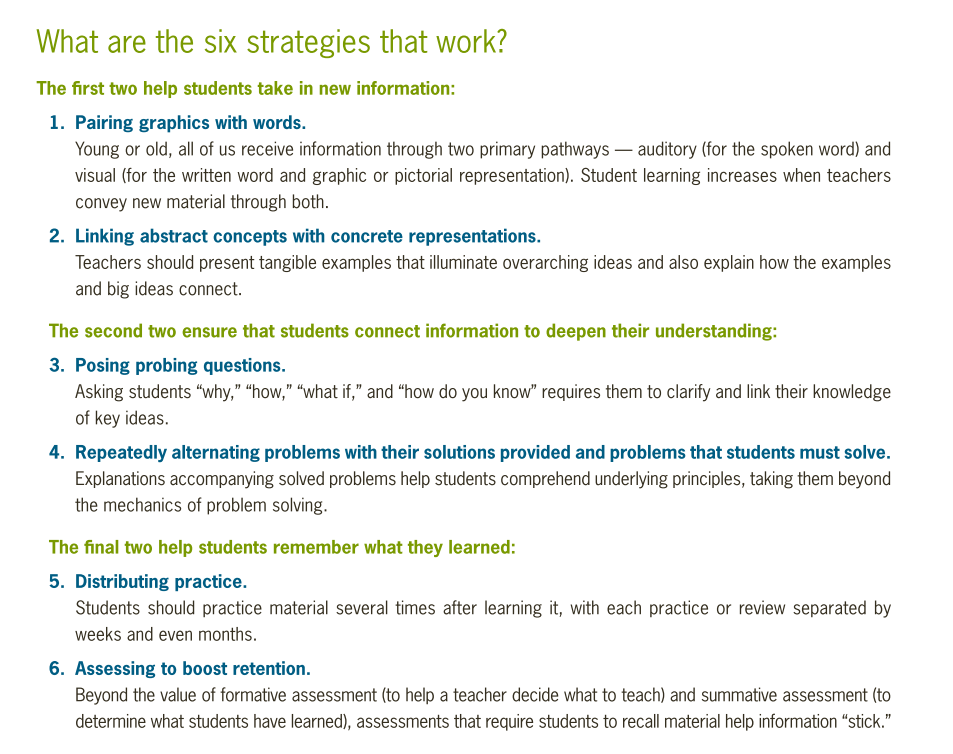 The researchers found that in more than half of the texts, none of the fundamental teaching strategies were even explained: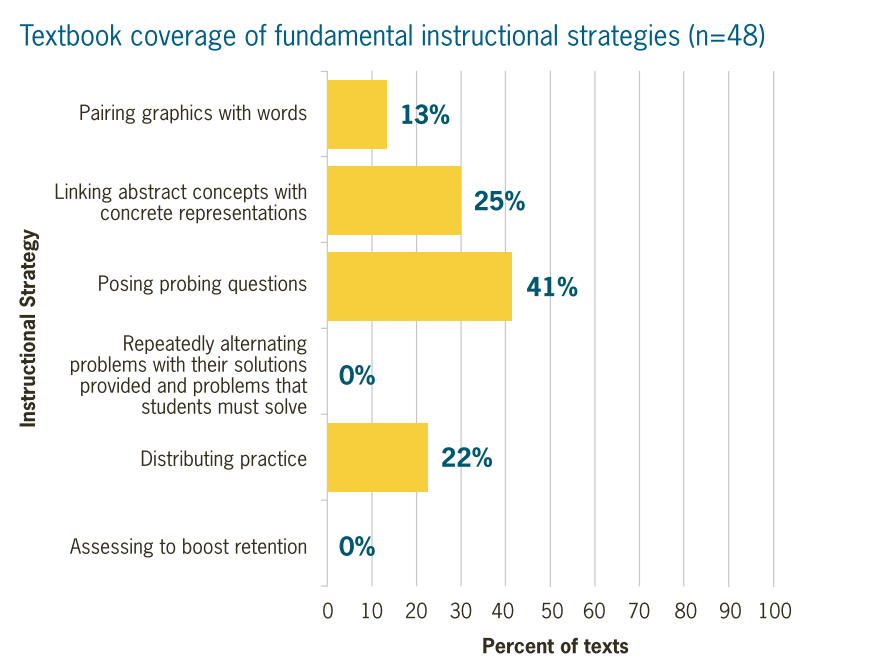 In the rare cases where the strategies were covered, they were often incompletely and incorrectly explained. In one example, a textbook that mentions a core principle — distributed practice — fails to bother to discuss appropriate lengths of gaps between exposures, despite a wealth of evidence in this area. Differing lengths of intervals between teaching result in enormously varied degrees of effectiveness; "appropriate intervals are generally much longer than anyone would guess — weeks or months, rather than days" the researchers explain.
"Looking for the six strategies in these textbooks is akin to looking for six needles in a haystack."
Ultimately the study found that amongst pages of references "of relatively little merit" listed at the back of textbooks, each textbook barely referenced a single seminal study. If each of the 48 textbooks were to mention the six strategies once there would be a combined total of 288 references, but the total across all of the textbooks was only 118. I find this result deeply worrying because it indicates teachers are being taught by teacher-training textbooks to accept and promote claims without even providing the means to check that information against an original source. The act of effectively searching widely for evidence and then citing the source of that evidence is a crucial part of both teaching and learning, but it appears teacher-training textbooks are failing to do this on a grand scale.
If the conclusions of this damning report are to be believed, then more may be learned from what we have learned from decades of scientific research into education in this short report than in hundreds of pages of teacher training textbooks. Trainee or not, it's certainly a report every single teacher — and learner for that matter — should read.
 Follow Simon Oxenham @Neurobonkers on Twitter, Facebook, RSS or join the mailing list, for weekly analysis of science and psychology news. 
Image Credit: Shutterstock
Former president of the ACLU Nadine Strossen discusses whether our society should always defend free speech rights, even for groups who would oppose such rights.
Sponsored by Charles Koch Foundation
Former ACLU president Nadine Strossen understands that protecting free speech rights isn't always a straightforward proposition.
In this video, Strossen describes the reasoning behind why the ACLU defended the free speech rights of neo-Nazis in Skokie, Illinois, 1977.
The opinions expressed in this video do not necessarily reflect the views of the Charles Koch Foundation, which encourages the expression of diverse viewpoints within a culture of civil discourse and mutual respect.
Going back to the moon will give us fresh insights about the creation of our solar system.
Videos
July 2019 marks the 50th anniversary of the moon landing — Apollo 11.
Today, we have a strong scientific case for returning to the moon: the original rock samples that we took from the moon revolutionized our view of how Earth and the solar system formed. We could now glean even more insights with fresh, nonchemically-altered samples.
NASA plans to send humans to a crater in the South Pole of the moon because it's safer there, and would allow for better communications with people back on Earth.
Pugs and bulldogs are incredibly trendy, but experts have massive animal welfare concerns about these genetically manipulated breeds. 
Photo by terriermandotcom.blogspot.com
popular
Pugs, Frenchies, boxers, shih-tzus and other flat-faced dog breeds have been trending for at least the last decade.
Higher visibility (usually in a celebrity's handbag), an increase in city living (smaller dogs for smaller homes), and possibly even the fine acting of Frank the Pug in 1997's Men in Black may be the cause.
These small, specialty pure breeds are seen as the pinnacle of cuteness – they have friendly personalities, endearing odd looks, and are perfect for Stranger Things video montages.
Jokesters and serious Area 51 raiders would be met with military force.
Politics & Current Affairs
Facebook joke event to "raid Area 51" has already gained 1,000,000 "going" attendees.
The U.S. Air Force has issued an official warning to potential "raiders."
If anyone actually tries to storm an American military base, the use of deadly force is authorized.