The Paradox of unhappy liberals and happy conservatives, in happy welfare states
According to a new study, people living in more liberal countries are happier than people in more conservative countries; but paradoxically, people who consider themselves to be liberal are less happy than people who think of themselves as conservative, regardless of where they live. Why?
15 September, 2014
A new paper titled The Subjective Well-Being Political Paradox: Happy Welfare States and Unhappy Liberals published in the Journal of Applied Psychology, has found that people living in more liberal countries rate themselves as happier than do people living in more conservative countries; but paradoxically, people who consider themselves to be liberal are less happy than people who think of themselves as conservative, regardless of where they live.
---
The study looked at responses from 1,134,384 participants to the Mannheim Eurobarometer survey from 1970 to 2002 and contrasted this data with information from the World Bank and the Organisation for Economic Co-operation and Development (OECD). The researchers looked at sixteen European countries which were rated on liberalism based on factors including access to welfare, sickness benefits and unemployment compensation. Participants rated themselves on a scale of one to ten from left wing to right wing.
The results support previous work by political scientists and psychologists who have come to the same conclusions on a societal level and on an individual level respectively. In 2006 a Pew study of public opinion in the US found that 47% of Republicans  reported themselves to be "very happy" compared to just 28% of liberal democrats. Republicans have reported themselves to be happier than Democrats every single year since the general social survey began in 1972 and the relationship does not seem to be mediated by whether Democrats or Republicans are in power:
"Since 1972, the GOP happiness edge over Democrats has ebbed and flowed in a pattern that appears unrelated to which party is in political power." - Pew Research Center (2006)
It should be noted however, that the latest study only looks at data that runs until 2002, and there is some evidence that in the US at least, this pattern may now be changing - at least for the most extreme conservatives who have seen their happiness decline in more recent years.
The reasons for the "happiness gap" provide great fodder for discussion. According to a 2008 paper published in Psychological Science which looked at data from the US collected in the year 2000, the reasons might not be as straight forward as we might expect. The researchers considered a number of possible explanations and attempted to determine the reason for the phenomenon of happy conservatives by controlling for a range of factors ranging from income to religion.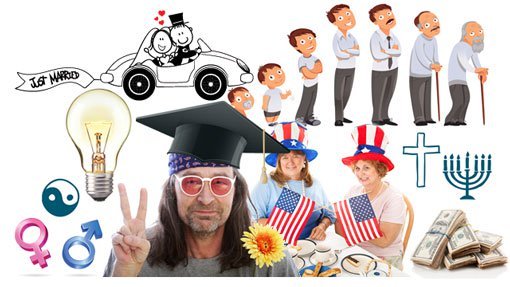 The obvious potential explanation was that conservatives are generally better off financially than liberals, though the researchers also considered gender, age, education, church attendance, need for cognition (the researchers reported a tendency in liberals to prefer difficult problems) and marital status - but none of these variables were found to explain the differences in reported happiness between conservatives and liberals. The researchers concluded that the variable responsible for the increased happiness found in conservatives was the tendency to rationalize inequality, as measured by high scoring answers to the following questions:
 ''This country would be better off if we worried less about how equal people are.''
''It is not really that big a problem if some people have more of a chance in life than others.''
The researchers behind the latest paper come to the same conclusion as the researchers behind the 2008 paper, writing:
"More conservative values help people rationalize the status quo, thereby buffering their SWB (subjective well-being) from the negative impact of any existing adverse societal conditions."
Conservatives, it seems, may be happier because they believe that people "get what they deserve", while liberals find it more difficult to be happy because they believe that life is unfair: 
"Those who are more politically conservative more readily accept and endorse the legitimacy of their social, political, and economic reality in spite of any adverse conditions within the nation in which they live. This acceptance and endorsement heuristic leads to the belief that individuals are responsible for their outcomes and, ultimately, get what they deserve."
Personally, I'm not entirely convinced the phenomenon can be placed quite so squarely on this one factor, but it's a compelling argument. Perhaps if we allow ourselves to forget our privileged place in this world and worry not about the unfairness of life, then we'd all be happier. Myself, I think I'd rather be a little less happy.
Related: Steven Mazie's Big Think post, which discusses the 2008 study. Check it out for some very relevant further discussion!
References
Napier J.L. (2008). Why Are Conservatives Happier Than Liberals?, Psychological Science, 19 (6) 565-572. DOI: http://dx.doi.org/10.1111/j.1467-9280.2008.02124.x
Okulicz-Kozaryn A. & Derek R. Avery (2014). The Subjective Well-Being Political Paradox: Happy Welfare States and Unhappy Liberals., Journal of Applied Psychology, DOI: http://dx.doi.org/10.1037/a0037654
Radcliff B. (2001). Politics, Markets, and Life Satisfaction: The Political Economy of Human Happiness, American Political Science Review, 95 (4) DOI: http://dx.doi.org/10.1017/cbo9781139344371
Follow Neurobonkers on Twitter, Facebook, RSS or join the mailing list. 
Image Credit: Shutterstock (Composite) 
Malcolm Gladwell teaches "Get over yourself and get to work" for Big Think Edge.
Big Think Edge
Learn to recognize failure and know the big difference between panicking and choking.

At Big Think Edge, Malcolm Gladwell teaches how to check your inner critic and get clear on what failure is.

Subscribe to Big Think Edge before we launch on March 30 to get 20% off monthly and annual memberships.
It's one of the most consistent patterns in the unviverse. What causes it?
Videos
Spinning discs are everywhere – just look at our solar system, the rings of Saturn, and all the spiral galaxies in the universe.
Spinning discs are the result of two things: The force of gravity and a phenomenon in physics called the conservation of angular momentum.
Gravity brings matter together; the closer the matter gets, the more it accelerates – much like an ice skater who spins faster and faster the closer their arms get to their body. Then, this spinning cloud collapses due to up and down and diagonal collisions that cancel each other out until the only motion they have in common is the spin – and voila: A flat disc.
It turns out, that tattoo ink can travel throughout your body and settle in lymph nodes.
17th August 1973: An American tattoo artist working on a client's shoulder. (Photo by F. Roy Kemp/BIPs/Getty Images)
popular
In the slightly macabre experiment to find out where tattoo ink travels to in the body, French and German researchers recently used synchrotron X-ray fluorescence in four "inked" human cadavers — as well as one without. The results of their 2017 study? Some of the tattoo ink apparently settled in lymph nodes.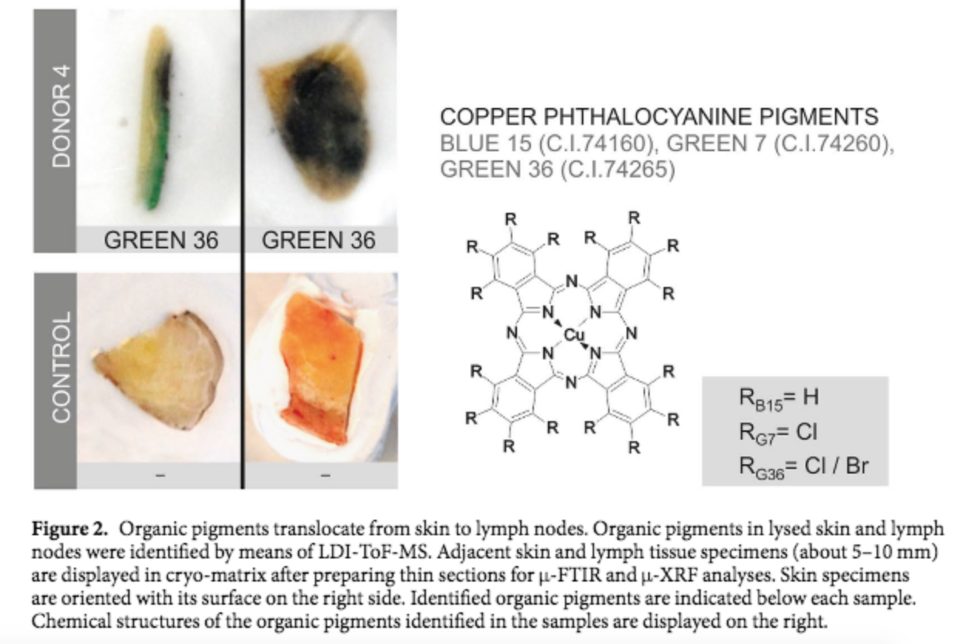 Image from the study.
As the authors explain in the study — they hail from Ludwig Maximilian University of Munich, the European Synchrotron Radiation Facility, and the German Federal Institute for Risk Assessment — it would have been unethical to test this on live animals since those creatures would not be able to give permission to be tattooed.
Because of the prevalence of tattoos these days, the researchers wanted to find out if the ink could be harmful in some way.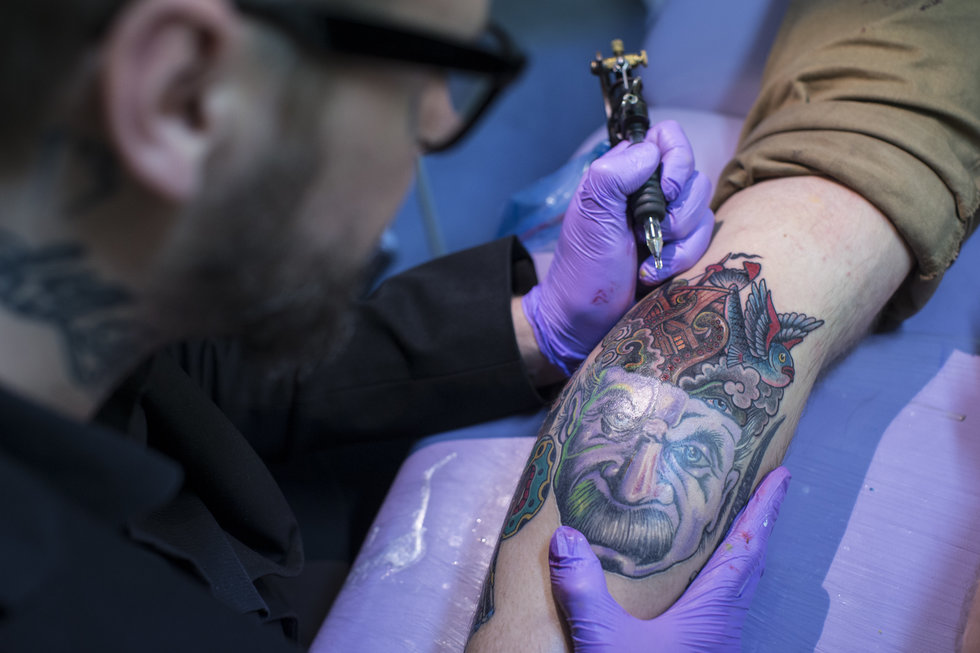 "The increasing prevalence of tattoos provoked safety concerns with respect to particle distribution and effects inside the human body," they write.
It works like this: Since lymph nodes filter lymph, which is the fluid that carries white blood cells throughout the body in an effort to fight infections that are encountered, that is where some of the ink particles collect.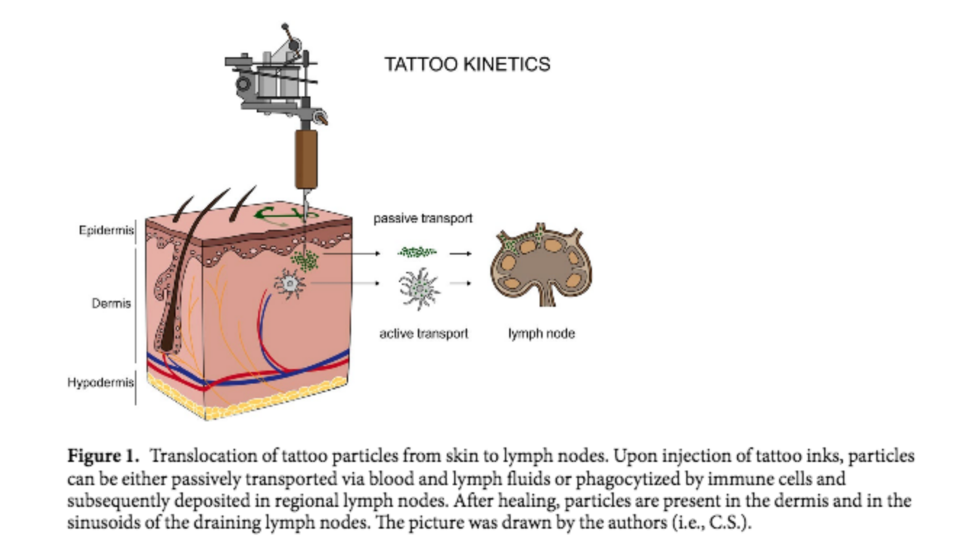 Image by authors of the study.
Titanium dioxide appears to be the thing that travels. It's a white tattoo ink pigment that's mixed with other colors all the time to control shades.
The study's authors will keep working on this in the meantime.
"In future experiments we will also look into the pigment and heavy metal burden of other, more distant internal organs and tissues in order to track any possible bio-distribution of tattoo ink ingredients throughout the body. The outcome of these investigations not only will be helpful in the assessment of the health risks associated with tattooing but also in the judgment of other exposures such as, e.g., the entrance of TiO2 nanoparticles present in cosmetics at the site of damaged skin."
Do you have a magnetic compass in your head?
Big think's weekly newsletter.
Get smarter faster from the comfort of your inbox.
See our newsletter privacy policy
here
Most Popular
Most Recent
Big think's weekly newsletter.
Get smarter faster from the comfort of your inbox.
See our newsletter privacy policy
here
© Copyright 2007-2018 & BIG THINK, BIG THINK EDGE,
SMARTER FASTER trademarks owned by The Big Think, Inc. All rights reserved.