No, Half of All Children Won't Be Autistic By 2025, Despite What Your Facebook Friends May Tell You
Why did an academic at MIT recently make the absurd claim that half of all children will be autistic by 2025?
Simon Oxenham
Simon Oxenham covers the best and the worst from the world of psychology and neuroscience. Formerly writing with the pseudonym "Neurobonkers", Simon has a history of debunking dodgy scientific research and tearing apart questionable science journalism in an irreverent style. Simon has written and blogged for publishers including: The Psychologist, Nature, Scientific American and The Guardian. His work has been praised in the New York Times and The Guardian and described in Pearson's Textbook of Psychology as "excoriating reviews of bad science/studies".
Follow Simon on Twitter
Like Simon on Facebook
Follow Simon on Google+
Subscribe via Email
Subscribe via RSS
Contact Simon directly by Email
07 January, 2015
A story that made the rounds on Facebook claimed "Half of All Children Will Be Autistic by 2025, Warns Senior Research Scientist at MIT". The research scientist in question was Stephanie Seneff, a computer scientist with no background in epidemiology, who gave a talk recently where she presented the following graph:
---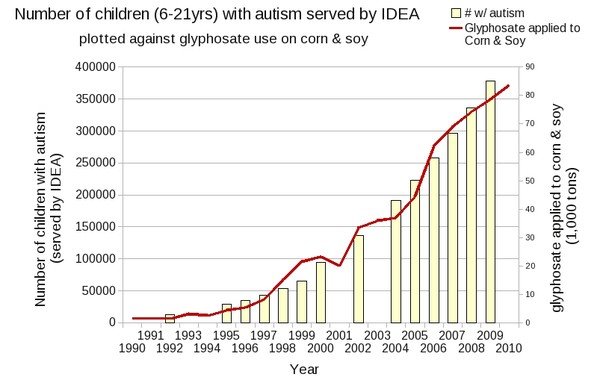 First things first. It doesn't take a genius to spot that this is clearly a textbook case of correlation not implying causation. As David Gorski notes in his comprehensive debunking, the similar illusory correlation between autism and organic food sales, shown below, somewhat blows Seneff's observation out of the water: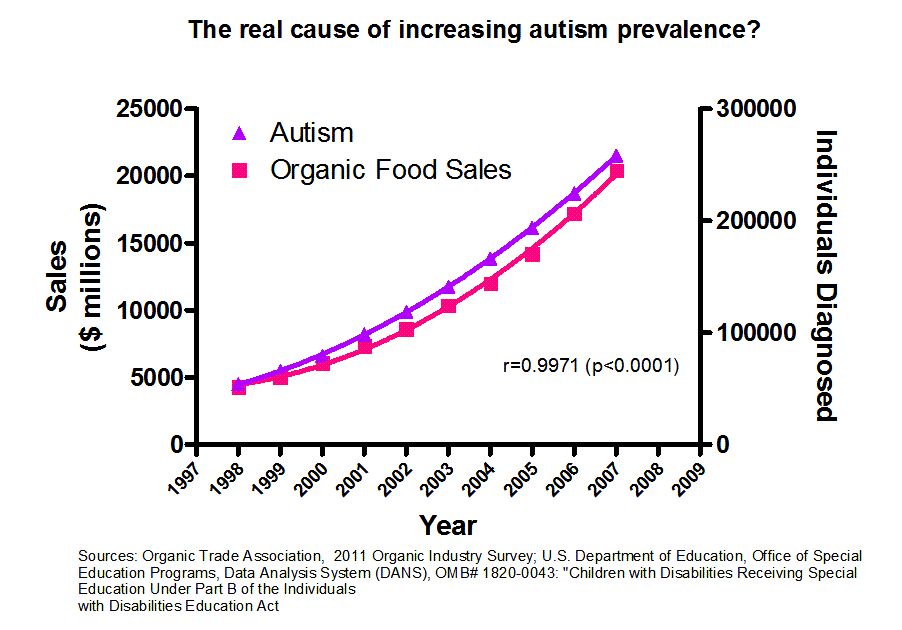 As for the headline claim that half of all children will be autistic by 2025, this claim blithely ignores the broad consensus that the increasing prevalence of autism is largely due to increasing rates of diagnosis and - as a new study has recently demonstrated changes in how autism is diagnosed. The baseless assumption that rates of autism diagnosis will continue into the stratosphere is dumbfounding. Gorski sums up the case well:
"Yes, she just extrapolates from current trends, assuming they'll continue indefinitely! It's almost as stupid as Julian Whitaker's mind-blowingly idiotic extrapolation that predicted that 100% of boys will be autistic by 2031, with 100% of all girls autistic by 2041. Almost. It's pretty close, though.
The bottom line is that the crank magnetism is strong in Dr. Seneff. She's antivaccine and anti-GMO. She is full of Dunning-Kruger, thinking that she can transfer her computer science and artificial intelligence knowledge to knowledge of epidemiology, biochemistry, and medicine. She can't."
The two articles linked at the beginning of this post already have over one hundred thousand Facebook shares each. I'll be interested to see how this post and Gorski's debunking compare. I'm not filled with confidence - as we've previously seen - posts debunking misinformation typically crash and burn when compared to the runaway-train speed with which misinformation can travel.
Follow Neurobonkers on Twitter, Facebook, Google+, RSS or join the mailing list. Image Credit: Shutterstock.
Image Credit: Shutterstock, Stephanie Seneff, Imgur
Science and the squishiness of the human mind. The joys of wearing whatever the hell you want, and so much more.
Think Again Podcasts
Why can't we have a human-sized cat tree?
What would happen if you got a spoonful of a neutron star?
Why do we insist on dividing our wonderfully complex selves into boring little boxes
Progressive America would be half as big, but twice as populated as its conservative twin.
Image: Dicken Schrader
Strange Maps
America's two political tribes have consolidated into 'red' and 'blue' nations, with seemingly irreconcilable differences.
Perhaps the best way to stop the infighting is to go for a divorce and give the two nations a country each
Based on the UN's partition plan for Israel/Palestine, this proposal provides territorial contiguity and sea access to both 'red' and 'blue' America
A guide to making difficult conversations possible—and peaceful—in an increasingly polarized nation.
Big think's weekly newsletter.
Get smarter faster from the comfort of your inbox.
See our newsletter privacy policy
here
Most Popular
Most Recent
Big think's weekly newsletter.
Get smarter faster from the comfort of your inbox.
See our newsletter privacy policy
here
© Copyright 2007-2018 & BIG THINK, BIG THINK EDGE,
SMARTER FASTER trademarks owned by The Big Think, Inc. All rights reserved.