Are public urinals putting the 'P' in Paris?
Oui oui, indeed.
14 August, 2018
Bonjour! Today we bring you news from a far-off land called "France", or as the French pronounce it, "Fronce". You may have heard of it due to its four most notable national exports: fries, kissing, art-house movies, and smoking past the age of 30. 
---
But its capital city, Paris, is in the news this week for an entirely different reason: they've installed public urinals on city streets so that people can, um, pee and go as they please. They look like mailboxes and are called "uritrottoirs"; the name is a combination of the French words for 'urinal' and 'sidewalk'. Perhaps the most contested one has been placed very close to the heavily-trafficked Notre Dame cathedral, while residents in upscale neighborhoods are balking at the idea of people taking a leak outside their door. 
If you need to use one... just walk up to it and unzip your pants and relieve yourself. It's that simple. The uritrottoirs are filled with hay and are used for composting once they're full. The design leaves little to the imagination—quite literally—since there's very little to hide the fact (or your penis) unless you step right up to the machine. Take a look for yourself. Nuanced, this ain't: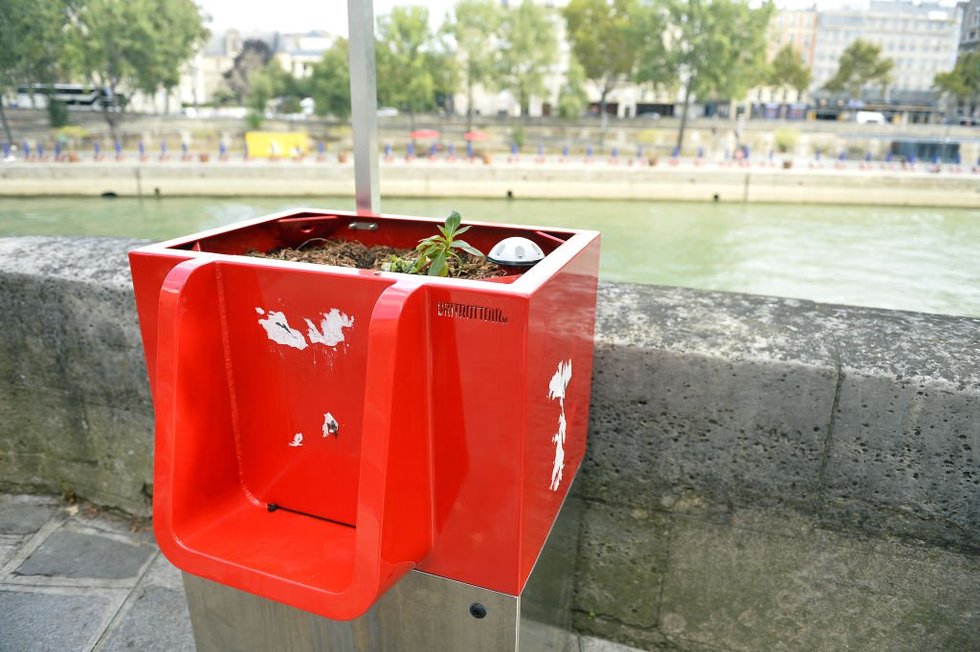 Aurelien Meunier/Getty Images
Sounds gross, doesn't it? It is... until you consider the fact that a lot of people, namely men (more on that in just a second), pee on the streets in Paris. Especially once the bars let out, and particularly after soccer games. So the city has taken the matter into their own, um, hands in order to clean up the streets. Contrary to popular belief, urine isn't sterile. While perhaps far less bacterial than germophobes might think, it does contains a whole host of microbiomes — and once out in public can become a breeding ground for bacteria. So maybe the whole "public whizzing" thing isn't as gross as it may seem. 
Another thing to note: these are only available for men... or extremely enterprising women. Is that sexist? Absolutely. French feminist Gwendoline Coipeault told Reuters: "They have been installed on a sexist proposition: men cannot control themselves and so all of society has to adapt." Indeed, this is a startling oversight. If half the population can't use one, is it really fair to everyone? 
Just do what I do: go to the fanciest restaurant and tell them you're meeting someone. Walk to the bathroom while pretending to look for someone. Go to the bathroom. Wash hands. Leave without saying anything or making eye contact. You'll be amazed how far confidence and a smile can get you in this world, especially when you lower the bar enough to just finding a good bathroom while you're walking around a big city. 
Either way, looks like the uritrottiors are here to stay. At least right now we've got lots of footage of news crews filming men peeing. Here's to journalism in 2018! 
Antimicrobial resistance is growing worldwide, rendering many "work horse" medicines ineffective. Without intervention, drug-resistant pathogens could lead to millions of deaths by 2050. Thankfully, companies like Pfizer are taking action.
Image courtesy of Pfizer.
Antimicrobial-resistant pathogens are one of the largest threats to global health today.
As we get older, our immune systems age, increasing our risk of life threatening infections. Without reliable antibiotics, life expectancy could decline for the first time in modern history.
If antibiotics become ineffective, common infections could result in hospitalization or even death. Life-saving interventions like cancer treatments and organ transplantation would become more difficult, more often resulting in death. Routine procedures would become hard to perform.
Without intervention, resistant pathogens could result in 10 million annual deaths by 2050.
By taking a multi-faceted approach—inclusive of adherence to good stewardship, surveillance and responsible manufacturing practices, as well as an emphasis on prevention and treatment—companies like Pfizer are fighting to help curb the spread.
Sponsored
Entrepreneur and author Andrew Horn shares his rules for becoming an assured conversationalist.
content.jwplatform.com
Videos
To avoid basing action on external validation, you need to find your "authentic voice" and use it.
Finding your voice requires asking the right questions of yourself.
There are 3-5 questions that you would generally want to ask people you are talking to.
Sarco assisted suicide pods come in three different styles, and allow you to die quickly and painlessly. They're even quite beautiful to look at.
The Sarco assisted suicide pod
Technology & Innovation
Death: it happens to everyone (except, apparently, Keanu Reeves). But while the impoverished and lower-class people of the world die in the same ol' ways—cancer, heart disease, and so forth—the upper classes can choose hip and cool new ways to die. Now, there's an assisted-suicide pod so chic and so stylin' that peeps (young people still say peeps, right?) are calling it the "Tesla" of death... it's called... the Sarco! 
Swiss researchers identify new dangers of modern cocaine.
Getty Images
Mind & Brain
Cocaine cut with anti-worming adulterant levamisole may cause brain damage.
Levamisole can thin out the prefrontal cortex and affect cognitive skills.
Government health programs should encourage testing of cocaine for purity.
Big think's weekly newsletter.
Get smarter faster from the comfort of your inbox.
See our newsletter privacy policy
here
Most Popular
Most Recent
Big think's weekly newsletter.
Get smarter faster from the comfort of your inbox.
See our newsletter privacy policy
here
© Copyright 2007-2018 & BIG THINK, BIG THINK EDGE,
SMARTER FASTER trademarks owned by The Big Think, Inc. All rights reserved.