Are public urinals putting the 'P' in Paris?
Oui oui, indeed.
14 August, 2018
Bonjour! Today we bring you news from a far-off land called "France", or as the French pronounce it, "Fronce". You may have heard of it due to its four most notable national exports: fries, kissing, art-house movies, and smoking past the age of 30. 
---
But its capital city, Paris, is in the news this week for an entirely different reason: they've installed public urinals on city streets so that people can, um, pee and go as they please. They look like mailboxes and are called "uritrottoirs"; the name is a combination of the French words for 'urinal' and 'sidewalk'. Perhaps the most contested one has been placed very close to the heavily-trafficked Notre Dame cathedral, while residents in upscale neighborhoods are balking at the idea of people taking a leak outside their door. 
If you need to use one... just walk up to it and unzip your pants and relieve yourself. It's that simple. The uritrottoirs are filled with hay and are used for composting once they're full. The design leaves little to the imagination—quite literally—since there's very little to hide the fact (or your penis) unless you step right up to the machine. Take a look for yourself. Nuanced, this ain't: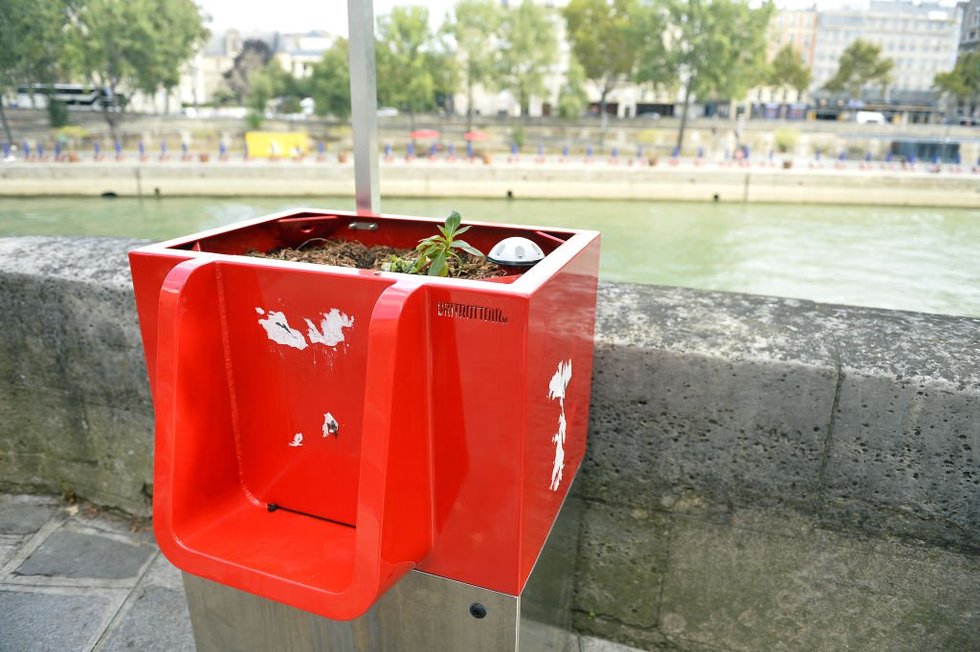 Aurelien Meunier/Getty Images
Sounds gross, doesn't it? It is... until you consider the fact that a lot of people, namely men (more on that in just a second), pee on the streets in Paris. Especially once the bars let out, and particularly after soccer games. So the city has taken the matter into their own, um, hands in order to clean up the streets. Contrary to popular belief, urine isn't sterile. While perhaps far less bacterial than germophobes might think, it does contains a whole host of microbiomes — and once out in public can become a breeding ground for bacteria. So maybe the whole "public whizzing" thing isn't as gross as it may seem. 
Another thing to note: these are only available for men... or extremely enterprising women. Is that sexist? Absolutely. French feminist Gwendoline Coipeault told Reuters: "They have been installed on a sexist proposition: men cannot control themselves and so all of society has to adapt." Indeed, this is a startling oversight. If half the population can't use one, is it really fair to everyone? 
Just do what I do: go to the fanciest restaurant and tell them you're meeting someone. Walk to the bathroom while pretending to look for someone. Go to the bathroom. Wash hands. Leave without saying anything or making eye contact. You'll be amazed how far confidence and a smile can get you in this world, especially when you lower the bar enough to just finding a good bathroom while you're walking around a big city. 
Either way, looks like the uritrottiors are here to stay. At least right now we've got lots of footage of news crews filming men peeing. Here's to journalism in 2018! 
Malcolm Gladwell teaches "Get over yourself and get to work" for Big Think Edge.
Big Think Edge
Learn to recognize failure and know the big difference between panicking and choking.

At Big Think Edge, Malcolm Gladwell teaches how to check your inner critic and get clear on what failure is.

Subscribe to Big Think Edge before we launch on March 30 to get 20% off monthly and annual memberships.
Can sensitive coral reefs survive another human generation?
Videos
Coral reefs may not be able to survive another human decade because of the environmental stress we have placed on them, says author David Wallace-Wells. He posits that without meaningful changes to policies, the trend of them dying out, even in light of recent advances, will continue.
The World Wildlife Fund says that 60 percent of all vertebrate mammals have died since just 1970. On top of this, recent studies suggest that insect populations may have fallen by as much as 75 percent over the last few decades.
If it were not for our oceans, the planet would probably be already several degrees warmer than it is today due to the emissions we've expelled into the atmosphere.
They didn't know it, but the rituals of Iron Age Scandinavians turned their iron into steel.
Shutterstock
Culture & Religion
Iron Age Scandinavians only had access to poor quality iron, which put them at a tactical disadvantage against their neighbors.
To strengthen their swords, smiths used the bones of their dead ancestors and animals, hoping to transfer the spirit into their blades.
They couldn't have known that in so doing, they actually were forging a rudimentary form of steel.
Michael Dowling, Northwell Health's CEO, believes we're entering the age of smart medicine.
Sponsored by Northwell Health
The United States health care system has much room for improvement, and big tech may be laying the foundation for those improvements.
Technological progress in medicine is coming from two fronts: medical technology and information technology.
As information technology develops, patients will become active participants in their health care, and value-based care may become a reality.
Big think's weekly newsletter.
Get smarter faster from the comfort of your inbox.
See our newsletter privacy policy
here
Most Popular
Most Recent
Big think's weekly newsletter.
Get smarter faster from the comfort of your inbox.
See our newsletter privacy policy
here
© Copyright 2007-2018 & BIG THINK, BIG THINK EDGE,
SMARTER FASTER trademarks owned by The Big Think, Inc. All rights reserved.