Are public urinals putting the 'P' in Paris?
Oui oui, indeed.
14 August, 2018
Bonjour! Today we bring you news from a far-off land called "France", or as the French pronounce it, "Fronce". You may have heard of it due to its four most notable national exports: fries, kissing, art-house movies, and smoking past the age of 30. 
---
But its capital city, Paris, is in the news this week for an entirely different reason: they've installed public urinals on city streets so that people can, um, pee and go as they please. They look like mailboxes and are called "uritrottoirs"; the name is a combination of the French words for 'urinal' and 'sidewalk'. Perhaps the most contested one has been placed very close to the heavily-trafficked Notre Dame cathedral, while residents in upscale neighborhoods are balking at the idea of people taking a leak outside their door. 
If you need to use one... just walk up to it and unzip your pants and relieve yourself. It's that simple. The uritrottoirs are filled with hay and are used for composting once they're full. The design leaves little to the imagination—quite literally—since there's very little to hide the fact (or your penis) unless you step right up to the machine. Take a look for yourself. Nuanced, this ain't: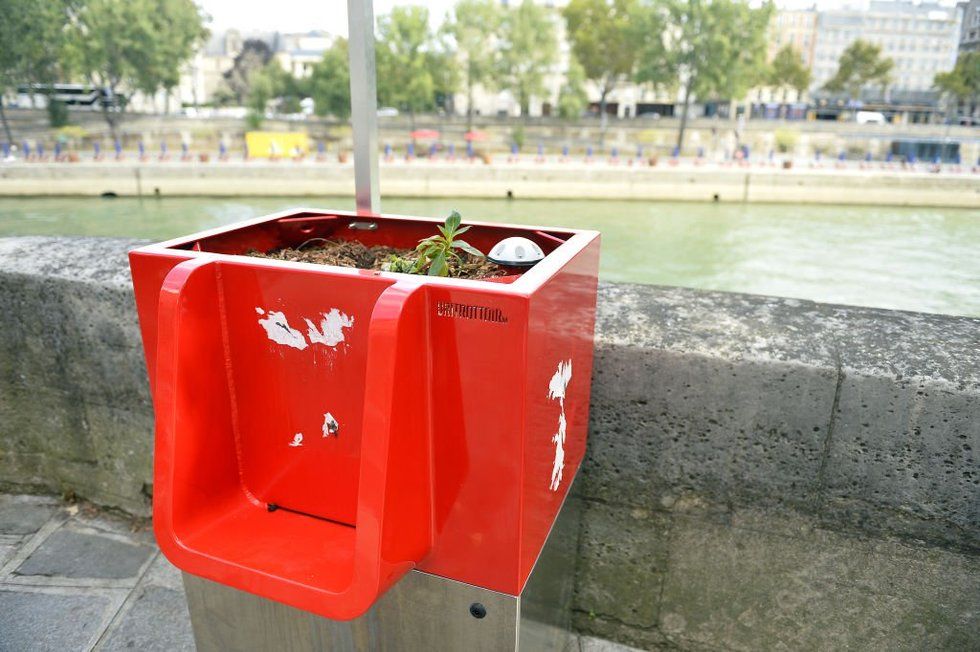 Aurelien Meunier/Getty Images
Sounds gross, doesn't it? It is... until you consider the fact that a lot of people, namely men (more on that in just a second), pee on the streets in Paris. Especially once the bars let out, and particularly after soccer games. So the city has taken the matter into their own, um, hands in order to clean up the streets. Contrary to popular belief, urine isn't sterile. While perhaps far less bacterial than germophobes might think, it does contains a whole host of microbiomes — and once out in public can become a breeding ground for bacteria. So maybe the whole "public whizzing" thing isn't as gross as it may seem. 
Another thing to note: these are only available for men... or extremely enterprising women. Is that sexist? Absolutely. French feminist Gwendoline Coipeault told Reuters: "They have been installed on a sexist proposition: men cannot control themselves and so all of society has to adapt." Indeed, this is a startling oversight. If half the population can't use one, is it really fair to everyone? 
Just do what I do: go to the fanciest restaurant and tell them you're meeting someone. Walk to the bathroom while pretending to look for someone. Go to the bathroom. Wash hands. Leave without saying anything or making eye contact. You'll be amazed how far confidence and a smile can get you in this world, especially when you lower the bar enough to just finding a good bathroom while you're walking around a big city. 
Either way, looks like the uritrottiors are here to stay. At least right now we've got lots of footage of news crews filming men peeing. Here's to journalism in 2018! 
What can 3D printing do for medicine? The "sky is the limit," says Northwell Health researcher Dr. Todd Goldstein.
Northwell Health
Sponsored by Northwell Health
Medical professionals are currently using 3D printers to create prosthetics and patient-specific organ models that doctors can use to prepare for surgery.
Eventually, scientists hope to print patient-specific organs that can be transplanted safely into the human body.
Northwell Health, New York State's largest health care provider, is pioneering 3D printing in medicine in three key ways.
An ordained Lama in a Tibetan Buddhist lineage, Lama Rod grew up a queer, black male within the black Christian church in the American south. Navigating all of these intersecting, evolving identities has led him to a life's work based on compassion for self and others.
Think Again Podcasts
"What I'm interested in is deep, systematic change. What I understand now is that real change doesn't happen until change on the inside begins to happen."
"Masculinity is not inherently toxic. Patriarchy is toxic. We have to let that energy go so we can stop forcing other people to do emotional labor for us."
We were gaining three IQ points per decade for many, many years. Now, that's going backward. Could this explain some of our choices lately?
The Flynn effect appears to be in retrograde. (Credit: Shutterstock/Big Think)
popular
There's a new study out of Norway that indicates our—well, technically, their—IQs are shrinking, to the tune of about seven IQ points per generation.
Here's why generalists triumph over specialists in the new era of innovation.
Videos
Since the explosion of the knowledge economy in the 1990s, generalist inventors have been making larger and more important contributions than specialists.
One theory is that the rise of rapid communication technologies allowed the information created by specialists to be rapidly disseminated, meaning generalists can combine information across disciplines to invent something new.
Here, David Epstein explains how Nintendo's Game Boy was a case of "lateral thinking with withered technology." He also relays the findings of a fascinating study that found the common factor of success among comic book authors.
Big think's weekly newsletter.
Get smarter faster from the comfort of your inbox.
See our newsletter privacy policy
here
Most Popular
Most Recent
Big think's weekly newsletter.
Get smarter faster from the comfort of your inbox.
See our newsletter privacy policy
here
© Copyright 2007-2019 & BIG THINK, BIG THINK EDGE,
SMARTER FASTER trademarks owned by The Big Think, Inc. All rights reserved.