SuitX Is Advancing the Possibilities of Living after Injury in a Major Way
SuitX, a robotics company out of California, is making it possible for the injured to walk again. Exoskeletons are the next step in health care technology, advancing medical science beyond wheelchairs.
03 February, 2016
---
For someone bound to a wheelchair, walking could seem like an unbelievable goal. But developments in robotics, particularly exoskeletons, are making a number of impossibilities seem like a thing of the past. The exoskeleton is the next step, giving people who could otherwise not walk a way to get back their independence.
"We can't really fix their disease. We can't fix their injury. But what it would do is postpone the secondary injuries due to sitting," says SuitX founder and CEO Homayoon Kazerooni. "It gives a better quality of life."
SuitX is a robotics company working out of University of California, Berkeley. Kazerooni explained he started SuitX with a group of graduate students "to develop low-cost consumer bionic products to improve the quality of life for people around the world."
The company's passion has paid off. After years of development, SuitX launched its Phoenix exoskeleton. The bionic suit is adjustable to fit the wearer's unique measurements and allows for up to four hours of continuous walking at a max speed of 1.1 miles per hour. It's powered by a battery worn as a backpack. The Phoenix weighs 27 pounds and costs $40,000, making it one of the lightest and cheapest exoskeletons on the market.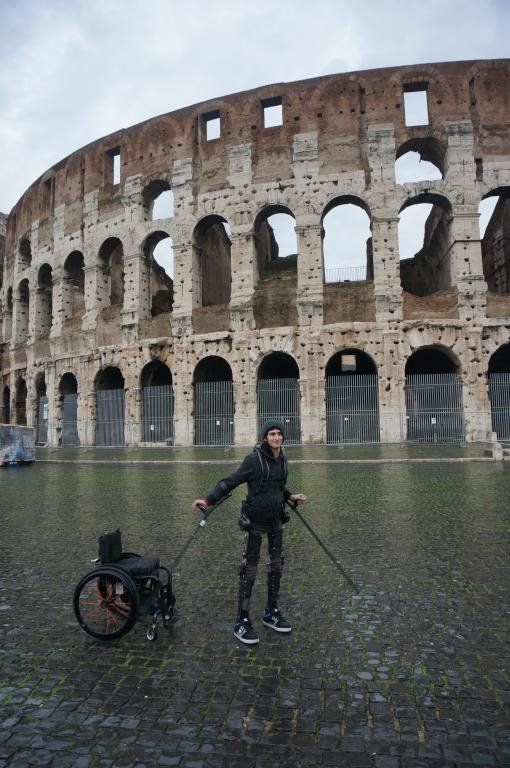 The goal is to go a step beyond the wheelchair to create the independence we know robotics can provide for the next generation. In addition, exoskeletons would help prevent the secondary injuries that result from sitting in a wheelchair for prolonged periods of time.
The Phoenix shows costs are coming down and advancements are being made in the field. Interest from military and industrial groups to create power-suits for enhancing natural human strength will help propel it forward. And SuitX's wheelchair-bound clients with be the beneficiaries.
There's a lot to look forward to in the coming years, and seeing those bound to a wheelchair become untethered and independent would be a welcome sight. We're living in exciting times.
***
Photo Credit: US Bionics
Natalie has been writing professionally for about 6 years. After graduating from Ithaca College with a degree in Feature Writing, she snagged a job at PCMag.com where she had the opportunity to review all the latest consumer gadgets. Since then she has become a writer for hire, freelancing for various websites. In her spare time, you may find her riding her motorcycle, reading YA novels, hiking, or playing video games. Follow her on Twitter: @nat_schumaker
What makes a life worth living as you grow older?
Culture & Religion
Dr. Ezekiel Emanuel revisits his essay on wanting to die at 75 years old.
The doctor believes that an old life filled with disability and lessened activity isn't worth living.
Activists believe his argument stinks of ageism, while advances in biohacking could render his point moot.
The Amazon Rainforest is often called "The Planet's Lungs."
NASA
Politics & Current Affairs
For weeks, fires have been burning in the Amazon rainforest in Brazil, likely started by farmers and ranchers.
Brazil's president, Jair Bolsonaro, has blamed NGOs for starting the flames, offering no evidence to support the claim.
There are small steps you can take to help curb deforestation in the Amazon rainforest, which produces about 20 percent of the world's oxygen.
Emojis might contain more emotional information than meets the eye.
Pixabay
Sex & Relationships
A new study shows that people who frequently used emojis in text messages with potential dates engaged in more sexual activity and had more contact with those dates.
However, the study only shows an association; it didn't establish causality.
The authors suggest that emojis might help to convey nuanced emotional information that's lacking in strictly text-based messaging.