Yale Study: People Who Read Live Longer Than Those Who Don't
The benefits of reading should not be understated, even when it comes to living a longer life. A new study finds that reading books in particular returns cognitive gains that increase longevity.
09 August, 2016
---
Bookworms rejoice! A new study in the journal Social Science and Medicine just discovered that people who read books live longer than people who don't.
Researchers at Yale University asked 3,635 participants over 50 years-old about their reading habits. From that data, they split the cohort into 3 groups: non-readers, people who read less than 3.5 hours per week, and people who read more than 3.5 hours per week. The researchers followed up with each group for 12 years. The people who read the most were college-educated women in the higher-income group.
Over the course of the study, the researchers consistently found that both groups of readers lived longer than the non-readers. The readers who read over 3.5 hours a week lived a full 23 months longer than the people who didn't read at all. That extended lifespan applied to all reading participants, regardless of "gender, wealth, education or health" factors, the study explains. That's a 20% reduction in mortality created by a sedentary activity. That's a big deal, and a very easy fix for improving quality of life in anyone over 50.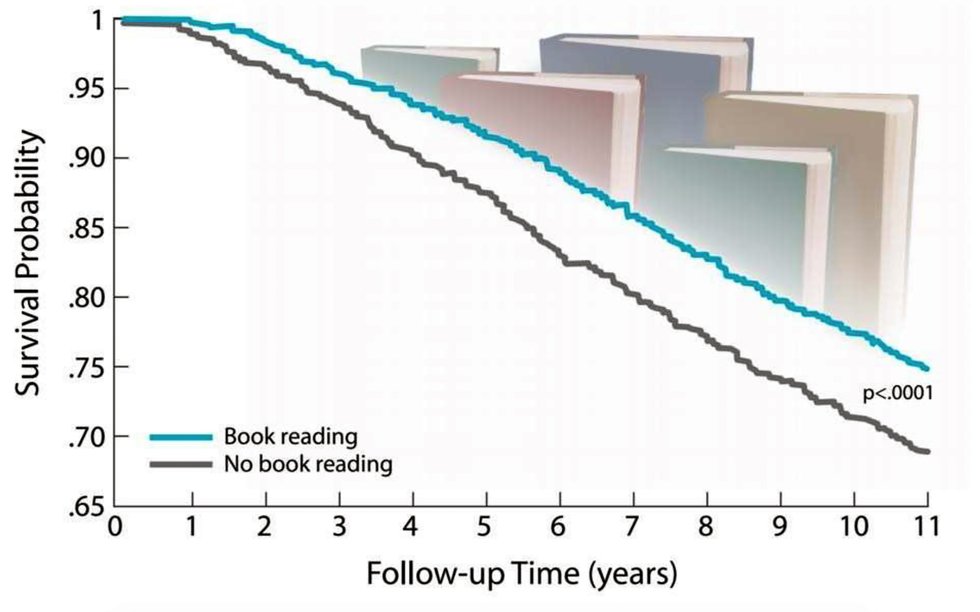 Credit: Social Science and Medicine
The results get better. "Compared to non-book readers," the authors continue, "book readers had a 4-month survival advantage," at the age when 20% of their peers passed away. "Book readers also experienced a 20% reduction in risk of mortality over the 12 years of follow up compared to non-book readers." The authors continue:
"Further, our analyses demonstrated that any level of book reading gave a significantly stronger survival advantage than reading periodicals. This is a novel finding, as previous studies did not compare types of reading material; it indicates that book reading rather than reading in general is driving a survival advantage."
The reason books had greater gains than periodicals is because book reading involves more cognitive faculties. The readers didn't begin with higher cognitive faculties than the non-readers; they simply engaged in the activity of reading, which heightened those faculties. "This finding suggests that reading books provide a survival advantage due to the immersive nature that helps maintain cognitive status," said the study's authors.
As any book lover knows, reading involves two major cognitive processes: deep reading, and emotional connection. Deep reading is a slow process where the reader engages with the book and seeks to understand it within its own context and within the context of the outside world. Emotional connection is where the reader empathizes with the characters, and that promotes social perception and emotional intelligence. Those cognitive processes were cited by the Yale team and used as markers for this study. While they apparently offer a survival advantage, "better health behaviors and reduced stress may explain this process [as well]," according to the study. Still, those cognitive benefits are real, as writer Nicholas Sparr explains:
All the data was self-reported via phone survey and it didn't really account for ebooks, but it's still encouraging. There are no real downsides to reading, other than making the time for it. But if you're not convinced and would rather have John Green teach you literature instead of reading the classics for yourself, philosopher and Yale University Dean Jeffrey Brenzel lays out 5 additional pro-reading benefits for you:
Happy reading!
Related Articles
There's a growing understanding that drawing is much more than an art form: it's a powerful tool for learning.
(GoaShape via Unsplash)
Mind & Brain
We often think of drawing as something that takes innate talent, but this kind of thinking stems from our misclassification of drawing as, primarily, an art form rather than a tool for learning.
Researchers, teachers, and artists are starting to see how drawing can positively impact a wide variety of skills and disciplines.
Drawing is not an innate gift; rather, it can be taught and developed. Doing so helps people to perceive the world more accurately, remember facts better, and understand their world from a new perspective.
It may be simpler than we thought.
(Anna Palm de Rosa, Public Domain)
Surprising Science
An analysis of a massive amount of data reveals four new personality types.
The study is the first to take self-reporting out of the equation.
The four new types are "average," "reserved," "self-centered," and "role model".
Despite its prominence in our collective imagination, variations in metabolism play a minor role in obesity.
Photo: Science Photo Library
Surprising Science
Vox senior health correspondent Julia Belluz spent a day inside of a metabolic chamber at the National Institutes of Health Clinical Center.
Her 90 minutes on stationary cycle only burned 405 calories, just 17% of the day's total calories.
Resting metabolism uses up the bulk of the body's energy.
Big think's weekly newsletter.
Get smarter faster from the comfort of your inbox.
See our newsletter privacy policy
here
Most Popular
Most Recent
Big think's weekly newsletter.
Get smarter faster from the comfort of your inbox.
See our newsletter privacy policy
here
© Copyright 2007-2018 & BIG THINK, BIG THINK EDGE,
SMARTER FASTER trademarks owned by The Big Think, Inc. All rights reserved.