Big ideas.
Once a week.
Subscribe to our weekly newsletter.
How augmented reality will make street art come to life
A moving mural by street artist Eduardo Kobra is one of the first fruits of a revolution about to take the art world by storm.
14 June, 2018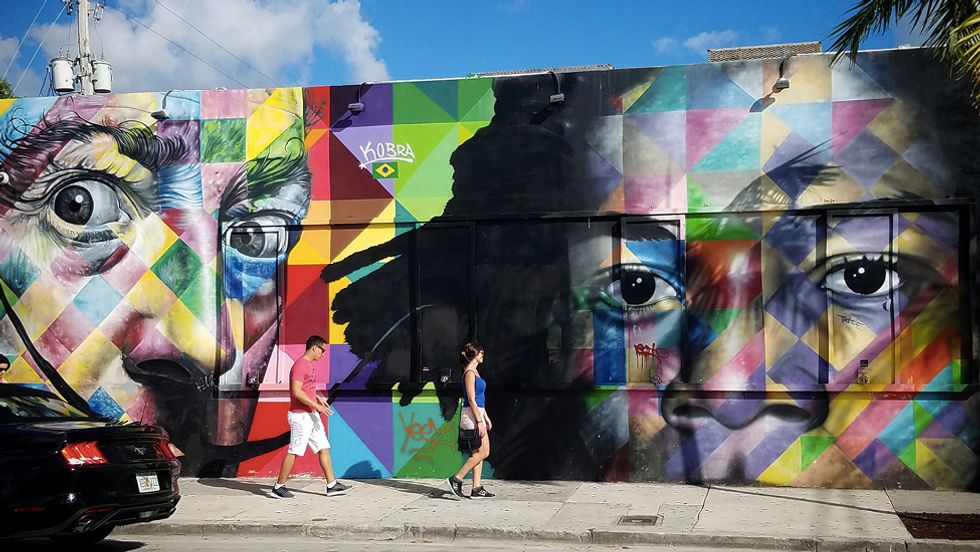 Eduardo Kobra's ARt Salvador Dali mural in Miami, Florida. (Photo: Mussa)
Amid vagabonding taco trucks and art galleries, in Miami's sunny art district, Wynwood, there are blocks and blocks of mural-embossed buildings. It's a neighborhood with fantastic imagery only limited to an artist's imagination. It's also a community that is using technology in an unprecedented way to engage smartphone-distracted passersby.
---
Indeed, it's here, among walls that have borne murals of Yoda wielding a "Stop Wars" sign and an elephant with a swaying bouquet of tentacle-like trunks, that a curious new spray-painted mural has been beguiling locals and visitors alike for months. If Miami creatives are right, then this particular work, by street artist Eduardo Kobra, is one of the first fruits of a revolution about to take the art world by storm.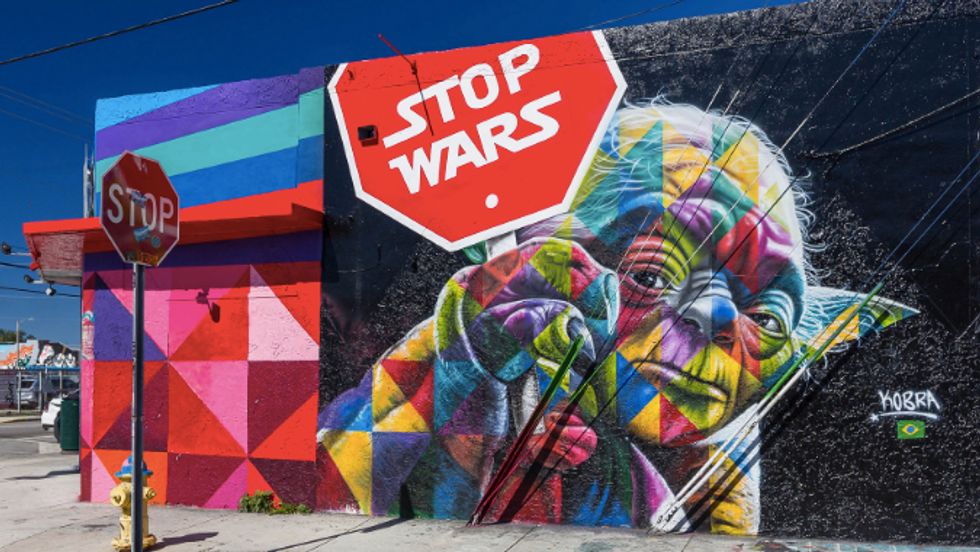 A panel from Eduardo Kobra's 80-meter mural 'Give peace a Chance' (2015) in Miami, Florida. (Credit: Eduardo Kobra)
Fittingly, one of the subjects of the massive mural, emblazoned on the exterior of a restaurant named R House, is Salvador Dali. With a surprised gaze, the surrealist looks on with a rainbow-checkered pattern across his face. The mural already looks bold and vibrant, much like the other works across the neighborhood. It's not like every other mural, though. When an in-the-know passerby points their smartphone to the work the image becomes animated via augmented reality.
On the phone's screen, the colorful blocks begin to be swept away, as though by the wind, revealing a black-and-white checkered underlayer. It's in this grayscale scene that a butterfly with ultraviolet wings flits and rests on Dali's cheek, sending his eyes into rolling excitement. To the naked eye, the mural is static, immutable, but with AR the image is placed within a dynamic scene.
South Florida-based artists, such as Luis Valle, who has spraypainted murals across Miami, say this particular intersection of technology and art is thrilling. Valle believes AR will help creatives better connect their work with onlookers because of its ability to make art more evocative.  
"The technology is brand new and only the beginning. What we can do with it is only limited to what we can think up," Valle tells Big Think. "It definitely does enliven the art experience. Everyone has a smartphone these days and with AR you can add many added elements to an art piece. You can add sound, motion and 3D elements to the experience, which affects more of your senses."
Dubbed 'ARt', pieces where augmented reality and art converge aren't just bringing passersby together in wide-eyed clusters, they're also bringing artists closer to their tech-savvy counterparts. For instance, when Valle decided to make new business cards, he collaborated with the AR team that brought Kobra's mural into motion, Mussa. The result? Cards and promotional posters that, when viewed on the company's app, conjure up one of Valle's characters, El Shamansito—a skull-faced demigod, of sorts.
"So far my experience has been with my logo and character, El Shamansito," Valle says. "With this, I worked with the AR team as far as telling them what I would like to see happen with my character as it comes out of my logo. We talked about motion and sound, as well as effects. Then there was the actual modeling part. I had to work with them by showing 2D samples of the character so that the 3D graphics team could turn the character into a 3D model with animation around. There were a few modifications and adjustments but we got to a place where we felt pleased with the results."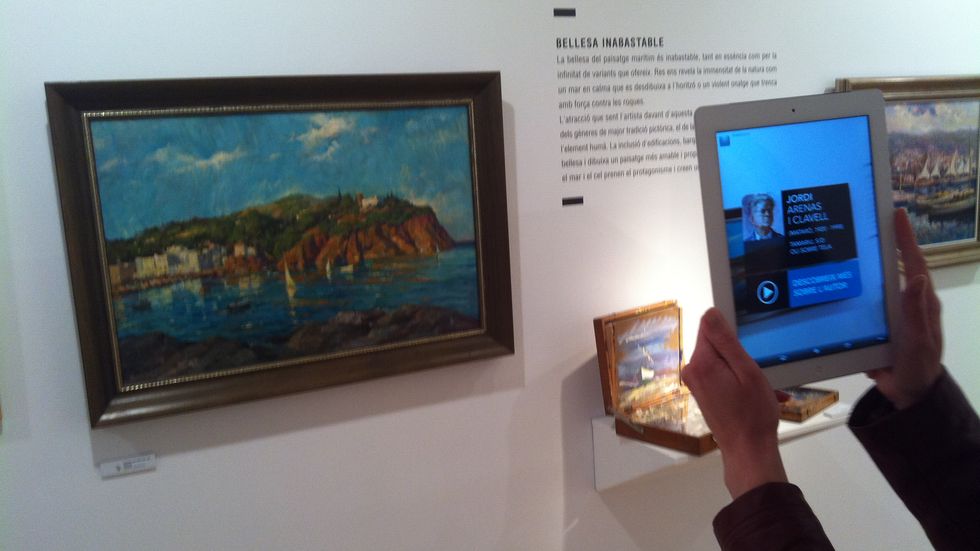 Augmented reality at Museu de Mataró, an example of how AR can enhance the museum experience. (Wikimedia Commons)
As the collaboration process becomes increasingly streamlined, ARt may begin to pop up, en masse, in other cities across the United States—and the world. Not just in New York galleries and trendy events such as Art Basel, but just like Pokémon gave people the motivation to traverse their hometowns, and discover new spots, ARt is expected to give people an initiative to discover what dynamic visuals the street art in their neighborhoods may be quietly hiding.
"The technology is poised to become an integral aspect of how we interact with our environment, and allows us to connect individuals with their communities through AR experiences created around public art," says Leon Posada, who co-founded Mussa two years ago with his friend Ignacio Montes. "The technology has the potential to turn individuals from passive observers to active participants."
However, there are still some criticisms of the emerging technology's liaison with art. Shoshana Resnikoff, curator of Miami Beach's Wolfsonian-FIU Museum, believes augmented reality's success in the art world depends on whether the experiences arouse people's interest in the world around them.
"I'm definitely intrigued by the potential of AR to reach people who are otherwise engaged in their phones, but it's also important to remember that one of the most valuable aspects of art is its ability to pull us away from our daily distractions and get us looking and thinking differently about the world around us," Resnikoff tells Big Think. "Experiencing the art itself through the phone may or may not impact that—it's all about how it's implemented."
This said, Resnikoff foresees a future in which fine ARt—as opposed to visual gimmicks—will be a supplement to in-depth art interpretation rather than a replacement of it. "When applied thoughtfully, AR can provide valuable context to art and objects in a gallery environment or a public space, helping visitors to understand art experientially, not just through a static viewing experience," she says.
So long as the augmented reality component remains thoughtful, centered on expanding a work's experience, then ARt may literally change how we view and experience art. The ultimate goal? Getting people excited about checking out museums, galleries, and their neighborhood streets. "Now that artists are integrating new technologies like AR and VR into their work," says Posada, "the sky is the limit as to how far we can go as an art community."
Certain water beetles can escape from frogs after being consumed.
Surprising Science
A Japanese scientist shows that some beetles can wiggle out of frog's butts after being eaten whole.
The research suggests the beetle can get out in as little as 7 minutes.
Most of the beetles swallowed in the experiment survived with no complications after being excreted.
In what is perhaps one of the weirdest experiments ever that comes from the category of "why did anyone need to know this?" scientists have proven that the Regimbartia attenuata beetle can climb out of a frog's butt after being eaten.
The research was carried out by Kobe University ecologist Shinji Sugiura. His team found that the majority of beetles swallowed by black-spotted pond frogs (Pelophylax nigromaculatus) used in their experiment managed to escape about 6 hours after and were perfectly fine.
"Here, I report active escape of the aquatic beetle R. attenuata from the vents of five frog species via the digestive tract," writes Sugiura in a new paper, adding "although adult beetles were easily eaten by frogs, 90 percent of swallowed beetles were excreted within six hours after being eaten and, surprisingly, were still alive."
One bug even got out in as little as 7 minutes.

Sugiura also tried putting wax on the legs of some of the beetles, preventing them from moving. These ones were not able to make it out alive, taking from 38 to 150 hours to be digested.
Naturally, as anyone would upon encountering such a story, you're wondering where's the video. Thankfully, the scientists recorded the proceedings:
The Regimbartia attenuata beetle can be found in the tropics, especially as pests in fish hatcheries. It's not the only kind of creature that can survive being swallowed. A recent study showed that snake eels are able to burrow out of the stomachs of fish using their sharp tails, only to become stuck, die, and be mummified in the gut cavity. Scientists are calling the beetle's ability the first documented "active prey escape." Usually, such travelers through the digestive tract have particular adaptations that make it possible for them to withstand extreme pH and lack of oxygen. The researchers think the beetle's trick is in inducing the frog to open a so-called "vent" controlled by the sphincter muscle.
"Individuals were always excreted head first from the frog vent, suggesting that R. attenuata stimulates the hind gut, urging the frog to defecate," explains Sugiura.
For more information, check out the study published in Current Biology.
Are "humanized" pigs the future of medical research?
Surprising Science
In recent years, our team at Iowa State University has found a way to make pigs an even closer stand-in for humans. We have successfully transferred components of the human immune system into pigs that lack a functional immune system. This breakthrough has the potential to accelerate medical research in many areas, including virus and vaccine research, as well as cancer and stem cell therapeutics.
Existing biomedical models
Severe Combined Immunodeficiency, or SCID, is a genetic condition that causes impaired development of the immune system. People can develop SCID, as dramatized in the 1976 movie "The Boy in the Plastic Bubble." Other animals can develop SCID, too, including mice.
Researchers in the 1980s recognized that SCID mice could be implanted with human immune cells for further study. Such mice are called "humanized" mice and have been optimized over the past 30 years to study many questions relevant to human health.
Mice are the most commonly used animal in biomedical research, but results from mice often do not translate well to human responses, thanks to differences in metabolism, size and divergent cell functions compared with people.
Nonhuman primates are also used for medical research and are certainly closer stand-ins for humans. But using them for this purpose raises numerous ethical considerations. With these concerns in mind, the National Institutes of Health retired most of its chimpanzees from biomedical research in 2013.
Alternative animal models are in demand.
Swine are a viable option for medical research because of their similarities to humans. And with their widespread commercial use, pigs are met with fewer ethical dilemmas than primates. Upwards of 100 million hogs are slaughtered each year for food in the U.S.
Humanizing pigs
In 2012, groups at Iowa State University and Kansas State University, including Jack Dekkers, an expert in animal breeding and genetics, and Raymond Rowland, a specialist in animal diseases, serendipitously discovered a naturally occurring genetic mutation in pigs that caused SCID. We wondered if we could develop these pigs to create a new biomedical model.
Our group has worked for nearly a decade developing and optimizing SCID pigs for applications in biomedical research. In 2018, we achieved a twofold milestone when working with animal physiologist Jason Ross and his lab. Together we developed a more immunocompromised pig than the original SCID pig – and successfully humanized it, by transferring cultured human immune stem cells into the livers of developing piglets.
During early fetal development, immune cells develop within the liver, providing an opportunity to introduce human cells. We inject human immune stem cells into fetal pig livers using ultrasound imaging as a guide. As the pig fetus develops, the injected human immune stem cells begin to differentiate – or change into other kinds of cells – and spread through the pig's body. Once SCID piglets are born, we can detect human immune cells in their blood, liver, spleen and thymus gland. This humanization is what makes them so valuable for testing new medical treatments.
We have found that human ovarian tumors survive and grow in SCID pigs, giving us an opportunity to study ovarian cancer in a new way. Similarly, because human skin survives on SCID pigs, scientists may be able to develop new treatments for skin burns. Other research possibilities are numerous.

The ultraclean SCID pig biocontainment facility in Ames, Iowa. Adeline Boettcher, CC BY-SA
Pigs in a bubble
Since our pigs lack essential components of their immune system, they are extremely susceptible to infection and require special housing to help reduce exposure to pathogens.
SCID pigs are raised in bubble biocontainment facilities. Positive pressure rooms, which maintain a higher air pressure than the surrounding environment to keep pathogens out, are coupled with highly filtered air and water. All personnel are required to wear full personal protective equipment. We typically have anywhere from two to 15 SCID pigs and breeding animals at a given time. (Our breeding animals do not have SCID, but they are genetic carriers of the mutation, so their offspring may have SCID.)
As with any animal research, ethical considerations are always front and center. All our protocols are approved by Iowa State University's Institutional Animal Care and Use Committee and are in accordance with The National Institutes of Health's Guide for the Care and Use of Laboratory Animals.
Every day, twice a day, our pigs are checked by expert caretakers who monitor their health status and provide engagement. We have veterinarians on call. If any pigs fall ill, and drug or antibiotic intervention does not improve their condition, the animals are humanely euthanized.
Our goal is to continue optimizing our humanized SCID pigs so they can be more readily available for stem cell therapy testing, as well as research in other areas, including cancer. We hope the development of the SCID pig model will pave the way for advancements in therapeutic testing, with the long-term goal of improving human patient outcomes.
Adeline Boettcher earned her research-based Ph.D. working on the SCID project in 2019.

Christopher Tuggle, Professor of Animal Science, Iowa State University and Adeline Boettcher, Technical Writer II, Iowa State University
This article is republished from The Conversation under a Creative Commons license. Read the original article.
Satellite imagery can help better predict volcanic eruptions by monitoring changes in surface temperature near volcanoes.
Credit:
Ammit
via Adobe Stock
Surprising Science
A recent study used data collected by NASA satellites to conduct a statistical analysis of surface temperatures near volcanoes that erupted from 2002 to 2019.
The results showed that surface temperatures near volcanoes gradually increased in the months and years prior to eruptions.
The method was able to detect potential eruptions that were not anticipated by other volcano monitoring methods, such as eruptions in Japan in 2014 and Chile in 2015.
How can modern technology help warn us of impending volcanic eruptions?
One promising answer may lie in satellite imagery. In a recent study published in Nature Geoscience, researchers used infrared data collected by NASA satellites to study the conditions near volcanoes in the months and years before they erupted.
The results revealed a pattern: Prior to eruptions, an unusually large amount of heat had been escaping through soil near volcanoes. This diffusion of subterranean heat — which is a byproduct of "large-scale thermal unrest" — could potentially represent a warning sign of future eruptions.
Conceptual model of large-scale thermal unrestCredit: Girona et al.
For the study, the researchers conducted a statistical analysis of changes in surface temperature near volcanoes, using data collected over 16.5 years by NASA's Terra and Aqua satellites. The results showed that eruptions tended to occur around the time when surface temperatures near the volcanoes peaked.

Eruptions were preceded by "subtle but significant long-term (years), large-scale (tens of square kilometres) increases in their radiant heat flux (up to ~1 °C in median radiant temperature)," the researchers wrote. After eruptions, surface temperatures reliably decreased, though the cool-down period took longer for bigger eruptions.
"Volcanoes can experience thermal unrest for several years before eruption," the researchers wrote. "This thermal unrest is dominated by a large-scale phenomenon operating over extensive areas of volcanic edifices, can be an early indicator of volcanic reactivation, can increase prior to different types of eruption and can be tracked through a statistical analysis of little-processed (that is, radiance or radiant temperature) satellite-based remote sensing data with high temporal resolution."
Temporal variations of target volcanoesCredit: Girona et al.
Although using satellites to monitor thermal unrest wouldn't enable scientists to make hyper-specific eruption predictions (like predicting the exact day), it could significantly improve prediction efforts. Seismologists and volcanologists currently use a range of techniques to forecast eruptions, including monitoring for gas emissions, ground deformation, and changes to nearby water channels, to name a few.

Still, none of these techniques have proven completely reliable, both because of the science and the practical barriers (e.g. funding) standing in the way of large-scale monitoring. In 2014, for example, Japan's Mount Ontake suddenly erupted, killing 63 people. It was the nation's deadliest eruption in nearly a century.
In the study, the researchers found that surface temperatures near Mount Ontake had been increasing in the two years prior to the eruption. To date, no other monitoring method has detected "well-defined" warning signs for the 2014 disaster, the researchers noted.
The researchers hope satellite-based infrared monitoring techniques, combined with existing methods, can improve prediction efforts for volcanic eruptions. Volcanic eruptions have killed about 2,000 people since 2000.
"Our findings can open new horizons to better constrain magma–hydrothermal interaction processes, especially when integrated with other datasets, allowing us to explore the thermal budget of volcanoes and anticipate eruptions that are very difficult to forecast through other geophysical/geochemical methods."
Scroll down to load more…