El Misti threatens 100,000 people
You can never be too prepared with a volcano is located less than 20 km from a city of one million.
01 September, 2010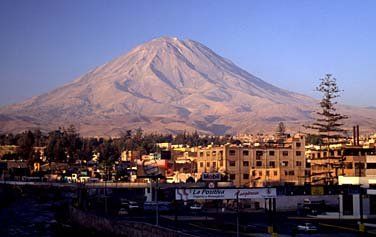 \nEl Misti in Peru, as seen from Arequipa.
---
\n\n
As I like to remind people concerning volcanic hazards, an ounce of prevention is worth a pound of the cure. This is not to imply we can prevent volcanic hazards from affecting us, but rather that proper mitigation in the form of monitoring, planning, education and practice can save countless lives (and dollars) when a volcano erupts. Officials in Peru seem to believe this, as they recently ran for practice evacuations for residents around El Misti, in the southern part of the country. Jersy Mariño from the Instituto Geológico, Minero y Metalúrgico (INGEMMET) says that upwards of 100,000 people living around the volcano (in spanish) could be in harms' way when El Misti erupts again. So, officials and residents have taken part in evacuation drills to be able to (a) know what to do if a real evacuation is needed and (b) find deficiencies in the current mitigation plan. This goes with the recent volcanic hazards map prepared for the volcano.
\n\n
El Misti last erupted in 1985 and tends to produce explosive eruptions and pyroclastic flows. Most eruptions are in the VEI 1-2 range, although an eruption ~80 B.C. is believed to be closer to a VEI 4, suggesting that El Misti is clearly capable of large eruptive events. The danger El Misti poses is amplified by the fact that the city of Arequipa, population of over 1,000,000, is only 17 km / 10.5 miles from the summit of the volcano. Just looking at the topography around the volcano shows that most large flows - pyroclastic or lahars - will be funneled towards the greater Arequipa area. The more that can be done to prepare the area for El Misti's next eruption, the less likely a true disaster might occur.
Former president of the ACLU Nadine Strossen discusses whether our society should always defend free speech rights, even for groups who would oppose such rights.
Sponsored by Charles Koch Foundation
Former ACLU president Nadine Strossen understands that protecting free speech rights isn't always a straightforward proposition.
In this video, Strossen describes the reasoning behind why the ACLU defended the free speech rights of neo-Nazis in Skokie, Illinois, 1977.
The opinions expressed in this video do not necessarily reflect the views of the Charles Koch Foundation, which encourages the expression of diverse viewpoints within a culture of civil discourse and mutual respect.
The reason one diet does not suit all may be found in our guts.
Strangely, the sun showed no sunspots at the time the photo was taken.
Image source: Rainee Colacurcio
Surprising Science
The photo shows the International Space Station as it orbits the Earth, as it does every 90 minutes.
The photo is remarkable because it offers a glimpse of the star at a time when there were no sunspots.
In November, astronauts aboard the ISS plan to grow Española chili pepper plants.
Photo by Vadim Sherbakov
Big Think Edge
Deconstruction is exactly what it sounds like—a method for breaking your life down into its simplest component parts.
Ayse Birsel argues that deconstruction is like taking a camera apart: you can't possibly put it back together in the same way.
Be sure to check out Design the Life You Love, Part 2: Reconstruction to learn how to put the pieces of your life back together in a realistic way. Sign up for Big Think Edge to see exclusive more content!