Big ideas.
Once a week.
Subscribe to our weekly newsletter.
Plato on what makes us tick & why math matters so much
It seems very odd now, but one of the greatest thinkers ever, believed that we could rely on the love of math and its beauty to make us better people. Here's why Plato thought so...
08 July, 2016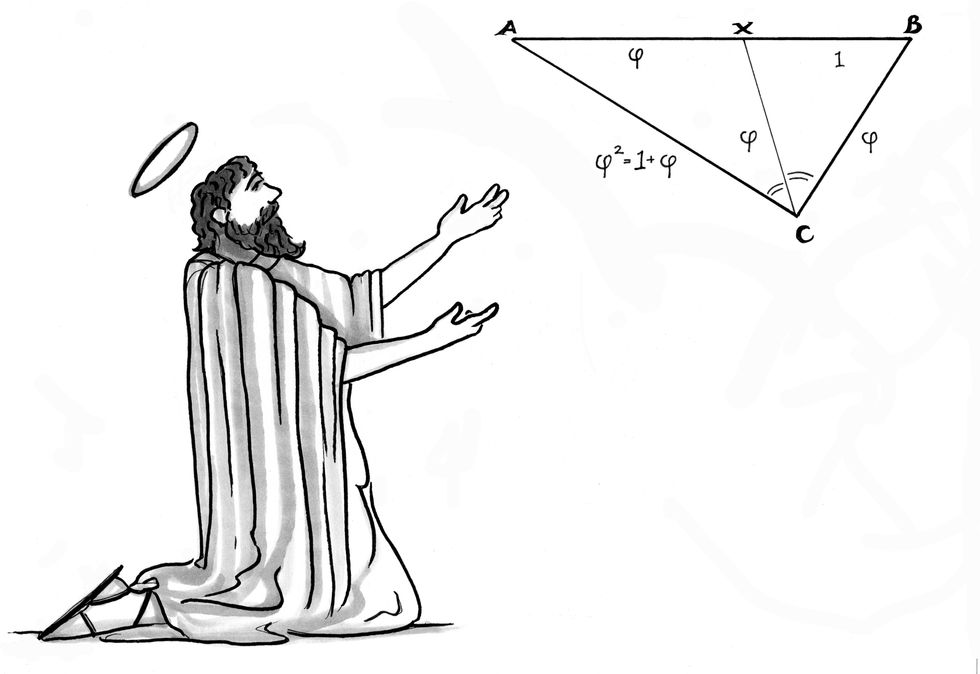 This is the second diablog* with Rebecca Newberger Goldstein. RNG is a philosopher, novelist, certified MacArthur "genius," winner of a National Humanities Medal, and likely the closest we can get to Plato being alive in our midst (see Plato at the Googleplex, which wonderfully images what would happen if Plato had to go on a contemporary book tour).
---
1. JB: Many know that Plato was besotted by math, but why on earth did he believe its beauty could "save us"?
2. RNG: I wouldn't myself use the word "besotted," which implies something irrational.  Plato was always after a 'something' that was real and beautiful and that would have the power to overcome our irrationality and self-centeredness. Toward the end of his life, he identified that something with mathematics.  He wasn't optimistic about human nature.  He saw us as almost—almost—incurably self-centered, with the vectors of our attention stubbornly pointing inward.  He was looking for a means of turning them outward.
3. JB: Love that phrase "vectors of…attention"... very apt for our very selfie-absorbed times. Plato's perception that rationality is rare contrasts sharply with today's dominant and damaging "rational actor" model, which runs the logic that runs the world, while worsening self-centeredness, especially in certain "elite" circles.
4. RNG: Thinking in a narrow and amoral way about our own self-interest is, for Plato, almost the definition of irrationality. Our self-centeredness makes us not only stupid but nasty. We conjure up delusional images of the world that fit our biases that serve our self-aggrandizement, preferring this delusional nonsense to the study of reality itself. This is what makes us so stupid.
5. JB: It's stupefying that many experts have only recently rediscovered many everywhere- evident "cognitive biases." Ignoring them surely takes expert-level delusional nonsense (see Gary Becker's "rational addiction"). 
6. RNG: Being so single-mindedly devoted to the prospering of our own selves, we live in endless competition with each other.  This is what makes us so nasty. 
7. JB: Doesn't our word idiot come from the Greek idiotes, which refers to those who live for private interests? Didn't Plato consider that a pejorative term? I know you've called Plato's writing a "morass of interpretive confusion," but Isaiah Berlin claimed that there was "no trace...of genuine individualism" back then. And Aristotle felt that only "a beast or a god" (i.e., a superhuman or subhuman) could live without society.
8. RNG: The very force with which Plato opposed living for our private interests and pleasures—the great range of arguments he erected against unenlightened individualism—demonstrates how mistaken Isaiah Berlin was in denying the vitality of individualism in the ancient Greek world. Quoting Plato, Pericles, or Aristotle as if they're interchangeable with any Timon, Dicaeus, or Hieronymus  (as Isaiah Berlin does) is akin to quoting Peter Singer to speak for any Tom, Dick, or Harry's attitude toward combating world poverty.
9. JB: Speaking of Pericles, he seemed to grasp that not all kinds of individualism are equally safe or self-absorbed. As he said in his celebrated Funeral Oration, which you quoted in your last book, "If the city is sound as a whole, it does more good to its private citizens than if it benefits them as individuals while faltering as a collective…. It does not matter whether a man prospers as an individual: If his country is destroyed, he is lost along with it." He saw logical limits on survivable individualism.
10. RNG: We can get along if we become convinced that it's in our self-interest, and we can learn to do so under the civilizing influence of the city, where it's pretty obvious that we need to depend on one another for the sake of our own flourishing.  But cooperation doesn't come naturally to us, according to Plato, and, given the slightest strain, there's that nastiness again. Stupid and nasty is our default. Plato is looking for something powerful to shift our default. He's looking for us to fall in love with something greater than ourselves.
11. JB: Here evolution and anthropology can supply evidence. For 10,000 generations, our ancestors survived by cooperative hunting. (We're the giraffes of non-kin cooperation.) This paleo-economics shaped our "moral sense," i.e., our evolved social-rule processors. Perhaps Plato suffered a form of WEIRD (i.e., Western, educated, industrialized, rich, and democratic) bias, overgeneralizing the Greek love of agon (competition, from which, incidentally, we derive the word agony). Many cultures are sociocentric, and degrees of measured individualism vary widely (e.g. USA = 91, China = 20.)
12. RNG: Plato of course didn't have the benefit of knowing modern evolutionary theory. But I think his response to you would be that we have evolved to cooperate with those whom we regard as of our own kind. Banding with our own tribe was essential for us as hunter-gatherers, just as it's essential for many primates. But in any society that reaches the level of complexity of the Greek city-state, not to mention the modern nation-state and the global community, we will be dealing with others whom we judge to be not of our own kind. (I write this on the day after the Brexit vote.) The very mechanism that promotes cooperation with some members of our own species also promotes competition with others. We play on teams, cooperating with our teammates, competing with others.
13. JB: Agreed—a mix of cooperation and competiveness, and the related team dynamics, is crucial. (Teamwork has been called humanity's "signature adaptation.") But our team logic works differently from judging "our kind." And I'd argue that the "Periclean pattern" applies in cases where individuals depend on teams or "survival vehicles." At evolution's lowest level, selfish genes cooperate with vehicle-mates (see here). If it's essential to your own survival for X to survive, gaining at the expense of X can at some point become self-undermining (whether X is your team, tribe, city, nation, etc.). 
14. RNG: I don't believe that the genetic or cellular level provides the right level of analysis for understanding the kinds of reasons we humans provide in explaining and defending our decisions (and we are, distinctively on this planet, the reason-giving creatures). The cooperative behavior of genes and cells (obviously necessary for an organism to exist) gives us no grounds to believe that cooperation comes naturally to us. Quite the contrary, the genes "designed" us to put our own survival and flourishing first (as well as the survival and flourishing of those who carry similar genes to ours—so yes, of our own kind), so that replications of our genes would be carried into future generations. This is the core strategy of the genes, the driving force of evolution. But we don't consult the genes when it comes to offering reasons for our behavior. That takes place at an entirely different level. We have evolved into reason-giving creatures, who hold each other accountable for both our beliefs and our actions, and it's at this level, rather than the level of the genes, that we can be persuaded that it makes sense to cooperate more widely than is our natural inclination.  But it requires persuasion.  The constituents of our bodies don't do it for us.  If they did, we would be a far more agreeable species.
15. JB: Although our genes don't automatically ensure that we're agreeable teammates, their survival games are complicated by being deeply dependent on the survival of non-kin teammates. Different cultures configure our moral/team instincts differently, and I'd argue those that are more aligned with the logic of the "Pericles pattern," are better equipped to survive longer. (Darwin believed this also.) By the way, the phrase "enlightened individualism" was coined by Tocqueville in the 1830s. One of the chapters of Democracy in America is titled "How the Americans Combat Individualism by the Principle of Self-Interest Rightly Understood ." Apparently, Tocqueville perceived that American Toms, Dicks, and Harrys "rightly understood" their team (community) interdependence.
16. RNG: Plato believes as firmly in human nature as any evolutionary psychologist and is trying to find something within human nature that can be cultivated and strengthened so as to make us better than we naturally are.  And he locates it in our susceptibility to beauty. He is impressed by how beauty captures our attention, how it enraptures us. (The Greeks in general were unusual in their devotion to beauty.) We love it in the face of a beautiful person like Helen of Troy, or in the thoughts of a beautiful mind like Socrates's. 
17. JB: Far more people can naturally recognize a beautiful face than a beautiful mind. And didn't his uncomfortable "mental beauty" get Socrates killed? Also, what counts as "human nature" matters—we've got the least genetically constrained nature of any species—many aspects of "our nature" are highly culturally configurable (see "Our 1st Nature Needs 2nd Natures"). That empirically includes the degree of self-orientation that's seen as "natural" within a given culture.
18. RNG: Plato's quite aware of the fact that our response to the physical beauty of Helen comes more naturally to us than our love for Socrates's mental beauty (see the Symposium), but he's eager to try to open more people's eyes to the other kind of beauty. (Whether everybody's eyes can be so opened is a question on which he's highly skeptical, so yes, he is elitist. It's best to just get that out in the open.) That's his entire project, in a sense. Philosophy's project is to open people's eyes to mental beauty, to moral beauty.  If we came to these more abstract kinds of beauty naturally, we wouldn't require the arduous labors of philosophy. And as far as Socrates's beauty is concerned, Plato's writings have ensured that the millennia following 399 BCE, when Socrates was executed by the Athenians (for complicated political reasons far beyond his mental beauty), have recognized what was beautiful in Socrates. Even those non-philosophical masses, of whom Plato tended to despair.
19. JB: Okay, but doesn't beauty often tempt us away from doing the "right" thing, sometimes into selfishly desiring to own the beautiful? How does Plato think beauty's better effects can get beyond the happy few who've learned to see mental beauty?
20. RNG: The kind of beauty he wants us to love, being abstract, can't be exclusively possessed, as a beautiful piece of real estate can be possessed, or even as the beautiful Helen can be possessed (the casus belli of the Trojan War).  He thought that reality itself could help us out here since it hides a kind of abstract beauty that can only be grasped through the mind, not the senses (a very Greek idea that made the Greeks the progenitors of science as well as philosophy).  At first he formulated this beauty in terms of his Theory of Forms, but toward the end of his life, when he was writing the Timaeus and the Laws, it was mathematics that expressed for him the beauty immanent in reality.
21. JB: That gets us into needing to be clearer about what beauty is, how we recognize it, and why its mathematical forms matter—especially since a seductive form of mathematical beauty is now used to amplify human selfishness (by those once called "worldly philosophers").
22. RNG: The reason mathematical beauty specifically matters, according to Plato, is that it is immanent in reality itself, or at least in physical processes, and seeing these mathematical relationships in physical reality provides their explanations.  (Pythagoras, who had discovered the perfect whole-number ratios that underlie musical chords, was key to this aspect of Plato.) And our seeing all this—the simple mathematical relationships, lovely in themselves, being realized in nature and therefore making what was all tangled and unintelligible before all shiningly transparent now—is itself a profound experience of beauty.  And the next step, for Plato, is that the beauty we're experiencing, which is of a radical, impersonal kind, reorders our souls.  It's not enough for him that he's laying down an intuition essential to physics, that—as Galileo will put it centuries later—the book of nature is written in the language of mathematics. Plato is also proposing, with somewhat heroic optimism (because, despite his sour view of human nature, there's the abiding hopefulness of the social reformer in him), that the powerful experience of grasping such overwhelming and impersonal beauty can't help but change us, forcefully bend those vectors of attention outward and make us see our puny selves within some grander perspective. 
23. JB: Those hidden mathematical patterns that scientists discover aren't always simple or "beautiful," (e.g., Sean Carrol calls aspects of quantum core theory "baroque and unappealing"). And that powerful experience of pattern discovery doesn't seem to prevent great scientists from sometimes being great jerks (amplifying, not dampening, self-centered, self-aggrandizing arrogance).
24. RNG:  Quantum mechanics profoundly disturbs some of our intuitions about reality—which is not so surprising, since we evolved those intuitions to help us navigate our way on the observable macroscopic level, not on the unobservable microscopic level. So, for example, the violence that quantum mechanics, with its hypothesis of non-locality, does to our intuitive notions of causality is apt to make us feel queasily unanchored. But this is quite different from saying that the theory is unappealing mathematically. As Frank Wilczek , a Nobel laureate in physics, says in his book A Beautiful Question: Finding Nature's Deep Design, "Indeed, our modern, astoundingly successful theories of elementary particles, codified in our Core Theory…are rooted in heightened ideas of symmetry that would surely make Plato smile.  And when trying to guess what will come next, I often follow Plato's strategy, proposing objects of mathematical beauty as models for Nature."
So far as great scientists who are jerks: yes, of course. You can regard Plato's hopeful view about the moral power of impersonal beauty as a hypothesis he formulated, one that yields the following empirical prediction: Scientists will tend to be more selfless than others; the greater the scientist, the greater the selflessness.
Plato formulated his hypothesis at the first blushing dawn of the sciences, and we've now had centuries to provide us with data to test his prediction. I don't know whether anyone has ever made the effort to do so. I myself would assign it a low probability, based both on my own personal experience of a life spent among scientists and on my own view of moral development. Quite unlike Plato, I would explain moral progress as having far more to do with our attitudes toward other persons than toward impersonal beauty.
But you had asked me why Plato was "besotted" by mathematics, and I've tried to explain it.  He responded powerfully to its beauty and had a hunch to put that response to work both in understanding physical nature and in morally transforming us. His first hunch has proved wildly successful, his second not so much.
25. JB: It's intriguing to consider how the degree of selflessness varies in human groups. But loving specific other people seems much likelier to influence more of us than loving abstract mathematical beauty. What would Plato have made of economists who use mathematical rigor and beauty to promote "rational" self-maximization—those "greed is good" folks who literally argue that their mathematics shows that selfishness in markets is morally good because it generates the best collective utility?
26. RNG: Even if such economic models were mathematically beautiful, that wouldn't count for anything with Plato if the theory itself was morally putrid. He wants mathematical beauty to pull us away from ourselves, not be employed to entrench ourselves ever more deeply in our selfishness.
In some sense, he takes on such rational self-maximalization views in the Gorgias, where he argues with the entertainingly amoral Callicles about the irrationality of narrow self-interest. Callicles might well be an economist of the kind you describe were he living now, and so, too, might the more vulgar Thrasymachus of the Republic (though I see him more in the role of replacing the recently fired Corey Lewandowski as Trump's campaign manager).  Both Callicles and Thrasymachus argue for rational self-maximalization. 
And Plato argues against them that the seeming rationality they propound is hideously irrational, since it impedes any moral progress. First of all, rational self-maximalization produces gross inequalities in the well-being distributed among the various citizens, with those not well equipped for rational self-maximization condemned to unsatisfactory lives. Justice forbids letting the well-being of gifted self-maximalizers float the collective average. In the Republic, he writes that the just state is one that does well by all its citizens.
Second, Plato thought that greed corrodes us, that it keeps us slavishly chained to our most narrow point of view, with a low cunning that passes for intelligence. It doesn't produce that largeness of soul that Plato was after. A greedy, self-centered soul is a pitiful soul, in Plato's eyes, not experiencing the kind of moral grandeur that realizes our fullest human potential, importing some of the beauty of external reality into the interiority of our own beings.
How wonderful if he had been right that there is a methodology for producing largeness of soul, as he was right that there is a methodology for increasing our knowledge of physical nature, which, since the 19th century, has gone by the name of science.  Plato had hopes that the methodology of the latter could become the methodology of the former.  Unfortunately, it doesn't work that way, but nice try, old man, nice try.
 27. JB: Plato's project of intelligible patterns has been startlingly successful in external science. And I think it's amazing that Plato got the moral "interiority" diagnosis, if not the cure, correct, the idea that "seeming rationality," the behavior that's labeled rational, can produce "hideously irrational" collective results, as it does in the tragedy of the commons or the prisoner's dilemma game. Can what causes foreseeably bad results rightly be called "rational"?
Thanks, Rebecca—we've covered a lot of ground, and you've provided much to think about. I look forward to further diablogs, but note in passing that arguably the most successful methodologies for turning our vectors of attention outward, and for "producing largeness of soul," have largely been "religious." A topic for another discussion. Thanks again—I feel like I've been talking to Plato himself!
28. RNG: Ah, nobody can speak for Plato—perhaps not even Plato, if his Seventh Letter is authentic (in it he claims that he "never committed his true philosophical views to writing")!
Illustration by Julia Suits, author of The Extraordinary Catalog of Peculiar Inventions, and The New Yorker cartoonist.
Physicist Frank Wilczek proposes new methods of searching for extraterrestrial life.
Adobe stock
Surprising Science
Nobel Prize-winning physicist Frank Wilczek thinks we are not searching for aliens correctly.
Instead of sending out and listening for signals, he proposes two new methods of looking for extraterrestrials.
Spotting anomalies in planet temperature and atmosphere could yield clues of alien life, says the physicist.
For noted theoretical physicist Frank Wilczek, finding aliens is a matter of figuring out what exactly we are looking for. To detect other space civilizations, we need to search for the specific effects they might be having on their worlds, argues the Nobel laureate in a new proposal.
Writing in the Wall Street Journal, Wilczek says that it's a real challenge to figure out which among the over 4,000 exoplanets that we found so far outside of our solar system might host extraterrestrial life. The classic way of listening for space signals is insufficient and inefficient, says the scientist. What might really help are new developments in exoplanetary astronomy that can allow us to get much more precise information about faraway space objects.
In particular, there are two ways we should focus our attention to turn the odds of finding alien life in our favor, argues the physicist.
1. Atmosphere chemistry
Like we found out with our own effect on the Earth's atmosphere, making a hole in the ozone layer, the gases around a planet can be impacted by its inhabitants. "Atmospheres are especially significant in the search for alien life," writes Wilczek "because they might be affected by biological processes, the way that photosynthesis on Earth produces nearly all of our planet's atmospheric oxygen."
But while astrobiology can provide invaluable clues, so can looking for the signs of alien technology, which can also be manifested in the atmosphere. An advanced alien civilization might be colonizing other planets, turning their atmospheres to resemble the home planets. This makes sense considering our own plans to terraform other planets like Mars to allow us to breathe there. Elon Musk even wants to nuke the red planet.
The Most Beautiful Equation: How Wilczek Got His Nobel
2. Planet temperatures
Wilczek also floats another idea - what if an alien civilization created a greenhouse effect to raise the temperature of a planet? For example, if extraterrestrials were currently researching Earth, they would likely notice the increased levels of carbon dioxide that are heating up our atmosphere. Similarly, we can looks for such signs around the exoplanets.
An advanced civilization might also be heating up planets to raise their temperatures to uncover resources and make them more habitable. Unfreezing water might be one great reason to turn up the thermostat.
Unusually high temperatures can also be caused by alien manufacturing and the use of artificial energy sources like nuclear fission or fusion, suggests the scientist. Structures like the hypothetical Dyson spheres, which could be used to harvest energy from stars, can be particularly noticeable.
Similarly, there might be instances when our faraway space counterparts would want to cool planets down. Examining temperature anomalies of space bodies might allow us to pinpoint such clues.
Focusing on the temperatures and atmospheres of other planets might be not only a winning strategy but something specifically encouraged by other civilizations who want us to find them. "An alien species that wants to communicate could draw the gaze of exoplanetary astronomers to anomalies in its solar system, effectively using its parent star to focus attention," expounds the physicist.
Wilczek, who currently teaches at MIT, was awarded the Nobel Prize in Physics in 2004 for discovering asymptotic freedom.
You can check out Wilczek's full article here.
Wilczek: Why 'Change without Change' Is One of the Fundamental Principles of the ...
In ancient Greece, the Olympics were never solely about the athletes themselves.
Coronavirus
Because of a dramatic rise in COVID-19 cases, the opening and closing ceremonies of the 2021 Olympics will unfold in a stadium absent the eyes, ears and voices of a once-anticipated 68,000 ticket holders from around the world.
Events during the intervening days will likewise occur in silent arenas missing the hundreds of thousands of spectators who paid US$815 million for their now-useless tickets.
After 48 years teaching classics, I can't help but wonder what the Greeks – who invented the Games nearly 3,000 years ago, in 776 B.C. – would make of such a ghostly version of their Olympic festival.
In many ways, they'd view the prospect as absurd.
In ancient Greece, the Olympics were never solely about the athletes themselves; instead, the heart and soul of the festival was the experience shared by all who attended. Every four years, athletes and spectators traveled from far-flung corners of the Greek-speaking world to Olympia, lured by a longing for contact with their compatriots and their gods.
In the shadow of dreams
For the Greeks, during five days in the late-summer heat, two worlds miraculously merged at Olympia: the domain of everyday life, with its human limits, and a supernatural sphere from the days superior beings, gods and heroes populated Earth.
Greek athletics, like today's, plunged participants into performances that pushed the envelope of human ability to its breaking point. But to the Greeks, the cauldron of competition could trigger revelations in which ordinary mortals might briefly intermingle with the extraordinary immortals.
The poet Pindar, famous for the victory songs he composed for winners at Olympia, captured this sort of transcendent moment when he wrote, "Humans are creatures of a day. But what is humankind? What is it not? A human is just the shadow of a dream – but when a flash of light from Zeus comes down, a shining light falls on humans and their lifetime can be sweet as honey."
However, these epiphanies could occur only if witnesses were physically present to immerse themselves – and share in – the spine-tingling flirtation with the divine.
Simply put, Greek athletics and religious experience were inseparable.
At Olympia, both athletes and spectators were making a pilgrimage to a sacred place. A modern Olympics can legitimately take place in any city selected by the International Olympic Committee. But the ancient games could occur in only one location in western Greece. The most profoundly moving events didn't even occur in the stadium that accommodated 40,000 or in the wrestling and boxing arenas.
Instead, they took place in a grove called the Althis, where Hercules is said to have first erected an altar, sacrificed oxen to Zeus and planted a wild olive tree. Easily half the events during the festival engrossed spectators not in feats like discus, javelin, long jump, foot race and wrestling, but in feasts where animals were sacrificed to gods in heaven and long-dead heroes whose spirits still lingered.
On the evening of the second day, thousands gathered in the Althis to reenact the funeral rites of Pelops, a human hero who once raced a chariot to win a local chief's daughter. But the climactic sacrifice was on the morning of the third day at the Great Altar of Zeus, a mound of plastered ashes from previous sacrifices that stood 22 feet tall and 125 feet around. In a ritual called the hecatomb, 100 bulls were slaughtered and their thigh bones, wrapped in fat, burned atop the altar so that the rising smoke and aroma would reach the sky where Zeus could savor it.
No doubt many a spectator shivered at the thought of Zeus hovering above them, smiling and remembering Hercules' first sacrifice.
Just a few yards from the Great Altar another, more visual encounter with the god awaited. In the Temple of Zeus, which was erected around 468 to 456 B.C., stood a colossal image, 40 feet high, of the god on a throne, his skin carved from ivory and his clothing made of gold. In one hand he held the elusive goddess of victory, Nike, and in the other a staff on which his sacred bird, the eagle, perched. The towering statue was reflected in a shimmering pool of olive oil surrounding it.
During events, the athletes performed in the nude, imitating heroic figures like Hercules, Theseus or Achilles, who all crossed the dividing line between human and superhuman and were usually represented nude in painting and sculpture.
The athletes' nudity declared to spectators that in this holy place, contestants hoped to reenact, in the ritual of sport, the shudder of contact with divinity. In the Althis stood a forest of hundreds of nude statues of men and boys, all previous victors whose images set the bar for aspiring newcomers.
"There are a lot of truly marvelous things one can see and hear about in Greece," the Greek travel writer Pausanias noted in the second century B.C., "but there is something unique about how the divine is encountered at … the games at Olympia."
Communion and community
The Greeks lived in roughly 1,500 to 2,000 small-scale states scattered across the Mediterranean and Black Sea regions.
Since sea travel in summertime was the only viable way to cross this fragile geographical web, the Olympics might entice a Greek living in Southern Europe and another residing in modern-day Ukraine to interact briefly in a festival celebrating not only Zeus and Heracles but also the Hellenic language and culture that produced them.
Besides athletes, poets, philosophers and orators came to perform before crowds that included politicians and businessmen, with everyone communing in an "oceanic feeling" of what it meant to be momentarily united as Greeks.
Egisto Sani/flickr, CC BY-NC
Now, there's no way we could explain the miracle of TV to the Greeks and how its electronic eye recruits millions of spectators to the modern games by proxy. But visitors to Olympia engaged in a distinct type of spectating.

The ordinary Greek word for someone who observes – "theatês" – connects not only to "theater" but also to "theôria," a special kind of seeing that requires a journey from home to a place where something wondrous unfolds. Theôria opens a door into the sacred, whether it's visiting an oracle or participating in a religious cult.
Attending an athletic-religious festival like the Olympics transformed an ordinary spectator, a theatês, into a theôros – a witness observing the sacred, an ambassador reporting home the wonders observed abroad.
It's hard to imagine TV images from Tokyo achieving similar ends.
No matter how many world records are broken and unprecedented feats accomplished at the 2020 games, the empty arenas will attract no gods or genuine heroes: The Tokyo games are even less enchanted than previous modern games.
But while medal counts will confer fleeting glory on some nations and disappointing shame on others, perhaps a dramatic moment or two might unite athletes and TV viewers in an oceanic feeling of what it means to be "kosmopolitai," citizens of the world, celebrants of the wonder of what it means to be human – and perhaps, briefly, superhuman as well.
The ancient Greeks wouldn't recognize some aspects of the modern Olympics.
Vincent Farenga, Professor of Classics and Comparative Literature, USC Dornsife College of Letters, Arts and Sciences
This article is republished from The Conversation under a Creative Commons license. Read the original article.

A new brain imaging study explored how different levels of the brain's excitatory and inhibitory neurotransmitters are linked to math abilities.
Mind & Brain
Glutamate and GABA are neurotransmitters that help regulate brain activity.
Scientists have long known that both are important to learning and neuroplasticity, but their relationship to acquiring complex cognitive skills like math has remained unclear.
The new study shows that having certain levels of these neurotransmitters predict math performance, but that these levels switch with age.
Why do roughly one in five people find math especially difficult?
You might blame teaching methods, which some argue explains why the U.S. lags behind other countries in standardized math test scores. You could point to math anxiety, which affects about 20 percent of students and 25 percent of teachers, according to surveys. And there are also medical conditions that make math difficult, such as dyscalculia, a learning disability that disrupts the normal development of arithmetic skills.
But another explanation centers on neurotransmitters. In a new study published in PLOS Biology, researchers explored how the brain's levels of GABA and glutamate relate to math abilities over time in students of varying ages. The results showed that levels of these neurotransmitters can predict students' performance on math tests. However, this relationship seems to flip as people get older.
GABA and glutamate are responsible for regulating brain activity. In the mature brain, GABA is the brain's main inhibitory neurotransmitter, helping to block impulses between nerve cells in the brain, which can calm feelings of stress, anxiety, or fear. GABA is made from glutamate, the brain's major excitatory neurotransmitter that helps send signals throughout the central nervous system.
Researchers have long known that these neurotransmitters play crucial roles in learning, development, and neuroplasticity. That is partly because they are thought to help trigger developmental windows (or "sensitive periods") during which neural systems become more plastic and better able to acquire certain cognitive skills.
"Importantly, sensitive periods vary for different functions, with relatively simple abilities (e.g., sensorimotor integration) occurring earlier in development, while the sensitive period for acquiring more complex cognitive functions extends into the third decade of life," the researchers wrote.
GABA, glutamate, and math
Still, the exact relationship between GABA, glutamate, and complex cognitive functions has remained unclear. The new study explored that relationship by focusing on associations between the neurotransmitters and math abilities, which "provides a unique cognitive model to examine these questions due to its protracted skill acquisition period that starts already from early childhood and can continue for nearly two decades," the researchers wrote.
For the study, the researchers measured levels of GABA and glutamate in the left intraparietal sulcus (IPS) of 255 students, ranging from primary school to college. The participants completed a math test as their brains were imaged. About a year and a half later, the participants repeated the same process.
"The longitudinal design allowed us to further examine whether neurotransmitter concentration is linked to MA [mathematical abilities] as well as predict MA in the future," the researchers wrote. "Crucially, adopting this design allowed us to discern the selective effect of glutamate and GABA in response to natural (i.e., learning in school) rather than artificial environmental stimulation, thus allowing us to test the knowledge gained from lab-based experiments in high ecological settings."
The results suggest that GABA and glutamate play an important role in math abilities, but that the dynamic switches with age. For the young participants, higher GABA levels in the IPS were associated with higher scores on math tests. The opposite was observed among older students: higher glutamate levels correlated with higher scores. Both results held true on subsequent math tests.
Although the study sheds light on how neurotransmitter levels at different stages of development contribute to learning some cognitive skills, like math, the researchers noted that acquiring other skills may involve different processes.
"Our findings may also highlight a general principle that the developmental dynamics of regional excitation and inhibition levels in regulating the sensitive period and plasticity of a given high-level cognitive function (i.e., MA) may be different compared to another high-level cognitive function (i.e., general intelligence) that draws on similar, albeit not identical, cognitive and neural mechanisms," they wrote.
Scroll down to load more…