Advancements in Computing Power and Machine Intelligence Result in Steady Progress in Robotics
Michio Kaku
Michio Kaku is a futurist, popularizer of science, and theoretical physicist, as well as a bestselling author and the host of two radio programs. He is the co-founder of string field theory (a branch of string theory), and continues Einstein's search to unite the four fundamental forces of nature into one unified theory. He holds the Henry Semat Chair and Professorship in theoretical physics and a joint appointment at City College of New York and the Graduate Center of C.U.N.Y. He is also a visiting professor at the Institute for Advanced Study in Princeton and is a Fellow of the American Physical Society.
Kaku launched his Big Think blog, "Dr. Kaku's Universe," in March 2010.
15 November, 2010
Private industry and militaries around the world depend on the continued advancement of computer power and cheaper electronics for the development of robotic systems. Every time you turn on the television or read the newspaper, it always seems as if we are reading about a new advancement in robotics, the development of a new robot or even progress into Artificial Intelligence. In fact, one of my last shows on Sci Fi Science "A.I. Uprising" touched on the possibility of a world ruled by artificial intelligence and how we are approaching the time when computers will exceed the power of the human brain.  
---
However, we should be careful to point out that the remarkable advances mentioned here involve robotic systems which require human guidance. They are not fully autonomous systems which can think for themselves and make decisions independently, except in a primitive way. Many of these robotic systems are remote-controlled by a human, or require continuous human supervision.
Robots that can act like humans are still a very distant dream.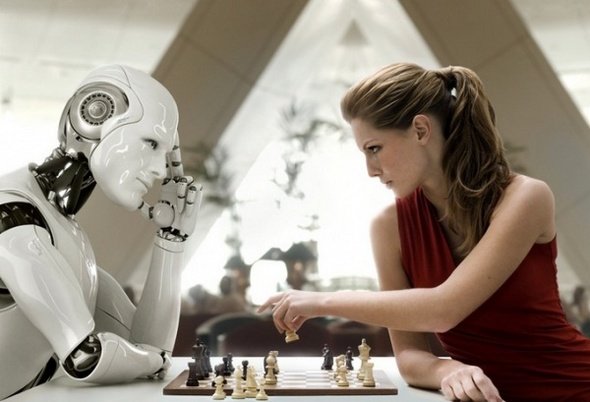 But not all robotic systems necessarily have to "think" in the way that they are portrayed in Hollywood movies like "Terminator" or "Short Circuit." Some robots are used in surgical procedures, fast-paced manufacturing systems, autonomous satellites, and remote-controlled systems. There are even even assistant robots that can help elderly people move about, remind them to take their medication and do household chores. 
Let's take a look at some of the advances that have recently made headlines in the world of robotics and machine intelligence 
Humanoid Robotics Systems & Domestic Style Robots
Advancements in Military Robotics Systems
The continued advancement of computer power will allow for faster, more intelligent and stronger robotic systems. In addition to Moore's law eventually coming to a halt, prices will continue to drop and hardware will continue to leap forward. Billions of dollars have been spent into the world of robotics and there is no doubt that billions more will be spent over the next couple of decades.
In addition, major strides have been made in the area of robotic vision; being able to recognize faces and remember them. The tumbling cost of camera, optics and sensing chips coupled with increased processing power is going to make for some interesting developments. As these advancements continue to take place, larger growth spurts will span into the domestic markets including smart-toys and remote controlled devices. Robotic systems essentially already play a major role in our lives including ATM's, copy machines that collate, fold, staple and organize all of your documents with the push of a button and even the all popular robotic vacuum cleaner named Roomba. These types of devices have of course have been around for years but now imagine the impact that the increasing computing power, machine intelligence, vision and control systems will do to this market in, say, the next 20 years.
(Image credits: Frank Steiner - software: 3DS Max)
In a breakthrough for nuclear fusion research, scientists at China's Experimental Advanced Superconducting Tokamak (EAST) reactor have produced temperatures necessary for nuclear fusion on Earth.
Credit: EAST Team
Surprising Science
The EAST reactor was able to heat hydrogen to temperatures exceeding 100 million degrees Celsius.
Nuclear fusion could someday provide the planet with a virtually limitless supply of clean energy.
Still, scientists have many other obstacles to pass before fusion technology becomes a viable energy source.
Military recruits are supposed to be assessed to see whether they're fit for service. What happens when they're not?
Politics & Current Affairs
During the Vietnam War, Robert McNamara began a program called Project 100,000.
The program brought over 300,000 men to Vietnam who failed to meet minimum criteria for military service, both physically and mentally.
Project 100,000 recruits were killed in disproportionate numbers and fared worse after their military service than their civilian peers, making the program one of the biggest—and possibly cruelest—mistakes of the Vietnam War.
The 116th Congress is set to break records in term of diversity among its lawmakers, though those changes are coming almost entirely from Democrats.
(Photo: MANDEL NGAN/AFP/Getty Images)
Politics & Current Affairs
Women and nonwhite candidates made record gains in the 2018 midterms.
In total, almost half of the newly elected Congressional representatives are not white men.
Those changes come almost entirely from Democrats; Republican members-elect are all white men except for one woman.
Big think's weekly newsletter.
Get smarter faster from the comfort of your inbox.
See our newsletter privacy policy
here
Most Popular
Most Recent
Big think's weekly newsletter.
Get smarter faster from the comfort of your inbox.
See our newsletter privacy policy
here
© Copyright 2007-2018 & BIG THINK, BIG THINK EDGE,
SMARTER FASTER trademarks owned by The Big Think, Inc. All rights reserved.