Award Winning Map Shows a More Accurate World
A new mapping method corrects not only for visual distortions but also for cultural ones.
Teodora Zareva
Teodora Zareva is an entrepreneur, writer, board games geek and a curious person at large. Her professional path has taken her from filmmaking and photography to writing, TEDx organizing, teaching, and social entrepreneurship. She has lived and worked in the U.S. and Bulgaria and is currently doing her MBA at Saïd Business School at the University of Oxford. Her biggest passion lies at the intersection of media and youth development. She is the co-founder of WishBOX Foundation, a Bulgarian NGO that helps high school students with their professional orientation by organizing events, courses, summer camps and developing digital media resources.
23 November, 2016
The familiar world map, we've all encountered in school (sans Antarctica), was conceived almost half a millennium ago, in 1569, by cartographer Gerardus Mercator and it has some serious flaws. In the 1970s, the German journalist Arno Peters denounces it publicly, stating that its significant distortions, especially in the northern hemisphere, contribute to a Europe and North-America-centric world. These regions are represented much larger than they actually are, while regions along the equator appear smaller. Greenland, for example, appears the size of Africa, while in reality it is 14 times smaller. Modern versions don't do Antarctica justice either.
---
This year, the winner of the most prestigious design award in Japan – the Good Design Award – was the Tokyo based architect and artist Hajime Narakuwa, who has developed a new way to represent our spherical world on a rectangular surface by keeping faithfully the proportions of all oceans and continents – the AuthaGraph World Map.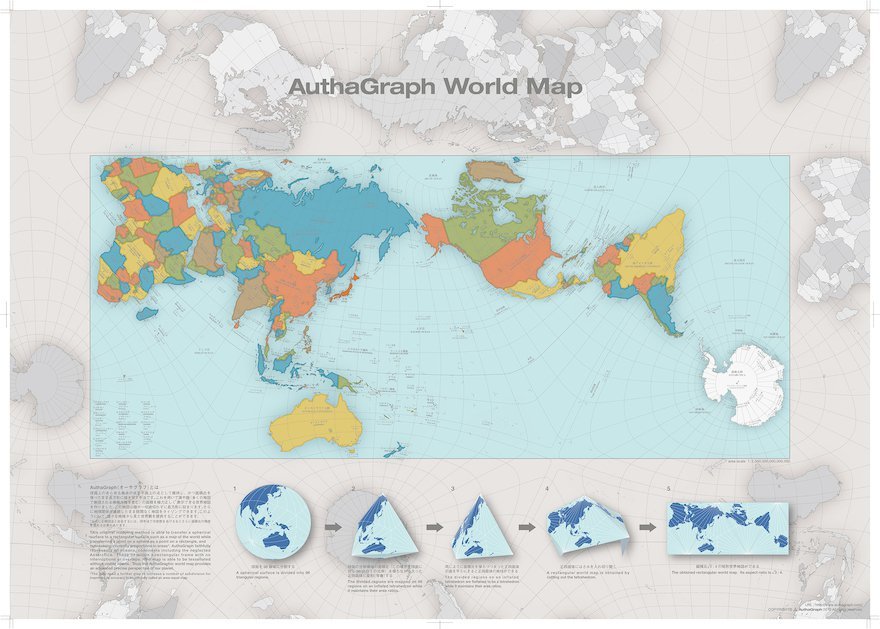 AuthaGraph's innovative mapping method ("by equally dividing a spherical surface into 96 triangles, transferring it to a tetrahedron while maintaining areas proportions and unfolding it to be a rectangle") manages to improve on the other two popular ones – the Mercator projection, which creates distortions and the Dymaxion map, which corrects for the distortions but creates gaps.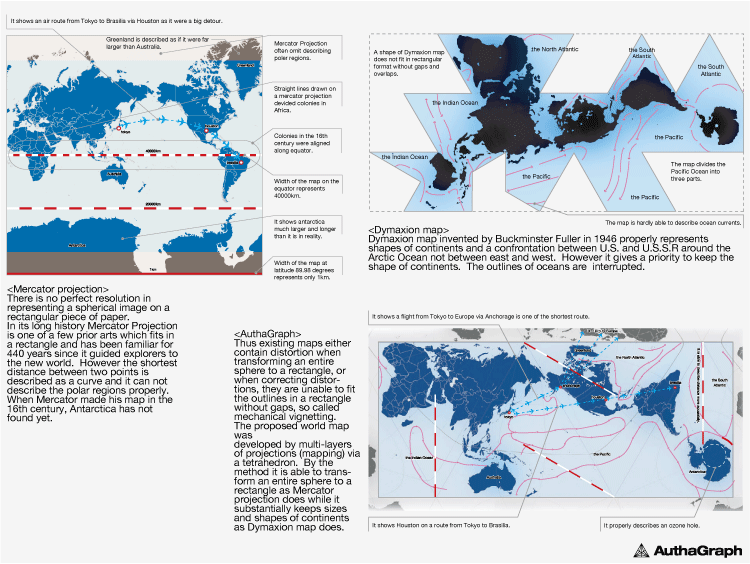 A really cool "feature" of the AuthaGraph map is that it can be tiled without gaps while maintaining geographical relation between adjacent world maps.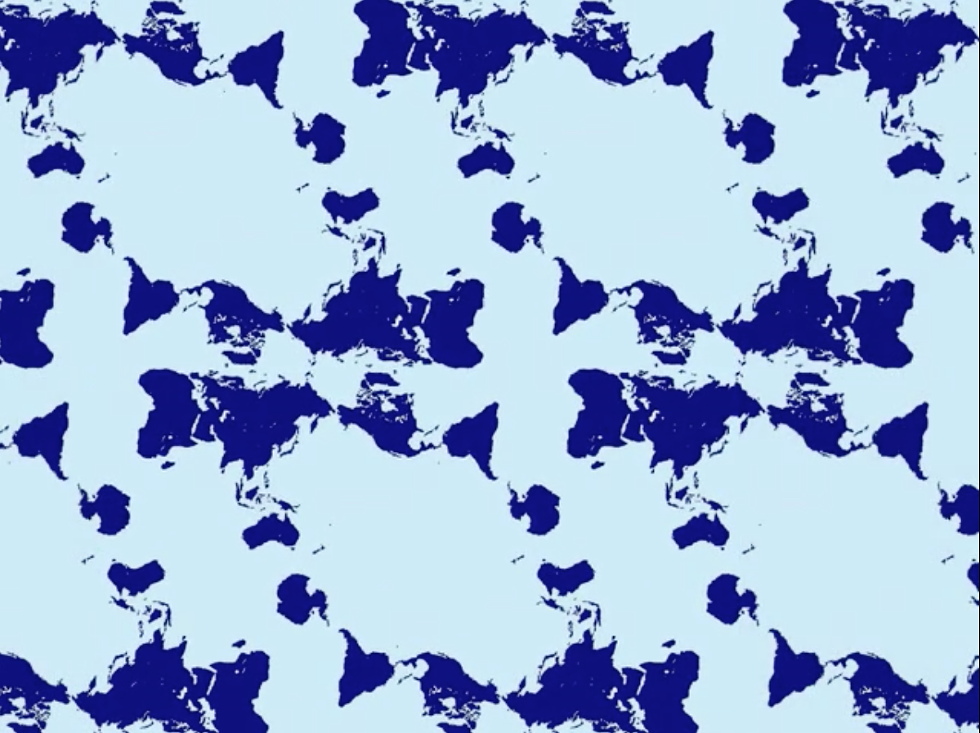 From this map-tiling, new world maps can be formed with various regions at their center.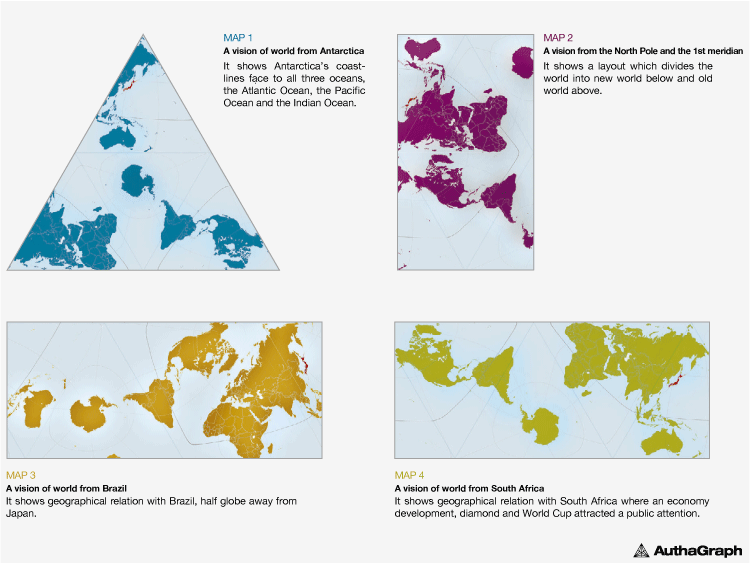 According to the makers, during the time the Mercator map was created and subsequently used throughout the centuries, our interest had been mainly on land. However, since the late 20th century "the resources and environment problems have spread our interests over the polar regions and oceans such as, (1) Sea ice around the North pole representing the global warming, (2) Territorial sea claims for marine resources, (3) An ozone hole above the South Pole, (4) Melting glaciers in Greenland, a cause that may submerge Tuvalu, (5) El Nino in the ocean, a cause of an unusual weather that eventually influence to the economy on land. The AuthaGraphic world map aims to provide a new view point to perceive the world by equally showing these interests spread over the globe." 
And how do 600 million year's of continental drift look like on an AuthaGraph World Map?
Photos: AuthaGraph
Journaling can help you materialize your ambitions.
Videos
Organizing your thoughts can help you plan and achieve goals that might otherwise seen unobtainable.
The Bullet Journal method, in particular, can reduce clutter in your life by helping you visualize your future.
One way to view your journal might be less of a narrative and more of a timeline of decisions.
Progressive America would be half as big, but twice as populated as its conservative twin.
Image: Dicken Schrader
Strange Maps
America's two political tribes have consolidated into 'red' and 'blue' nations, with seemingly irreconcilable differences.
Perhaps the best way to stop the infighting is to go for a divorce and give the two nations a country each
Based on the UN's partition plan for Israel/Palestine, this proposal provides territorial contiguity and sea access to both 'red' and 'blue' America
New research links urban planning and political polarization.
Pixabay
Politics & Current Affairs
Canadian researchers find that excessive reliance on cars changes political views.
Decades of car-centric urban planning normalized unsustainable lifestyles.
People who prefer personal comfort elect politicians who represent such views.
Big think's weekly newsletter.
Get smarter faster from the comfort of your inbox.
See our newsletter privacy policy
here
Most Popular
Most Recent
Big think's weekly newsletter.
Get smarter faster from the comfort of your inbox.
See our newsletter privacy policy
here
© Copyright 2007-2018 & BIG THINK, BIG THINK EDGE,
SMARTER FASTER trademarks owned by The Big Think, Inc. All rights reserved.