Award Winning Map Shows a More Accurate World
A new mapping method corrects not only for visual distortions but also for cultural ones.
23 November, 2016
The familiar world map, we've all encountered in school (sans Antarctica), was conceived almost half a millennium ago, in 1569, by cartographer Gerardus Mercator and it has some serious flaws. In the 1970s, the German journalist Arno Peters denounces it publicly, stating that its significant distortions, especially in the northern hemisphere, contribute to a Europe and North-America-centric world. These regions are represented much larger than they actually are, while regions along the equator appear smaller. Greenland, for example, appears the size of Africa, while in reality it is 14 times smaller. Modern versions don't do Antarctica justice either.
---
This year, the winner of the most prestigious design award in Japan – the Good Design Award – was the Tokyo based architect and artist Hajime Narakuwa, who has developed a new way to represent our spherical world on a rectangular surface by keeping faithfully the proportions of all oceans and continents – the AuthaGraph World Map.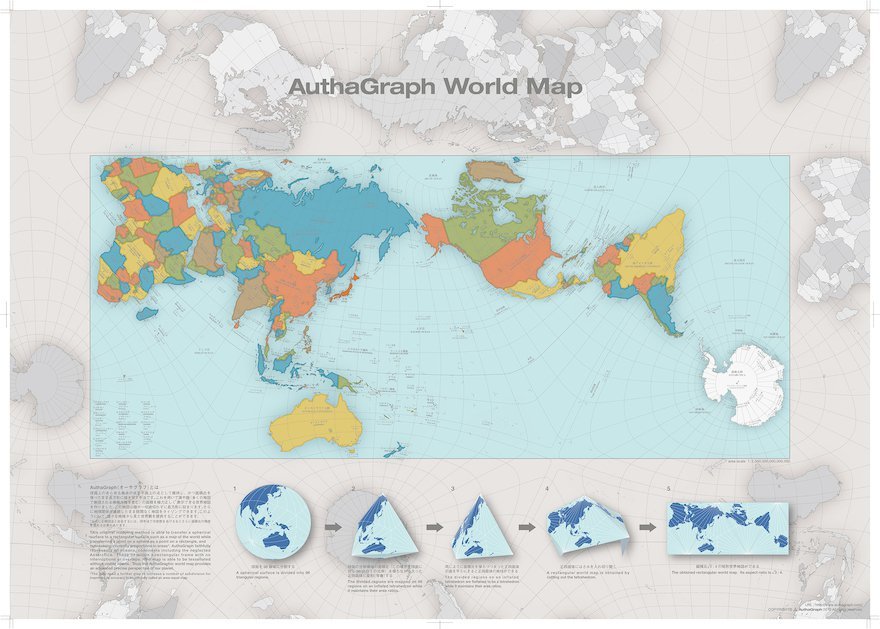 AuthaGraph's innovative mapping method ("by equally dividing a spherical surface into 96 triangles, transferring it to a tetrahedron while maintaining areas proportions and unfolding it to be a rectangle") manages to improve on the other two popular ones – the Mercator projection, which creates distortions and the Dymaxion map, which corrects for the distortions but creates gaps.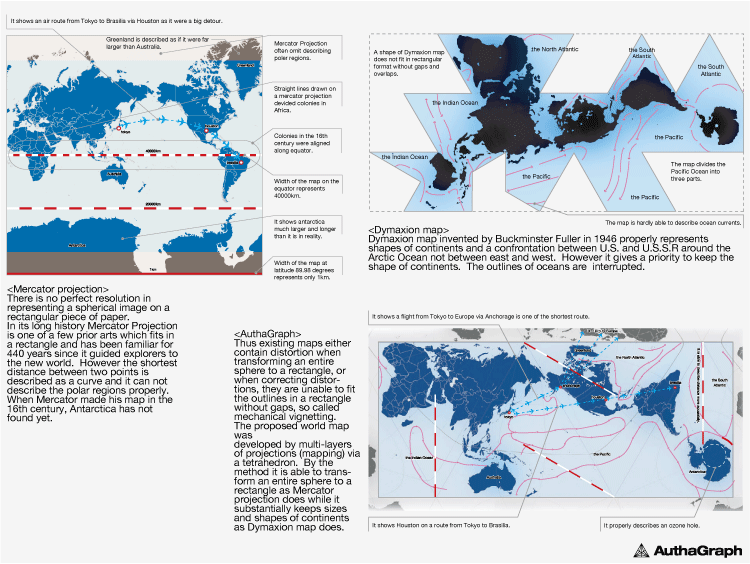 A really cool "feature" of the AuthaGraph map is that it can be tiled without gaps while maintaining geographical relation between adjacent world maps.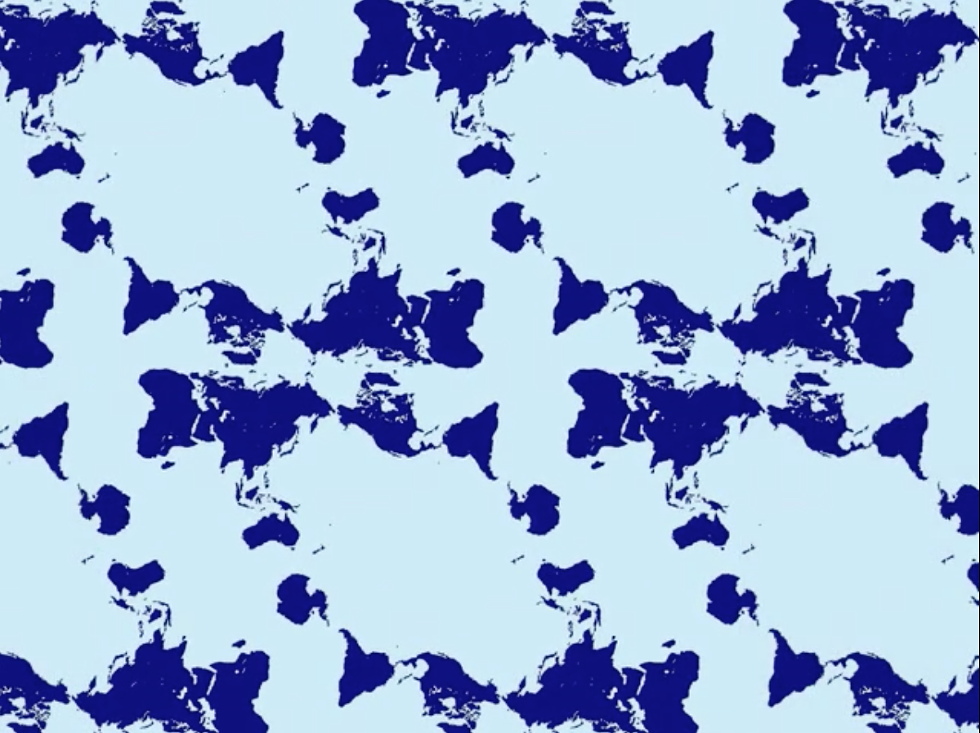 From this map-tiling, new world maps can be formed with various regions at their center.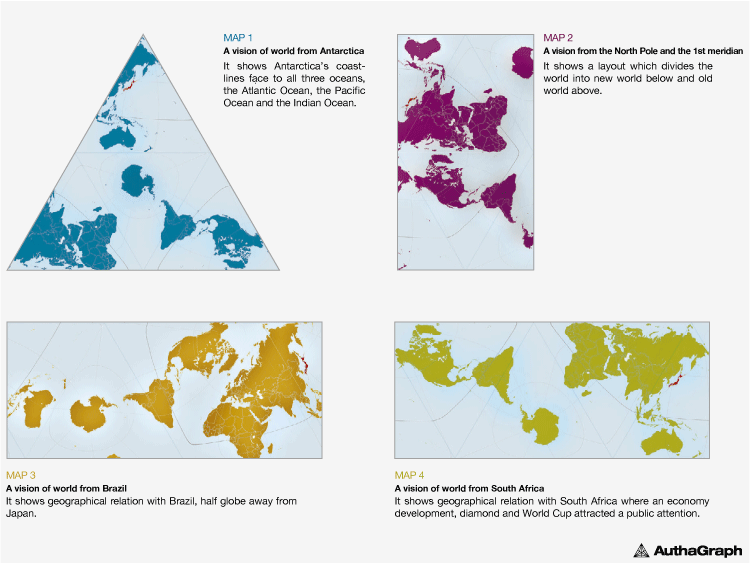 According to the makers, during the time the Mercator map was created and subsequently used throughout the centuries, our interest had been mainly on land. However, since the late 20th century "the resources and environment problems have spread our interests over the polar regions and oceans such as, (1) Sea ice around the North pole representing the global warming, (2) Territorial sea claims for marine resources, (3) An ozone hole above the South Pole, (4) Melting glaciers in Greenland, a cause that may submerge Tuvalu, (5) El Nino in the ocean, a cause of an unusual weather that eventually influence to the economy on land. The AuthaGraphic world map aims to provide a new view point to perceive the world by equally showing these interests spread over the globe." 
And how do 600 million year's of continental drift look like on an AuthaGraph World Map?
Photos: AuthaGraph
The way that you think about stress can actually transform the effect that it has on you – and others.
Big Think Edge
Stress is contagious, and the higher up in an organization you are the more your stress will be noticed and felt by others.
Kelly McGonigal teaches "Reset your mindset to reduce stress" for Big Think Edge.

Subscribe to Big Think Edge before we launch on March 30 to get 20% off monthly and annual memberships.
Rediscovering the principles of self-actualisation might be just the tonic that the modern world is crying out for.
Personal Growth
Abraham Maslow was the 20th-century American psychologist best-known for explaining motivation through his hierarchy of needs, which he represented in a pyramid. At the base, our physiological needs include food, water, warmth and rest.
"I was so moved when I saw the cells stir," said 90-year-old study co-author Akira Iritani. "I'd been hoping for this for 20 years."
Yamagata et al.
Surprising Science
The team managed to stimulate nucleus-like structures to perform some biological processes, but not cell division.
Unless better technology and DNA samples emerge in the future, it's unlikely that scientists will be able to clone a woolly mammoth.
Still, studying the DNA of woolly mammoths provides valuable insights into the genetic adaptations that allowed them to survive in unique environments.
Does believing in true love make people act like jerks?
Thought Catalog via Unsplash
Sex & Relationships
Ghosting, or cutting off all contact suddenly with a romantic partner, is not nice.
Growth-oriented people (who think relationships are made, not born) do not appreciate it.
Destiny-oriented people (who believe in soulmates) are more likely to be okay with ghosting.
Big think's weekly newsletter.
Get smarter faster from the comfort of your inbox.
See our newsletter privacy policy
here
Most Popular
Most Recent
Big think's weekly newsletter.
Get smarter faster from the comfort of your inbox.
See our newsletter privacy policy
here
© Copyright 2007-2018 & BIG THINK, BIG THINK EDGE,
SMARTER FASTER trademarks owned by The Big Think, Inc. All rights reserved.