For the first time ever, a study finds out what CEOs actually do
CEO time has never been studied in this kind of detail.
02 July, 2018
I've heard folks say that CEOs deserve what they make because of the time they put in.
---
While some CEOs probably put in many more than the average, that average is about 60 hours per week, according to a new study by the Harvard Business Review.
The study included only two women and 25 men—which is the current nature of the business world, unfortunately—and it logged their activities in 15-minute intervals, 24 hours per day, over three months.
The study showed that CEOs worked:
On average, 9.7 hours per weekday, which is 48.5 hours a week
Around 4 hours per weekend day
2.4 hours per vacation day
Which adds up to 62.5 hours a week.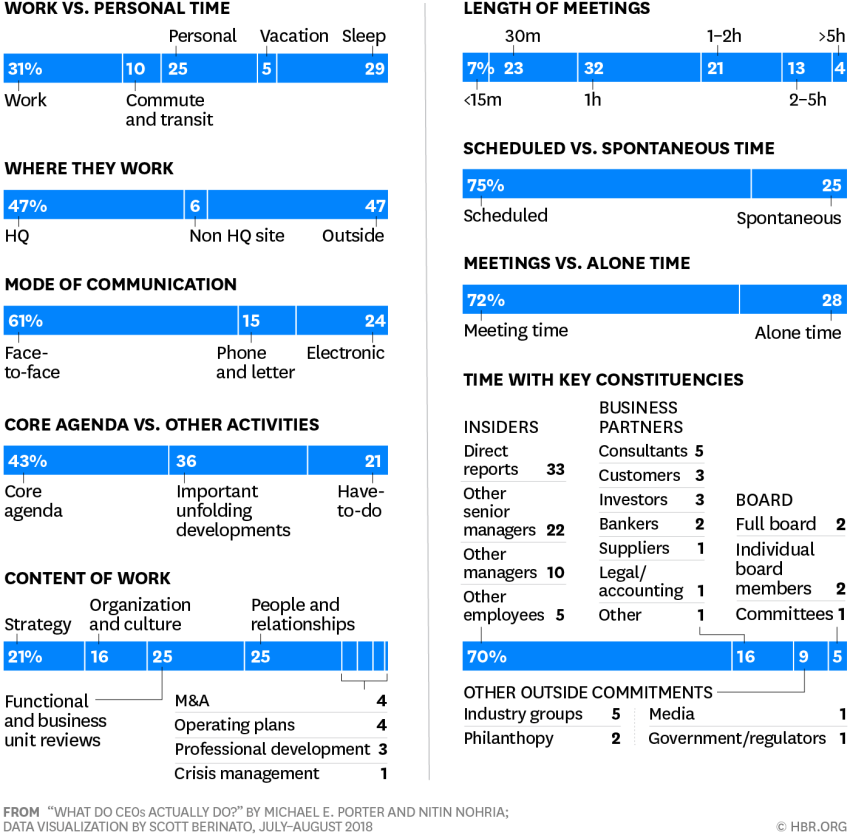 What did they do during that time? About 75% of CEO time is scheduled in advance, with 25% spontaneous. 
The breakdown of hours spent working is interesting: 
25% on people and relationships
25% on functional and business unit reviews
16% on organization and culture
21% on strategy
3% on professional development
4% on mergers and acquisitions
4% on operating plans
Surprisingly, 1% on crisis management
Here's a sample, provided by the Harvard Business Review, of just one day for one CEO.


Image from What do CEOs Actually do?
In an intriguing finding, 61% of CEO communication? It's face-to-face. 24% is electronic, and 15% good old-fashioned phone and letters.
According to Michael Porter, University Professor at the Harvard Business school, "We were able to look at 27 different CEOs across a wide range of industries, the average size about $13 billion, so these are big, complex, in some cases international companies. We tracked them for 13 weeks, or 3 months, 24/7. There's never been data like this before—we've never known what CEOs do." 
He continued, "Time is indeed the scarcest resource."
Time is the scarcest resource for CEOs: Harvard Business School study from CNBC.
What is not illustrated in a study such as this? The fact that CEO pay has risen much more quickly since the Great Recession of 2008 than for anybody else. Indeed, regular workers' pay has fallen flat, and CEOs now make an average of 271 times regular workers' pay. (It's worth noting that this ratio is not as high as it was in years leading up to the Great Recession, but it's the highest since then.)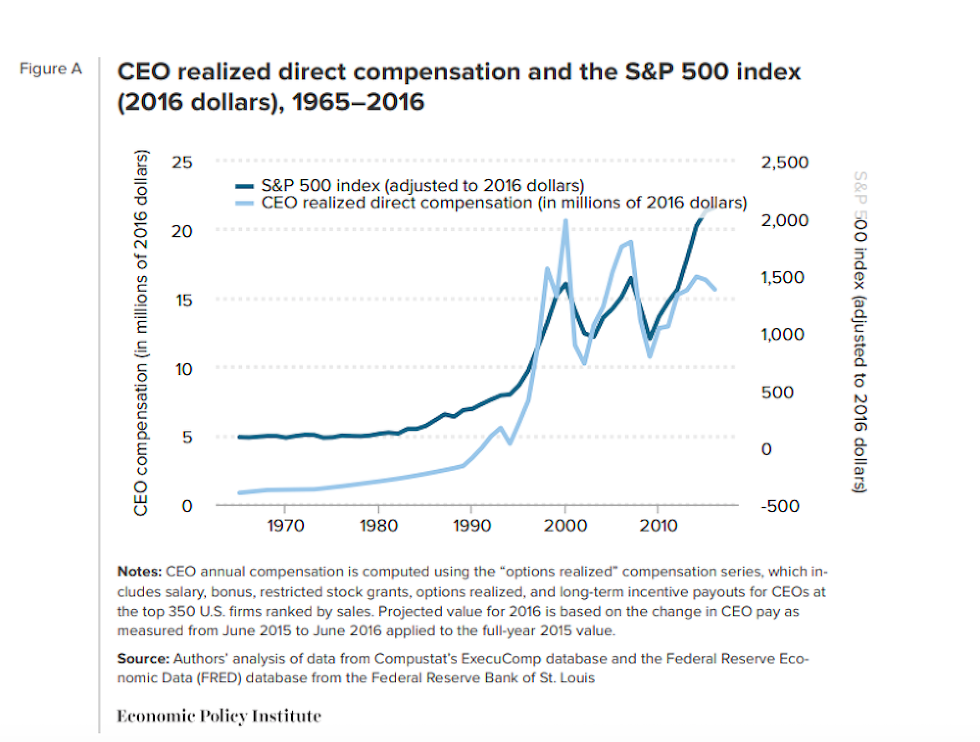 This number was 20-to-1 in 1965, and 59-to-1 in 1989. And at some companies such as Honeywell, it's 333-to-1. That means for every $1 a regular average employee makes there, the CEO makes $333. 
I'll leave it to you to decide if that's good or bad. 
What can 3D printing do for medicine? The "sky is the limit," says Northwell Health researcher Dr. Todd Goldstein.
Northwell Health
Sponsored by Northwell Health
Medical professionals are currently using 3D printers to create prosthetics and patient-specific organ models that doctors can use to prepare for surgery.
Eventually, scientists hope to print patient-specific organs that can be transplanted safely into the human body.
Northwell Health, New York State's largest health care provider, is pioneering 3D printing in medicine in three key ways.
New computing theory allows artificial intelligences to store memories.
Credit: Perception and Robotics Group, University of Maryland.
Technology & Innovation
To become autonomous, robots need to perceive the world around them and move at the same time.
Researchers create a theory of hyperdimensional computing to help store robot movement in high-dimensional vectors.
This improvement in perception will allow artificial intelligences to create memories.
If you don't want to know anything about your death, consider this your spoiler warning.
Culture & Religion
For centuries cultures have personified death to give this terrifying mystery a familiar face.
Modern science has demystified death by divulging its biological processes, yet many questions remain.
Studying death is not meant to be a morbid reminder of a cruel fate, but a way to improve the lives of the living.
Riots may ensue as more poor Americans recognize their "miserable" long-term prospects.
Videos
How bad is wealth inequality in the United States? About 1 percent of Americans hold 80 percent of the money.
In the United States, the correlation between the income of parents and the income of their children when they grow up is higher than in any other country in the world.
One of the big underlying reasons for poverty is receiving a crummy education, which in turn leads to crummy jobs. When people recognize their miserable long-term prospects, they are more likely to partake in riots.
Big think's weekly newsletter.
Get smarter faster from the comfort of your inbox.
See our newsletter privacy policy
here
Most Popular
Most Recent
Big think's weekly newsletter.
Get smarter faster from the comfort of your inbox.
See our newsletter privacy policy
here
© Copyright 2007-2019 & BIG THINK, BIG THINK EDGE,
SMARTER FASTER trademarks owned by The Big Think, Inc. All rights reserved.