For the first time ever, a study finds out what CEOs actually do
CEO time has never been studied in this kind of detail.
02 July, 2018
I've heard folks say that CEOs deserve what they make because of the time they put in.
---
While some CEOs probably put in many more than the average, that average is about 60 hours per week, according to a new study by the Harvard Business Review.
The study included only two women and 25 men—which is the current nature of the business world, unfortunately—and it logged their activities in 15-minute intervals, 24 hours per day, over three months.
The study showed that CEOs worked:
On average, 9.7 hours per weekday, which is 48.5 hours a week
Around 4 hours per weekend day
2.4 hours per vacation day
Which adds up to 62.5 hours a week.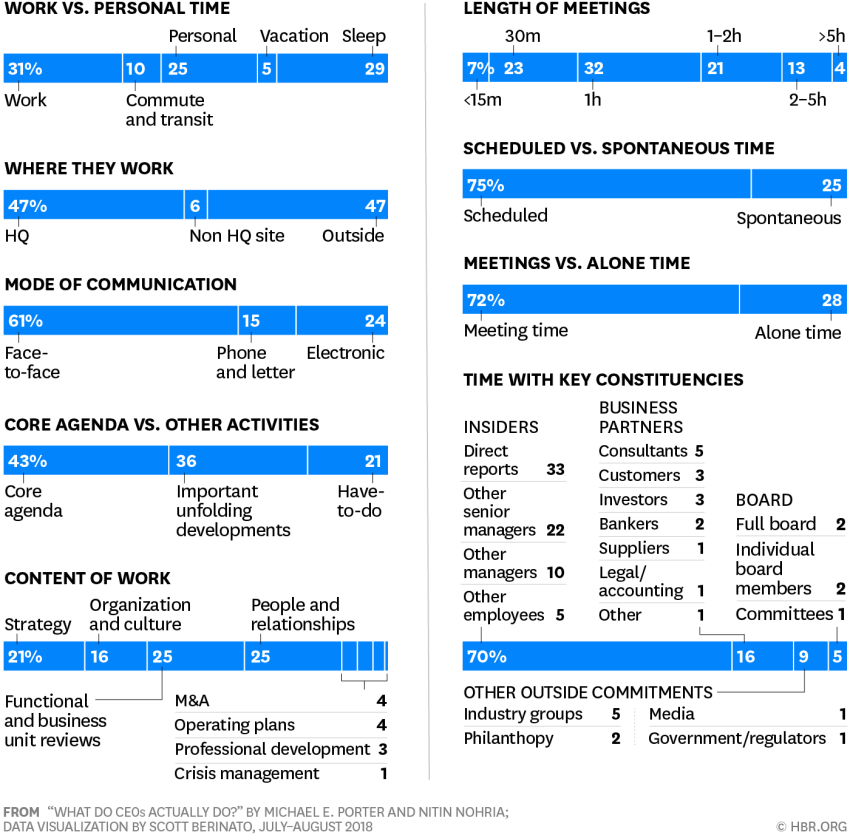 What did they do during that time? About 75% of CEO time is scheduled in advance, with 25% spontaneous. 
The breakdown of hours spent working is interesting: 
25% on people and relationships
25% on functional and business unit reviews
16% on organization and culture
21% on strategy
3% on professional development
4% on mergers and acquisitions
4% on operating plans
Surprisingly, 1% on crisis management
Here's a sample, provided by the Harvard Business Review, of just one day for one CEO.


Image from What do CEOs Actually do?
In an intriguing finding, 61% of CEO communication? It's face-to-face. 24% is electronic, and 15% good old-fashioned phone and letters.
According to Michael Porter, University Professor at the Harvard Business school, "We were able to look at 27 different CEOs across a wide range of industries, the average size about $13 billion, so these are big, complex, in some cases international companies. We tracked them for 13 weeks, or 3 months, 24/7. There's never been data like this before—we've never known what CEOs do." 
He continued, "Time is indeed the scarcest resource."
Time is the scarcest resource for CEOs: Harvard Business School study from CNBC.
What is not illustrated in a study such as this? The fact that CEO pay has risen much more quickly since the Great Recession of 2008 than for anybody else. Indeed, regular workers' pay has fallen flat, and CEOs now make an average of 271 times regular workers' pay. (It's worth noting that this ratio is not as high as it was in years leading up to the Great Recession, but it's the highest since then.)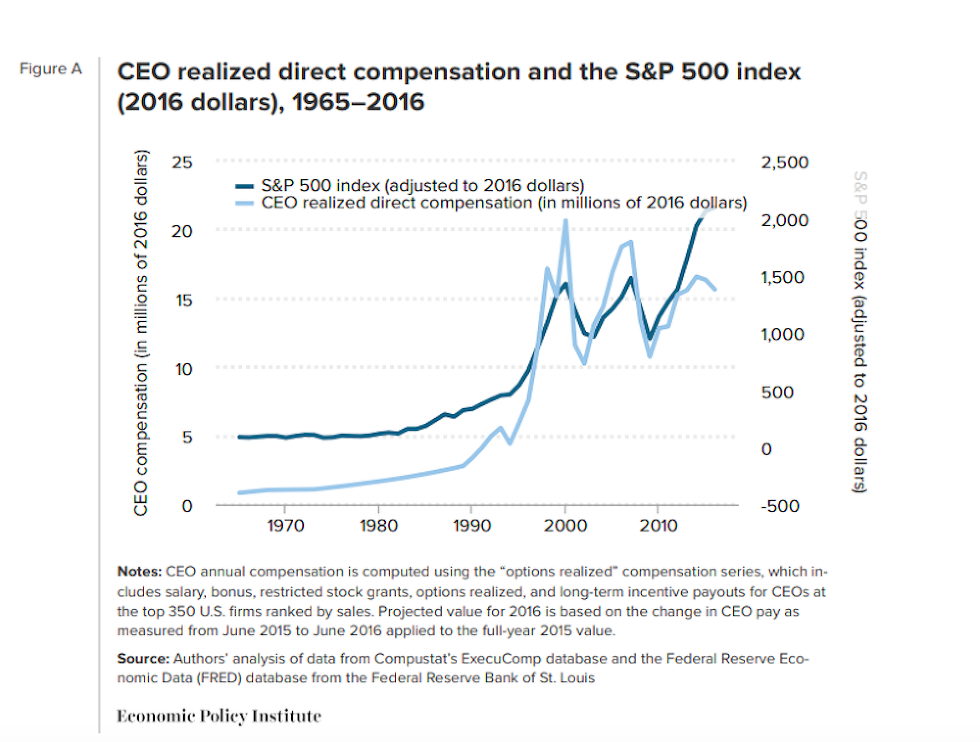 This number was 20-to-1 in 1965, and 59-to-1 in 1989. And at some companies such as Honeywell, it's 333-to-1. That means for every $1 a regular average employee makes there, the CEO makes $333. 
I'll leave it to you to decide if that's good or bad. 
Former president of the ACLU Nadine Strossen discusses whether our society should always defend free speech rights, even for groups who would oppose such rights.
Sponsored by Charles Koch Foundation
Former ACLU president Nadine Strossen understands that protecting free speech rights isn't always a straightforward proposition.
In this video, Strossen describes the reasoning behind why the ACLU defended the free speech rights of neo-Nazis in Skokie, Illinois, 1977.
The opinions expressed in this video do not necessarily reflect the views of the Charles Koch Foundation, which encourages the expression of diverse viewpoints within a culture of civil discourse and mutual respect.
Going back to the moon will give us fresh insights about the creation of our solar system.
Videos
July 2019 marks the 50th anniversary of the moon landing — Apollo 11.
Today, we have a strong scientific case for returning to the moon: the original rock samples that we took from the moon revolutionized our view of how Earth and the solar system formed. We could now glean even more insights with fresh, nonchemically-altered samples.
NASA plans to send humans to a crater in the South Pole of the moon because it's safer there, and would allow for better communications with people back on Earth.
Strangely, the sun showed no sunspots at the time the photo was taken.
Image source: Rainee Colacurcio
Surprising Science
The photo shows the International Space Station as it orbits the Earth, as it does every 90 minutes.
The photo is remarkable because it offers a glimpse of the star at a time when there were no sunspots.
In November, astronauts aboard the ISS plan to grow Española chili pepper plants.
Jokesters and serious Area 51 raiders would be met with military force.
Politics & Current Affairs
Facebook joke event to "raid Area 51" has already gained 1,000,000 "going" attendees.
The U.S. Air Force has issued an official warning to potential "raiders."
If anyone actually tries to storm an American military base, the use of deadly force is authorized.