For the first time ever, a study finds out what CEOs actually do
CEO time has never been studied in this kind of detail.
02 July, 2018
I've heard folks say that CEOs deserve what they make because of the time they put in.
---
While some CEOs probably put in many more than the average, that average is about 60 hours per week, according to a new study by the Harvard Business Review.
The study included only two women and 25 men—which is the current nature of the business world, unfortunately—and it logged their activities in 15-minute intervals, 24 hours per day, over three months.
The study showed that CEOs worked:
On average, 9.7 hours per weekday, which is 48.5 hours a week
Around 4 hours per weekend day
2.4 hours per vacation day
Which adds up to 62.5 hours a week.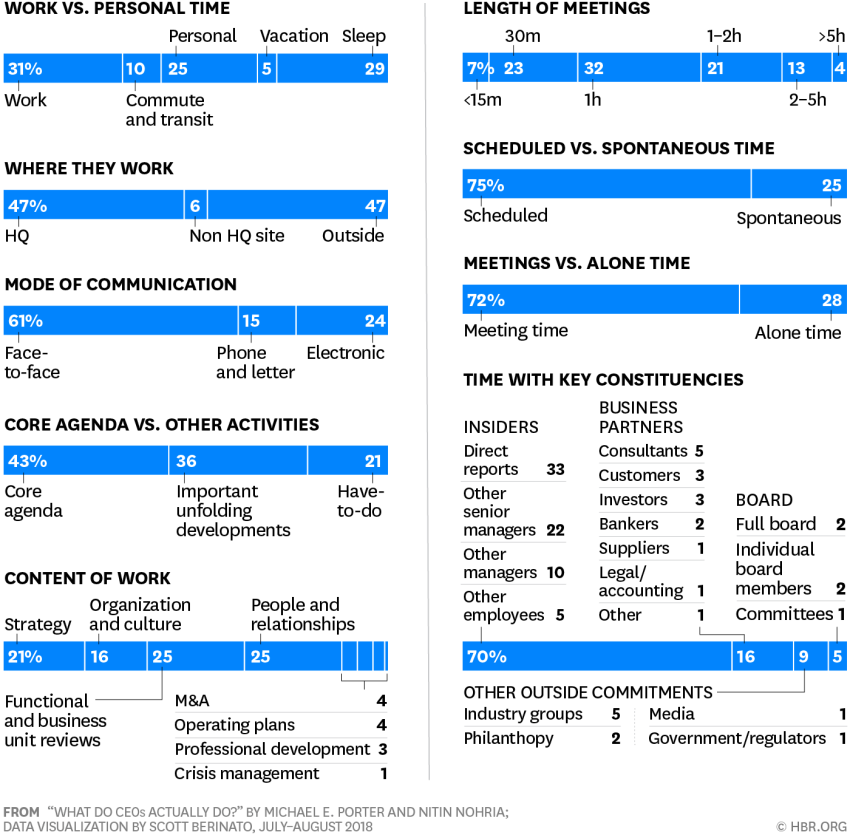 What did they do during that time? About 75% of CEO time is scheduled in advance, with 25% spontaneous. 
The breakdown of hours spent working is interesting: 
25% on people and relationships
25% on functional and business unit reviews
16% on organization and culture
21% on strategy
3% on professional development
4% on mergers and acquisitions
4% on operating plans
Surprisingly, 1% on crisis management
Here's a sample, provided by the Harvard Business Review, of just one day for one CEO.


Image from What do CEOs Actually do?
In an intriguing finding, 61% of CEO communication? It's face-to-face. 24% is electronic, and 15% good old-fashioned phone and letters.
According to Michael Porter, University Professor at the Harvard Business school, "We were able to look at 27 different CEOs across a wide range of industries, the average size about $13 billion, so these are big, complex, in some cases international companies. We tracked them for 13 weeks, or 3 months, 24/7. There's never been data like this before—we've never known what CEOs do." 
He continued, "Time is indeed the scarcest resource."
Time is the scarcest resource for CEOs: Harvard Business School study from CNBC.
What is not illustrated in a study such as this? The fact that CEO pay has risen much more quickly since the Great Recession of 2008 than for anybody else. Indeed, regular workers' pay has fallen flat, and CEOs now make an average of 271 times regular workers' pay. (It's worth noting that this ratio is not as high as it was in years leading up to the Great Recession, but it's the highest since then.)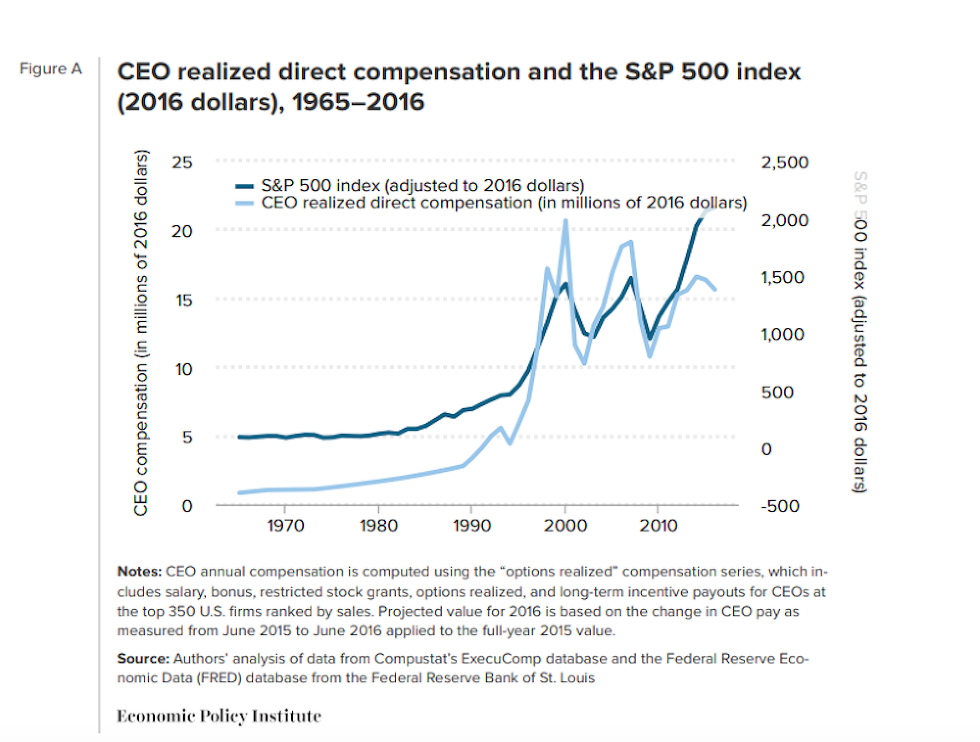 This number was 20-to-1 in 1965, and 59-to-1 in 1989. And at some companies such as Honeywell, it's 333-to-1. That means for every $1 a regular average employee makes there, the CEO makes $333. 
I'll leave it to you to decide if that's good or bad. 
In a breakthrough for nuclear fusion research, scientists at China's Experimental Advanced Superconducting Tokamak (EAST) reactor have produced temperatures necessary for nuclear fusion on Earth.
Credit: EAST Team
Surprising Science
The EAST reactor was able to heat hydrogen to temperatures exceeding 100 million degrees Celsius.
Nuclear fusion could someday provide the planet with a virtually limitless supply of clean energy.
Still, scientists have many other obstacles to pass before fusion technology becomes a viable energy source.
Military recruits are supposed to be assessed to see whether they're fit for service. What happens when they're not?
Politics & Current Affairs
During the Vietnam War, Robert McNamara began a program called Project 100,000.
The program brought over 300,000 men to Vietnam who failed to meet minimum criteria for military service, both physically and mentally.
Project 100,000 recruits were killed in disproportionate numbers and fared worse after their military service than their civilian peers, making the program one of the biggest—and possibly cruelest—mistakes of the Vietnam War.
The 116th Congress is set to break records in term of diversity among its lawmakers, though those changes are coming almost entirely from Democrats.
(Photo: MANDEL NGAN/AFP/Getty Images)
Politics & Current Affairs
Women and nonwhite candidates made record gains in the 2018 midterms.
In total, almost half of the newly elected Congressional representatives are not white men.
Those changes come almost entirely from Democrats; Republican members-elect are all white men except for one woman.
Big think's weekly newsletter.
Get smarter faster from the comfort of your inbox.
See our newsletter privacy policy
here
Most Popular
Most Recent
Big think's weekly newsletter.
Get smarter faster from the comfort of your inbox.
See our newsletter privacy policy
here
© Copyright 2007-2018 & BIG THINK, BIG THINK EDGE,
SMARTER FASTER trademarks owned by The Big Think, Inc. All rights reserved.