For the first time ever, a study finds out what CEOs actually do
CEO time has never been studied in this kind of detail.
02 July, 2018
Facebook co-founder, Chairman and CEO Mark Zuckerberg testifies before the House Energy and Commerce Committee in the Rayburn House Office Building on Capitol Hill April 11, 2018 in Washington, DC. (Photo by Chip Somodevilla/Getty Images)
I've heard folks say that CEOs deserve what they make because of the time they put in.
---
While some CEOs probably put in many more than the average, that average is about 60 hours per week, according to a new study by the Harvard Business Review.
The study included only two women and 25 men—which is the current nature of the business world, unfortunately—and it logged their activities in 15-minute intervals, 24 hours per day, over three months.
The study showed that CEOs worked:
On average, 9.7 hours per weekday, which is 48.5 hours a week
Around 4 hours per weekend day
2.4 hours per vacation day
Which adds up to 62.5 hours a week.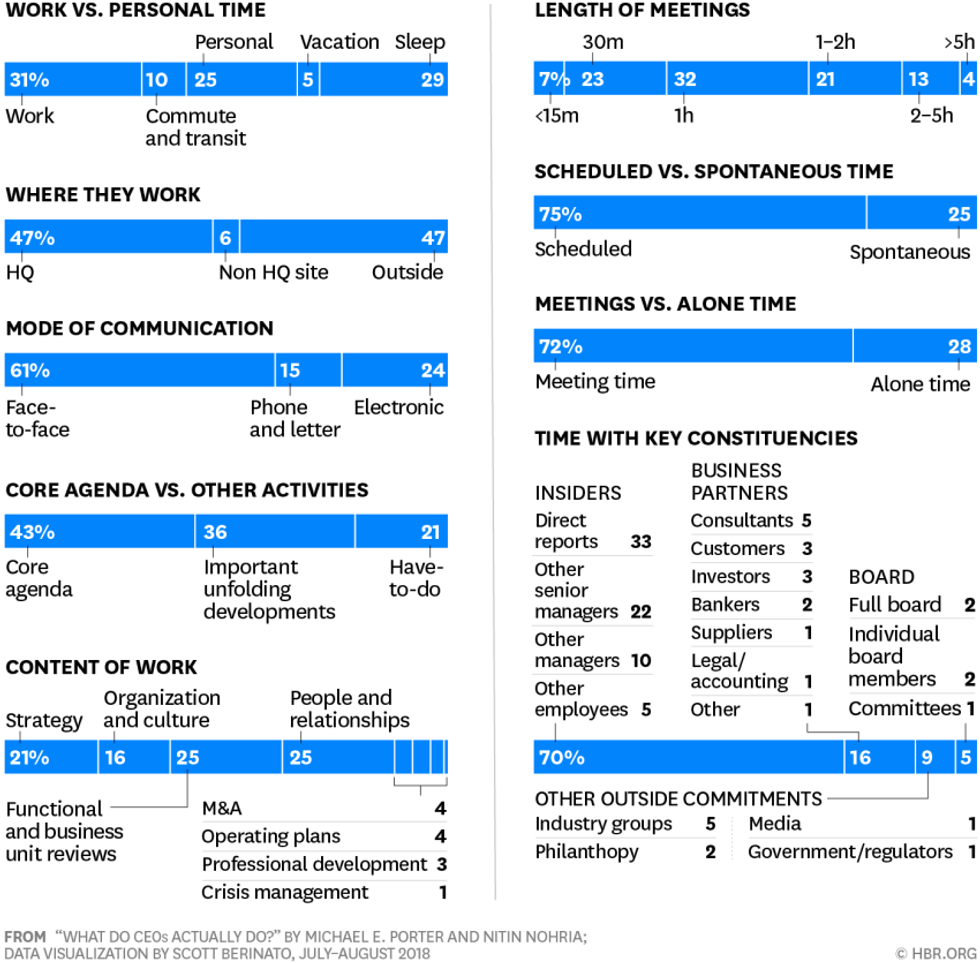 What did they do during that time? About 75% of CEO time is scheduled in advance, with 25% spontaneous. 
The breakdown of hours spent working is interesting: 
25% on people and relationships
25% on functional and business unit reviews
16% on organization and culture
21% on strategy
3% on professional development
4% on mergers and acquisitions
4% on operating plans
Surprisingly, 1% on crisis management
Here's a sample, provided by the Harvard Business Review, of just one day for one CEO.


Image from What do CEOs Actually do?
In an intriguing finding, 61% of CEO communication? It's face-to-face. 24% is electronic, and 15% good old-fashioned phone and letters.
According to Michael Porter, University Professor at the Harvard Business school, "We were able to look at 27 different CEOs across a wide range of industries, the average size about $13 billion, so these are big, complex, in some cases international companies. We tracked them for 13 weeks, or 3 months, 24/7. There's never been data like this before—we've never known what CEOs do." 
He continued, "Time is indeed the scarcest resource."
Time is the scarcest resource for CEOs: Harvard Business School study from CNBC.
What is not illustrated in a study such as this? The fact that CEO pay has risen much more quickly since the Great Recession of 2008 than for anybody else. Indeed, regular workers' pay has fallen flat, and CEOs now make an average of 271 times regular workers' pay. (It's worth noting that this ratio is not as high as it was in years leading up to the Great Recession, but it's the highest since then.)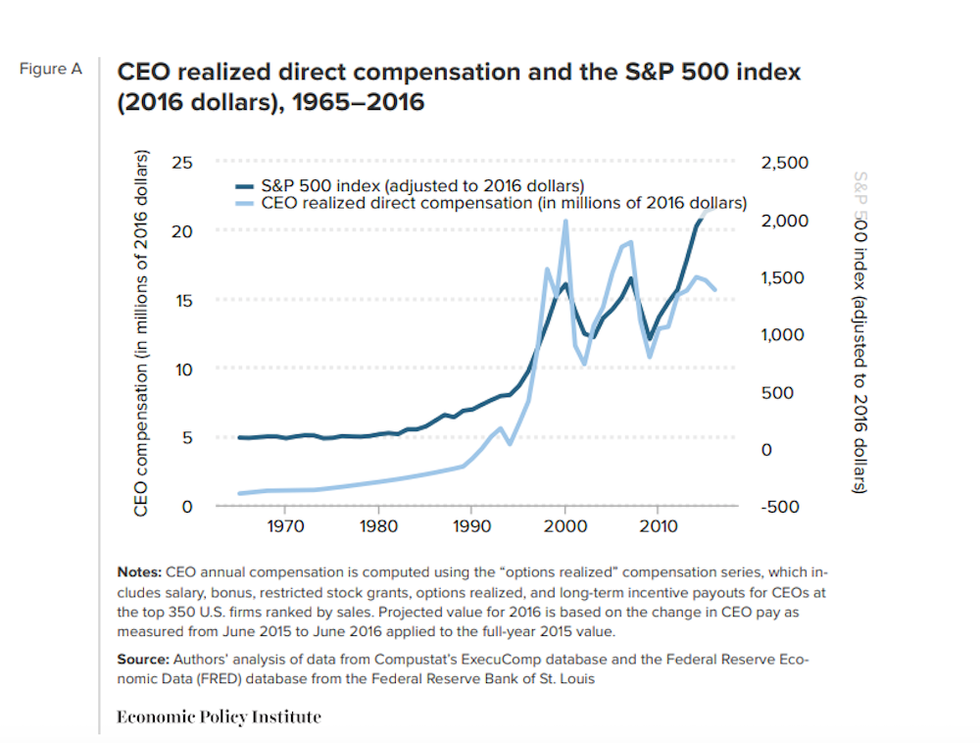 This number was 20-to-1 in 1965, and 59-to-1 in 1989. And at some companies such as Honeywell, it's 333-to-1. That means for every $1 a regular average employee makes there, the CEO makes $333. 
I'll leave it to you to decide if that's good or bad. 
To create wiser adults, add empathy to the school curriculum.
Sponsored by Charles Koch Foundation
Stories are at the heart of learning, writes Cleary Vaughan-Lee, Executive Director for the Global Oneness Project. They have always challenged us to think beyond ourselves, expanding our experience and revealing deep truths.
Vaughan-Lee explains 6 ways that storytelling can foster empathy and deliver powerful learning experiences.
Global Oneness Project is a free library of stories—containing short documentaries, photo essays, and essays—that each contain a companion lesson plan and learning activities for students so they can expand their experience of the world.
Philosophers like to present their works as if everything before it was wrong. Sometimes, they even say they have ended the need for more philosophy. So, what happens when somebody realizes they were mistaken?
The inequalities impact everything from education to health.
ANGELA WEISS/AFP via Getty Images
Politics & Current Affairs
America is experiencing some of its most widespread civil unrest in years following the death of George Floyd.
Astrophysicist Michelle Thaller talks ISS and why NICER is so important.
Videos
Being outside of Earth's atmosphere while also being able to look down on the planet is both a challenge and a unique benefit for astronauts conducting important and innovative experiments aboard the International Space Station.
NASA astrophysicist Michelle Thaller explains why one such project, known as NICER (Neutron star Interior Composition Explorer), is "one of the most amazing discoveries of the last year."
Researchers used x-ray light data from NICER to map the surface of neutrons (the spinning remnants of dead stars 10-50 times the mass of our sun). Thaller explains how this data can be used to create a clock more accurate than any on Earth, as well as a GPS device that can be used anywhere in the galaxy.
Mind & Brain
Just before I turned 60, I discovered that sharing my story by drawing could be an effective way to both alleviate my symptoms and combat that stigma.
Scroll down to load more…