Remember Windows 95? Now you can download it on most OS systems, for free.
Microsoft Windows 95 was launched exactly 23 years ago today, selling for the tidy sum of $209.95. Now you can download it for free on almost any device. Go ahead. You know you want to.
24 August, 2018
Do you pine for the days of the Start button, Microsoft Paint, the iconic Solitaire, and Minesweeper? (What, really, was the point of that game? Can anybody tell me?)
---
Now, on the 23rd anniversary of its launch, you can download Windows 95 for free, to anything running Windows, macOS, or Linux. It's about 130MB in size, so not bad, and it takes up about 200MB of RAM when operating on a modern system. And it's listed as "Windows 95 V 1.0," which would indicate further releases are planned. (Note: There is already a fresh release that allows for—get this—floppy disk support, so now it's at V. 1.1.0).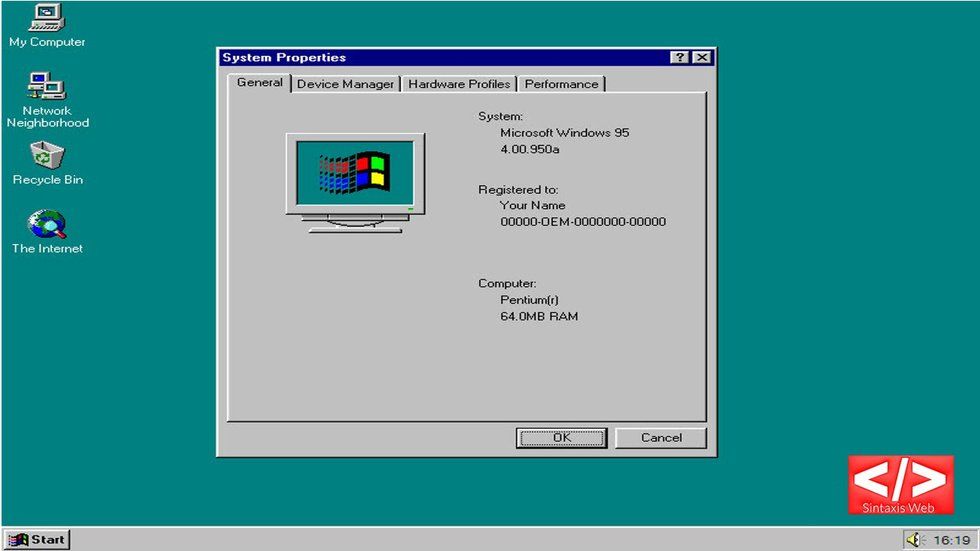 Image by Flickr user sintaxiseb.
There are a few things missing from this software-as-an-app release, including the classic Space Cadet Pinball, but most of the rest is intact. Note that you cannot access the Web from the classic original Internet Explorer included with this release, but that's OK. It's so rife with security holes, that's probably a good thing.
As Design Museum says, the original release sold seven million copies in five weeks. That's about $1.5 billion in revenue at full price. No wonder; Microsoft had allocated $300 million for marketing and advertising.
#OnThisDay in tech history, #Windows95 was launched with 7 million copies sold in the first 5 weeks of its release. Some of the new features included: the start button and a task-bar for better navigation.

What are your memories of using Windows 95? Comment down below! pic.twitter.com/fpG2Y29Yzy

— Design Museum (@DesignMuseum) August 24, 2018
We are constantly trying to force the world to look like us — we need to move on.
Videos
When the Berlin Wall fell in 1989, many Americans jumped for joy. At the time, some believed there weren't going to be any more political disagreements anywhere in the world. They thought American democracy had won the "war of ideas."
American exceptionalism has sought to create a world order that's really a mirror image of ourselves — a liberal world order founded on the DNA of American thinking. To many abroad this looks like ethnic chauvinism.
We need to move on from this way of thinking, and consider that sometimes "problem-solving," in global affairs, means the world makes us look like how it wants to be.
Scientists make an important discovery for the future of computing.
Pixabay
Surprising Science
Researchers find a new state of matter called "topological superconductivity".
The state can lead to important advancements in quantum computing.
Utilizing special particles that emerge during this state can lead to error-free data storage and blazing calculation speed.
French newspapers report that the trial hasn't lived up to expectations.
Image source: Charly Triballeau / AFP / Getty Images
Technology & Innovation
The French government initially invested in a rural solar roadway in 2016.
French newspapers report that the trial hasn't lived up to expectations.
Solar panel "paved" roadways are proving to be inefficient and too expensive.