How SCOTUS nominee Brett Kavanaugh dissented on the 'Blackfish' SeaWorld case
The killer whale involved in the incident, Tilikum, has been involved in three deaths of humans while in captivity.
10 July, 2018
The sign at the entrance to SeaWorld February 24, 2010 in Orlando, Florida. (Photo by Matt Stroshane/Getty Images)
Brett Kavanaugh, circuit judge of the U.S. Court of Appeals in Washington, D.C., is the nominee to replace Supreme Court Justice Anthony Kennedy. 
---
He was also one of three judges who oversaw SeaWorld's appeal of citations the company received because of the death of killer whale trainer Dawn Brancheau in 2010 when she was drowned and dismembered by a killer whale named Tilikum after a performance.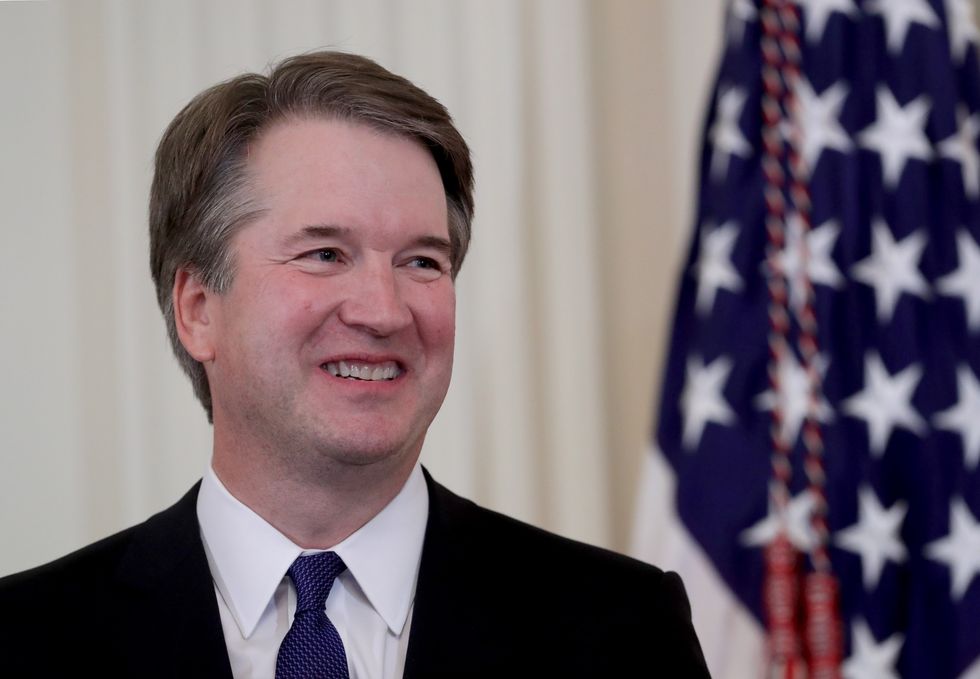 U.S. Circuit Judge Brett M. Kavanaugh looks on as U.S. President Donald Trump introduces him as his nominee to the United States Supreme Court during an event in the East Room of the White House July 9, 2018 in Washington, DC. (Photo by Chip Somodevilla/Getty Images)
The penalty involved? $70,000… which, well, isn't much for the life of an individual. It was for the willful violation of Occupational Safety and Health Administration (OSHA) regulations on the part of SeaWorld itself. 
After SeaWorld appealed the decision, it went before Chief Judge Merrick Garland (remember him?) and Circuit Judge Judith Rogers. The case was all about how the company safeguards killer whale trainers. 
Both Garland and Rogers, in their majority opinion, argued that SeaWorld should have done more to protect employees from workplace hazards.
"There was substantial record evidence that SeaWorld recognized its precautions were inadequate to prevent serious bodily harm or even death to its trainers and that the residual hazard was preventable," Justice Rogers wrote in the 2014 majority opinion.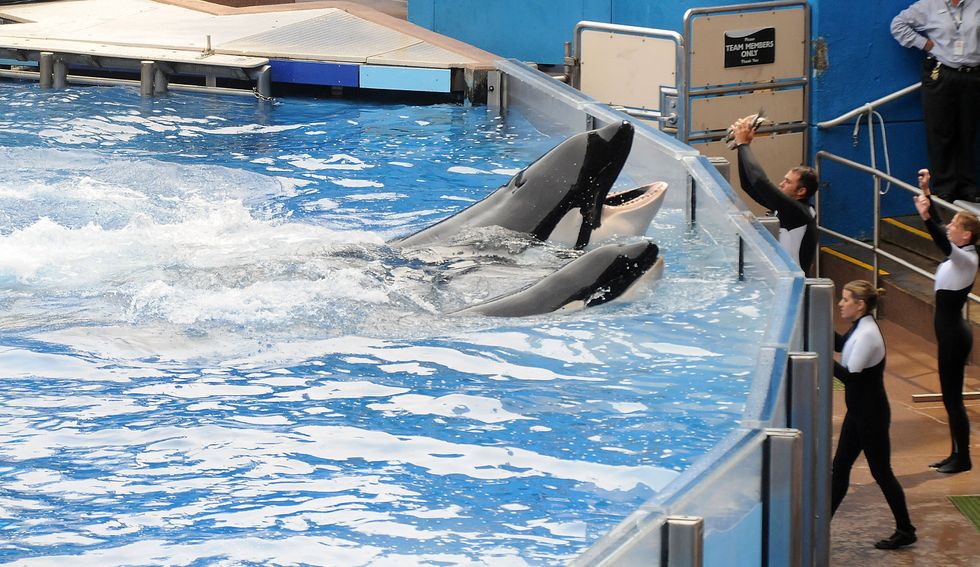 Guests watch an orca display near the exit of SeaWorld February 24, 2010 in Orlando, Florida. This is the third human death associated with Tilikum the whale. (Photo by Matt Stroshane/Getty Images)
In a telling bit about Kavanaugh's pro-business reasoning, he argued in a dissenting opinion that those who train killer whales were basically no different than professional athletes and racing drivers; basically, their jobs were risky by design, so they deserved no such protection.
His opinion read, in part, that the Department of Labor "Cannot reasonably distinguish close contact with whales at SeaWorld from tackling in the NFL or speeding in NASCAR. The Department's sole justification for the distinction is that SeaWorld could modify… its shows to eliminate close contact with whales without going out of business. But so too, the NFL could ban tackling or punt returns or blocks below the waist. And likewise, NASCAR could impose a speed limit during its races. But the Department has not claimed that it can regulate those activities. So that is not a reasonable way to distinguish sports from SeaWorld."
It did not appear in Kavanaugh's dissent that he considered the fact that this was the third human death that this particular orca had been involved in while in captivity. 
To create wiser adults, add empathy to the school curriculum.
Sponsored by Charles Koch Foundation
Stories are at the heart of learning, writes Cleary Vaughan-Lee, Executive Director for the Global Oneness Project. They have always challenged us to think beyond ourselves, expanding our experience and revealing deep truths.
Vaughan-Lee explains 6 ways that storytelling can foster empathy and deliver powerful learning experiences.
Global Oneness Project is a free library of stories—containing short documentaries, photo essays, and essays—that each contain a companion lesson plan and learning activities for students so they can expand their experience of the world.
Philosophers like to present their works as if everything before it was wrong. Sometimes, they even say they have ended the need for more philosophy. So, what happens when somebody realizes they were mistaken?
Just before I turned 60, I discovered that sharing my story by drawing could be an effective way to both alleviate my symptoms and combat that stigma.
Photo by JJ Ying on Unsplash
Mind & Brain
I've lived much of my life with anxiety and depression, including the negative feelings – shame and self-doubt – that seduced me into believing the stigma around mental illness: that people knew I wasn't good enough; that they would avoid me because I was different or unstable; and that I had to find a way to make them like me.
A joint study by two England universities explores the link between sex and cognitive function with some surprising differences in male and female outcomes in old age.
Mind & Brain
A joint study by the universities of Coventry and Oxford in England has linked sexual activity with higher cognitive abilities in older age.
The results of this study suggest there are significant associations between sexual activity and number sequencing/word recall in men. In women, however, there was a significant association between sexual activity in word recall alone - number sequencing was not impacted.
The differences in testosterone (the male sex hormone) and oxytocin (a predominantly female hormone) may factor into why the male cognitive level changes much more during sexual activity in older age.
Technology & Innovation
Mathematicians studied 100 billion tweets to help computer algorithms better understand our colloquial digital communication.
Scroll down to load more…