Big ideas.
Once a week.
Subscribe to our weekly newsletter.
How the Cute Pikachu Is a Chocolate Milkshake for the Brain
Cute things are usually vulnerable, fragile, and weak. But cuteness itself is mighty indeed.
18 December, 2017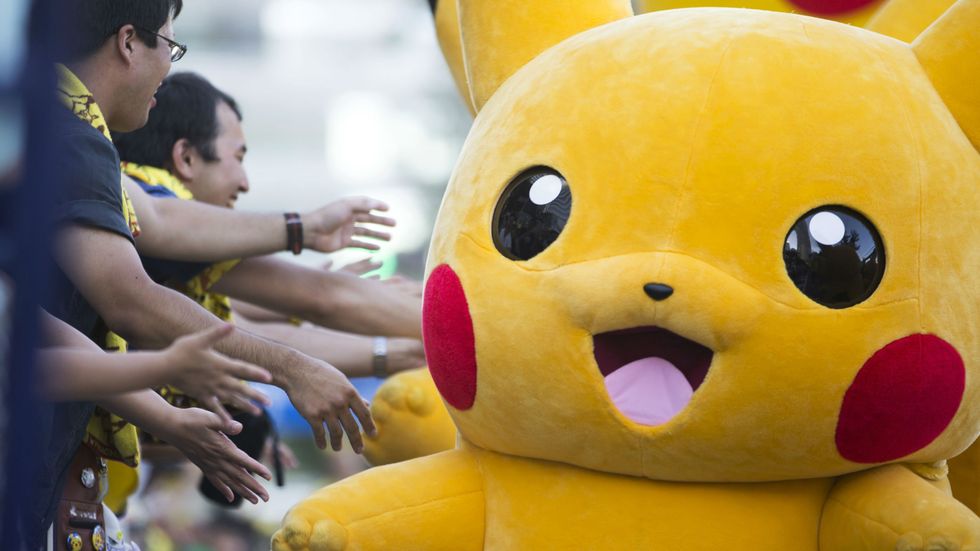 Pikachu Outbreak Festival 2016 In Yokohama (Photo by Tomohiro Ohsumi/Getty Images)
Cute things are usually vulnerable, fragile and weak. But cuteness itself is mighty indeed. Morten L Kringelbach and his colleagues at the University of Oxford recently described cuteness as 'one of the most basic and powerful forces shaping our behaviour'. And yet, despite its elemental importance, cuteness might be a fluid, evolving concept and trait.
---
The word emerged as a shortened form of the word 'acute', originally meaning sharp, clever or shrewd. Schoolboys in the United States began using cute to mean pretty or attractive in the early 19th century. But cuteness also implies weakness. Mignon, the French word for cute or dainty, is the origin of the English word 'minion', a weak follower or underling. Kawaii, a Japanese word referring to a similar concept, appears to have been first used in the 11th century to mean pitiable.
Yet the mascots of Japanese kawaii today are not always so pitiable. Pikachu, a rat-like creature from the videogame franchise Pokémon, can conjure bolts of searing electricity to attack opponents. But Pikachu's infantile features – large eyes, plump red cheeks and a disproportionately large head – make this not-so-pitiable Pokémon paradoxically innocent, lovable and cute.
Cuteness could be an evolving linguistic concept because its defining characteristics were perhaps considered obvious or even ineffable for much of history. It was not until the 20th century that the Nobel laureates Konrad Lorenz and Niko Tinbergen described the 'infant schema' that humans find cute or endearing: round eyes, chubby cheeks, high eyebrows, a small chin and a high head-to-body-size ratio. These features serve an important evolutionary purpose by helping the brain recognise helpless infants who need our attention and affection for their survival.
In fact, cute judgments might be fundamental to human perception. Examining magnetic brain activity in subjects presented with infant and adult faces, Kringelbach and his colleagues at Oxford have found that the brain starts recognising faces as cute or infantile in less than a seventh of a second after the face is presented to subjects. His group has concluded that cuteness is a key that unlocks the brain's fast attentional resources before also influencing slower brain networks responsible for compassion and empathy.
If cuteness is such an important key, might a locksmith counterfeit a master key? Decades ago, Lorenz and Tinbergen also introduced the concept of a supernormal stimulus: a stimulus far more salient or intense than any occurring in nature. In a classic experiment, Tinbergen discovered that geese preferred to roll volleyballs towards their nests over real goose eggs. In fact, volleyballs are supernormal stimuli because their big, round, white shape is more egg-like than real goose eggs.
Similarly, Pikachu's baby-like features might exceed those of real infants, making the character a supernormal stimulus: unbearably adorable, but without the high maintenance of a real baby. Needless to say, our 'sense of cute' did not evolve to nurture faux animals such as Pikachu, but our brains have been hijacked nonetheless by the unnaturally big eyes and childlike features of such cute characters. Similarly, our ability to sense sugar in food did not evolve for us to enjoy chocolate milkshakes, but to steer us towards naturally occurring sources of sugar in fruit and other foods.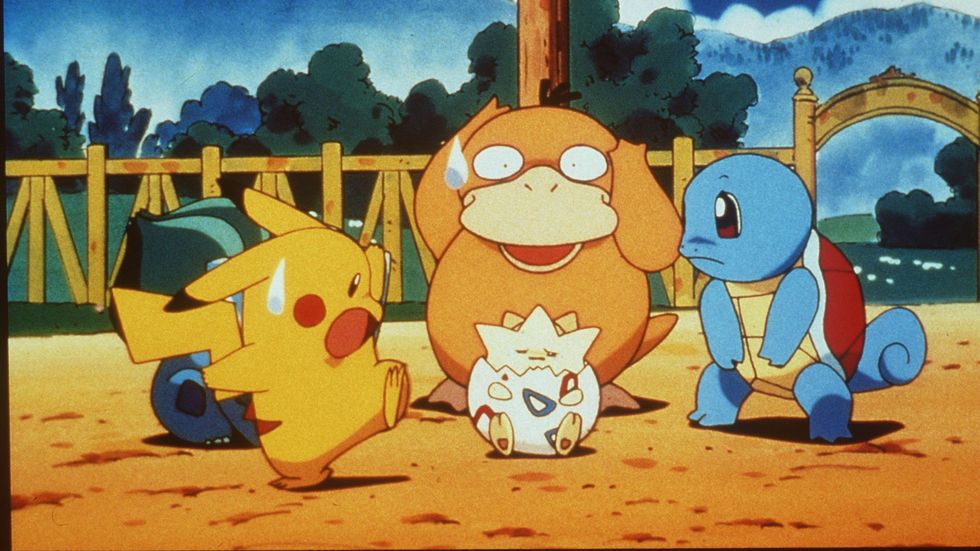 Cute cartoon characters, junk food, videogames and other supernatural stimuli might engage the nucleus accumbens, a critical piece of neural machinery in the brain's reward circuit. The nucleus accumbens contains neurons that release dopamine, a brain chemical that, among other things, encodes such stimuli. Much like drugs of abuse, supernormal stimuli are hypothesised to activate the nucleus accumbens, directing the brain's full attention towards the reward in question. An international team of researchers studied the phenomenon by artificially manipulating the infant schema of baby faces in photographs to create what might be considered supernormal stimuli – faces more or less baby-faced, or cute, than a normal infant might appear. Women were presented with the real and manipulated images while their brains were scanned using functional magnetic resonance imaging (fMRI). As the researchers hypothesised, the heightening or diminishment of cuteness had a significant effect on metabolic activity in the nucleus accumbens, suggesting that this brain region both responds to supernormal stimuli and plays a crucial role in triggering altruistic, nurturing behaviour towards babies.
Other supernormal stimuli, such as refined sugar, can activate the brain's reward circuitry in a similar manner. Research at Pennsylvania State University has also shown that dopamine activity in the nucleus accumbens of lab rats is proportional to the amount of sugar-water that the rats ingested. Similarly, researchers in Oregon have shown abnormal brain activity in the caudate nucleus – a brain region adjacent to the nucleus accumbens, and also involved in reward – when obese adolescent girls consume a chocolate milkshake. It seems that infant cuteness, sugar content and other rewarding stimuli can all be manipulated to give privileged access to the brain's attentional system. In the brain's reward circuit, Pikachu is a chocolate milkshake.
These heightened stimuli seem to throw the brain's concerns into disarray. But even before videogame characters and unhealthy foods wrestled our attention from helpless babies and wholesome foods, cats, dogs and other pets found a strange way of winning important resources from humans. Perhaps Kringelbach and colleagues are justified in calling cuteness a 'Trojan horse'. Why do humans feel the need to nurture other species? Why are puppies, kittens and bunnies sometimes cuter than babies?
Studying infant development might help us find answers. Unlike other mammals, humans are born with underdeveloped brains so that the cranium can fit through the mother's birth canal. This also allows for shorter pregnancies, decreasing the burden on the mother. As babies mature into toddlers, they are perceived as being cuter – despite being less helpless than neonates – presumably due to a temporary exaggeration of infantile facial features. Dogs, on the other hand, mature faster after birth, going from blind pups to cute, doggie-eyed puppies in a mere two weeks.
And so, in a strange quirk of evolutionary psychology, canines and felines have won almost the same attention from humans as our own offspring. Indeed, the science of cuteness is simultaneously intuitive and bizarre. Two hundred years ago, cuteness might have still been an emerging linguistic concept in English. Today, it is recognised as a fast ticket to crucial neural resources that control attention, love and caring.
Research into infantile appearance reveals the chilling superficiality of human affection. Why can't love be won based on deeper criteria? But like a biological computer, the brain needs heuristics – a set of programmed guidelines – to identify beings that are likely to be helpless, needy infants. Kringelbach and his colleagues hope that understanding these heuristics will help us come up with a way of relieving the effects of cleft lip and postpartum depression on the mother-child relationship. Or, perhaps such knowledge will spell the ingredients for a cuter Pokémon. Either way, with an increased cultural awareness of cuteness, bigger eyes and rounder faces are here to stay.

Joel Frohlich
--
This article was originally published at Aeon and has been republished under Creative Commons.
All this from a wad of gum?
Tom Björklund
Surprising Science
Researchers recently uncovered a piece of chewed-on birch pitch in an archaeological dig in Denmark.
Conducting a genetic analysis of the material left in the birch pitch offered a plethora of insights into the individual who last chewed it.
The gum-chewer has been dubbed Lola. She lived 5,700 years ago; and she had dark skin, dark hair, and blue eyes.
Five thousand and seven hundred years ago, "Lola" — a blue-eyed woman with dark skin and hair — was chewing on a piece of pitch derived from heating birch bark. Then, this women spit her chewing gum out into the mud on an island in Denmark that we call Syltholm today, where it was unearthed by archaeologists thousands of years later. A genetic analysis of the chewing gum has provided us with a wealth of information on this nearly six-thousand-year-old Violet Beauregarde.
This represents the first time that the human genome has been extracted from material such as this. "It is amazing to have gotten a complete ancient human genome from anything other than bone," said lead researcher Hannes Schroeder in a statement.
"What is more," he added, "we also retrieved DNA from oral microbes and several important human pathogens, which makes this a very valuable source of ancient DNA, especially for time periods where we have no human remains."
In the pitch, researchers identified the DNA of the Epstein-Barr virus, which infects about 90 percent of adults. They also found DNA belonging to hazelnuts and mallards, which were likely the most recent meal that Lola had eaten before spitting out her chewing gum.
Insights into ancient peoples
The birch pitch was found on the island of Lolland (the inspiration for Lola's name) at a site called Syltholm. "Syltholm is completely unique," said Theis Jensen, who worked on the study for his PhD. "Almost everything is sealed in mud, which means that the preservation of organic remains is absolutely phenomenal.
"It is the biggest Stone Age site in Denmark and the archaeological finds suggest that the people who occupied the site were heavily exploiting wild resources well into the Neolithic, which is the period when farming and domesticated animals were first introduced into southern Scandinavia."
Since Lola's genome doesn't show any of the markers associated with the agricultural populations that had begun to appear in this region around her time, she provides evidence for a growing idea that hunter-gatherers persisted alongside agricultural communities in northern Europe longer than previously thought.
Her genome supports additional theories on northern European peoples. For example, her dark skin bolsters the idea that northern populations only recently acquired their light-skinned adaptation to the low sunlight in the winter months. She was also lactose intolerant, which researchers believe was the norm for most humans prior to the agricultural revolution. Most mammals lose their tolerance for lactose once they've weaned off of their mother's milk, but once humans began keeping cows, goats, and other dairy animals, their tolerance for lactose persisted into adulthood. As a descendent of hunter-gatherers, Lola wouldn't have needed this adaptation.
A hardworking piece of gum
A photo of the birch pitch used as chewing gum.
Theis Jensen
These findings are encouraging for researchers focusing on ancient peoples from this part of the world. Before this study, ancient genomes were really only ever recovered from human remains, but now, scientists have another tool in their kit. Birch pitch is commonly found in archaeological sites, often with tooth imprints.
Ancient peoples used and chewed on birch pitch for a variety of reasons. It was commonly heated up to make it pliable, enabling it to be molded as an adhesive or hafting agent before it settled. Chewing the pitch may have kept it pliable as it cooled down. It also contains a natural antiseptic, and so chewing birch pitch may have been a folk medicine for dental issues. And, considering that we chew gum today for no other reason than to pass the time, it may be that ancient peoples chewed pitch for fun.
Whatever their reasons, chewed and discarded pieces of birch pitch offer us the mind-boggling option of learning what someone several thousands of years ago ate for lunch, or what the color of their hair was, their health, where their ancestors came from, and more. It's an unlikely treasure trove of information to be found in a mere piece of gum.
The Inglehart-Welzel World Cultural map replaces geographic accuracy with closeness in terms of values.
Credit
: World Values Survey, public domain.
Strange Maps
This map replaces geography with another type of closeness: cultural values.
Although the groups it depicts have familiar names, their shapes are not.
The map makes for strange bedfellows: Brazil next to South Africa and Belgium neighboring the U.S.
Some countries value self-expression more than others.Credit: Robyn Beck / AFP via Getty Images
Question: On what map is Lithuania a neighbor of China, Poland lies next to Brazil, and Morocco and Yemen touch?

Answer: The Inglehart-Welzel World Cultural Map. To be precise, the 2017 map. Because on the 2020 version, each of those pairs has drifted apart significantly.
These are not, strictly speaking, maps but rather scatterplot diagrams. Each dot represents a country, the position of which is based on how it ranks on two different values (discussed below). The dots are corralled together into geo-cultural groups:
Catholic Europe, which comprises countries as diverse and far apart as Hungary and Andorra■ Protestant Europe, taking in both Iceland and Germany
The Orthodox world, from Belarus all the way to Armenia
The three Baltic states
The English-speaking world, including both the U.S. and Northern Ireland
The huge African-Islamic world, ranging from Azerbaijan to South Africa
Latin America, which goes from Mexico to Argentina
South Asia, which comprises both India and Cyprus
The Confucian world, encompassing China and Japan.
The placement of the dots indicates cultural proximity or distance. Some countries from different groups can be more similar than other countries in the same group.
See the examples indicated above: cultural neighbors China and Lithuania belong to the Confucian and Baltic groups, respectively. Poland is part of Catholic Europe; its 2017 neighbor Brazil is in Latin America. Morocco and Yemen are closer culturally to Armenia, in the Orthodox group, than they are to Qatar, despite all belonging to the African-Islamic group.
The 2017 version of the map places Malta deep inside South America and lets Vietnam, Portugal, and Macedonia meet.Credit: World Values Survey, public domain.
Creating a culture map

So, what exactly are the criteria used for plotting these dots in the first place?
These maps are part of the World Values Survey, first conducted by political scientist Ronald Inglehart in the late 1990s. With his colleague Christian Welzel, he produced an update in 2005. The WVS has been revised several times since, most recently in 2020.
The WVS asserts that there are two fundamental dimensions to cross-cultural variation across the world. These are used as the axes to plot the various countries on the diagram.
The X-axis measures survival versus self-expression values.
Survival values focus on economic and physical security. There is not much room for trust and tolerance of "others." Self-expression values prioritize well-being, quality of life, and self-expression. There is more room for tolerating ethnic, religious, and sexual minorities.
The Y-axis measures traditional versus secular-rational values.
Traditional values include deference to religion and parental authority as well as traditional social and family values. Societies that score high on traditions typically also are highly nationalistic. In more secular-rational societies, science and bureaucracy replace faith as the basis for authority. Secular-rational values include high tolerance of things like divorce, abortion, euthanasia, and suicide.
As indicated by the significant changes on the 2020 map, the cultural values of nations are not static:
Countries that move up on the map are shifting from traditional to more secular-rational values.
Countries that move to the right on the map are shifting from survival values to self-expression values.
And, of course, vice versa in both cases.
According to the authors of the map, changes in cultural outlook can be the result of socioeconomic changes — increasing levels of wealth, for example. But the religious and cultural heritage of each country also plays a part.
The world's cultural landscape is dynamic — you could even say promiscuous, producing new bedfellows every few years.Credit: World Values Survey, public domain.
Some notable features of the 2020 map:

The Baltic group has been dissolved; Lithuania is now part of Catholic Europe, Estonia a lone Protestant island in a Catholic sea. More worryingly, Latvia seems to have dissolved completely.
In general, survival values are strongest in African-Islamic countries, self-expression values in Protestant Europe.
Traditional values are strongest in African-Islamic countries and Latin America, while secular values dominate in Confucian countries and Protestant Europe.
The United States is an atypical member of the English-speaking group, scoring much lower on both scales (that is to say, lower and more to the left). In other words, the U.S. is more into traditional and survival values than the group's other members.
Shifting attitudes don't just separate; they also unite. Belgium and the U.S. are now culture buddies, as are New Zealand and Iceland. Kazakhstan is virtually indistinguishable from Bosnia.
The Inglehart-Welzel map is not without its critics. It has been decried as Eurocentric, simplistic, and culturally essentialist (that is, the assumption that certain cultural characteristics are essential and fixed, and that some are superior to others). Which is, of course, a very self-expressive thing to say.
For more on these maps, on the WVS surveys, and on the methodology used, visit the World Values Survey.
Strange Maps #1098
Got a strange map? Let me know at strangemaps@gmail.com.

A study finds that baby mammals dream about the world they are about to experience to prepare their senses.
Michael C. Crair et al, Science, 2021.
Surprising Science
Researchers find that babies of mammals dream about the world they are entering.
The study focused on neonatal waves in mice before they first opened their eyes.
Scientists believe human babies also prime their visual motion detection before birth.
Imagine opening your eyes for the first time as a brand new baby. The world is so mysterious, full of obstacles and strange shapes. And yet it does not take babies all that long to get their bearings, to latch on to their parents, and to start interacting. How do they do this so quickly? A new study published in Science proposes that babies of mammals dream about the world they are about to enter before being born, developing important skills.
The team, led by professor Michael Crair, who specializes in neuroscience, ophthalmology, and visual science, wanted to understand why when mammals are born, they are already somewhat prepared to interact with the world.
"At eye opening, mammals are capable of pretty sophisticated behavior," said Craig, "But how do the circuits form that allow us to perceive motion and navigate the world? It turns out we are born capable of many of these behaviors, at least in rudimentary form."
Unusual retinal activity
The scientists observed waves of activity radiating from the retinas of newborn mice before their eyes first open. Imaging shows that soon after birth, this activity disappears. In its place matures a network of neural transmissions that carries visual stimuli to the brain, as explained by a Yale press release. Once it reaches the brain, the information is encoded for storage.
What's particularly unusual about this neonatal activity is that it demonstrates a pattern that would happen if the animal was moving forward in its environment. As the researchers write in the study, "Spontaneous waves of retinal activity flow in the same pattern as would be produced days later by actual movement through the environment."
VIDEO: RETINAL WAVES IN NEONATAL MICE
Crair explained that this "dream-like activity" makes sense from an evolutionary standpoint, as it helps the mouse get ready for what will happen to it after it opens its eyes. It allows the animal to "respond immediately to environmental threats," Crair shared.
What is creating the waves?
The scientists also probed what is responsible for creating the retinal waves that mimic forward motion. They turned on and off the functionality of starburst amacrine cells — retinal cells that release neurotransmitters — and discovered that blocking them stopped the retinal waves from flowing, which hindered the mouse from developing the ability to react to visual motion upon birth. These cells are also important to an adult mouse, affecting how it reacts to environmental stimuli.
Graphic showing the origin and functionality of directional retinal waves.Michael C. Crair et al, Science, 2021.
What about human babies?

While the study focused on mice, human babies also seem to be able to identify objects and motion right after birth. This suggests the presence of a similar phenomenon in babies before they are born.
"These brain circuits are self-organized at birth and some of the early teaching is already done," Crair stated. "It's like dreaming about what you are going to see before you even open your eyes."
Surprising Science
The non-contact technique could someday be used to lift much heavier objects — maybe even humans.
Scroll down to load more…