Why Do People Love to Hate Renoir?
Impressionist master or indulgent misogynist? Why do people either love Renoir or love to hate him?
07 April, 2016
---
Late last year, a group calling itself "Renoir Sucks at Painting" protested at both the MFA in Boston and the Met in New York City asking those museums to remove all works by French Impressionist Pierre-Auguste Renoir from their walls.  They later drew up a petition asking the White House to have Renoir stripped from the National Gallery in Washington, DC.  The group's founder, Max Geller, claims that a visit to The Barnes Foundation, home to 181 works by Renoir, convinced him that Renoir's paintings were "empty calorie-laden steaming piles" and inspired him to turn that hate into action.  A new film Renoir: Revered and Reviled examines how Renoir still inspires such hatred in some and love in others almost a century after his death by taking a deeper look at that Barnes' collection Geller loathed.  Was Renoir an Impressionist master or an indulgent misogynist?  Why do people either love Renoir or love to hate him?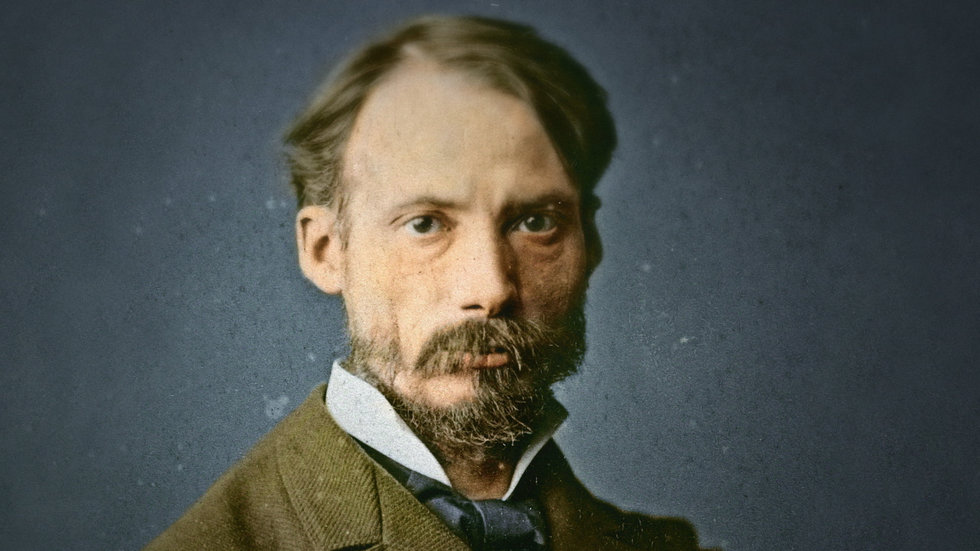 The film's writer-director Phil Grabsky quickly casts the two sides of the debate, with Washington Post art critic Philip Kennicott arguing for the anti-Renoir prosecution and Barnes curator Martha Lucy leading the defense.  Where the "revolted" Kennicott sees "bovine women without a thought in their head," Lucy sees Renoir (shown above) using "flesh as the site of experimentation" that would inspire later modern artists.  What makes Renoir: Revered and Reviled important is how it presents the evidence of the case to you the viewer to decide for yourself.  Even if you can't get to The Barnes Foundation in person, this movie (appearing nationwide on April 21, 2016) brings the Renoir to you.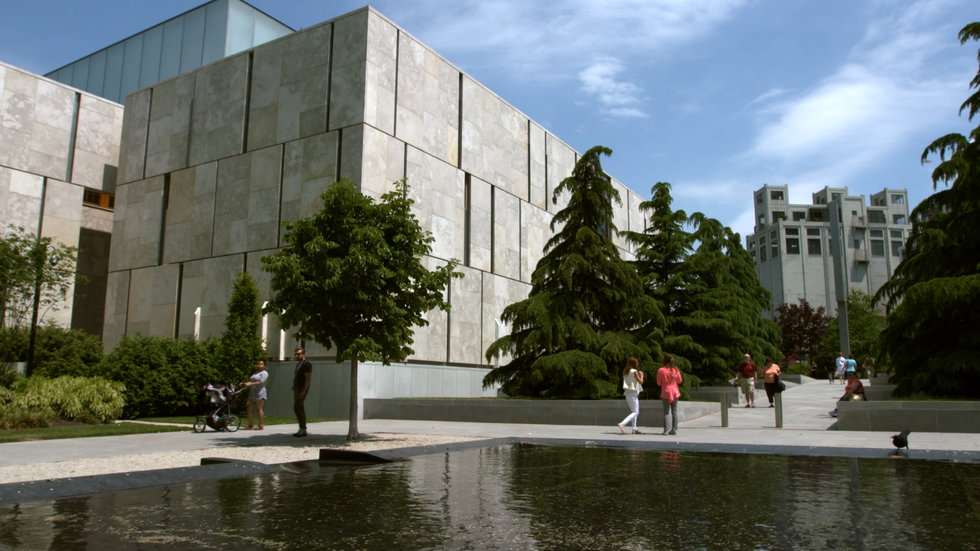 Why is the Barnes (shown above) the perfect place to debate Renoir?  First of all, it holds the largest collection of Renoir's work in the world outside of France.  Secondly, its founder, Dr. Albert C. Barnes, passionately collected Renoir's work despite not liking Impressionism in general.  In fact, Renoir's late period work, after his break with Impressionism, comprises almost all of Barnes' collection of the artist, so you can judge Renoir fairly regardless of your feelings, good or bad, about Impressionism.  Finally, if you're going to tangle with a controversy, there's no more controversial educational foundation in America than the Barnes, whose move from its original location in 2012 was called everything from "disastrous" to a simple "copy and paste job" from one place to another, reproducing the original galleries and original intent exactly.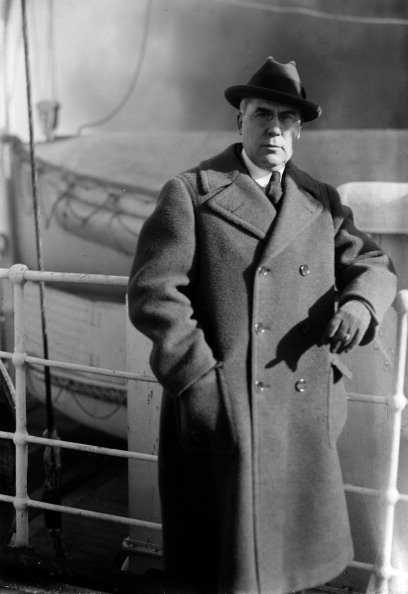 Barnes and Renoir were a match made in art history heaven.  Just as Renoir moved away from conventional Impressionism towards something different, Barnes (shown above) burst onto the scene looking to build an art collection and found an educational institution equally different.  Grabsky tells the life stories of Barnes and Renoir together to show this kinship and symbiotic relationship.  Just as Barnes wanted to establish an educational institution founded on the philosophy that Old and New Masters belonged together and should be hung in "ensembles" emphasizing connections and relationships, Renoir—the last of the Old and first of the New Masters—began painting in a way perfectly suited to Barnes' mission.  Beginning with a young Renoir lunching in the Louvre to study Corot, Delacroix, and others, the film ends with an elder Renoir giving advice to Matisse and influencing Picasso.  If you hate Renoir but love Matisse and Picasso (two other stars of the Barnes collection), this film will make you look again, and again.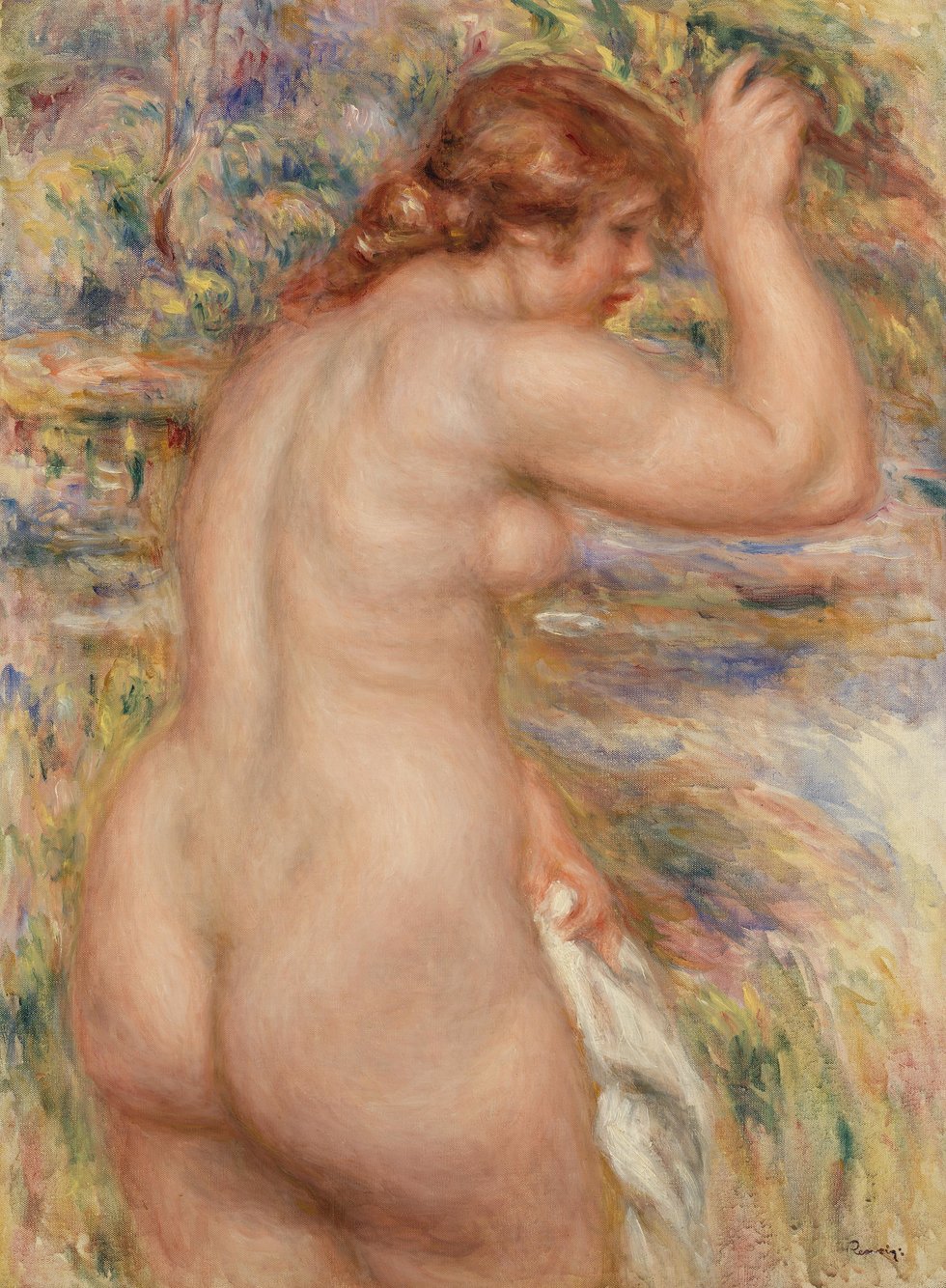 Renoir: Revered and Reviled most of all makes you want to look closer.  Glance quickly at the very late Renoir Nude in a Landscape (Nu dans un paysage) (shown above) and you see one of Kennicott's "bovine women" lumbering through a blurry background.  Look closer (and listen to Lucy explain) and you recognize Renoir distorting and experimenting with ways of representing the human form that we expect and accept more from Picasso than from his predecessors. Look closer at the background and you see Renoir attempting decorative effects that Kennicott would call cheap, but that Matisse would be praised for.  Where some see a nefarious objectification of women in Renoir's work, others see simply an artist interested in the potential of painting over questions of content.  In other words, the models are meant to be an object in the same way Cézanne objectified mountains or fruit or Monet objectified water lilies.  If you revile Renoir for his choice of subject, you might want to reconsider.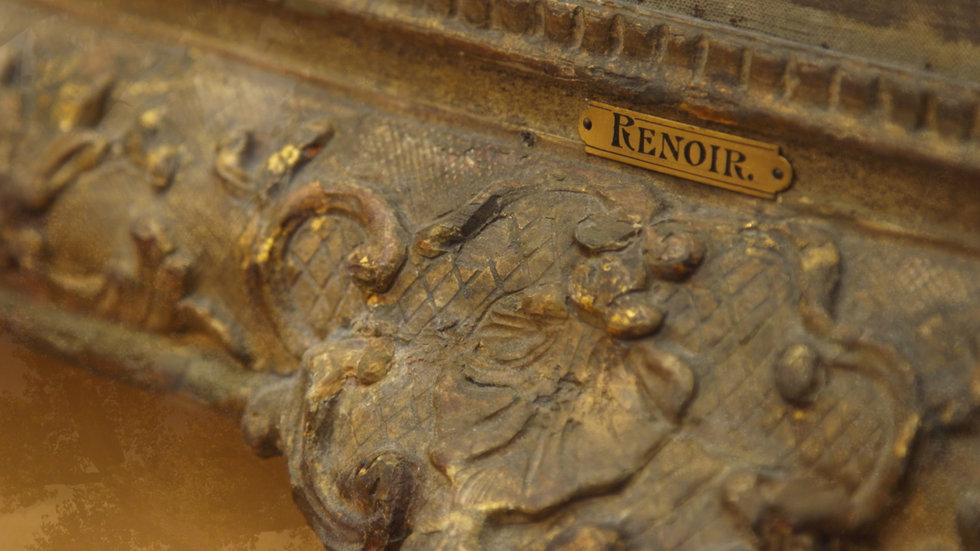 Whereas the deceptive simplicity of late Renoir often leads to misunderstanding, the deceptive simplicity of Renoir: Revered and Reviled leads to greater understanding not only of the artist, but also of the love-hate debate.  Just as the move of the Barnes in 2012 led to greater access for the public, this film will lead to greater access (and, hopefully, greater appreciation) for the Barnes and Renoir.  Writer-director Phil Grabsky tells a clear, compelling story, but also knows when to step back and let the pictures do the talking.  By the end, Renoir: Revered and Reviled reframes the Renoir debate and presents a convincing case against the haters.  I only hope someone sends Max Geller a ticket.
Understanding thinking talents in yourself and others can build strong teams and help avoid burnout.
Big Think Edge
Learn to collaborate within a team and identify "thinking talent" surpluses – and shortages.

Angie McArthur teaches intelligent collaboration for Big Think Edge.

Subscribe to Big Think Edge before we launch on March 30 to get 20% off monthly and annual memberships.
Rediscovering the principles of self-actualisation might be just the tonic that the modern world is crying out for.
Personal Growth
Abraham Maslow was the 20th-century American psychologist best-known for explaining motivation through his hierarchy of needs, which he represented in a pyramid. At the base, our physiological needs include food, water, warmth and rest.
Using a new process, a mini-brain develops retinal cells.
Surprising Science
Mini-brains, or "neural organoids," are at the cutting edge of medical research.
This is the first one that's started developing eyes.
Stem cells are key to the growing of organoids of various body parts.
Does believing in true love make people act like jerks?
Thought Catalog via Unsplash
Sex & Relationships
Ghosting, or cutting off all contact suddenly with a romantic partner, is not nice.
Growth-oriented people (who think relationships are made, not born) do not appreciate it.
Destiny-oriented people (who believe in soulmates) are more likely to be okay with ghosting.
Big think's weekly newsletter.
Get smarter faster from the comfort of your inbox.
See our newsletter privacy policy
here
Most Popular
Most Recent
Big think's weekly newsletter.
Get smarter faster from the comfort of your inbox.
See our newsletter privacy policy
here
© Copyright 2007-2018 & BIG THINK, BIG THINK EDGE,
SMARTER FASTER trademarks owned by The Big Think, Inc. All rights reserved.