The Japanese practice that will change your eating habits
Sometimes less is more.
01 July, 2018
Centuries from now, when A.I. is growing its own flesh and constantly tweaking its code for more longevity, it will study the strange practices of Homo sapiens. Among the many fascinating and strange relics it will stumble upon will be the all-you-can-eat buffet. The notion that an animal would purposefully gorge itself, and then keep going, and going, will certainly make A.I. shake its head in disbelief.
---
Today, however, we're living in a time when portion sizes have increased dramatically; 54 percent of Americans eat until their plate is clean, regardless of whether or not they're hungry. To some, leaving food on your plate is a sign of disrespect, but that's a mindset that needs to change. Sometimes you're just not that hungry, and there's no reason to continue.
Eating until you're "busting at the seams" becomes a habit. You become desensitized to your body's natural production of leptin, a hormone that inhibits hunger. Meanwhile, the hormone ghrelin goes to town, tricking yourself into thinking you need that extra serving. The result is obesity and all the diseases that follow.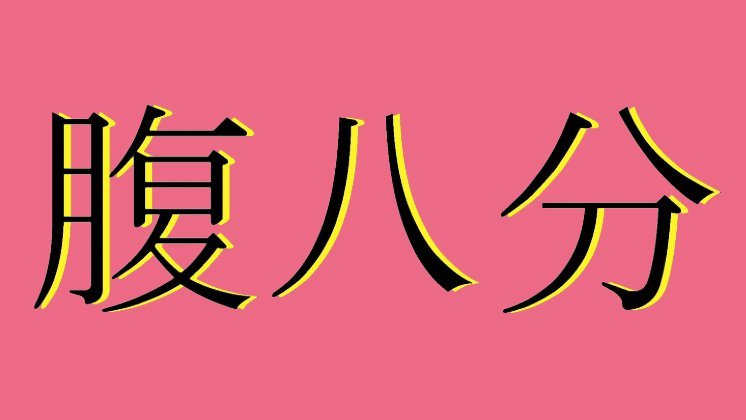 Three words can help: hara hachi bu.
While the constant winner in terms of diets always seems to be Mediterranean, there's also the way you eat. One practice to consider is hara hachi bu, a teaching attributed to Confucius that instructs you to stop eating when your belly is 80 percent full—roughly 1,800 to 1,900 calories a day. (American buffet fans will be displeased to learn we're number one in the world in caloric intake, at 2,200 to a whopping 3,300.) This principle is practiced on the island of Okinawa, which has the longest life expectancy in the world. Interestingly, geographic data, whether intentionally or coincidentally, shows they follow this principle to a tee: 
For adults, total protein and lipid intakes were about the same, but energy intake was 20% less than the Japanese national average. The rates of death due to cerebral vascular disease, malignancy, and heart disease on Okinawa were only 59%, 69%, and 59%, respectively, of those for the rest of Japan.
While the exact origins of this principle are tough to pin down, Book 7 of Analects of Confucius instructs:
When the Master was eating by the side of a mourner, he never ate to the full.
While in Book 10: 
He would not eat in excess, even when presented with refined grain or finely minced meat.
In his book, The Three Pillars of Zen, Philip Kapleau cites a 14th-century text, Zazen Yojinki, which further instructs:
Eight parts of a full stomach sustain the man; the other two sustain the doctor.
Regardless of exact origins, calorie restriction has proven to be an effective method for weight loss, overall health, and longevity. It has recently been shown to reduce age-related risks of diseases of dementia, cancer, and diabetes. Though extreme instances of caloric restriction (50 percent or more of your regular intake) might have its own problems, 20 percent is certainly a goal many would find beneficial.
Easier said than done. By design, our stomachs hold 48 ounces at full capacity. Though overeating doesn't exactly stretch our stomachs, it does change the amount of food it can hold: 
Think of it more as "increasing stomach elasticity" than "permanently stretching your stomach." The scientific term for this is "distensibility"—defined as "the ability of something to become stretched."
Youtube:
It takes several weeks for you to change your stomach's distensibility; the occasional binge won't change its structure. But regularly overeating will. If you become accustomed to 2,500 calories per day, you'll likely feel famished at 2,000, or 80 percent. Yet a few weeks at 2,000 will again change your satiety levels. The bar then becomes 1,600, if that is enough to subsist. It depends on where you start and how you've gotten to where you are.
While we're all creatures of habit, our emotional connection to food makes caloric restriction particularly challenging. Calorie counting creates its own neurosis, though at the beginning that might prove an effective method. Basic principles to apply include not allowing yourself to get hungry, as you'll likely increase your chances of overeating; eat slowly, which greatly aids the digestion process; eat plenty of vegetables, especially if you're accustomed to eating lots of complex carbs and protein; and choose smaller plates—sorry buffet fans.
Whether or not Confucius created the 80 percent rule, his message was moderation in everything. Given our cultural struggle with obesity and diseases of affluence, it's a lesson we can certainly institute 2,500 years later a half-world away.
--
Malcolm Gladwell teaches "Get over yourself and get to work" for Big Think Edge.
Big Think Edge
Learn to recognize failure and know the big difference between panicking and choking.

At Big Think Edge, Malcolm Gladwell teaches how to check your inner critic and get clear on what failure is.

Subscribe to Big Think Edge before we launch on March 30 to get 20% off monthly and annual memberships.
You can say 'no' to things, and you should. Do it like this.
Videos
Give yourself permission to say "no" to things. Saying yes to everything is a fast way to burn out.
Learn to say no in a way that keeps the door of opportunity open: No should never be a one-word answer. Say "No, but I could do this instead," or, "No, but let me connect you to someone who can help."
If you really want to say yes but can't manage another commitment, try qualifiers like "yes, if," or "yes, after."
"I was so moved when I saw the cells stir," said 90-year-old study co-author Akira Iritani. "I'd been hoping for this for 20 years."
Yamagata et al.
Surprising Science
The team managed to stimulate nucleus-like structures to perform some biological processes, but not cell division.
Unless better technology and DNA samples emerge in the future, it's unlikely that scientists will be able to clone a woolly mammoth.
Still, studying the DNA of woolly mammoths provides valuable insights into the genetic adaptations that allowed them to survive in unique environments.
Neuroscience research suggests it might be time to rethink our ideas about when exactly a child becomes an adult.
Mind & Brain
Research suggests that most human brains take about 25 years to develop, though these rates can vary among men and women, and among individuals.
Although the human brain matures in size during adolescence, important developments within the prefrontal cortex and other regions still take pace well into one's 20s.
The findings raise complex ethical questions about the way our criminal justice systems punishes criminals in their late teens and early 20s.
Big think's weekly newsletter.
Get smarter faster from the comfort of your inbox.
See our newsletter privacy policy
here
Most Popular
Most Recent
Big think's weekly newsletter.
Get smarter faster from the comfort of your inbox.
See our newsletter privacy policy
here
© Copyright 2007-2018 & BIG THINK, BIG THINK EDGE,
SMARTER FASTER trademarks owned by The Big Think, Inc. All rights reserved.