Jordan Peterson: Conversation requires listening, not just talking
In '12 Rules For Life', Jordan Peterson shows why listening is the most important aspect of any conversation.
02 April, 2018
My education in journalism began with Bill Moyers. Watching his classic interview with Joseph Campbell—the transcript became Campbell's posthumous bestseller, The Power of Myth—is as instructive as any college course. Moyers extensively studied the subject matter before chatting with the mythologist. Yet he also exhibited an essential quality of good conversation: listening.
---
Moyers is an exceptional example of good journalism. He prepared with dozens of questions, yet throughout the interview, he volleys based on Campbell's remarks. Much of what passes for journalism today—e-mail interviews; straight Q&As with no diversion from the script; unprepared interviewers and their tell-tale sign: the first question is, "So tell me about yourself…"—is nothing more than a drive to fulfill our incessant need for content.
Campbell was a storyteller, as was Moyers, which made their discussion, and subsequent book, enjoyable and informative. As with journalism, much of what passes for a conversation today is nothing but monologuing. In his latest book, 12 Rules for Life, Canadian psychology professor and clinical psychologist Jordan Peterson warns against this type of dialogue. Merely waiting for someone to finish a sentence to launch your own thoughts does not make for any sort of conversation at all.
Knowledge is key when you're talking with someone else. Even banal subjects can morph into teaching moments. We organize our brains with conversation, Peterson notes, and not only by speaking. Listening is an art, which is why this particular rule is aptly titled, "Assume that the person you are listening to might know something you don't."
Peterson recommends approaching conversation as "a form of mutual exploration." Such dialogue features a topic, one that is often complex and requires nuance to engage in. He continues, 
Everyone participating is trying to solve a problem, instead of insisting on the a priori validity of their own positions. All are acting on the premise that they have something to learn. This kind of conversation constitutes active philosophy, the highest form of thought, and the best preparation for proper living.
Such advice likely sounds like a foreign language when contemplating social media. While technological connectivity is touted as an advancement of global culture, it also acts as a breeding ground for echo chambers. I'm uncertain how often I've experienced this with this column, readers commenting on the title without bothering to read the article, which often addresses their very critiques. Even online conversations can be educational, yet the ability to listen (i.e. read and contemplate before replying) seems even more foreign in this medium.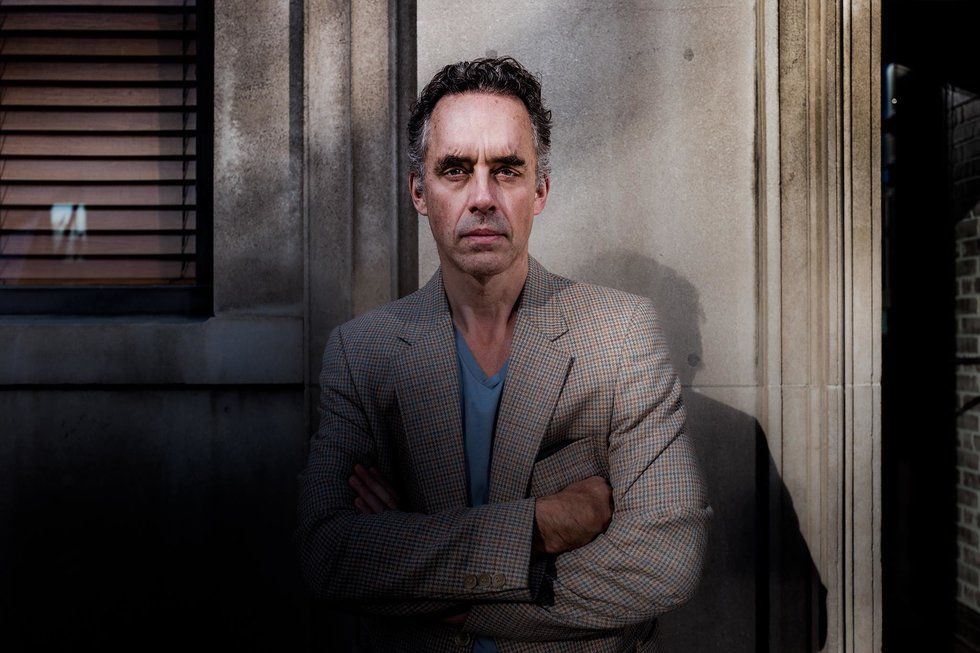 Peterson is a rare professor that has kept a clinical practice, which forces him to listen to others in two separate worlds. Many of his patients and students are likely not accustomed to being heard. Instead of rushing to judgment by offering immediate feedback, he must listen and think on his replies. Listening, he writes, is as challenging as thinking.
People think they think, but it's not true. It's mostly self-criticism that passes for thinking. True thinking is rare—just like true listening. Thinking is listening to yourself. It's difficult. To think, you have to be at least two people at the same time. Then you have to let those people disagree.
Each view, he continues, is an "avatar in a simulated world." The key is to simulate multiple worlds. A strong thinker, like a strong listener—the two are essentially the same—imagines and articulates their worlds to one another. Yet too often we cling to a particular viewpoint. We might hear opposing viewpoints, from others or within ourselves, but we're not actually listening.
This is dangerous. It creates unnecessary suffering. Whereas complex topics could be worked out with patience and an open mind, they instead remain mysterious. Each avatar refuses to listen to competing avatars. Competition is heightened; collaboration is not entertained. You never scratch the surface because no trust is built. You never have the chance to open your arms because they're too busy shielding incoming blows.
Peterson advocates for listening without premature judgment. Conversations are rarely boring with deep listening. There is every opportunity to learn something you didn't know. Even the conflict that ensues with opposing viewpoints is teachable: you sharpen your own viewpoint while recognizing that your philosophy isn't the only one in the world.
Peterson extends this advice to venues traditionally thought of as monologues, like lecturing. A good lecturer talks "with and not at or even to his or her listeners." There is no singular audience, but a collection of individuals that need to be engaged with. Creating a connection is the biggest hurdle in public speaking. Rarely is it made when the speaker is talking at their audience.
In regards to listening, Peterson is a popular victim. (He also struggles to take his own advice.) Peterson is an important voice speaking out against radical factions on the Left and Right, both of which are confident that only their viewpoints matter. This is not true confidence, however, but rather a mask for insecurity. It's impossible to conclude that you're right when your ideology is the only one you've weighed. 
There's a reason why podcasts are a such a popular medium. We love good conversations. We love great monologues that make us feel included. We love debates pushing cultures forward. In every situation, speakers aim to learn even while educating their audience. This requires listening to your inner, conflicting avatars as much as to those of others. Peterson sums this up in the chapter's most succinct sentence:
You can be pretty smart if you can just shut up.
-- 
Derek Beres is the author of Whole Motion and creator of Clarity: Anxiety Reduction for Optimal Health. Based in Los Angeles, he is working on a new book about spiritual consumerism. Stay in touch on Facebook and Twitter.
Big Think Edge
The meaning of the word 'confidence' seems obvious. But it's not the same as self-esteem.
Confidence isn't just a feeling on your inside. It comes from taking action in the world.
Join Big Think Edge today and learn how to achieve more confidence when and where it really matters.
The team caught a glimpse of a process that takes 18,000,000,000,000,000,000,000 years.
Image source: Pixabay
Surprising Science
In Italy, a team of scientists is using a highly sophisticated detector to hunt for dark matter.
The team observed an ultra-rare particle interaction that reveals the half-life of a xenon-124 atom to be 18 sextillion years.
The half-life of a process is how long it takes for half of the radioactive nuclei present in a sample to decay.
Researchers hope the technology will further our understanding of the brain, but lawmakers may not be ready for the ethical challenges.
Still from John Stephenson's 1999 rendition of Animal Farm.
Surprising Science
Researchers at the Yale School of Medicine successfully restored some functions to pig brains that had been dead for hours.
They hope the technology will advance our understanding of the brain, potentially developing new treatments for debilitating diseases and disorders.
The research raises many ethical questions and puts to the test our current understanding of death.
The image of an undead brain coming back to live again is the stuff of science fiction. Not just any science fiction, specifically B-grade sci fi. What instantly springs to mind is the black-and-white horrors of films like Fiend Without a Face. Bad acting. Plastic monstrosities. Visible strings. And a spinal cord that, for some reason, is also a tentacle?
But like any good science fiction, it's only a matter of time before some manner of it seeps into our reality. This week's Nature published the findings of researchers who managed to restore function to pigs' brains that were clinically dead. At least, what we once thought of as dead.
What's dead may never die, it seems
The researchers did not hail from House Greyjoy — "What is dead may never die" — but came largely from the Yale School of Medicine. They connected 32 pig brains to a system called BrainEx. BrainEx is an artificial perfusion system — that is, a system that takes over the functions normally regulated by the organ. The pigs had been killed four hours earlier at a U.S. Department of Agriculture slaughterhouse; their brains completely removed from the skulls.
BrainEx pumped an experiment solution into the brain that essentially mimic blood flow. It brought oxygen and nutrients to the tissues, giving brain cells the resources to begin many normal functions. The cells began consuming and metabolizing sugars. The brains' immune systems kicked in. Neuron samples could carry an electrical signal. Some brain cells even responded to drugs.
The researchers have managed to keep some brains alive for up to 36 hours, and currently do not know if BrainEx can have sustained the brains longer. "It is conceivable we are just preventing the inevitable, and the brain won't be able to recover," said Nenad Sestan, Yale neuroscientist and the lead researcher.
As a control, other brains received either a fake solution or no solution at all. None revived brain activity and deteriorated as normal.
The researchers hope the technology can enhance our ability to study the brain and its cellular functions. One of the main avenues of such studies would be brain disorders and diseases. This could point the way to developing new of treatments for the likes of brain injuries, Alzheimer's, Huntington's, and neurodegenerative conditions.
"This is an extraordinary and very promising breakthrough for neuroscience. It immediately offers a much better model for studying the human brain, which is extraordinarily important, given the vast amount of human suffering from diseases of the mind [and] brain," Nita Farahany, the bioethicists at the Duke University School of Law who wrote the study's commentary, told National Geographic.
An ethical gray matter
Before anyone gets an Island of Dr. Moreau vibe, it's worth noting that the brains did not approach neural activity anywhere near consciousness.
The BrainEx solution contained chemicals that prevented neurons from firing. To be extra cautious, the researchers also monitored the brains for any such activity and were prepared to administer an anesthetic should they have seen signs of consciousness.
Even so, the research signals a massive debate to come regarding medical ethics and our definition of death.
Most countries define death, clinically speaking, as the irreversible loss of brain or circulatory function. This definition was already at odds with some folk- and value-centric understandings, but where do we go if it becomes possible to reverse clinical death with artificial perfusion?
"This is wild," Jonathan Moreno, a bioethicist at the University of Pennsylvania, told the New York Times. "If ever there was an issue that merited big public deliberation on the ethics of science and medicine, this is one."
One possible consequence involves organ donations. Some European countries require emergency responders to use a process that preserves organs when they cannot resuscitate a person. They continue to pump blood throughout the body, but use a "thoracic aortic occlusion balloon" to prevent that blood from reaching the brain.
The system is already controversial because it raises concerns about what caused the patient's death. But what happens when brain death becomes readily reversible? Stuart Younger, a bioethicist at Case Western Reserve University, told Nature that if BrainEx were to become widely available, it could shrink the pool of eligible donors.
"There's a potential conflict here between the interests of potential donors — who might not even be donors — and people who are waiting for organs," he said.
It will be a while before such experiments go anywhere near human subjects. A more immediate ethical question relates to how such experiments harm animal subjects.
Ethical review boards evaluate research protocols and can reject any that causes undue pain, suffering, or distress. Since dead animals feel no pain, suffer no trauma, they are typically approved as subjects. But how do such boards make a judgement regarding the suffering of a "cellularly active" brain? The distress of a partially alive brain?
The dilemma is unprecedented.
Setting new boundaries
Another science fiction story that comes to mind when discussing this story is, of course, Frankenstein. As Farahany told National Geographic: "It is definitely has [sic] a good science-fiction element to it, and it is restoring cellular function where we previously thought impossible. But to have Frankenstein, you need some degree of consciousness, some 'there' there. [The researchers] did not recover any form of consciousness in this study, and it is still unclear if we ever could. But we are one step closer to that possibility."
She's right. The researchers undertook their research for the betterment of humanity, and we may one day reap some unimaginable medical benefits from it. The ethical questions, however, remain as unsettling as the stories they remind us of.
A scientific look into a ubiquitous phenomenon.
Big think's weekly newsletter.
Get smarter faster from the comfort of your inbox.
See our newsletter privacy policy
here
Most Popular
Most Recent
Big think's weekly newsletter.
Get smarter faster from the comfort of your inbox.
See our newsletter privacy policy
here
© Copyright 2007-2019 & BIG THINK, BIG THINK EDGE,
SMARTER FASTER trademarks owned by The Big Think, Inc. All rights reserved.