Big ideas.
Once a week.
Subscribe to our weekly newsletter.
Ghosts Are Universal, But What You See is Influenced By What You Already Believe
Psychology professor Frank T. McAndrew writes that the type of ghost you see depends on the religion you have faith in.
04 December, 2017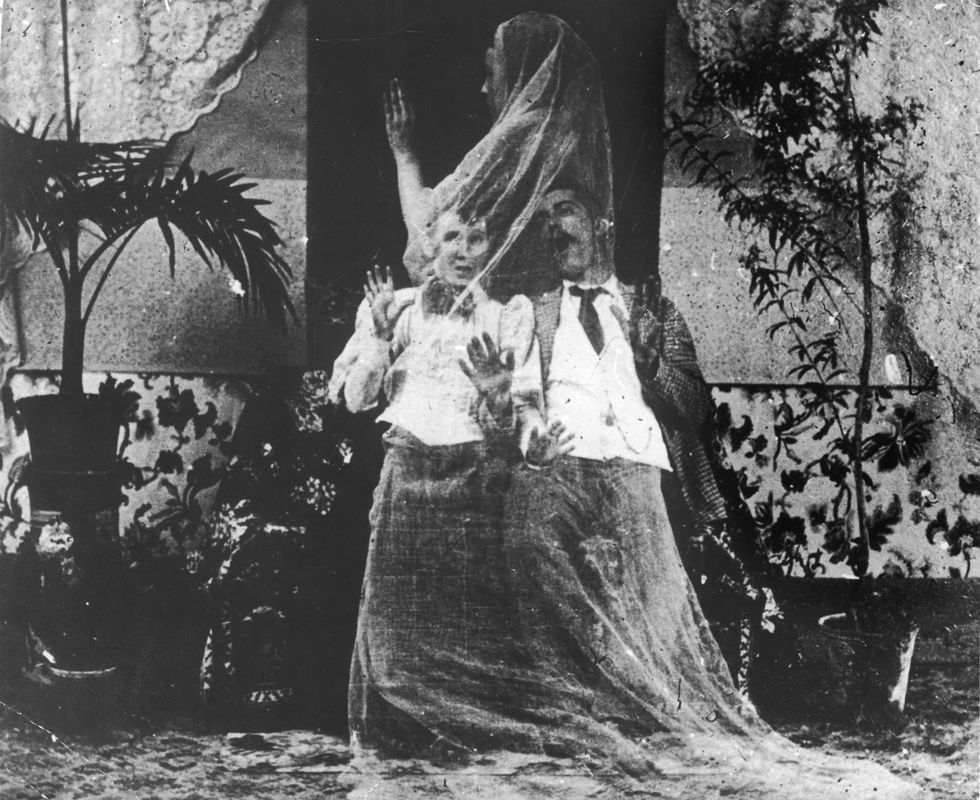 A couple are terrified by a spectral apparition, circa 1880. (Photo by Hulton Archive/Getty Images)
---
The mythologist Joseph Campbell once wrote that Buddhists don't dream of Christ. His point is simple: if your identity is bound up in a certain set of beliefs, you're likely not going to be unconsciously invaded by a different figure from another set, especially if you've never had contact with that system.
Campbell jotted down this idea this well before the Internet, when people of various religions had much less access to different religious systems. Buddhists were much more likely to envision a Bo tree over a crucifix any night. 
But do Buddhists see Christian ghosts? The concept of ghosts is universal. In Buddhism, there are even categories of ghosts. Hungry ghosts are beings driven by intense emotional desires, while ghosts as we generally know them in America—apparitions of the deceased—also exist. Taoist hungry ghosts emerge from the ether if their meat casing of a human body died violently or unhappily. In Christianity, the holy spirit is a ghost, but ancestors are ghostly too. 
Though ghosts are a global phenomenon—there is evidence humans are hardwired to "see" them—Knox College psychology professor Frank T. McAndrew writes that whatever god you worship influences the type of ghost you see. Like Campbell, he recognizes prior belief influences what your eyes behold. 
First McAndrew surveys basic assumptions about the spirit world. Protestants, Catholics, and Muslims, he writes, share a belief in resurrection and judgment, which eventually ends up in a heavenly realm or a hellish domain; Catholics throw in purgatory for good measure. Buddhist and Hindus, while varying slightly depending on region, put stock in reincarnation, which requires a certain waiting period in which the soul might just happen to haunt the living—their own private purgatory.
This, McAndrew speculates, allows each believer to think they're asserting control over the destiny of their individual ether in the context of the belief system they've been raised in. But it turns out that this anxiety-reducing mechanism of an ever-after might actually induce a different kind of paranoia: 
Religion's talent for easing our anxiety about death may have had the perverse effect of increasing the likelihood that we'll be on edge about ghosts, spirits and other supernatural beings.
Religious believers are twice as likely to believe in ghosts than nonbelievers—and 18 percent of Americans have claimed to have seen one surfing the air. If the believer is Muslim, he'll likely think he'd spied a Jinn, since the concept of souls becoming ghosts isn't prominent in Islam, whereas Protestants give credence to the paranormal. Catholics also champion these type of spirits, even as they condemn followers from contacting them through the Ouija board they purchased on Amazon. 
One of the most complex assertions on the waiting period between death and rebirth is expressed in the Bardo Thodol, a Tibetan text popularly known as the "book of the dead." While the validity of this "transitional state" is questionable, the rites associated with it are fascinating—so much so Carl Jung added commentary to W.Y. Evans-Wentz's translation.
Jung is skeptical regarding the text's more grandiose claims, comparing them to "the half-baked literature of European and American spiritualism." As an interior map of archetypes and psychology, however, he is enthralled. He writes,
It is a primordial, universal idea that the dead simply continue their earthly existence and do not know that they are disembodied spirits—an archetypal idea which enters into immediate, visible manifestation whenever anyone sees a ghost. It is significant, too, that ghosts all over the world have certain features in common. 
The features, which include a sort of hallucinogenic vision of a hazy figure and often relies on a "feeling" of presence rather than visual proof, are indeed experienced around the planet. As McAndrew points out, prior beliefs influence how you see ghosts and what to make of them. Their function, history, and friendliness (or foreboding nature) are all dependent upon what you previously thought about ghosts. 
Which is why the concept continues to fascinate as a psychological construct. The human brain is capable of creating things that do not exist and actually seeing them in front of their own eyes. There's a saying that life is what you make it. Turns out that death might just be as well. 
--
Derek is the author of Whole Motion: Training Your Brain and Body For Optimal Health. Based in Los Angeles, he is working on a new book about spiritual consumerism. Stay in touch on Facebook and Twitter.
Why mega-eruptions like the ones that covered North America in ash are the least of your worries.
Image: USGS - public domain
Strange Maps
The supervolcano under Yellowstone produced three massive eruptions over the past few million years.
Each eruption covered much of what is now the western United States in an ash layer several feet deep.
The last eruption was 640,000 years ago, but that doesn't mean the next eruption is overdue.
The end of the world as we know it
Panoramic view of Yellowstone National Park
Image: Heinrich Berann for the National Park Service – public domain
Of the many freak ways to shuffle off this mortal coil – lightning strikes, shark bites, falling pianos – here's one you can safely scratch off your worry list: an outbreak of the Yellowstone supervolcano.
As the map below shows, previous eruptions at Yellowstone were so massive that the ash fall covered most of what is now the western United States. A similar event today would not only claim countless lives directly, but also create enough subsidiary disruption to kill off global civilisation as we know it. A relatively recent eruption of the Toba supervolcano in Indonesia may have come close to killing off the human species (see further below).
However, just because a scenario is grim does not mean that it is likely (insert topical political joke here). In this case, the doom mongers claiming an eruption is 'overdue' are wrong. Yellowstone is not a library book or an oil change. Just because the previous mega-eruption happened long ago doesn't mean the next one is imminent.
Ash beds of North America
Ash beds deposited by major volcanic eruptions in North America.
Image: USGS – public domain
This map shows the location of the Yellowstone plateau and the ash beds deposited by its three most recent major outbreaks, plus two other eruptions – one similarly massive, the other the most recent one in North America.
Huckleberry Ridge
The Huckleberry Ridge eruption occurred 2.1 million years ago. It ejected 2,450 km3 (588 cubic miles) of material, making it the largest known eruption in Yellowstone's history and in fact the largest eruption in North America in the past few million years.
This is the oldest of the three most recent caldera-forming eruptions of the Yellowstone hotspot. It created the Island Park Caldera, which lies partially in Yellowstone National Park, Wyoming and westward into Idaho. Ash from this eruption covered an area from southern California to North Dakota, and southern Idaho to northern Texas.
Mesa Falls
About 1.3 million years ago, the Mesa Falls eruption ejected 280 km3 (67 cubic miles) of material and created the Henry's Fork Caldera, located in Idaho, west of Yellowstone.
It was the smallest of the three major Yellowstone eruptions, both in terms of material ejected and area covered: 'only' most of present-day Wyoming, Colorado, Kansas and Nebraska, and about half of South Dakota.
Lava Creek
The Lava Creek eruption was the most recent major eruption of Yellowstone: about 640,000 years ago. It was the second-largest eruption in North America in the past few million years, creating the Yellowstone Caldera.
It ejected only about 1,000 km3 (240 cubic miles) of material, i.e. less than half of the Huckleberry Ridge eruption. However, its debris is spread out over a significantly wider area: basically, Huckleberry Ridge plus larger slices of both Canada and Mexico, plus most of Texas, Louisiana, Arkansas, and Missouri.
Long Valley
This eruption occurred about 760,000 years ago. It was centered on southern California, where it created the Long Valley Caldera, and spewed out 580 km3 (139 cubic miles) of material. This makes it North America's third-largest eruption of the past few million years.
The material ejected by this eruption is known as the Bishop ash bed, and covers the central and western parts of the Lava Creek ash bed.
Mount St Helens
The eruption of Mount St Helens in 1980 was the deadliest and most destructive volcanic event in U.S. history: it created a mile-wide crater, killed 57 people and created economic damage in the neighborhood of $1 billion.
Yet by Yellowstone standards, it was tiny: Mount St Helens only ejected 0.25 km3 (0.06 cubic miles) of material, most of the ash settling in a relatively narrow band across Washington State and Idaho. By comparison, the Lava Creek eruption left a large swathe of North America in up to two metres of debris.

The difference between quakes and faults
The volume of dense rock equivalent (DRE) ejected by the Huckleberry Ridge event dwarfs all other North American eruptions. It is itself overshadowed by the DRE ejected at the most recent eruption at Toba (present-day Indonesia). This was one of the largest known eruptions ever and a relatively recent one: only 75,000 years ago. It is thought to have caused a global volcanic winter which lasted up to a decade and may be responsible for the bottleneck in human evolution: around that time, the total human population suddenly and drastically plummeted to between 1,000 and 10,000 breeding pairs.
Image: USGS – public domain
So, what are the chances of something that massive happening anytime soon? The aforementioned mongers of doom often claim that major eruptions occur at intervals of 600,000 years and point out that the last one was 640,000 years ago. Except that (a) the first interval was about 200,000 years longer, (b) two intervals is not a lot to base a prediction on, and (c) those intervals don't really mean anything anyway. Not in the case of volcanic eruptions, at least.
Earthquakes can be 'overdue' because the stress on fault lines is built up consistently over long periods, which means quakes can be predicted with a relative degree of accuracy. But this is not how volcanoes behave. They do not accumulate magma at constant rates. And the subterranean pressure that causes the magma to erupt does not follow a schedule.
What's more, previous super-eruptions do not necessarily imply future ones. Scientists are not convinced that there ever will be another big eruption at Yellowstone. Smaller eruptions, however, are much likelier. Since the Lava Creek eruption, there have been about 30 smaller outbreaks at Yellowstone, the last lava flow being about 70,000 years ago.
As for the immediate future (give or take a century): the magma chamber beneath Yellowstone is only 5 percent to 15 percent molten. Most scientists agree that is as un-alarming as it sounds. And that its statistically more relevant to worry about death by lightning, shark, or piano.
Strange Maps #1041
Got a strange map? Let me know at strangemaps@gmail.com.

The potential of CRISPR technology is incredible, but the threats are too serious to ignore.
Videos
CRISPR (Clustered Regularly Interspaced Short Palindromic Repeats) is a revolutionary technology that gives scientists the ability to alter DNA. On the one hand, this tool could mean the elimination of certain diseases. On the other, there are concerns (both ethical and practical) about its misuse and the yet-unknown consequences of such experimentation.
"The technique could be misused in horrible ways," says counter-terrorism expert Richard A. Clarke. Clarke lists biological weapons as one of the potential threats, "Threats for which we don't have any known antidote." CRISPR co-inventor, biochemist Jennifer Doudna, echos the concern, recounting a nightmare involving the technology, eugenics, and a meeting with Adolf Hitler.
Should this kind of tool even exist? Do the positives outweigh the potential dangers? How could something like this ever be regulated, and should it be? These questions and more are considered by Doudna, Clarke, evolutionary biologist Richard Dawkins, psychologist Steven Pinker, and physician Siddhartha Mukherjee.
Measuring a person's movements and poses, smart clothes could be used for athletic training, rehabilitation, or health-monitoring.
Technology & Innovation
In recent years there have been exciting breakthroughs in wearable technologies, like smartwatches that can monitor your breathing and blood oxygen levels.
But what about a wearable that can detect how you move as you do a physical activity or play a sport, and could potentially even offer feedback on how to improve your technique?
And, as a major bonus, what if the wearable were something you'd actually already be wearing, like a shirt of a pair of socks?
That's the idea behind a new set of MIT-designed clothing that use special fibers to sense a person's movement via touch. Among other things, the researchers showed that their clothes can actually determine things like if someone is sitting, walking, or doing particular poses.
The group from MIT's Computer Science and Artificial Intelligence Lab (CSAIL) says that their clothes could be used for athletic training and rehabilitation. With patients' permission, they could even help passively monitor the health of residents in assisted-care facilities and determine if, for example, someone has fallen or is unconscious.
The researchers have developed a range of prototypes, from socks and gloves to a full vest. The team's "tactile electronics" use a mix of more typical textile fibers alongside a small amount of custom-made functional fibers that sense pressure from the person wearing the garment.
According to CSAIL graduate student Yiyue Luo, a key advantage of the team's design is that, unlike many existing wearable electronics, theirs can be incorporated into traditional large-scale clothing production. The machine-knitted tactile textiles are soft, stretchable, breathable, and can take a wide range of forms.
"Traditionally it's been hard to develop a mass-production wearable that provides high-accuracy data across a large number of sensors," says Luo, lead author on a new paper about the project that is appearing in this month's edition of Nature Electronics. "When you manufacture lots of sensor arrays, some of them will not work and some of them will work worse than others, so we developed a self-correcting mechanism that uses a self-supervised machine learning algorithm to recognize and adjust when certain sensors in the design are off-base."
The team's clothes have a range of capabilities. Their socks predict motion by looking at how different sequences of tactile footprints correlate to different poses as the user transitions from one pose to another. The full-sized vest can also detect the wearers' pose, activity, and the texture of the contacted surfaces.
The authors imagine a coach using the sensor to analyze people's postures and give suggestions on improvement. It could also be used by an experienced athlete to record their posture so that beginners can learn from them. In the long term, they even imagine that robots could be trained to learn how to do different activities using data from the wearables.
"Imagine robots that are no longer tactilely blind, and that have 'skins' that can provide tactile sensing just like we have as humans," says corresponding author Wan Shou, a postdoc at CSAIL. "Clothing with high-resolution tactile sensing opens up a lot of exciting new application areas for researchers to explore in the years to come."
The paper was co-written by MIT professors Antonio Torralba, Wojciech Matusik, and Tomás Palacios, alongside PhD students Yunzhu Li, Pratyusha Sharma, and Beichen Li; postdoc Kui Wu; and research engineer Michael Foshey.
The work was partially funded by Toyota Research Institute.
Reprinted with permission of MIT News. Read the original article.

Personal Growth
How imagining the worst case scenario can help calm anxiety.
Scroll down to load more…