Why people in South Korea are faking their own funerals
There is a new wellness trend emerging in South Korea – experiencing your own funeral. While at first this sounds twisted, in truth this ritual utilizes what other cultures have long known.
31 October, 2016
Participants think about their lives as they lie down in a coffin during a 'Death Experience/Fake Funeral' session held by Happy Dying on August 1, 2016 in Andong, South Korea. Fifty adults who work at the Andong Science College in South Korea participate
The quest for everlasting life is an old ambition. One of the most ancient surviving mythologies, the Epic of Gilgamesh, revolves around an egotistical king's journey to the plant that grants eternity. A deathless life is only subtext—the real story is the transformation of selfishness to humility—but it shows that for millennia humans have hoped to escape death, no matter how futile an endeavor it is.
---
Not much has changed as futurists count down to when biological aging proves no match for coding. The Silicon Valley set pops resveratrol like candy, washing them down with buckets of Soylent. Life, they speculate, is only a riddle to be answered, not an inevitable march toward darkness. Descartes wasn't in error; he was simply too early. The ghost in the machine is really an algorithm.
The refusal to decline is big business. Plastic surgeons become minor celebrities as they help the wealthy and conceited rage against nature's cruel machinery. Yet no amount of tucking and lifting slows the demise of organs. All it really does is make of the human a sad animal too proud to admit the realities of aging.
Ironically, the emotions behind injections and surgeries—envy, depression, anxiety—aid the process of aging. It's like drowning: the harder you fight, the quicker you'll succumb. It's much better to relax into the panic, which brings us to South Korea.
The Hyowon Healing Center is financially backed by a funeral service company to help people confront death. While at first this sounds like a twisted business scheme, in truth these counselors are utilizing what other cultures have long known: to prepare for death helps you appreciate and enjoy life.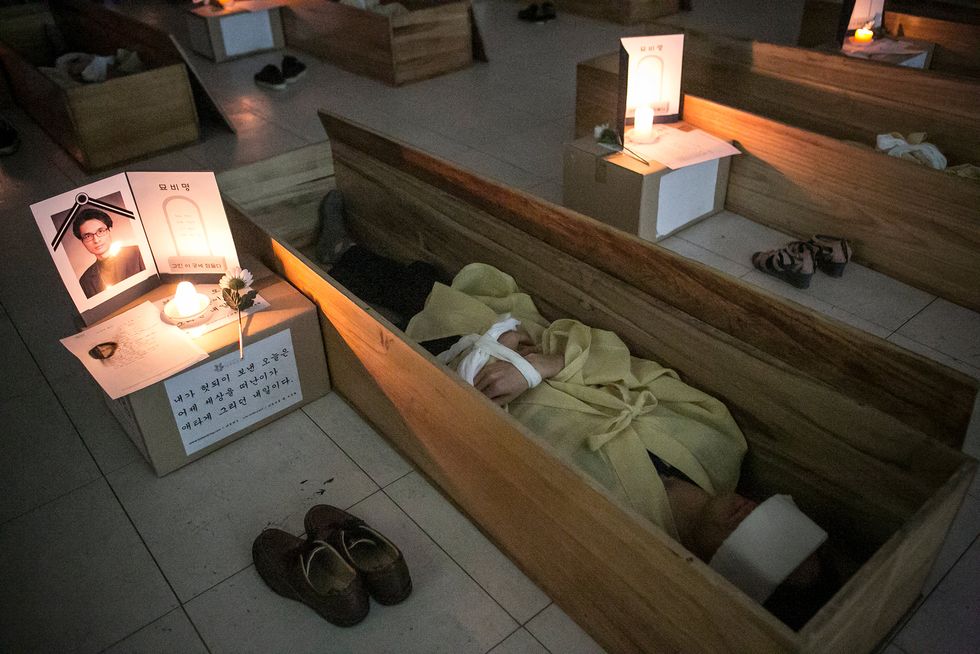 Participants wearing linen shrouds meditate and reflect on their lives as they lie down in a coffin during a 'Death Experience/Fake Funeral' session. (Photo by Jean Chung/Getty Images)
Seneca believed death to be the true gift of God; unlike life, it cannot be taken away. Socrates attributed our fear of death to selfishness: we think we know what's going to happen when we actually do not, therefore to consider it evil is mistaken. The Buddha thought clinging to life is as dangerous as any other form of ignorance—to cling is to slowly and ungracefully lose your grip.
Tibetan Buddhists created an elaborate ritual for traveling through the bardo, a supposed liminal state between life and rebirth. Regardless of one's feelings on reincarnation—some Buddhists accept it, others reject it—the Bardo Thödol is recognized as creating a preparatory mindset for death to help one live well. The Mexican 'Day of the Dead' celebrations have a similar intention: honoring those who have passed to help us live. A little tequila doesn't hurt, as it turns out.
In South Korea this ritual involves journaling about your approaching death, donning burial shrouds, then lying in a coffin in complete darkness for ten minutes. The free program has been attended by 15,000 citizens in four years. Attendees have claimed a variety of motivations, from a deepening of self-awareness to alleviating suicidal impulses. A director of the program says:
Most participants say they feel strangely refreshed afterward, gaining a new perspective on the things that matter in life, like family.
Over the last century life expectancy rates have quickly ticked upwards, creating a unique issue for societies the world over: how to care for the elderly. A boom in palliative care, age-restricted communities, and the use of psychedelics are all means we've invented to ease the dying process—really, ways of living the fullest lives while still kicking.
In the Pulitzer-winning The Denial of Death, Ernest Becker believes it takes a heroic contribution to own up to the nature of life and death. Rituals are one place to engage in the speculative arc of life. To avoid this process, he writes, man is "drinking and drugging himself out of awareness, or he spends his time shopping, which is the same thing."
Innumerable distractions to mortality plague our anxious minds. As the cosmetic, capitalistic branch of science persists in developing technologies for supposedly youth-inducing modifications, humans continue to believe they can stave off death's inevitable call—perhaps the most useless ritual of futility imaginable. By contrast, South Koreans engaging in this coffin ceremony are displaying the heroic courage Becker invokes: acknowledge the way of all flesh now so that the time you spend until then is rich, fruitful, and honest with the terms.
--
Derek Beres is working on his new book, Whole Motion: Training Your Brain and Body For Optimal Health (Carrel/Skyhorse, Spring 2017). He is based in Los Angeles. Stay in touch on Facebook and Twitter.
Young people could even end up less anxiety-ridden, thanks to newfound confidence
Photos: Courtesy of Let Grow
Sponsored by Charles Koch Foundation
The coronavirus pandemic may have a silver lining: It shows how insanely resourceful kids really are.
Let Grow, a non-profit promoting independence as a critical part of childhood, ran an "Independence Challenge" essay contest for kids. Here are a few of the amazing essays that came in.
Download Let Grow's free Independence Kit with ideas for kids.
Many Americans are being misled on serious scientific issues, and science journalists have to spend an inordinate amount of time debunking myths which seemingly never die.
Technique may enable speedy, on-demand design of softer, safer neural devices.
Dan Kitwood/Getty Images
Surprising Science
The brain is one of our most vulnerable organs, as soft as the softest tofu. Brain implants, on the other hand, are typically made from metal and other rigid materials that over time can cause inflammation and the buildup of scar tissue.
New research establishes an unexpected connection.
Image source: Vaccaro et al, 2020/Harvard Medical School
Surprising Science
A study provides further confirmation that a prolonged lack of sleep can result in early mortality.
Surprisingly, the direct cause seems to be a buildup of Reactive Oxygen Species in the gut produced by sleeplessness.
When the buildup is neutralized, a normal lifespan is restored.
We don't have to tell you what it feels like when you don't get enough sleep. A night or two of that can be miserable; long-term sleeplessness is out-and-out debilitating. Though we know from personal experience that we need sleep — our cognitive, metabolic, cardiovascular, and immune functioning depend on it — a lack of it does more than just make you feel like you want to die. It can actually kill you, according to study of rats published in 1989. But why?
A new study answers that question, and in an unexpected way. It appears that the sleeplessness/death connection has nothing to do with the brain or nervous system as many have assumed — it happens in your gut. Equally amazing, the study's authors were able to reverse the ill effects with antioxidants.
The study, from researchers at Harvard Medical School (HMS), is published in the journal Cell.
An unexpected culprit
The new research examines the mechanisms at play in sleep-deprived fruit flies and in mice — long-term sleep-deprivation experiments with humans are considered ethically iffy.
What the scientists found is that death from sleep deprivation is always preceded by a buildup of Reactive Oxygen Species (ROS) in the gut. These are not, as their name implies, living organisms. ROS are reactive molecules that are part of the immune system's response to invading microbes, and recent research suggests they're paradoxically key players in normal cell signal transduction and cell cycling as well. However, having an excess of ROS leads to oxidative stress, which is linked to "macromolecular damage and is implicated in various disease states such as atherosclerosis, diabetes, cancer, neurodegeneration, and aging." To prevent this, cellular defenses typically maintain a balance between ROS production and removal.
"We took an unbiased approach and searched throughout the body for indicators of damage from sleep deprivation," says senior study author Dragana Rogulja, admitting, "We were surprised to find it was the gut that plays a key role in causing death." The accumulation occurred in both sleep-deprived fruit flies and mice.
"Even more surprising," Rogulja recalls, "we found that premature death could be prevented. Each morning, we would all gather around to look at the flies, with disbelief to be honest. What we saw is that every time we could neutralize ROS in the gut, we could rescue the flies." Fruit flies given any of 11 antioxidant compounds — including melatonin, lipoic acid and NAD — that neutralize ROS buildups remained active and lived a normal length of time in spite of sleep deprivation. (The researchers note that these antioxidants did not extend the lifespans of non-sleep deprived control subjects.)
Image source: Tomasz Klejdysz/Shutterstock/Big Think
The experiments
The study's tests were managed by co-first authors Alexandra Vaccaro and Yosef Kaplan Dor, both research fellows at HMS.
You may wonder how you compel a fruit fly to sleep, or for that matter, how you keep one awake. The researchers ascertained that fruit flies doze off in response to being shaken, and thus were the control subjects induced to snooze in their individual, warmed tubes. Each subject occupied its own 29 °C (84F) tube.
For their sleepless cohort, fruit flies were genetically manipulated to express a heat-sensitive protein in specific neurons. These neurons are known to suppress sleep, and did so — the fruit flies' activity levels, or lack thereof, were tracked using infrared beams.
Starting at Day 10 of sleep deprivation, fruit flies began dying, with all of them dead by Day 20. Control flies lived up to 40 days.
The scientists sought out markers that would indicate cell damage in their sleepless subjects. They saw no difference in brain tissue and elsewhere between the well-rested and sleep-deprived fruit flies, with the exception of one fruit fly.
However, in the guts of sleep-deprived fruit flies was a massive accumulation of ROS, which peaked around Day 10. Says Vaccaro, "We found that sleep-deprived flies were dying at the same pace, every time, and when we looked at markers of cell damage and death, the one tissue that really stood out was the gut." She adds, "I remember when we did the first experiment, you could immediately tell under the microscope that there was a striking difference. That almost never happens in lab research."
The experiments were repeated with mice who were gently kept awake for five days. Again, ROS built up over time in their small and large intestines but nowhere else.
As noted above, the administering of antioxidants alleviated the effect of the ROS buildup. In addition, flies that were modified to overproduce gut antioxidant enzymes were found to be immune to the damaging effects of sleep deprivation.
The research leaves some important questions unanswered. Says Kaplan Dor, "We still don't know why sleep loss causes ROS accumulation in the gut, and why this is lethal." He hypothesizes, "Sleep deprivation could directly affect the gut, but the trigger may also originate in the brain. Similarly, death could be due to damage in the gut or because high levels of ROS have systemic effects, or some combination of these."
The HMS researchers are now investigating the chemical pathways by which sleep-deprivation triggers the ROS buildup, and the means by which the ROS wreak cell havoc.
"We need to understand the biology of how sleep deprivation damages the body so that we can find ways to prevent this harm," says Rogulja.
Referring to the value of this study to humans, she notes,"So many of us are chronically sleep deprived. Even if we know staying up late every night is bad, we still do it. We believe we've identified a central issue that, when eliminated, allows for survival without sleep, at least in fruit flies."
Scroll down to load more…