Buy more books than you ever read? The Japanese have a word for that.
Sometimes lacking proper language is just a failure of imagination.
12 August, 2018
Let's see. Where to begin.
---
There's that copy of Durkheim's The Elementary Forms of Religious Life I picked up at a second-hand bookstore in Arizona. Though I've read the last three books by Antonio Damasio, I've been holding onto Looking for Spinoza, untouched. Nearby on the shelf is Why Nations Fail, which I keep meaning to get to, even though I feel like I'm living through it in real time; same with Russian Roulette. I did make it about 200 pages into Piketty's Capital before getting distracted.
As an avid reader, I try to consume everything in my collection. I've donated more books than I hold onto, for space concerns. Still, the hundreds of books in my home office dominate the room, as well as my bedroom and living room, where random copies mingle with my wife's library. If only there was a word to describe those unread books so that I didn't have to say, "Oh, I haven't gotten to that one yet" whenever someone asks about particular editions.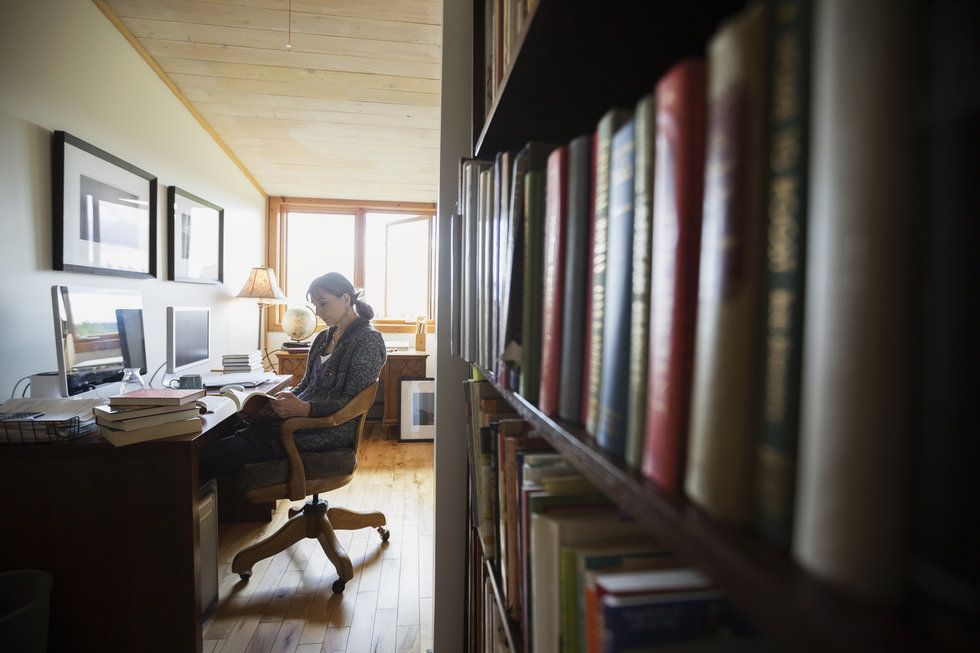 Author and book collector A. Edward Newton had an equally long way of expressing his love for unturned pages:
Even when reading is impossible, the presence of books acquired produces such an ecstasy that the buying of more books than one can read is nothing less than the soul reaching towards infinity ... we cherish books even if unread, their mere presence exudes comfort, their ready access reassurance.
Enter the Japanese: tsundoku. The rough translation is "letting reading materials pile up without reading them." This is one of the most precise words to capture a feeling we Americans have no word for, alongside the German schadenfreude. A few other gems:
Kummerspeck: Meaning 'grief bacon', the Germans nail it again when describing the extra weight you carry from emotional overeating. 
Tartle: A Scots word for the panic you feel when you forget someone's name before introducing them. I'll be using this one often in the future.
Iktsuarpok: Inuits felt that the anticipation of waiting for someone to show up should have its own word. Brilliant.
Pelinti: If you're in Ghana and you burn the roof of your mouth after taking a bite of hot pizza (or any food), you can scream your displeasure in three syllables. Loudly. Until now the most eloquent way of describing this came from a Nas lyric: "At night / New York / eat a slice too hot / use my tongue to tear the skin hanging from the roof of my mouth."
Upstreamism advocate Rishi Manchanda calls us to understand health not as a "personal responsibility" but a "common good."
Sponsored by Northwell Health
Upstreamism tasks health care professionals to combat unhealthy social and cultural influences that exist outside — or upstream — of medical facilities.
Patients from low-income neighborhoods are most at risk of negative health impacts.
Thankfully, health care professionals are not alone. Upstreamism is increasingly part of our cultural consciousness.
The Bajau people's nomadic lifestyle has given them remarkable adaptions, enabling them to stay underwater for unbelievable periods of time. Their lifestyle, however, is quickly disappearing.
Wikimedia Commons
Culture & Religion
The Bajau people travel in small flotillas throughout the Phillipines, Malaysia, and Indonesia, hunting fish underwater for food.
Over the years, practicing this lifestyle has given the Bajau unique adaptations to swimming underwater. Many find it straightforward to dive up to 13 minutes 200 feet below the surface of the ocean.
Unfortunately, many disparate factors are erasing the traditional Bajau way of life.
We explore the history of blood types and how they are classified to find out what makes the Rh-null type important to science and dangerous for those who live with it.
Abid Katib/Getty Images
Surprising Science
Fewer than 50 people worldwide have 'golden blood' — or Rh-null.
Blood is considered Rh-null if it lacks all of the 61 possible antigens in the Rh system.
It's also very dangerous to live with this blood type, as so few people have it.
An innovation may lead to lifelike evolving machines.
Shogo Hamada/Cornell University
Surprising Science
Scientists at Cornell University devise a material with 3 key traits of life.
The goal for the researchers is not to create life but lifelike machines.
The researchers were able to program metabolism into the material's DNA.
Big think's weekly newsletter.
Get smarter faster from the comfort of your inbox.
See our newsletter privacy policy
here
Most Popular
Most Recent
Big think's weekly newsletter.
Get smarter faster from the comfort of your inbox.
See our newsletter privacy policy
here
© Copyright 2007-2019 & BIG THINK, BIG THINK EDGE,
SMARTER FASTER trademarks owned by The Big Think, Inc. All rights reserved.