Big ideas.
Once a week.
Subscribe to our weekly newsletter.
Is Human Laziness Human Nature?
For most of human history, it's been recognized that we tend to follow the path of least resistance. We go to comical lengths to avoid work of even the most trivial sort.
04 December, 2014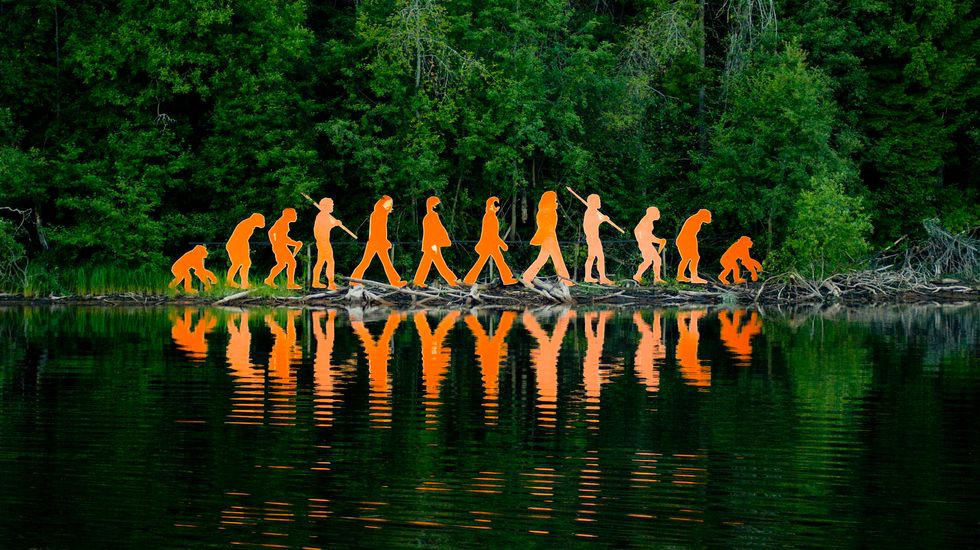 For most of human history, it's been recognized that we tend to follow the path of least resistance. We go to comical lengths to avoid work of even the most trivial sort. One of the classic examples of this quirk of human behavior is Eric J. Johnson and Daniel Goldstein's study on organ donation rates. They noticed that the organ donation rates in countries like Austria, Belgium, France, and Hungary are many times greater than those in Denmark, the UK, Germany and the Netherlands. Why is this? Is it because of some cultural difference in how each of these groups of people values human life?  Or, perhaps it's caused by differing religious beliefs in the sanctity of the human corpse? We can come up with dozens of such stories. It turns out, however, that "the path of least resistance" explains this massive difference in donation rates. Countries with high, nearly unanimous, donation rates have opt-out systems, which require applicants to take action to not participate in their donation programs. Those with low donation rates? The opposite. They have opt-in systems that require citizens to actively enroll. In both groups, people take the path of least resistance – and we see the results clearly in the stats.   
---
Checking a box on a driver's license form, or making a quick phone call to enroll, isn't much work, but it's something – and, as you can see, this small amount of effort can be the difference between a "brave and selfless organ donor" and "a petty miser". However, before we throw up our hands and bemoan this seemingly unfortunate feature of human nature, we should ask some questions: Is this an inevitable feature of our biology? Or, is this something that we can modify, and even eliminate, in due time?
In the developed world, infant mortality was still a massive problem as recently as the early 1900s. However, improved nutrition, medical technology, and a variety of other factors have allowed us to largely do away with this tragic staple of the human experience. Similarly, an improved understanding of biology, new training protocols, new shoe/equipment technology, and better nutrition have allowed modern athletes to do things that were unheard of 50 or 100 years ago. By improving the environment we develop in, we have consistently gotten bigger, faster, stronger, and smarter (as the Flynn Effect seems to show).
This tendency to follow the easiest, friction free path might be similar. An organism that is barely able to maintain homeostasis, because of a lack of health and ability to efficiently produce energy, is not one that is likely to weigh the pros and cons of the available options and put off instant gratification in the service of a greater plan. Perhaps our seeming laziness is due more to biological dysregulations caused by inadequate prenatal nutrition, interference by environmental toxins, or other unfortunate perturbations during critical developmental windows. What we may see as immovable features of a human nature might actually be symptoms of biological problems that, up until this point in history, we haven't had the ability to remedy at scale. Providing a truly nurturing environment at scale is a problem that we have only begun to solve, but with the mindpower of seven billion people (and a bit of luck), I think it's a problem we can tackle. Our freedom depends on it.  
Image: Possan
Inventions with revolutionary potential made by a mysterious aerospace engineer for the U.S. Navy come to light.
Credit: Getty Images
Surprising Science
U.S. Navy holds patents for enigmatic inventions by aerospace engineer Dr. Salvatore Pais.
Pais came up with technology that can "engineer" reality, devising an ultrafast craft, a fusion reactor, and more.
While mostly theoretical at this point, the inventions could transform energy, space, and military sectors.
The U.S. Navy controls patents for some futuristic and outlandish technologies, some of which, dubbed "the UFO patents," came to light recently. Of particular note are inventions by the somewhat mysterious Dr. Salvatore Cezar Pais, whose tech claims to be able to "engineer reality." His slate of highly-ambitious, borderline sci-fi designs meant for use by the U.S. government range from gravitational wave generators and compact fusion reactors to next-gen hybrid aerospace-underwater crafts with revolutionary propulsion systems, and beyond.
Of course, the existence of patents does not mean these technologies have actually been created, but there is evidence that some demonstrations of operability have been successfully carried out. As investigated and reported by The War Zone, a possible reason why some of the patents may have been taken on by the Navy is that the Chinese military may also be developing similar advanced gadgets.
Among Dr. Pais's patents are designs, approved in 2018, for an aerospace-underwater craft of incredible speed and maneuverability. This cone-shaped vehicle can potentially fly just as well anywhere it may be, whether air, water or space, without leaving any heat signatures. It can achieve this by creating a quantum vacuum around itself with a very dense polarized energy field. This vacuum would allow it to repel any molecule the craft comes in contact with, no matter the medium. Manipulating "quantum field fluctuations in the local vacuum energy state," would help reduce the craft's inertia. The polarized vacuum would dramatically decrease any elemental resistance and lead to "extreme speeds," claims the paper.
Not only that, if the vacuum-creating technology can be engineered, we'd also be able to "engineer the fabric of our reality at the most fundamental level," states the patent. This would lead to major advancements in aerospace propulsion and generating power. Not to mention other reality-changing outcomes that come to mind.
Among Pais's other patents are inventions that stem from similar thinking, outlining pieces of technology necessary to make his creations come to fruition. His paper presented in 2019, titled "Room Temperature Superconducting System for Use on a Hybrid Aerospace Undersea Craft," proposes a system that can achieve superconductivity at room temperatures. This would become "a highly disruptive technology, capable of a total paradigm change in Science and Technology," conveys Pais.
High frequency gravitational wave generator.
Credit: Dr. Salvatore Pais
Another invention devised by Pais is an electromagnetic field generator that could generate "an impenetrable defensive shield to sea and land as well as space-based military and civilian assets." This shield could protect from threats like anti-ship ballistic missiles, cruise missiles that evade radar, coronal mass ejections, military satellites, and even asteroids.
Dr. Pais's ideas center around the phenomenon he dubbed "The Pais Effect". He referred to it in his writings as the "controlled motion of electrically charged matter (from solid to plasma) via accelerated spin and/or accelerated vibration under rapid (yet smooth) acceleration-deceleration-acceleration transients." In less jargon-heavy terms, Pais claims to have figured out how to spin electromagnetic fields in order to contain a fusion reaction – an accomplishment that would lead to a tremendous change in power consumption and an abundance of energy.
According to his bio in a recently published paper on a new Plasma Compression Fusion Device, which could transform energy production, Dr. Pais is a mechanical and aerospace engineer working at the Naval Air Warfare Center Aircraft Division (NAWCAD), which is headquartered in Patuxent River, Maryland. Holding a Ph.D. from Case Western Reserve University in Cleveland, Ohio, Pais was a NASA Research Fellow and worked with Northrop Grumman Aerospace Systems. His current Department of Defense work involves his "advanced knowledge of theory, analysis, and modern experimental and computational methods in aerodynamics, along with an understanding of air-vehicle and missile design, especially in the domain of hypersonic power plant and vehicle design." He also has expert knowledge of electrooptics, emerging quantum technologies (laser power generation in particular), high-energy electromagnetic field generation, and the "breakthrough field of room temperature superconductivity, as related to advanced field propulsion."
Suffice it to say, with such a list of research credentials that would make Nikola Tesla proud, Dr. Pais seems well-positioned to carry out groundbreaking work.
A craft using an inertial mass reduction device.
Credit: Salvatore Pais
The patents won't necessarily lead to these technologies ever seeing the light of day. The research has its share of detractors and nonbelievers among other scientists, who think the amount of energy required for the fields described by Pais and his ideas on electromagnetic propulsions are well beyond the scope of current tech and are nearly impossible. Yet investigators at The War Zone found comments from Navy officials that indicate the inventions are being looked at seriously enough, and some tests are taking place.
If you'd like to read through Pais's patents yourself, check them out here.
Laser Augmented Turbojet Propulsion System
Credit: Dr. Salvatore Pais
Scientists do not know what is causing the overabundance of the gas.
Credit: NASA
Surprising Science
A new study looked to understand the source of methane on Saturn's moon Enceladus.
The scientists used computer models with data from the Cassini spacecraft.
The explanation could lie in alien organisms or non-biological processes.
Something is producing an overabundance of methane in the ocean hidden under the ice of Saturn's moon Enceladus. A new study analyzed if the source could be an alien life form or some other explanation.
The study, published in Nature Astronomy, was carried out by scientists at the University of Arizona and Paris Sciences & Lettres University, who looked at composition data from the water plumes erupting on Enceladus.
The particular chemistry, discovered by the Cassini spacecraft which flew through the plumes, suggested a high concentration of molecules that have been linked to hydrothermal vents on the bottom of Earth's oceans. Such vents are potential cradles of life on Earth, according to previous studies. The data from Cassini, which has been studying Saturn after entering its orbit in 2004, revealed the presence of molecular hydrogen (dihydrogen), methane, and carbon dioxide, with the amount of methane presenting a particular interest to the scientists.
"We wanted to know: Could Earthlike microbes that 'eat' the dihydrogen and produce methane explain the surprisingly large amount of methane detected by Cassini?"
shared
one of the study's lead authors Régis Ferrière, an associate professor in the department of Ecology and Evolutionary Biology at the University of Arizona.
Earth's hydrothermal vents feature microorganisms that use dihydrogen for energy, creating methane from carbon dioxide via the process of methanogenesis.

Searching for such microorganisms known as methanogens on the seafloor of Enceladus is not yet feasible. Likely, it would require very sophisticated deep diving operations that will be the objective of future missions.
So, Ferrière's team took a more available approach to pinpointing the origins of the methane, creating mathematical models that attempted to explain the Cassini data. They wanted to calculate the likelihood that particular processes were responsible for producing the amount of methane observed. For example, is the methane more likely the result of biological or non-biological processes?
They found that the data from Cassini was consistent with either microbial activity at hydrothermal vents or processes that have nothing to do with life but could be quite different from what happens on Earth. Intriguingly, models that didn't involve biological entities didn't seem to produce enough of the gas.
"Obviously, we are not concluding that life exists in Enceladus' ocean," Ferrière stated. "Rather, we wanted to understand how likely it would be that Enceladus' hydrothermal vents could be habitable to Earthlike microorganisms. Very likely, the Cassini data tell us, according to our models."

Still, the scientists think future missions are necessary to either prove or discard the "life hypothesis." One explanation for the methane that does not involve biological organisms is that the gas is the result of a chemical breakdown of primordial organic matter within Enceladus' core. This matter could have become a part of Saturn's moon from comets rich in organic materials.
It marks a breakthrough in using gene editing to treat diseases.
Credit
: National Cancer Institute via Unsplash
Technology & Innovation
This article was originally published by our sister site, Freethink.
For the first time, researchers appear to have effectively treated a genetic disorder by directly injecting a CRISPR therapy into patients' bloodstreams — overcoming one of the biggest hurdles to curing diseases with the gene editing technology.
The therapy appears to be astonishingly effective, editing nearly every cell in the liver to stop a disease-causing mutation.
The challenge: CRISPR gives us the ability to correct genetic mutations, and given that such mutations are responsible for more than 6,000 human diseases, the tech has the potential to dramatically improve human health.
One way to use CRISPR to treat diseases is to remove affected cells from a patient, edit out the mutation in the lab, and place the cells back in the body to replicate — that's how one team functionally cured people with the blood disorder sickle cell anemia, editing and then infusing bone marrow cells.
Bone marrow is a special case, though, and many mutations cause disease in organs that are harder to fix.
Another option is to insert the CRISPR system itself into the body so that it can make edits directly in the affected organs (that's only been attempted once, in an ongoing study in which people had a CRISPR therapy injected into their eyes to treat a rare vision disorder).
Injecting a CRISPR therapy right into the bloodstream has been a problem, though, because the therapy has to find the right cells to edit. An inherited mutation will be in the DNA of every cell of your body, but if it only causes disease in the liver, you don't want your therapy being used up in the pancreas or kidneys.
A new CRISPR therapy: Now, researchers from Intellia Therapeutics and Regeneron Pharmaceuticals have demonstrated for the first time that a CRISPR therapy delivered into the bloodstream can travel to desired tissues to make edits.
We can overcome one of the biggest challenges with applying CRISPR clinically.

—JENNIFER DOUDNA

"This is a major milestone for patients," Jennifer Doudna, co-developer of CRISPR, who wasn't involved in the trial, told NPR.
"While these are early data, they show us that we can overcome one of the biggest challenges with applying CRISPR clinically so far, which is being able to deliver it systemically and get it to the right place," she continued.
What they did: During a phase 1 clinical trial, Intellia researchers injected a CRISPR therapy dubbed NTLA-2001 into the bloodstreams of six people with a rare, potentially fatal genetic disorder called transthyretin amyloidosis.
The livers of people with transthyretin amyloidosis produce a destructive protein, and the CRISPR therapy was designed to target the gene that makes the protein and halt its production. After just one injection of NTLA-2001, the three patients given a higher dose saw their levels of the protein drop by 80% to 96%.
A better option: The CRISPR therapy produced only mild adverse effects and did lower the protein levels, but we don't know yet if the effect will be permanent. It'll also be a few months before we know if the therapy can alleviate the symptoms of transthyretin amyloidosis.
This is a wonderful day for the future of gene-editing as a medicine.

—FYODOR URNOV

If everything goes as hoped, though, NTLA-2001 could one day offer a better treatment option for transthyretin amyloidosis than a currently approved medication, patisiran, which only reduces toxic protein levels by 81% and must be injected regularly.
Looking ahead: Even more exciting than NTLA-2001's potential impact on transthyretin amyloidosis, though, is the knowledge that we may be able to use CRISPR injections to treat other genetic disorders that are difficult to target directly, such as heart or brain diseases.
"This is a wonderful day for the future of gene-editing as a medicine," Fyodor Urnov, a UC Berkeley professor of genetics, who wasn't involved in the trial, told NPR. "We as a species are watching this remarkable new show called: our gene-edited future."
Surprising Science
A new government report describes 144 sightings of unidentified aerial phenomena.
Scroll down to load more…