Big ideas.
Once a week.
Subscribe to our weekly newsletter.
Is Human Laziness Human Nature?
For most of human history, it's been recognized that we tend to follow the path of least resistance. We go to comical lengths to avoid work of even the most trivial sort.
04 December, 2014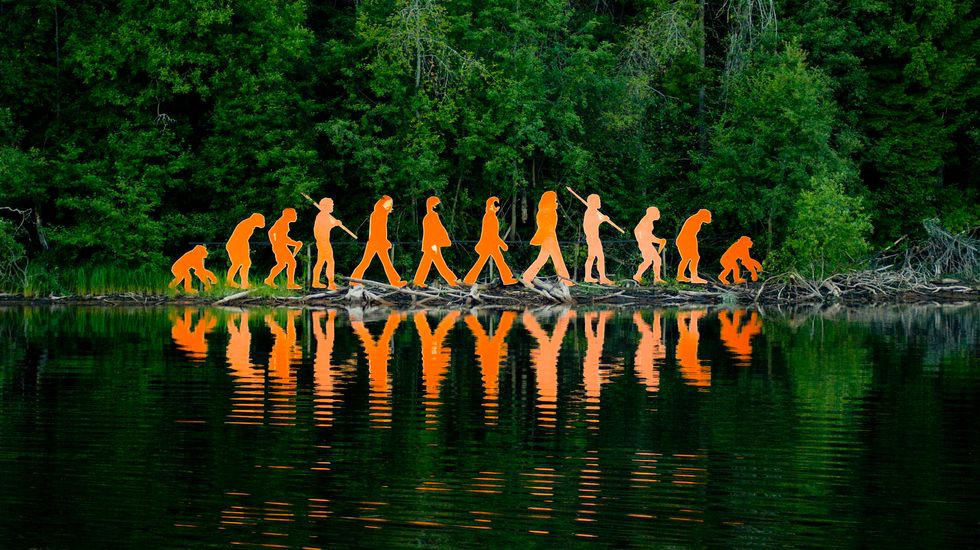 For most of human history, it's been recognized that we tend to follow the path of least resistance. We go to comical lengths to avoid work of even the most trivial sort. One of the classic examples of this quirk of human behavior is Eric J. Johnson and Daniel Goldstein's study on organ donation rates. They noticed that the organ donation rates in countries like Austria, Belgium, France, and Hungary are many times greater than those in Denmark, the UK, Germany and the Netherlands. Why is this? Is it because of some cultural difference in how each of these groups of people values human life?  Or, perhaps it's caused by differing religious beliefs in the sanctity of the human corpse? We can come up with dozens of such stories. It turns out, however, that "the path of least resistance" explains this massive difference in donation rates. Countries with high, nearly unanimous, donation rates have opt-out systems, which require applicants to take action to not participate in their donation programs. Those with low donation rates? The opposite. They have opt-in systems that require citizens to actively enroll. In both groups, people take the path of least resistance – and we see the results clearly in the stats.   
---
Checking a box on a driver's license form, or making a quick phone call to enroll, isn't much work, but it's something – and, as you can see, this small amount of effort can be the difference between a "brave and selfless organ donor" and "a petty miser". However, before we throw up our hands and bemoan this seemingly unfortunate feature of human nature, we should ask some questions: Is this an inevitable feature of our biology? Or, is this something that we can modify, and even eliminate, in due time?
In the developed world, infant mortality was still a massive problem as recently as the early 1900s. However, improved nutrition, medical technology, and a variety of other factors have allowed us to largely do away with this tragic staple of the human experience. Similarly, an improved understanding of biology, new training protocols, new shoe/equipment technology, and better nutrition have allowed modern athletes to do things that were unheard of 50 or 100 years ago. By improving the environment we develop in, we have consistently gotten bigger, faster, stronger, and smarter (as the Flynn Effect seems to show).
This tendency to follow the easiest, friction free path might be similar. An organism that is barely able to maintain homeostasis, because of a lack of health and ability to efficiently produce energy, is not one that is likely to weigh the pros and cons of the available options and put off instant gratification in the service of a greater plan. Perhaps our seeming laziness is due more to biological dysregulations caused by inadequate prenatal nutrition, interference by environmental toxins, or other unfortunate perturbations during critical developmental windows. What we may see as immovable features of a human nature might actually be symptoms of biological problems that, up until this point in history, we haven't had the ability to remedy at scale. Providing a truly nurturing environment at scale is a problem that we have only begun to solve, but with the mindpower of seven billion people (and a bit of luck), I think it's a problem we can tackle. Our freedom depends on it.  
Image: Possan
A Harvard professor's study discovers the worst year to be alive.
Credit: Pieter Bruegel the Elder. (Museo del Prado).
Politics & Current Affairs
Harvard professor Michael McCormick argues the worst year to be alive was 536 AD.
The year was terrible due to cataclysmic eruptions that blocked out the sun and the spread of the plague.
536 ushered in the coldest decade in thousands of years and started a century of economic devastation.
The past year has been nothing but the worst in the lives of many people around the globe. A rampaging pandemic, dangerous political instability, weather catastrophes, and a profound change in lifestyle that most have never experienced or imagined.
But was it the worst year ever?
Nope. Not even close. In the eyes of the historian and archaeologist Michael McCormick, the absolute "worst year to be alive" was 536.
Why was 536 so bad? You could certainly argue that 1918, the last year of World War I when the Spanish Flu killed up to 100 million people around the world, was a terrible year by all accounts. 1349 could also be considered on this morbid list as the year when the Black Death wiped out half of Europe, with up to 20 million dead from the plague. Most of the years of World War II could probably lay claim to the "worst year" title as well. But 536 was in a category of its own, argues the historian.
It all began with an eruption...
According to McCormick, Professor of Medieval History at Harvard University, 536 was the precursor year to one of the worst periods of human history. It featured a volcanic eruption early in the year that took place in Iceland, as established by a study of a Swiss glacier carried out by McCormick and the glaciologist Paul Mayewski from the Climate Change Institute of The University of Maine (UM) in Orono.
The ash spewed out by the volcano likely led to a fog that brought an 18-month-long stretch of daytime darkness across Europe, the Middle East, and portions of Asia. As wrote the Byzantine historian Procopius, "For the sun gave forth its light without brightness, like the moon, during the whole year." He also recounted that it looked like the sun was always in eclipse.
Cassiodorus, a Roman politician of that time, wrote that the sun had a "bluish" color, the moon had no luster, and "seasons seem to be all jumbled up together." What's even creepier, he described, "We marvel to see no shadows of our bodies at noon."
...that led to famine...
The dark days also brought a period of coldness, with summer temperatures falling by 1.5° C. to 2.5° C. This started the coldest decade in the past 2300 years, reports Science, leading to the devastation of crops and worldwide hunger.
...and the fall of an empire
In 541, the bubonic plague added considerably to the world's misery. Spreading from the Roman port of Pelusium in Egypt, the so-called Plague of Justinian caused the deaths of up to one half of the population of the eastern Roman Empire. This, in turn, sped up its eventual collapse, writes McCormick.
Between the environmental cataclysms, with massive volcanic eruptions also in 540 and 547, and the devastation brought on by the plague, Europe was in for an economic downturn for nearly all of the next century, until 640 when silver mining gave it a boost.
Was that the worst time in history?
Of course, the absolute worst time in history depends on who you were and where you lived.
Native Americans can easily point to 1520, when smallpox, brought over by the Spanish, killed millions of indigenous people. By 1600, up to 90 percent of the population of the Americas (about 55 million people) was wiped out by various European pathogens.
Like all things, the grisly title of "worst year ever" comes down to historical perspective.
A new study finds an unusual genetic difference in people over 105.
Surprising Science
Researchers conduct genetic analyses of 81 Italian people who are over 105 years in age.
Five unusual genetic differences were discovered.
The differences are implicated in the routine repair of DNA, which seems to work unusually well in these people.
The oldest living person is Kane Tanaka of Fukuoka, Japan, who just celebrated her 116th birthday. The handful of people who live to be 105 years old or older are called "semi-supercentenarians." (Supercentenarians live to the ripe old age of 110 or older.)
New research, published in the Aging, Geroscience and Longevity: A Special Issue of the journal eLife, examines the genomes of semi-supercentenarians and has discovered what may be the key to their unusually long lives: Their DNA is exceptionally good at repairing itself.
People involved in the study
Men play cards in Martina Franca, ItalyCredit: sabino.parente via Adobe Stock
The researchers recruited 81 volunteers for genetic analysis from across Italy. Some participants were semi-supercentenarians and others were supercentenarians. Researchers compared the genetic makeup of the older volunteers with those of 36 healthy people from the same areas who were 68 years old, plus or minus 5.9 years.

The study's first author Paolo Garagnani of the University of Bologna explains:
"Aging is a common risk factor for several chronic diseases and conditions. We chose to study the genetics of a group of people who lived beyond 105 years old and compare them with a group of younger adults from the same area in Italy, as people in this younger age group tend to avoid many age-related diseases and therefore represent the best example of healthy aging."
The authors of the study collected blood samples from both groups and conducted whole-genome sequencing. Additionally, they compared their findings with the conclusions drawn in previously published research describing the genetic makeup of 333 Italian people older than 100 years and 358 who were approximately 60 years old.
Co-first author of the new research Massimo Delledonne of the University of Verona said, "This study constitutes the first whole-genome sequencing of extreme longevity at high coverage that allowed us to look at both inherited and naturally occurring genetic changes in older people."
It's all in the genes
In the semi-supercentenarians and some supercentenarians, the researchers discovered five unusual genetic changes that were often present in two genes, COA1 and STK17A, data that was consistent with the previous research.
Most intriguing, the genetic variations appear to be linked to increased activity of the STK17A gene in some tissues, a gene involved in three critical cell repair activities: managing cells' response to DNA damage, prompting badly damaged cells to die off, and controlling the amount of dangerous reactive oxygen species in a cell. Cells unable to perform these types of repair activities are more likely to become cancerous.
The COA1 gene is involved with energy production by promoting communication between the cell nucleus and mitochondria. The researchers believe that the genetic variants they detected reduce the level of COA1 activity, which in turn reduces energy production as well as aging. (One of the leading theories of aging is that energy production produces reactive oxygen species that damage cells and promote aging.)
Finally, the researchers noted that the genetic variants they identified are also linked to increased expression of he BLVRA gene in some tissue. This gene is also involved in the elimination of dangerous reactive oxygen species.
Senior author of the study Claudio Franceschi of the University of Bologna concludes:
"Our results suggest that DNA repair mechanisms and a low burden of mutations in specific genes are two central mechanisms that have protected people who have reached extreme longevity from age-related diseases."
How do archaeologists know if someone was buried intentionally tens of thousands of years ago?
Photo by Francesco Derrico & Alain Queffelec / AFP via Getty Images
Culture & Religion
The oldest known burial ritual in Africa has been discovered on the coast of Kenya.
A small child appears to have been buried intentionally in a cave 78,000 years ago.
This new research offers insights into ancient funerary practices.
How did the emergence of Homo sapiens affect ideas around death? What legacies have been passed down from ancient times? And can these give us insights into the origins of our current rituals around dying?
Possible answers to these questions could be derived from a new study in Nature, led by María Martinón-Torres of the National Research Center on Human Evolution in Burgos, Spain. It focuses on a two- to three-year-old child found buried in a Kenyan cave roughly 78,000 years ago. While this isn't the oldest burial grounds for Homo sapiens — to date, that is in Israel — this new discovery of a seemingly intentional burial offers insights into the evolution of how humans treated death.
The dearth of excavation sites in Africa has made studying ancient funerary practices difficult. The remains of this young child were discovered in a pit in the Panga ya Saidi cave site located in a tropical region of coastal Kenya. Taphonomic evidence, which examines the process of fossilization, suggested that the child was intentionally placed in a flexed position (sort of curled up like a ball) in the burial pit.
The burial of Mtoto
The original excavation of this pit took place in 2013. By 2017, archaeologists dug into Middle Stone Age (MSA) layers, uncovering the partial skeleton of the child. The poorly preserved bone fragments were plastered and transported for laboratory analysis, first to the National Museums of Kenya and then onto Burgos, where Martinón-Torres and her team began their work.
Besides the seemingly deliberate position of the body, the team noticed a few clues that suggested the child was swaddled in cloth, possibly with the intention of preserving the corpse. They also speculate the body was placed in a cave fissure — known as
funerary caching
— before being covered with sediment.
Plan view of the 2017 excavation next to a superimposed image of Mtoto to better depict the position of the child.Courtesy of Nature.
The child, who they named Mtoto, appears to have been intentionally buried. The authors reached this conclusion based on: the identification of a clearly dug pit; evidence that discriminates the burial fill from the surrounding layers; the completeness and integrity of the skeleton; the body's tightly flexed position; and the notable differences between the child's remains and the remains of animals in the same layer.
Other burial sites
Two earlier excavations in Taramsa, Egypt and Border Cave, South Africa were similar to the one in this Kenyan cave. However, the Panga ya Saidi remains appear to predate the Egyptian ones by 10,000 years and the South African ones by 4,000 years. Taken together, the team writes that these three digs reveal important insights in the funerary practices of our ancestors.
"The [Panga ya Saidi] child, in combination with the infant burial from Border Cave and the funerary caching of a juvenile at Taramsa, suggests that H. sapiens populations were intentionally preserving the corpses of young members of their groups between about 78 and 69 [thousand years]. Before 78 [thousand years], we know of no unambiguous burials of modern humans in Africa, despite the fact that earlier [Middle Stone Age] populations demonstrate sophisticated forms of symbolic expression."
The researchers are excited to have made headway on the cradle of civilization — a continent that rarely gives up its secrets. While researchers have discovered symbolic representations in Africa dating back at least 320,000 years, these new insights into death rituals are important for understanding the evolution of human consciousness, as well as how we view mortality.
--
Stay in touch with Derek on Twitter and Facebook. His most recent book is "Hero's Dose: The Case For Psychedelics in Ritual and Therapy."
Technology & Innovation
A new method could make holograms for virtual reality, 3D printing, and more. You can even run it can run on a smartphone.
Scroll down to load more…